This hot honey kale and ricotta pizza is sweet, smokey, creamy with a little red pepper kick at the end – it's so magical. Let's talk about what makes homemade pizza so much better than take out? You can create anything you want, literally anything.
Salad on a pizza? It's my favorite way to make pizza these days. Have you ever added fresh arugula to a regular red sauce pizza, it's delicious and was my gateway to creating so many other "salad" pizzas.
This one is my best one yet! The lightly smoked pancetta tossed in with the wilted soft kale topped with creamy ricotta and a sweet hot honey makes it irresistible and unbeatable. I can't even tell you how excited I am about this recipe, I want to make it again right now.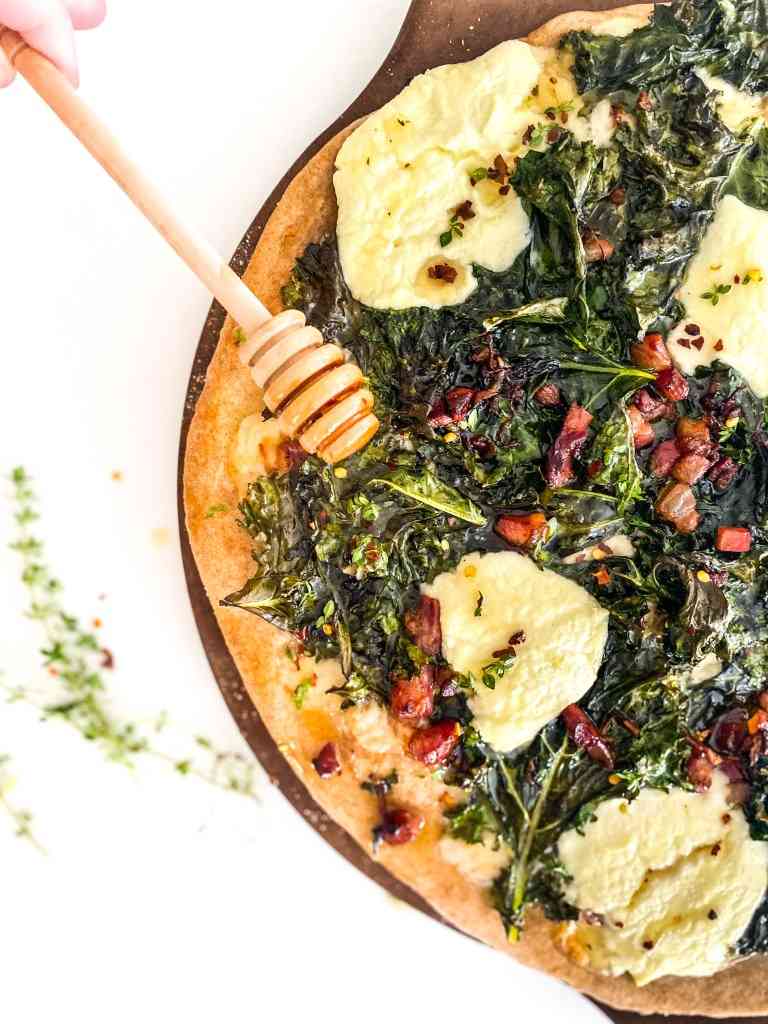 The To-Die-For-Ingredients
Pancetta – I love using pancetta for a less-intense bacon-like smokey flavor – but you can also use bacon, crispy prosciutto or you can skip this altogether to make it vegetarian. If you skip, just use a drizzle of olive oil while you sauté the kale.

Shallot – shallots have such a unique sharpe sweet taste, they really help add flavor to leafy greens like kale. Not to be confused with green onions – shallots are small, with a purple outer layer and you would cut it thin just like you do an onion, after peeling back the paper layer.

Kale – one of my favorites but I know a lot of people are skeptical of it. To ease into using kale, you can use baby kale from the grocery store – it'll be in the same place you pick up those bags of salad. If you get regular kale, make sure to pull it off the large middle stem and I'd do a rough chop on the leaves to make it more bite size. If you are opposed to kale you can substitute spinach but you may need another handful because spinach wilts down more than kale.
The wilting – when you add your kale or spinach to the pan it will appear to be too much, it should be a heaping pile – don't worry it will wilt down to just the right amount for your pizza.

Ricotta Cheese – I love ricotta, I can eat it by the spoonful. It's super creamy, soft and delectable. It really adds that special layer of flavor to this pizza that leaves you the most satisfied.

Parmesan & Fontina Cheeses – these cheeses help add a balance of flavors of the pizza. While both have a similar nutty flavor, parmesan is a bold, dry cheese and fontina is more of a softer buttery cheese – together they are a match in heaven. You can find them both at a normal grocery store, in the "fancy" cheese section.

Pizza Crust – grocery store crust is good – easy to grab while you're there. But also, it's super easy to make from home, I made a batch and then freeze them until it's pizza night. I used my whole wheat crust for this recipe, but you could also use my homemade classic crust or even my simple gluten-free crust.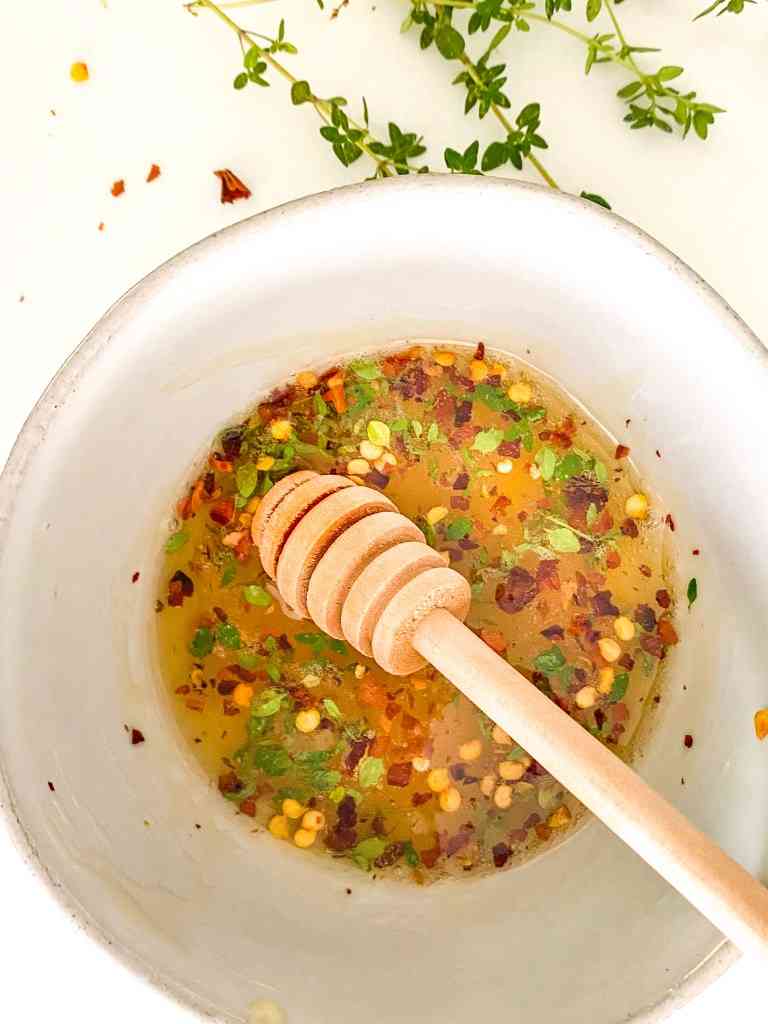 Show – Stopper Hot Honey (and thyme) Drizzle
This is the magic that puts this pizza on another level. Pure magic. Over medium heat, you will warm up the honey, red pepper flakes, fresh thyme just long enough to loosen the honey up for maximum drizzle and infuse the flavors of the spices and herbs.
Once the pizza comes out of the oven, right before serving you will want to drizzle this hot honey all over the top. It doesn't get any better than that. Proceed with caution – it will be addicting in all the best ways.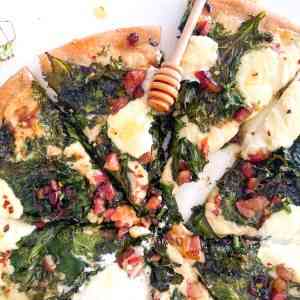 Hot Honey Kale and Ricotta Pizza
This hot honey kale and ricotta pizza is sweet, smokey, creamy with a little red pepper kick at the end.
Print
Email
Pin
Rate
Equipment
Pizza Stone or Cookie Sheet
Ingredients
4

oz

Pancetta – cubed

1

small

Shallot – thinly sliced

Pinch of

Salt

2

bunches of

Kale – removed from the stem and chopped

(about 5-6 cups) ; See Blog Notes

1

Pizza Crust at room temperature

See Blog Notes

Sprinkle of

Corn Meal

Drizzle of Olive Oil

6

oz

Parmesan Cheese – sliced or grated

6

oz

Fontina Cheese – sliced or grated

A few dollops of

Ricotta Cheese

(less than the 15 oz container)
Hot Honey (and thyme) Drizzle
¼

cup

Honey

¼

tsp

Red Pepper Flakes

3-4

Sprigs of

Fresh Thyme – leaves pulled off the stem
Instructions
Preheat your oven to 450F. Add in your pizza stone if you are using one so that it heats up as the oven heats up. If you are using a cookie sheet, you can also do this, but it's not as necessary.

On the counter, set out your pizza dough if it is not at room temperature to take the chill off to make it easier to roll out.

As the oven preheats, over medium-high heat, add your pancetta and the shallot with a pinch of salt. Cook until the pancetta starts to release some of it's fat. Add in the kale and sauté. Toss in pan until the leaves start to wilt. Remove from heat and set aside.

Roll out your pizza crust on the counter.

Once your stone is preheated – carefully remove from the oven. Sprinkle the stone or cookie sheet with a little corn meal, this will prevent the dough from sticking.

Transfer your crust from the counter to your pizza stone/cookie sheet carefully if it's hot.

Sprinkle a little more corn meal on top and drizzle with a little olive oil. Top your crust with the parmesan cheese and fontina cheese.

Add your kale mixture evenly across the top of the pizza.

Dollop on some ricotta cheese.

Bake your pizza at 450F for 10-12 minutes.

While your pizza is in the oven, prepare the hot honey (and thyme) drizzle.

Over low/medium heat, in a sauce pan combine all the ingredients. Heat and stir until the honey loosens up and the flavors infuse – about 3 minutes.

Once the pizza is done, drizzle your hot honey over the top of the pizza.