Pasta primavera is the epitome of fresh summer pasta. It's jam packed with steamed fresh vegetables, tossed in pasta, an herb-Parmesan sauce and topped with perfectly pan-seared butter scallops. It is a great way to use fresh vegetables if you just brought a haul home from the farmer's market or need to clean out the fridge, it's easy to pick and choose what to use. This recipe is quick and easy, making it ideal for any weeknight dinner.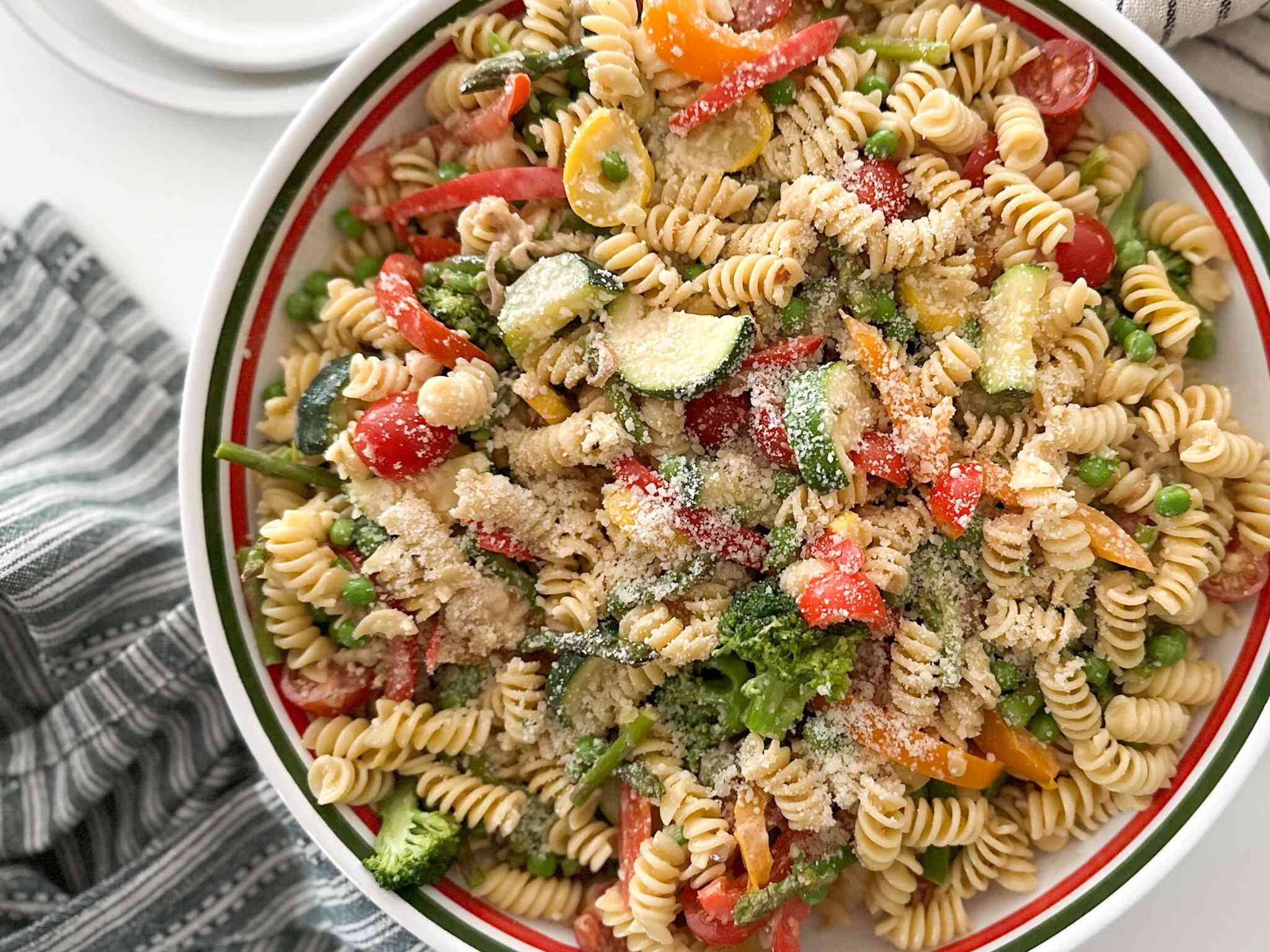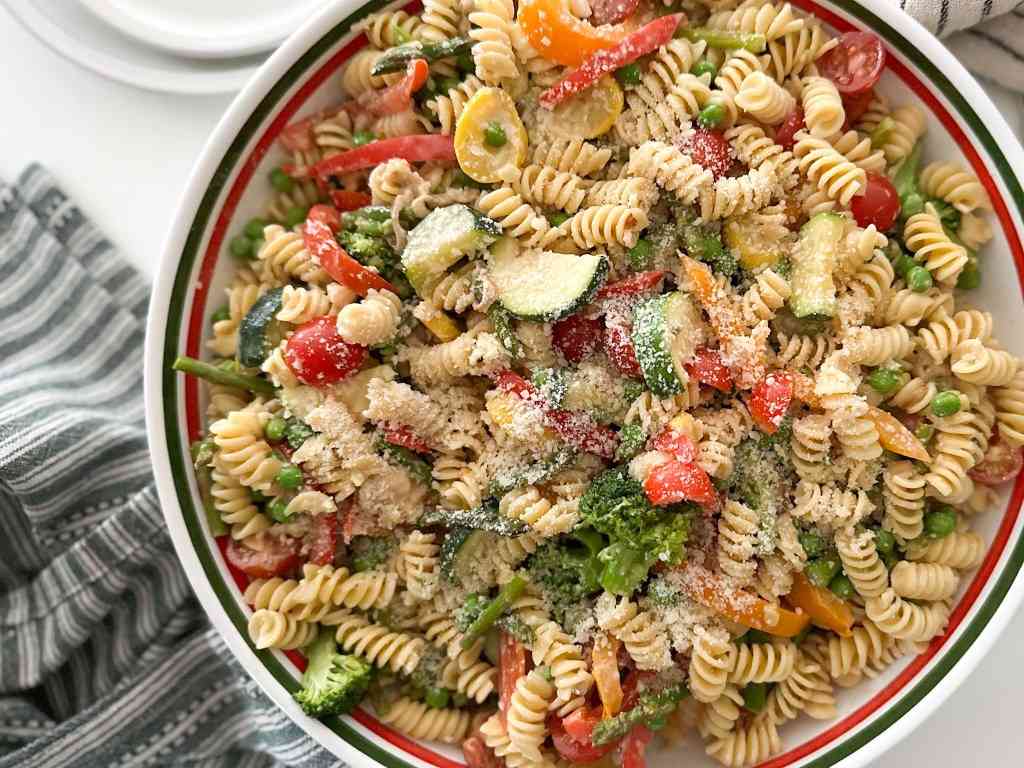 Pasta Primavera – List of Vegetables
I love to include as many vegetables as possible in this pasta primavera. The pan may seem to be overfilled but it works out. You can pick and choose your favorites, add them all, or use this as a chance to clean out the fridge.
Bell Peppers – any color. I like red and orange because so many other vegetables in the list are green.
Yellow Squash – mild in flavor, once cooked it has a soft buttery flavor and texture. I keep the rind on it so that the color pops in the dish.
Zucchini – also mild in flavor, and slightly sweet, it gives the dish texture for the summer time.
Asparagus – gives the dish a crunch. About 1/2 of the bunch that is rubber band together at the grocery store, trimmed and cut into bite size pieces, about 2 cups total.
Broccoli – cooked broccoli adds the perfect texture, about one head of broccoli, cut into bite-size pieces, about 2 cups total.
Peas – add a burst of texture, the sweet peas pair well with the scallops.
Cherry Tomatoes – a little more color and freshness, added in at the end.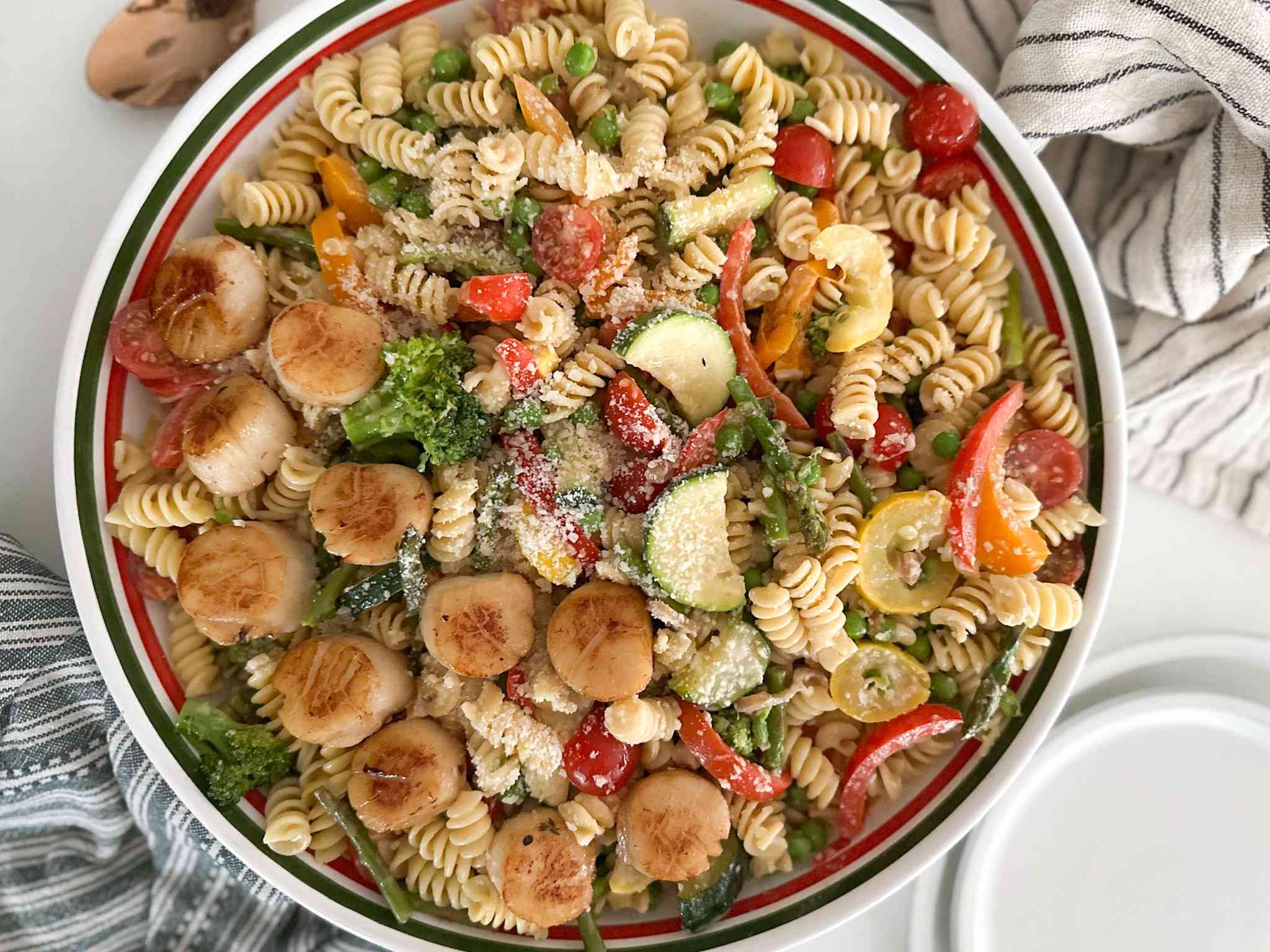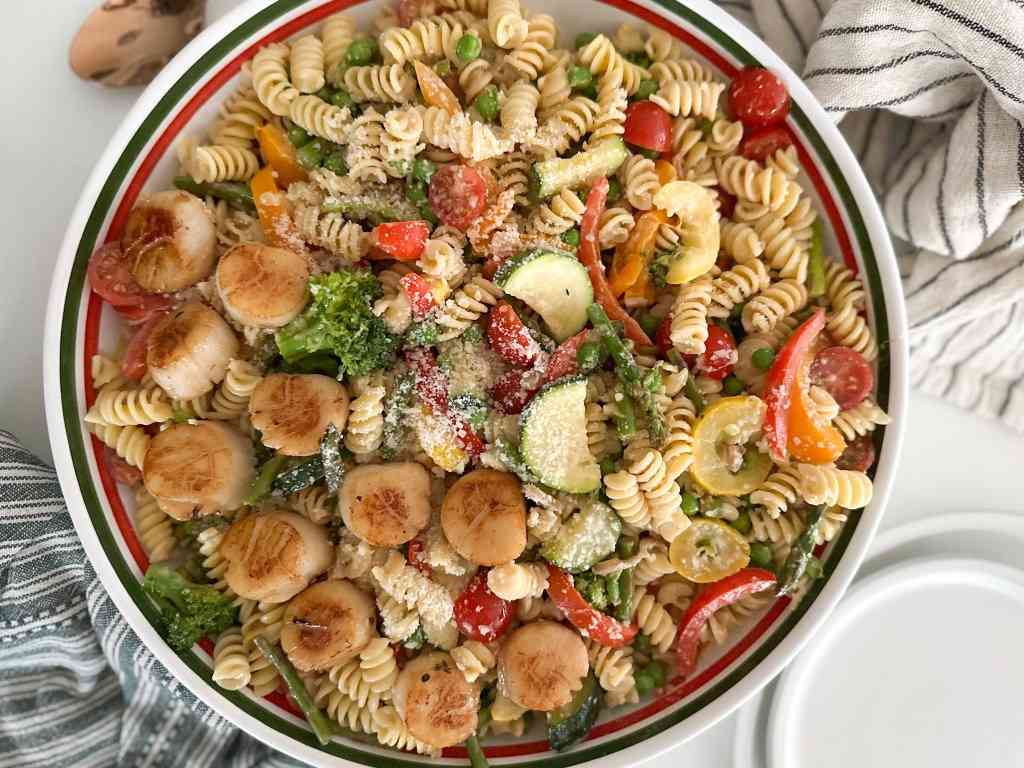 How to Clean Scallops
Scallops should be firm. If they are wet, shiny or slimy they are no longer good to eat.
I bought my scallops frozen, the day before making this recipe, I let them slowly defrost in the refrigerator. Then you want to pat them dry and leave them sit on a paper towel. They should be as dry as can be before searing so they brown up quickly.
To clean the scallop you have to check and remove the side muscle if it is still attached. It looks like a little tag on the side and you can pull it off.
What Pasta to Use
I love to you rotini because the herb-scallop-Parmesan sauce gets captured in the twists of the pasta. Another great go to is spaghetti. If you want more of a bite, bucatini pasta.
If you want a gluten free option, we love trading out regular pasta with lentil pasta.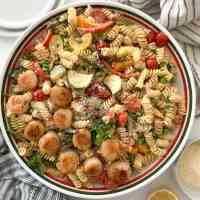 Pasta Primavera with Seared Scallops
Pasta primavera is jam packed with fresh vegetables, tossed in pasta with an herb-scallop-Parmesan sauce and perfectly pan-seared scallops. It's a great way to clean out the fridge!
Please read through the steps before starting.
Print
Email
Pin
Rate
Ingredients
1

lb

Rotini or Pasta of Choice

3

TBSP

Olive Oil

1

tsp

Salt

2

Bell Peppers - thinly sliced

1

Yellow Squash - halved and cut into ¼ inch slices

1

Zucchini - halved and cut into ¼ inch slices

½

bunch

Asparagus - trimmed and cut into bite size pieces

about 2 cups

1

head

Broccoli

about 2 cups

1

cup

Frozen Peas

2

TBSP

Butter

divided

1

Shallot - thinly sliced

2

cloves

Garlic - minced

6

sprigs

Thyme - pull off the stems

½

cup

White Wine

optional

12+

Scallops - pat dry and remove muscle

Use as many as you want for your serving size.

½

tsp

Salt

a pinch or two

1

cup

Vegetable Stock

½

cup

Heavy Cream

1

cup

Grated Parmesan Cheese

1

cup

Cherry Tomatoes - halved
Instructions
In a large pot, bring salted water up to a boil and cook your pasta. Reserve ½ cup of pasta water.

While the pasta cooks, you can cook your vegetables (see step 2-3).

In a large pot with sides, over medium heat, add in your olive oil and the bell peppers, yellow squash, zucchini, asparagus, and broccoli.

Give the vegetables a toss and cook for about 1 minute. Add in the reserved ½ cup of pasta water. Cover with a lid to steam and cook the vegetables - about 3 minutes.

Remove the lid, and cook for another 2 minutes, toss occasionally. They should be cooked but still have a crunch bite. Cook a little longer if you want them to be softer.

Add the cooked vegetables to the pot with the pasta and peas. If there is excess water in the pan, do not add that into the pot with the pasta and vegetables.

The heat from the cooked pasta and vegetables will cook the peas.

In the same pan that you cooked the vegetables in, remove any excess water. Add in 1 TBSP of butter, shallot, garlic and thyme. Over medium-low heat, cook until the shallots start to soften. Stir occasionally to prevent burning. About 2 minutes.

Add in the wine, over medium-high heat let the wine reduce to almost gone, about 5 - 10 minutes.

Reduce the heat to medium, add in the remainder of the butter. Add in your prepared scallops, sprinkle on a pinch of salt. Cook until browned - about 2 minutes on each side. They should be firm with a slight bounce when you touch them.

Do not overcrowd the pan, you want to have space between each scallop, you can cook in batches if needed.Do not over cook, they will continue to cook as they rest. If you are using a stainless steel pan, the scallop will release itself once it's browned, do not tear off the bottom of the pan early.

Remove the scallops from the pan and set aside.

Pour over the pasta and vegetables in the large pot. Toss to cover the pasta and vegetables. Add the scallops and cherry tomatoes. Serve immediately.
Groceries Are Expensive These Days – What to do with leftover ingredients
This pasta primavera recipe uses a lot of ingredients, luckily there are only a few leftover. Asparagus, peas, vegetable stock and heavy cream. Store the asparagus in a cup of water (about 1/4 inch deep) in the fridge, this will make them last longer. Peas can go in the freezer until next time. Store the vegetable stock and cream in the fridge too!
Asparagus makes a great vegetable side dish. The easiest way to make it is in the oven. Preheat the oven to 350F. Snap, trim and clean the asparagus. Layout on a sheet pan (with edges) in a single layer. Drizzle olive oil and sprinkle on some salt. Roast in the oven about 7-10 minutes until to reaches your preferred doneness, we like ours to be slightly still crunchy.
Here are a few recipes that use these leftover ingredients: