Greek panzanella salad is the perfect weeknight dinner. The salad of all salads. It's a little bit traditional panzanella, a little bit Mediterranean and a little bit antipasto. Fresh vegetables, spicy pepperoni, brine-y olives, homemade croutons and chunky feta all tossed in a flavor-bomb of olive oil and vinegar dressing. This greek panzanella salad is the ideal warmer weather salad for busy weeknights, pool days, barbecues and potlucks.
Make it under 15 minutes and it's easy to prep ahead.
Traditional Panzanella Salad
The traditional panzanella salad originated from Italy – more specifically Tuscany. It was originally a salad that used stale bread, tomatoes and onions. Since then, the panzanella salad has been added to and adapted to include different ingredients. The true star of the salad is the stale homemade croutons that are there to add a little crunch and soak up the delicious dressing.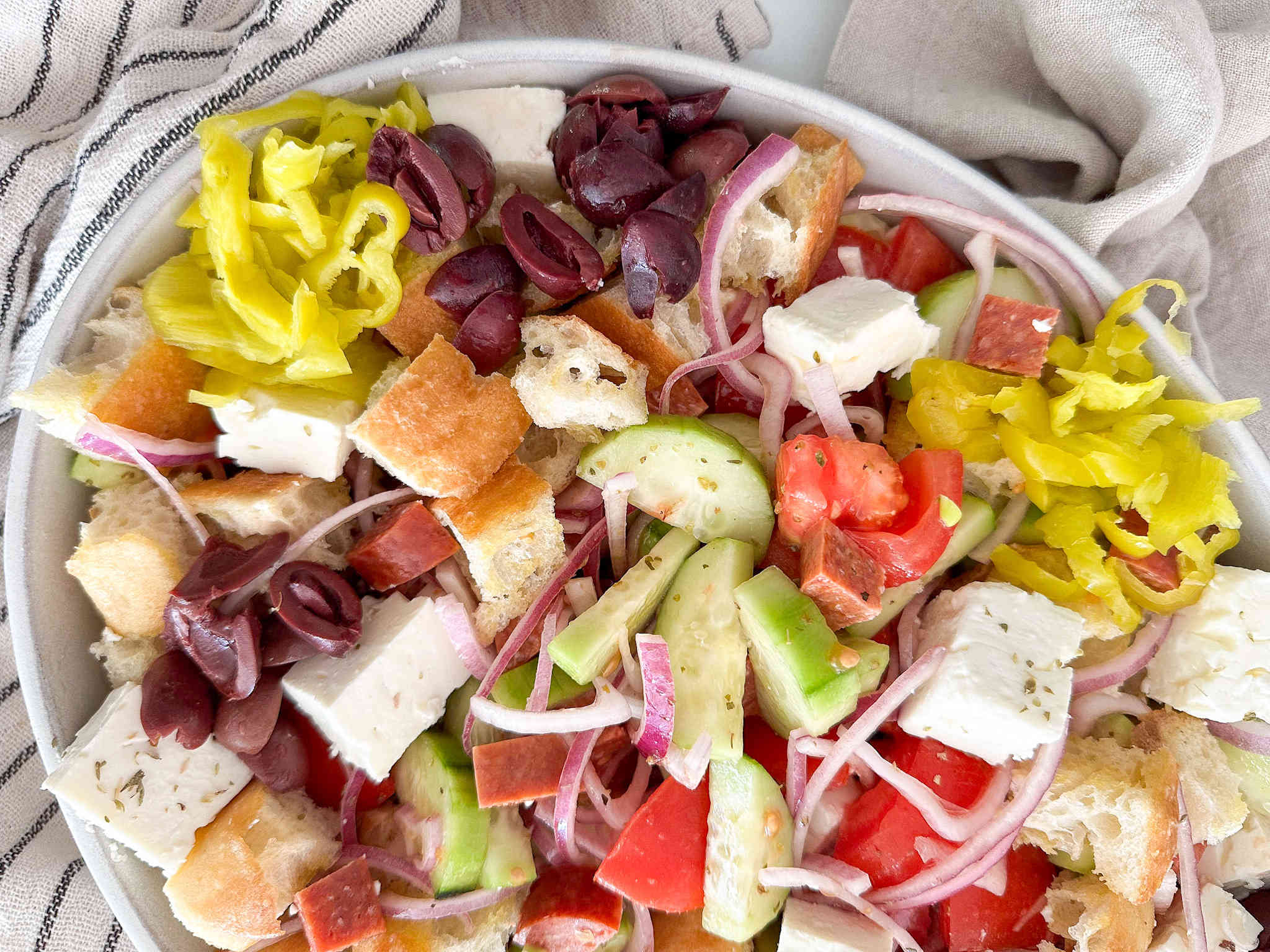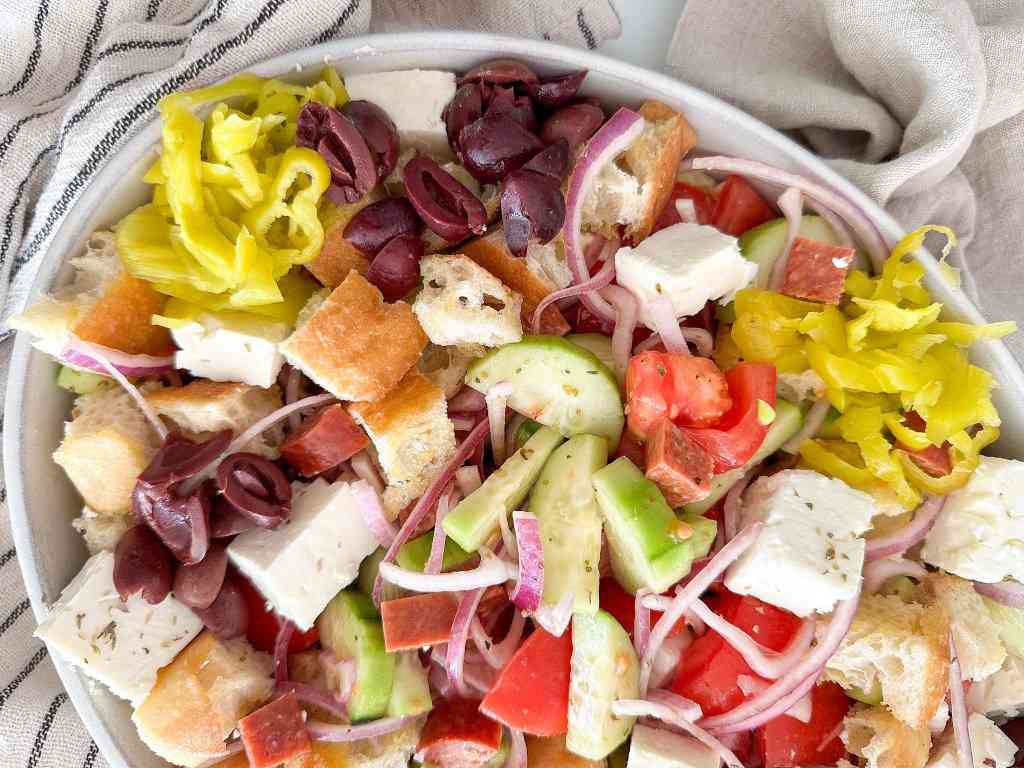 The Ingredients
Homemade Toasted Bread Croutons – I bought ciabatta bread from the grocery bakery and then untied the plastic bag and let it sit open-air for a day or two on the counter. Cut it up into bite-size cubes and then place it on a sheet pan and in the oven for a quick toast.
Tomatoes off the vine– ripe tomatoes, chopped give the salad a sweetness and the perfect texture.
Cucumbers – two cucumbers, peeled and halved to give the salad a refreshing bite.
Red Onion/Purple Onion – I love these for the summer. Red or purple onions have more of a zingy tang flavor that gives the salad a light and fresh vibe.
Pepperoni Log – you can also use a turkey pepperoni log. Cut into bite-size chunks. This will give the salad an antipasto feel. You can also skip to keep the salad vegetarian.
Sliced Kalamata Olives – the salty and brine-y but less "olive-y" than most olives.
Sliced Peperoncini  – these crunchy yellow peppers have a mild spice. They will brighten the salad up and give it another layer of flavor.
Plain Feta Cheese Block – broken or cut into large bite size chunks and tossed into the salad with the homemade croutons right before serving for a creamy tangy bite to tie the dish all together.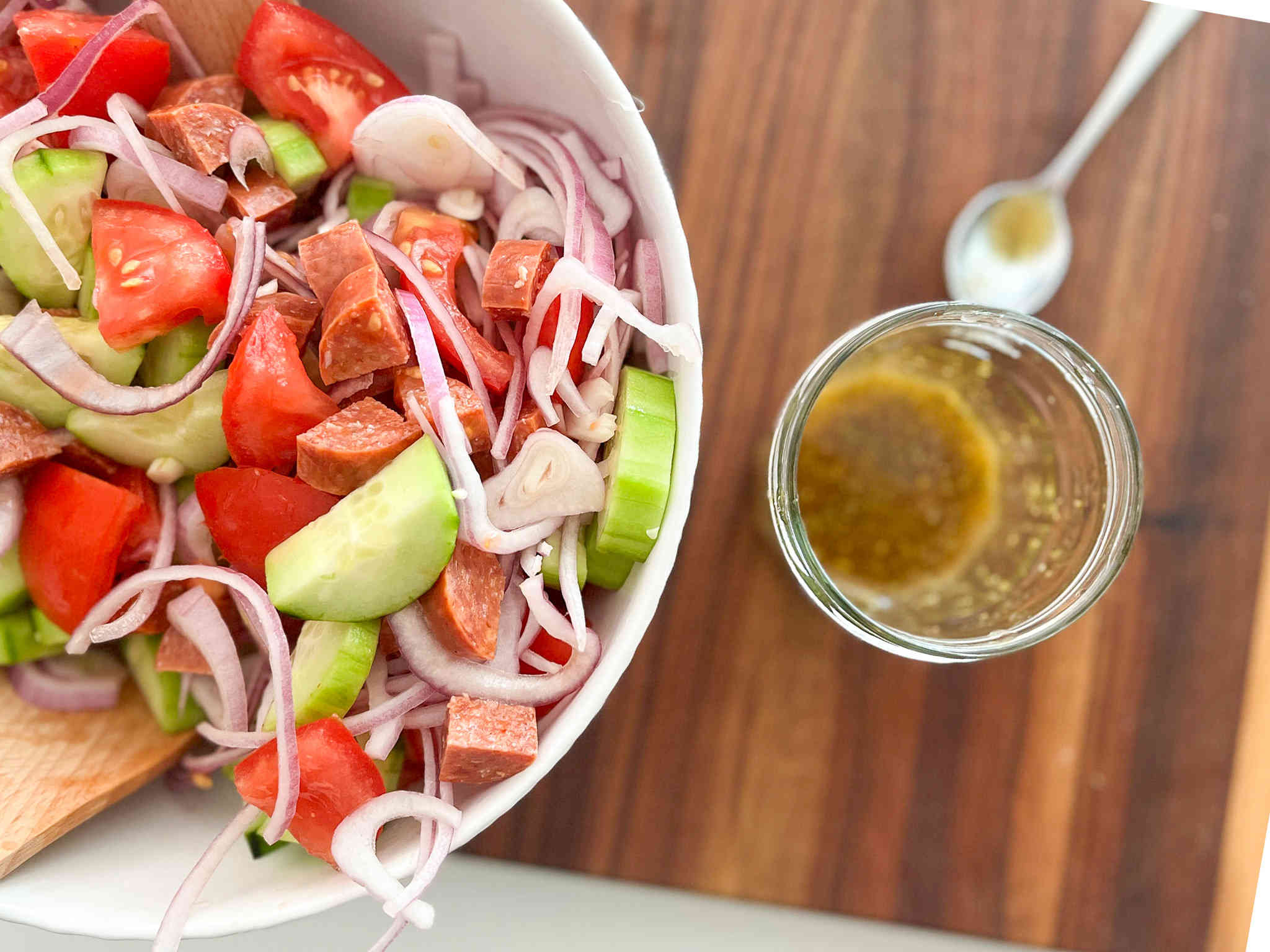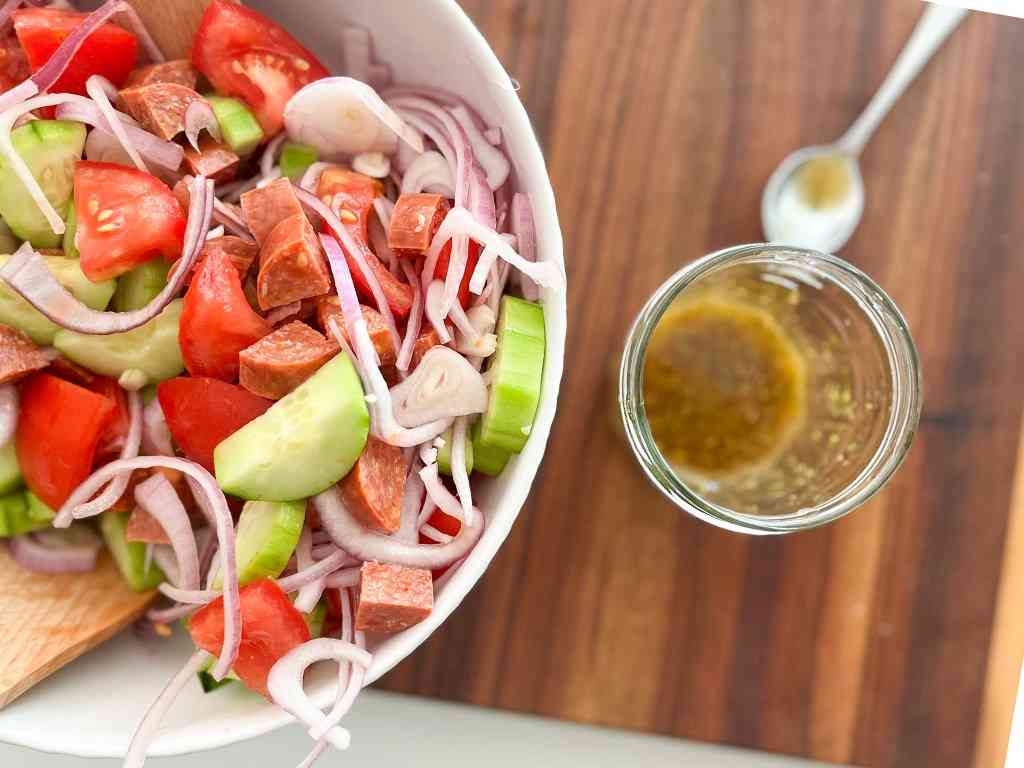 Flavor-Bomb

Greek Panzanella Salad Dressing 
To really take this salad to the next level, this salad dressing is a must. The flavor is so good and once the ingredients are coated in it the salad is unstoppable, meaning you will love it so much you will want to eat all six servings – speaking from experience.
Olive oil, tart red wine vinegar, earthy peppery oregano and salt all whisked together for the perfect salad dressing that goes really well with this sweet and zesty salad.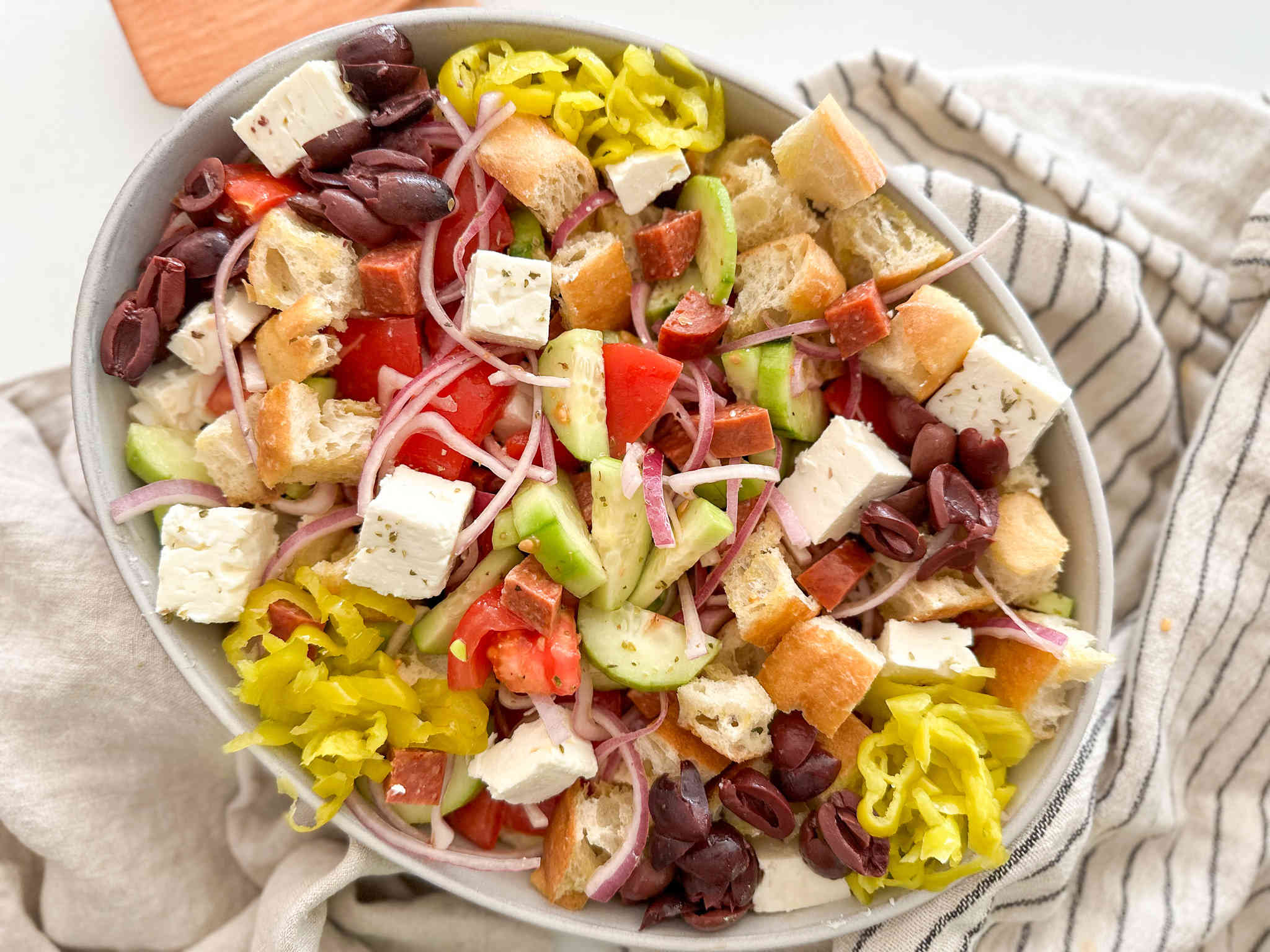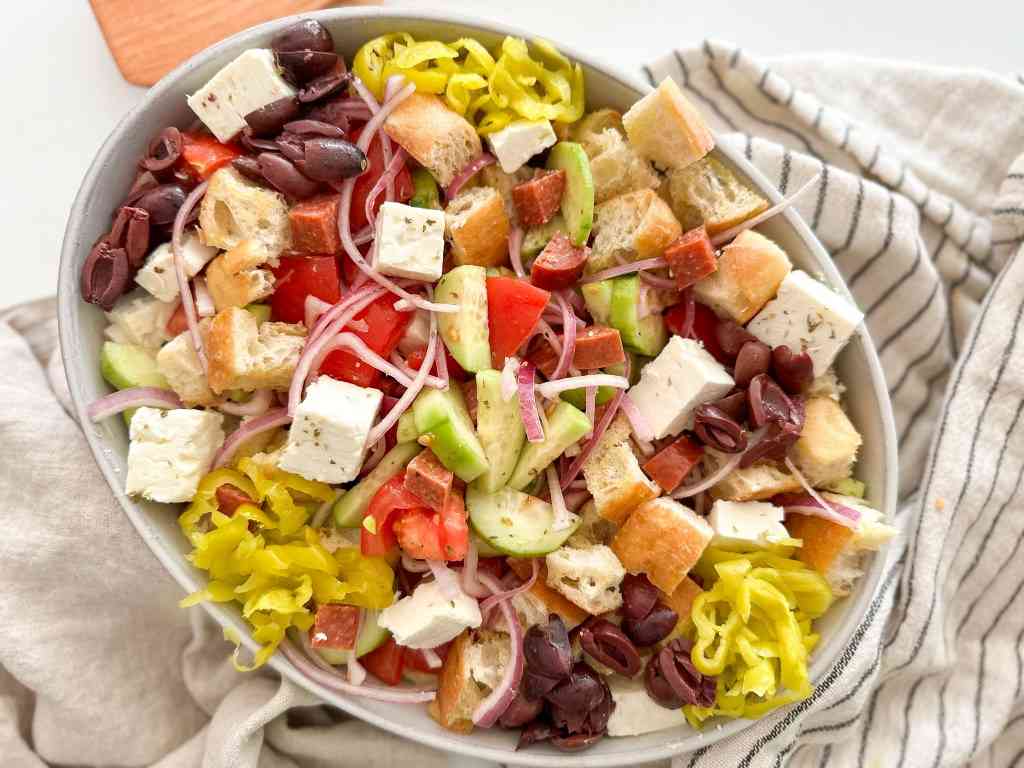 Prep Ahead for Later
The salad: tomatoes, cucumbers, purple onion and the salad dressing can be prepped 48 hours ahead of time. I even think the extra time created stronger flavors. Store in a food safe container, with a lid in the refrigerator until you're ready to serve. When you are ready to serve, top with the homemade croutons and feta cheese chunks.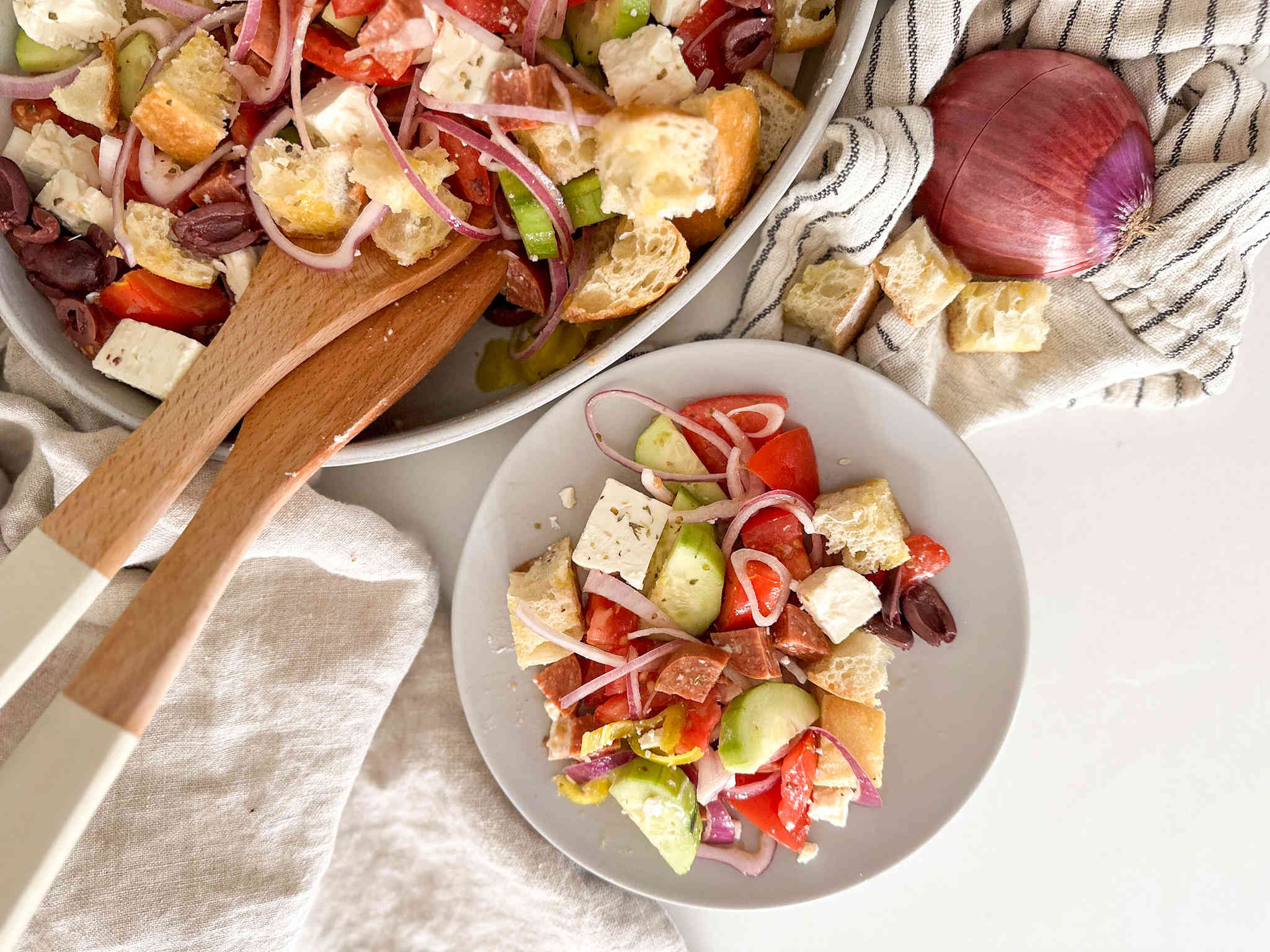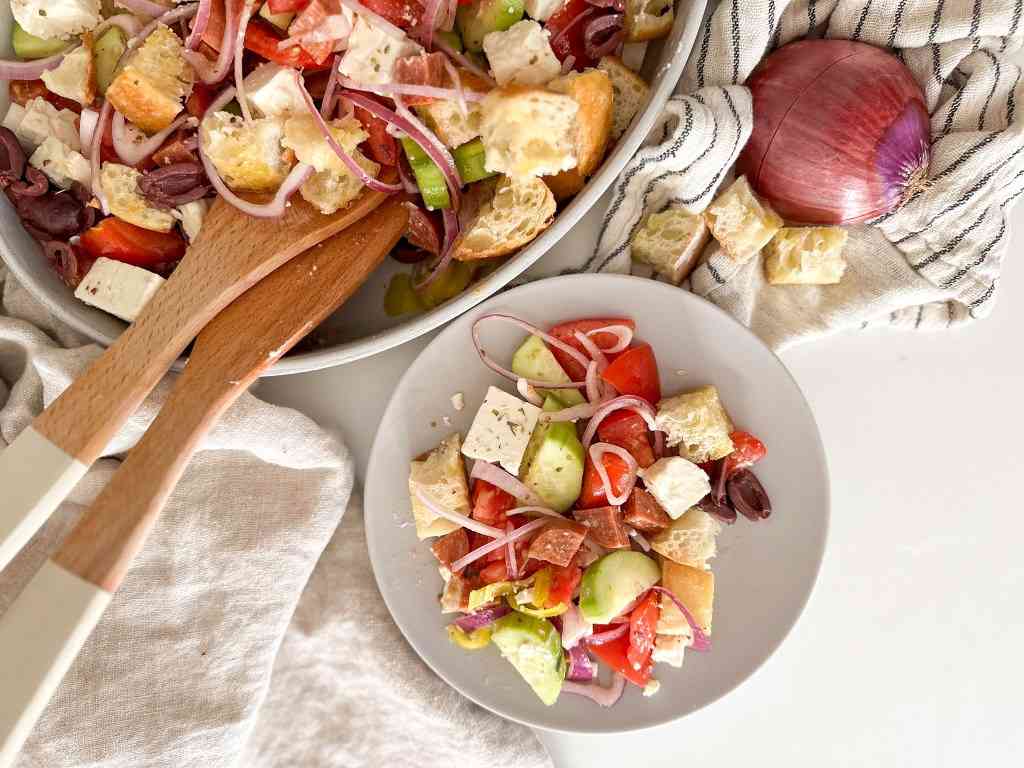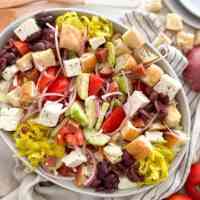 Greek Panzanella Salad
This greek panzanella salad is the ideal warmer weather salad, weeknights, pool days, barbecues and potlucks. Make it under 15 minutes and it's easy to prep ahead.
Print
Email
Pin
Rate
Ingredients
10

oz

Bakery Fresh Bread

Ciabatta, Sourdough, Olive Oil, Baguette

A drizzle of

Olive Oil

¼

tsp

Salt

5

small

Tomatoes - chopped

2

Cucumbers - peeled and chopped

½

Red/Purple Onion - thinly sliced

5

oz

Pepperoni Log

can substitute turkey pepperoni

8

oz

Block of Feta Cheese

2-3

oz

Jar of Sliced Kalamata Olives

4-8

oz

Jar of Sliced Golden Greek Peperoncini
Greek Panzanella Salad Dressing
3

TBSP

Olive Oil

3

TBSP

Red Wine Vinegar

1

tsp

Dry Oregano

½

ttsp

Salt
Groceries Are Expensive These Days – What to do with leftover ingredients
This salad makes a great lunch the next day. The homemade croutons are a little soggy but it's still very delicious and perfect for a pack-and-go lunch.
You will use all of the ingredients in the salad without much waste. Use the left over red/purple onion on  a BBQ chicken pizza, in buffalo chicken wraps or skewered on easy weeknight steak kabobs!
If you have left over Kalamata olives make this favorite quick and easy pasta puttanesca.
Lastly, sprinkle the sliced peperoncinis over crockpot friendly chicken cheesesteaks.