There is nothing better than creamy potato soup and now it come fully loaded, packed with all the favorite baked potato toppings, including broccoli florets to even things out.
This soup comes together in under and hour, pair it with crackers and a salad for a delicious weeknight dinner.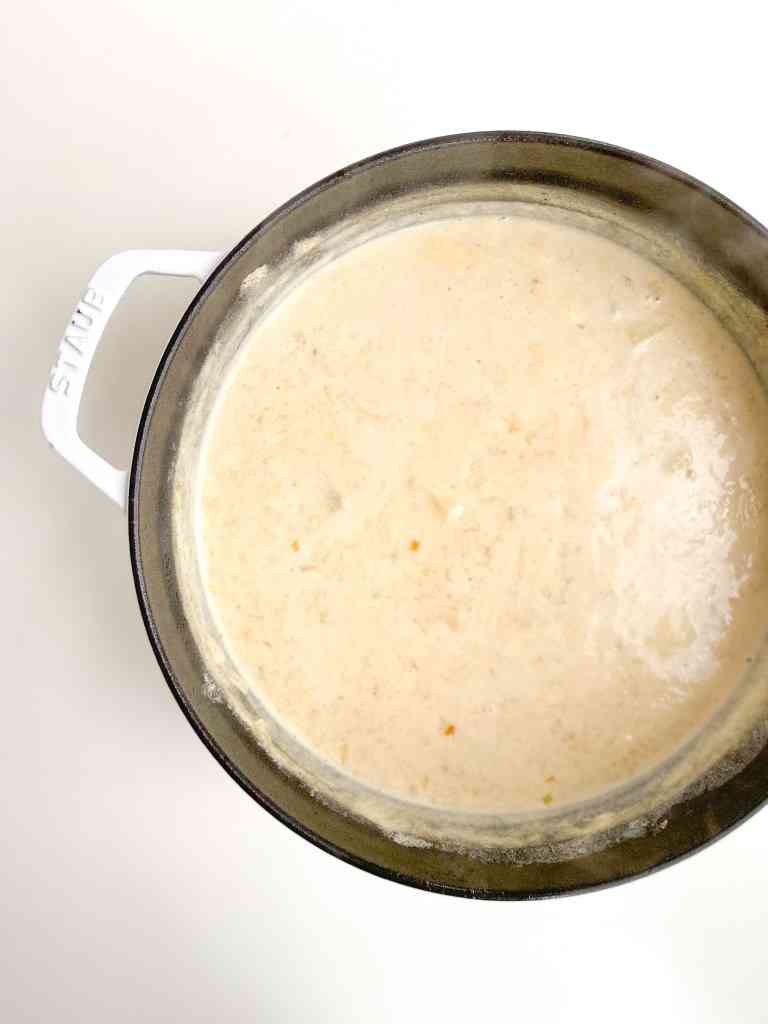 Make this your soup
This soup has a lot of the same ingredients you would find on a loaded baked potato, but that doesn't mean you have to use them all and feel free to add in extras!
Bacon – bacon bits are a staple for loaded – anything. You name it, it usually has bacon on it. Feel free to use turkey bacon or keep it out entirely, if you do this, make sure to substitute olive oil for the bacon grease in the recipe below.

Cheese/Milk/Sour Cream – I used white cheddar because it's my favorite, you can use cheddar – sharp or mild, pepper jack, or even something fancier like Gruyère cheese.

Milk – this is the base of the soup, you will want to use whole or 2%.

Sour Cream – this adds a little tang, it helps balance the creaminess of the potatoes, milk and cheese.

Unsalted Chicken Stock – feel free to substitute with vegetable stock if you want to make this vegetarian. I usually look for unsalted stock so that I can control the salt-to-taste. If you're unable to find unsalted, you may want to adjust the recipe and add less salt, you can always add more to taste.
Salt – Potatoes love salt. Salt is very important to bring out the flavors of this soup so don't shy away but use with caution. If you are using salted stock, make sure to take that into consideration when adding salt to the soup. At the end of cooking, taste before serving, if the soup seems bland or dull sprinkle in a pinch or two of salt to wake up the layers of flavors.

Green Onions – Perfect for garnish, you can also use chives for the ultimate baked potato experience.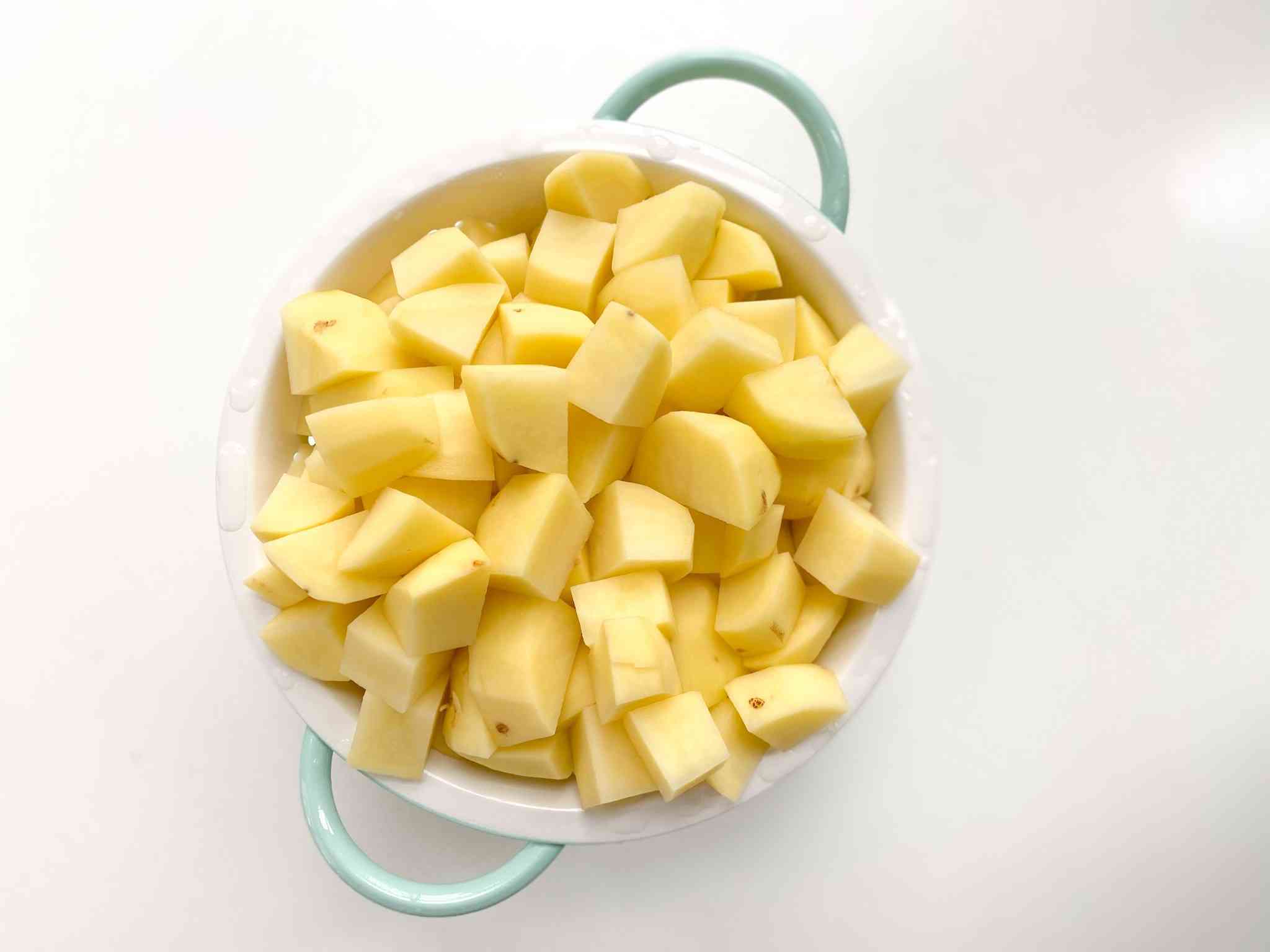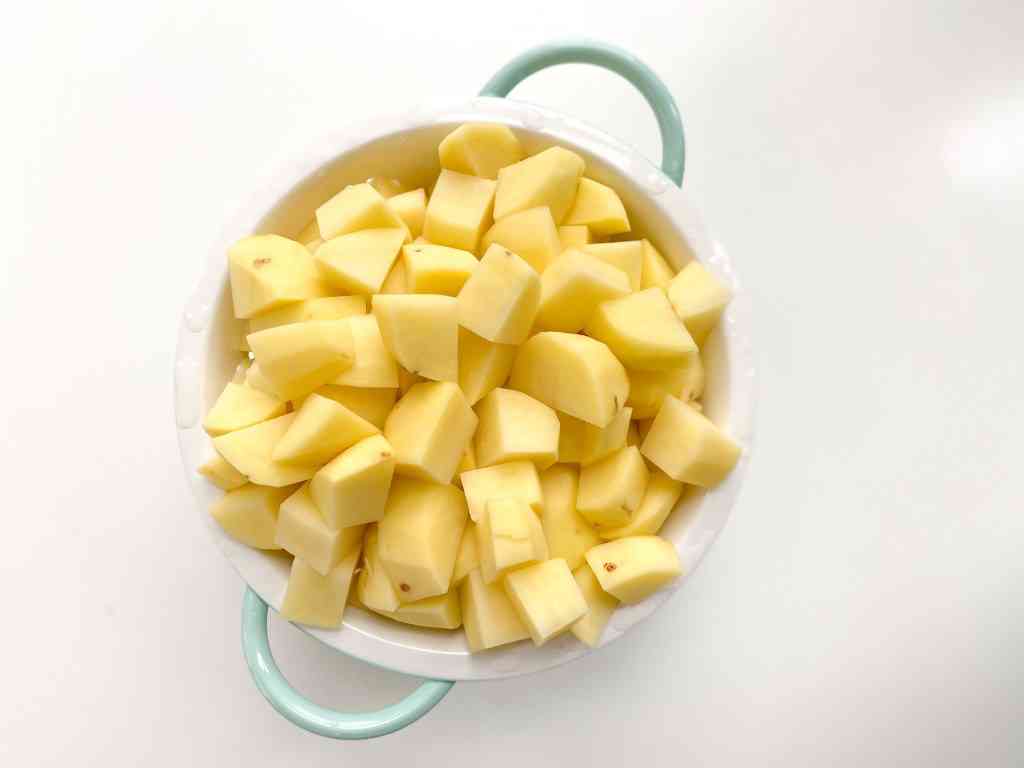 Let's talk Potatoes
There are so many different types of potatoes. For this soup you want something starchy like these Yukon Gold, Katahdin, or Russet, avoid using any of the waxy varieties. The starch will make the soup creamy.

Controlling the starch – with starchy potatoes it's important to know how and why the starch is important. The starch is inside of the potato, ever notice the sticky white residue on a knife after cutting? That's starch. By cutting and rinsing you can control how much starch stays in the dish.

For example, for perfect crispy fries with a soft pillowy potato on the inside you want less starch so you rinse your thinly cut fries before frying. When you're making a cloud of creamy fluffy mashed potatoes you need more starch, so you skip the rinse.

For this soup you want to utilize the starch just enough to have a creamy consistency without having it become gluey or sticky. To get the perfect creaminess you will want to peel and rinse your potatoes. Then cut them into even bite-size pieces and rinse again.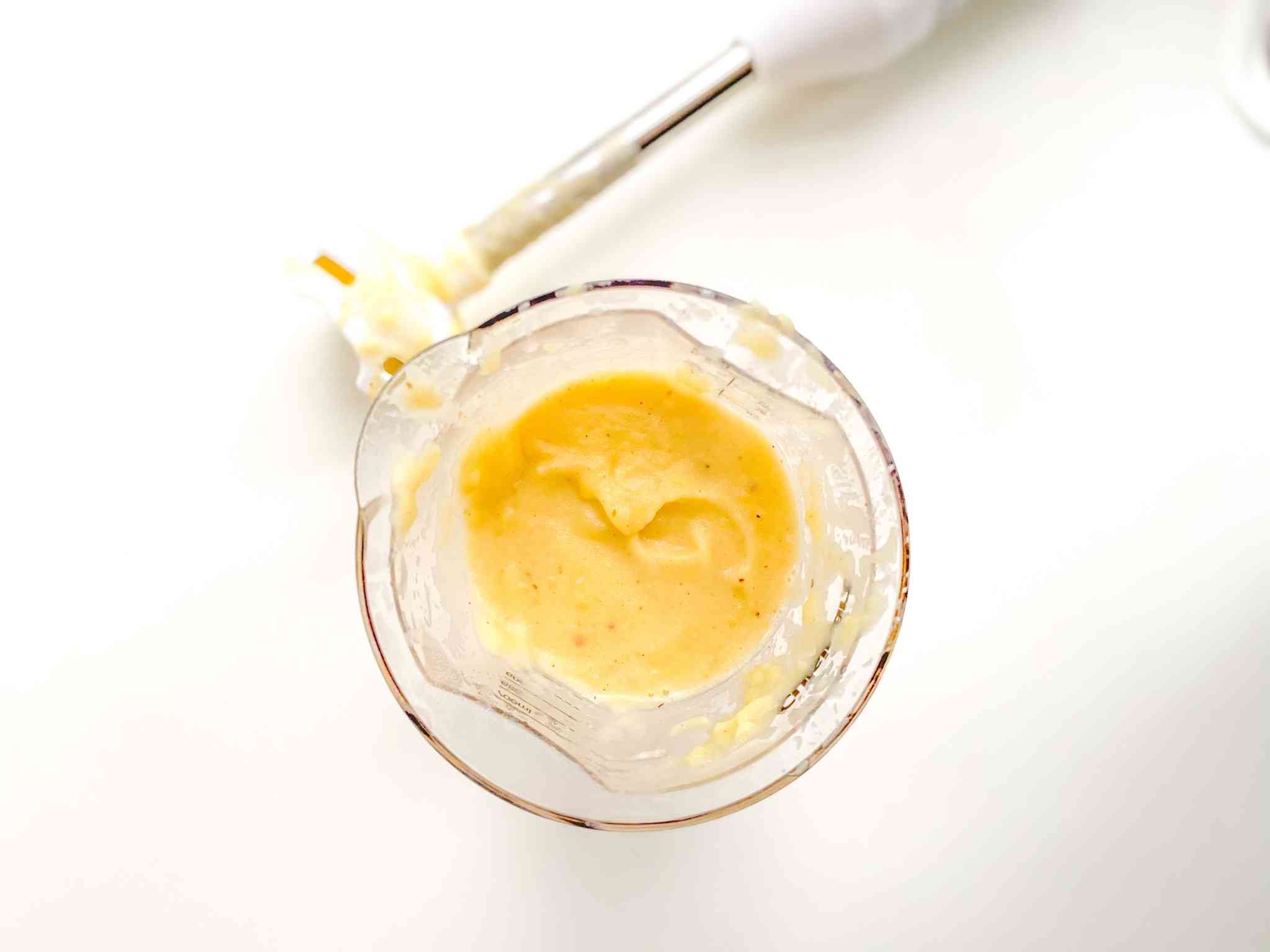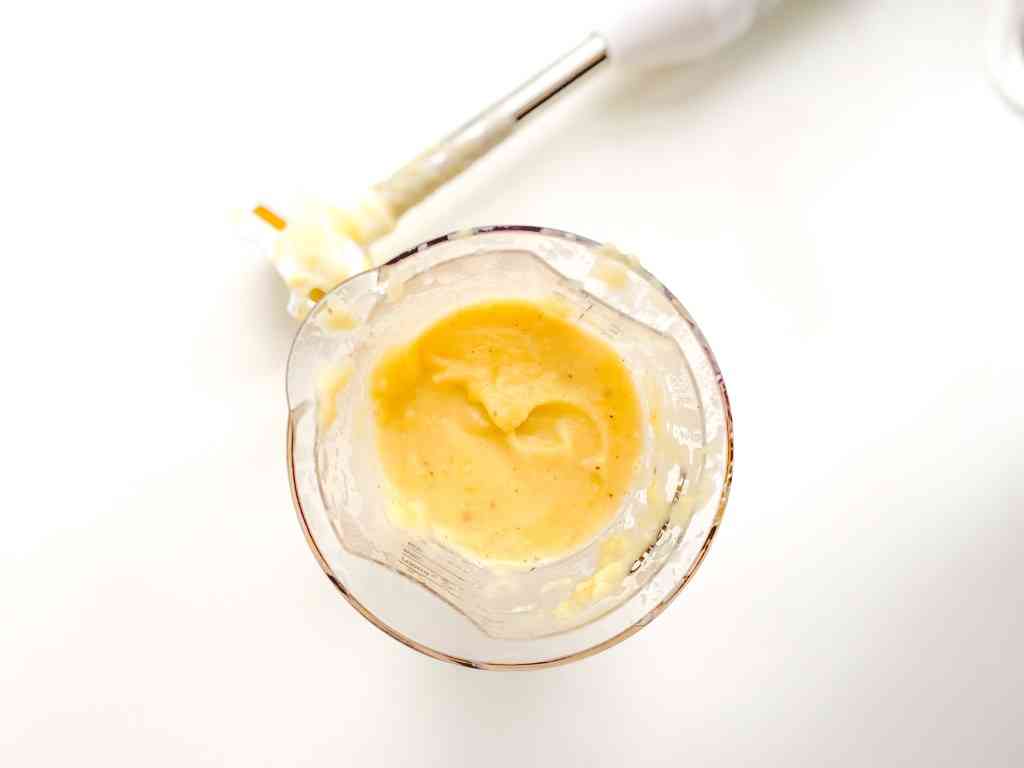 I blended about 1/2 of the cooked potatoes until smooth and then added it back into the pot. To do this, be very careful, when blending hot food, only fill your blender or your immersion cup up 1/2 way, the food will expand because of the heat, if you are using a traditional blender, do not tightly seal the top.
Doing only 1/2 of the soup before adding the broccoli will give you a perfect creamy base with tender bites of potato and broccoli florets throughout.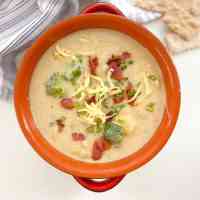 Creamy Loaded "Baked" Potato & Broccoli Soup
Nothing beats a homemade warm creamy comfort soup! This one doesn't have any canned or condensed soup add ins.
Print
Email
Pin
Rate
Ingredients
5

slices

Bacon

1

cup

Diced Onion

approx. 1 medium onion

1

clove

Garlic – minced

1 tsp of store bought minced garlic

4

cups

Whole or 2% Milk

3

cups

Chicken Stock

1

tsp

Pepper

+ more to taste is needed

1

tsp

Salt

+ more to taste is needed

3

lbs

Gold Potatoes – peeled, cut into small bite-chunks

3

cups

Fresh Broccoli Florets

about 1 medium head of broccoli

½

cup

Sour Cream

1

cup

White Cheddar Cheese

Green onions or chives for garnish
Instructions
In a large pot or dutch oven, dice your bacon, cook over medium high heat until crispy. Reserve 1 TBSP of bacon grease. Remove the bacon, drain on a paper towel and set aside.

In the TBSP of bacon grease add your diced onions and minced garlic. Cook over medium heat until the onion becomes translucent and the garlic is fragrant.

Add in milk, chicken stock, salt and pepper. Using your spoon, mix in any bits of flavor that are on the bottom of the pan.

Add in your cut potatoes and cook over medium heat for about 15 minutes until the potatoes become fork-tender.

Once your potatoes are soft, remove from heat and blend 1/2 of the soup for a creamer consistency. (see blog notes for helpful hints) Add the smooth blended soup back into the pan and stir until incorporated.

Add in your broccoli florets and sour cream. Stir until combined. Over medium heat until broccoli is cooked about 5 minutes.

Remove from heat and add in your cheese. Stir until fully melted and incorporated.

*turning off the heat is important, cheese will separate if it's heated too high for too long leaving your soup with a grainy texture.

Top with thinly sliced green onions or chives.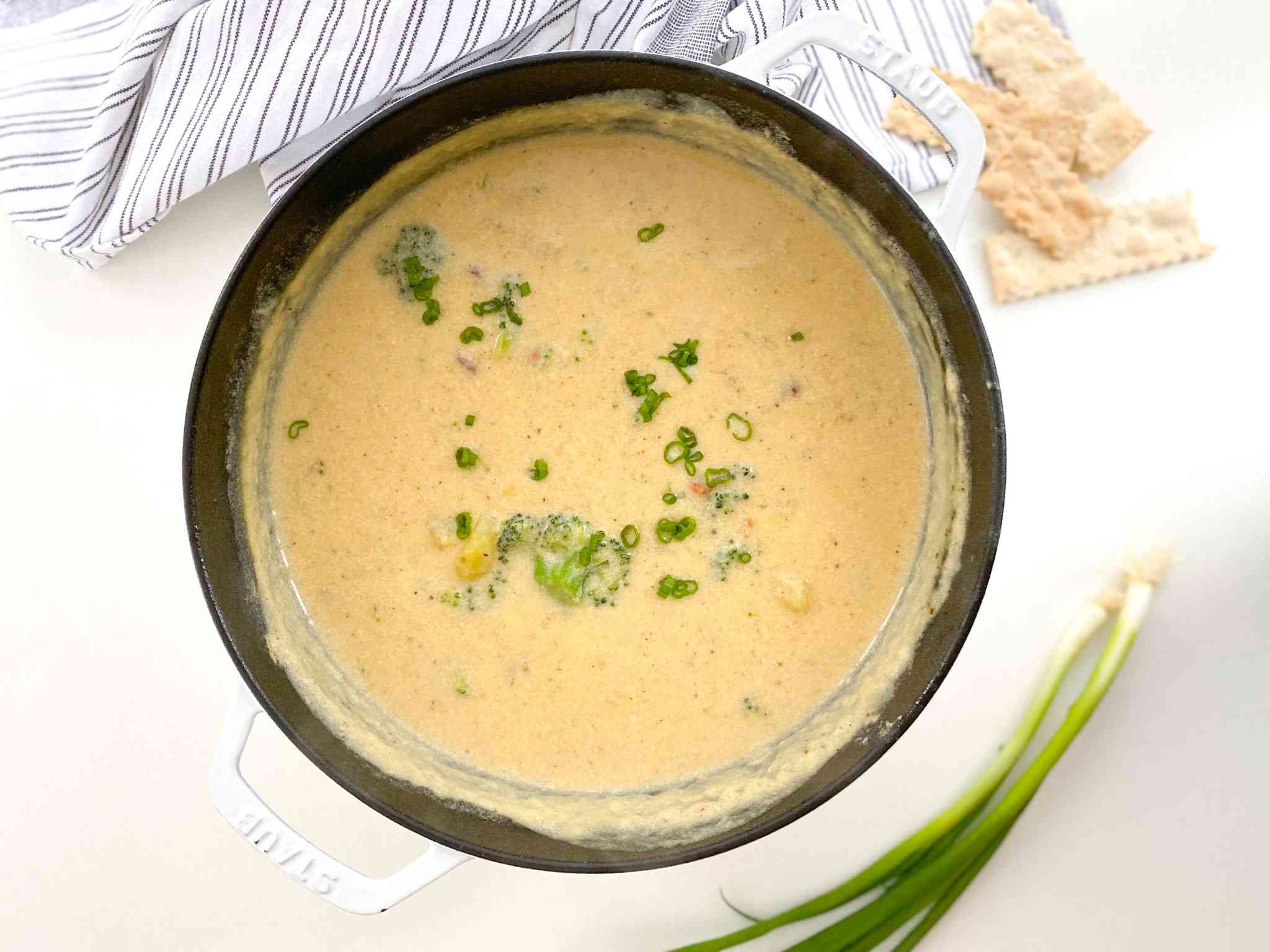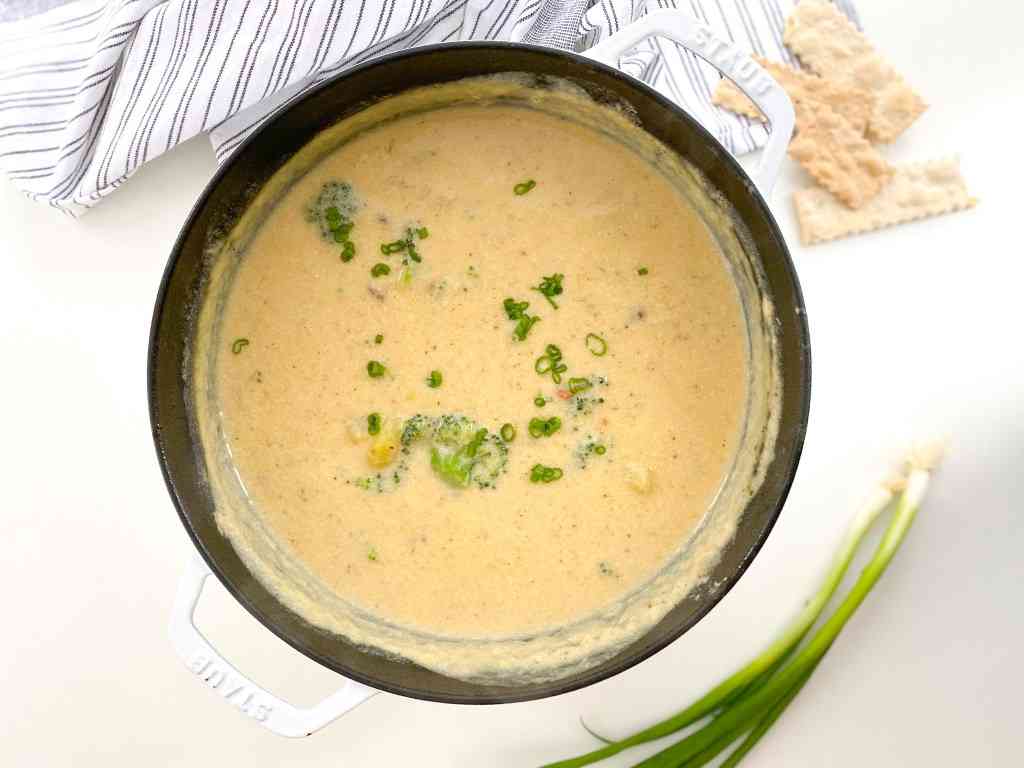 Other creamy soups