Growing up, tomato soup was one of my favorites. I now realize that this seems strange, why would a little girl love canned tomato soup?! The answer is because it was always served with grilled cheese, once I was done with the warm cheesy sandwich I was also done with the soup. So in reality, I only ate as much soup as it took me to dunk my grilled cheese for each bite. Side thought, have you seen canned tomato soup come out of the can? It's much like the beloved canned cranberry sauce at Thanksgiving except without the can ring indents.
As I've aged, my love for actual tomato soup grew (I no longer need a vehicle of grilled cheese to enjoy it), let's credit the bloody Mary for this turn of events. Because canned soup is good (?) but homemade soup is the best, I decided to create a delicious robust tomato soup that everyone would enjoy, even for the non-tomato and non-bloody Mary lovers – trust me on this, I have a lot of confidence in this soup.
This super smooth hearty soup is naturally vegetarian, can be made in less than an hour, has added (hidden) vegetables, and will satisfy your soup craving on any cold, chilly evening. And it's a perfect match for a warm buttery grilled cheese.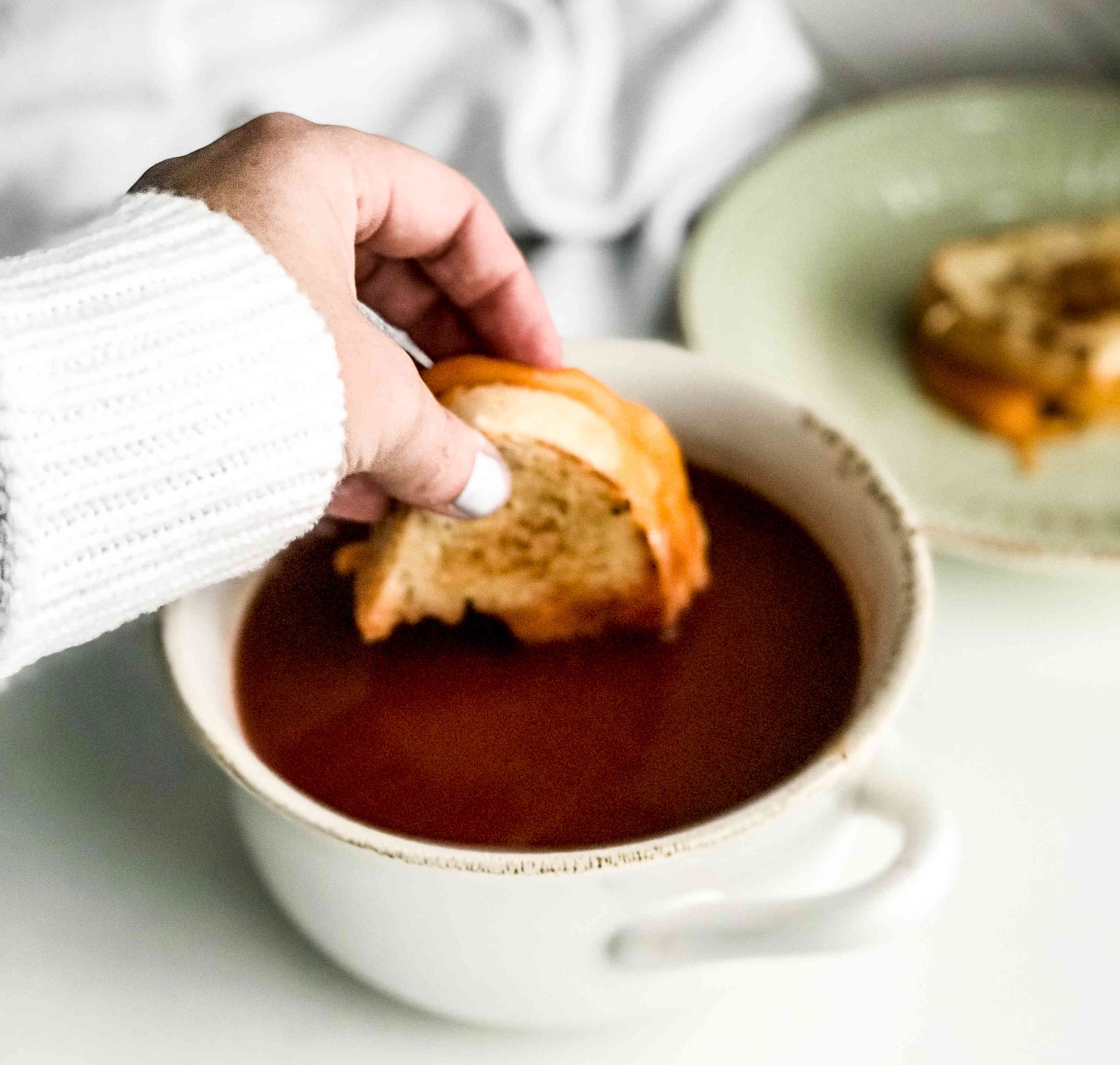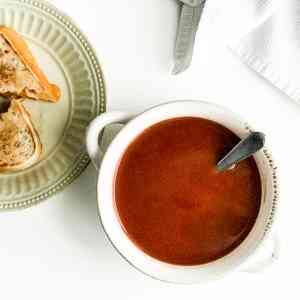 Homemade Tomato Soup
This super smooth hearty tomato will satisfy your soup craving on any cold chilly evening. A perfect match for a warm buttery grilled cheese.
Print
Email
Pin
Rate
Equipment
Small piece of cheesecloth and twine
Ingredients
28

oz

Whole Peeled Canned Tomatoes

4

cups

Vegetable Stock

2

cups

V-8 Original

1

tsp

Salt

1

Bay Leaf

1

smashed Garlic Clove

2

TBSP

of Tomato Paste

½

tsp

Dry Thyme

¼

tsp

Red Pepper Flakes

optional
Instructions
In a large pot, add in the canned tomatoes, vegetable stock (you can also use chicken stock if you have that on hand), V-8 and salt.

I know the V-8 sounds interesting (or were you going to say weird?), but I love it in my soup, it will enhance the robust flavors I was talking about earlier by using the V-8 vegetable juice, you will add another layer of hearty-tomato-vegetable-flavor that is unbeatable. Also worth mentioning, the V-8 will provide the soup with body and texture without adding cream.

What are you suppose to do with your left over V-8? Make yourself a bloody Mary.

You will want to bring this up to a boil and then back down to medium simmer for 10 minutes. As that is simmering, you can prepare your seasoning sachet.

Because the soup will get strained at the end, the bay leaf and smashed clove of garlic can go directly into the pot, however the dry thyme and red pepper flakes are still really tiny and should go into a sachet made from cheesecloth so that the flavor can infuse into the soup without speckling the smooth tomato red soup appearance.

To create the sachet - take a small piece of cheesecloth and separate the layers, then re-layer the cheesecloth criss-crossing the squares so that the wholes are as small as they can be to help prevent anything from falling into the soup. Then fold it up and tie close. Set aside.

Use a hand potato masher, but you can also use a wooden spoon to press down pressure on the tomatoes. You want to get every tomato broken open.

Add in the bay leaf, garlic, tomato paste, and your seasoning sachet. Stir until the tomato paste is fully incorporated into the soup.

Over low heat, simmer for 35 minutes. It should have small bubbles but it should not be a high roaring simmer/boil. Tomatoes should cook awhile to allow their flavor to develop this is why any homemade tomato anything should simmer for awhile. If you forget about this and it goes longer than 35 minutes that's okay! The key is to have it over low heat so that the soup broth doesn't evaporate.

Once it's done cooking you will need to strain out the tomato chunks, seeds, bay leaf and garlic. Your goal is to have silky smooth red soup. This will take a few minutes. Pro-tip, if you tap the strainer, liquid will pass through a little faster so I usually tap mine against the bowl I'm straining the soup into.