Broccoli and cheese soup is by far one of my favorite comforts of all time. This recipe does not disappoint. Pairing two creamy bold cheeses together with fresh broccoli and simple seasoning make this recipe an instant favorite.
With easy to find ingredients, this soup recipe is vegetarian.


Let's talk about the cheese
This recipe uses two cheeses that when combined make the most delicious creamy broccoli and cheese soup.
You will want to use sharp white cheddar. I love Vermont white cheddar, to me it has a bolder crisper (for lack of a better word) cheddar flavor. For this recipe I used Cabot Vermont White Cheddar Cheese (this is not a paid sponsorship), I just know that it's easy to get lost in the aisle of cheese at the grocery store – especially if you're shopping while you're hungry – so I'm trying to make it easier for you.
You will also want to get a block of Fontina cheese. During the photoshoot for this recipe I learned a very important lesson about this cheese that I will share with you to help you avoid my mistakes.
First, I will say I love fontina cheese, and I have never stumbled across this in all of my years of eating it. The morning of the shoot, I had my husband run to the store, when he got home, we both learned that Fontina cheese comes in a lot of different varieties that I didn't even know existed, if your grocery store has a "Fancy" cheese section, consider yourself warned.
The first trip to the store, he brought back a much harder Fontina cheese that doesn't have the same creaminess you will want for this soup. So I asked him to try again.
The second trip to the store, he brought back a block of raw milk Fontina that has a very terrible smell. I was unable to cope with the smell, I was unable to taste it. Unable to waste food, I put it in the refrigerator and asked Brad to go back to the store for a third time – he's a patient saint. This time I sent him with a little direction and a picture of two that I usually buy.
For the record, I usually grab a plastic wrapped Fontina cheese from the deli section – Boar's Head or BelGioioso brand (again this is not a paid sponsorship) just trying to save you a headache, money and three trips to the grocery store.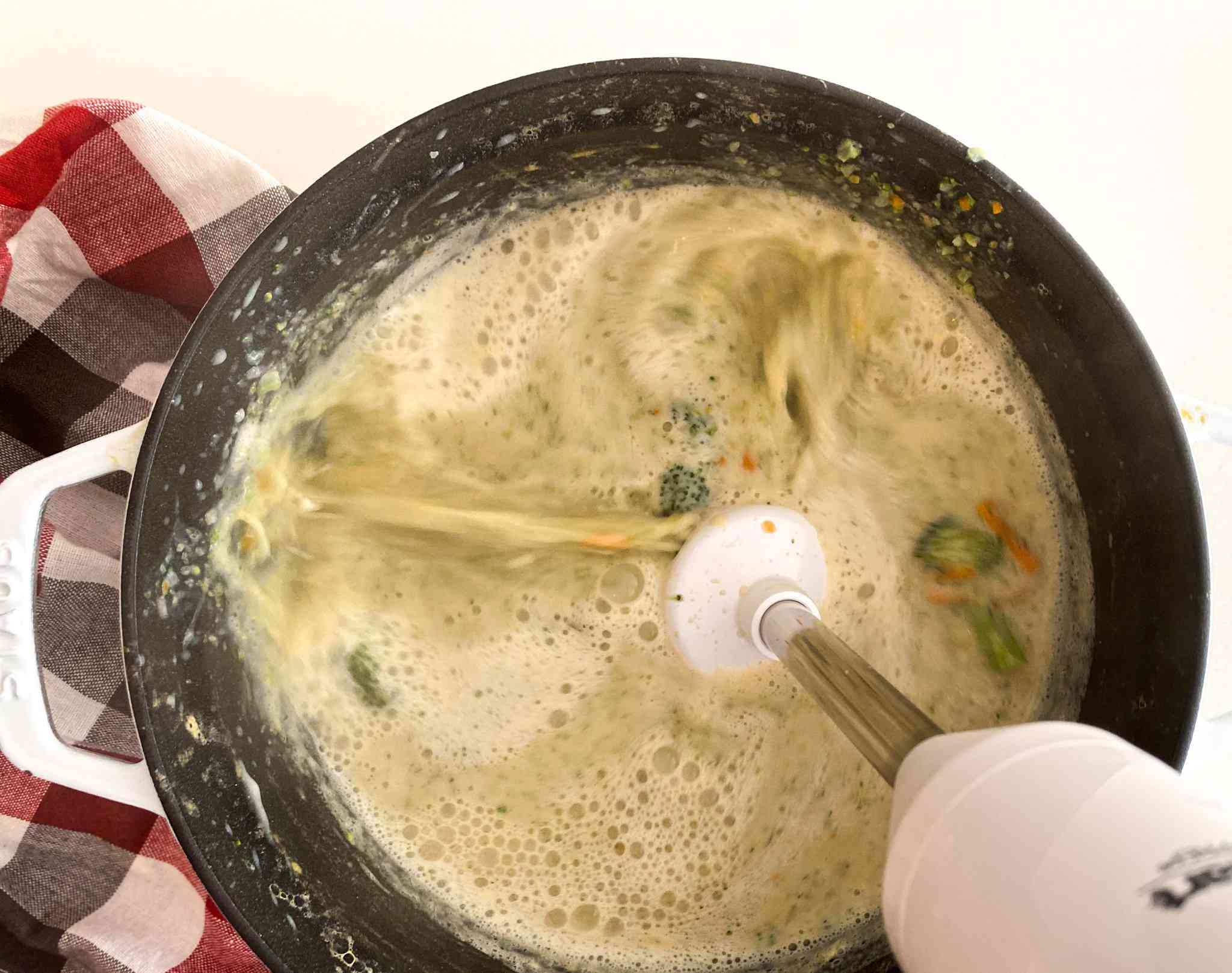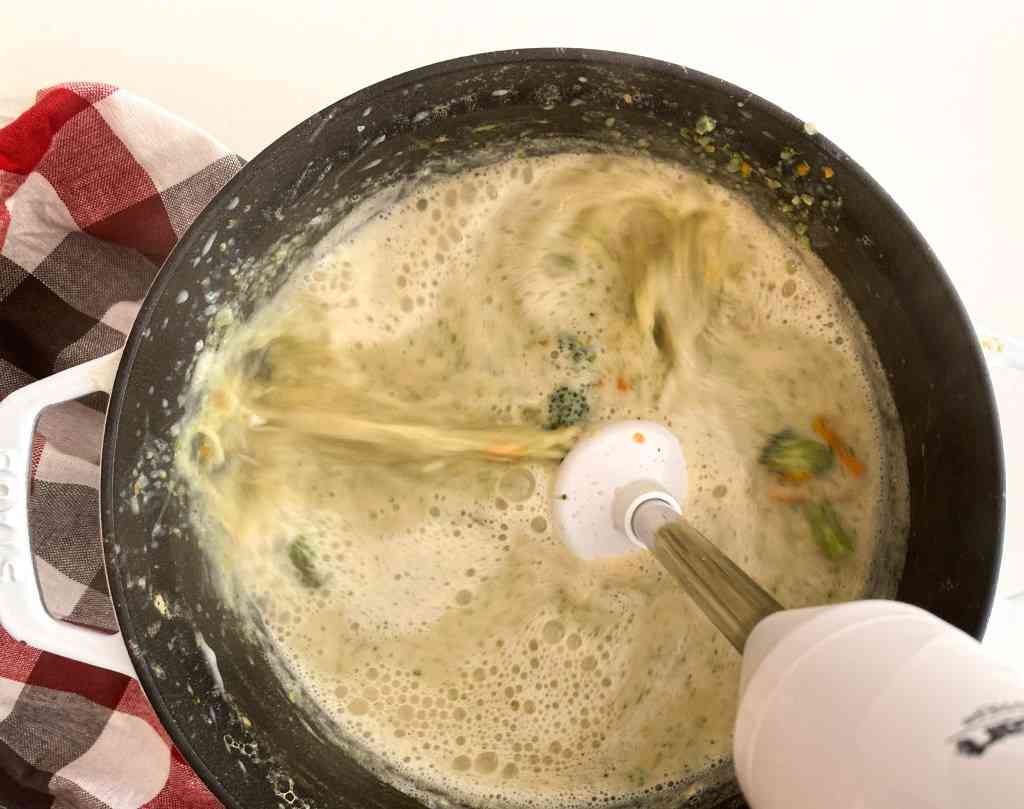 Immersion Blender/Blender
You don't have to blend this soup, it's perfectly delicious without this step. My only suggestion would be to cut the broccoli florets into bite-size pieces for easy eating.
My preferred way to make this broccoli and cheese soup is to blend 1/2 of the soup so you get both of best worlds. If you use a blender – you will unfortunately also chop up some of those carrot match sticks, but once you mix the blended soup back in with the other half, you will still see them.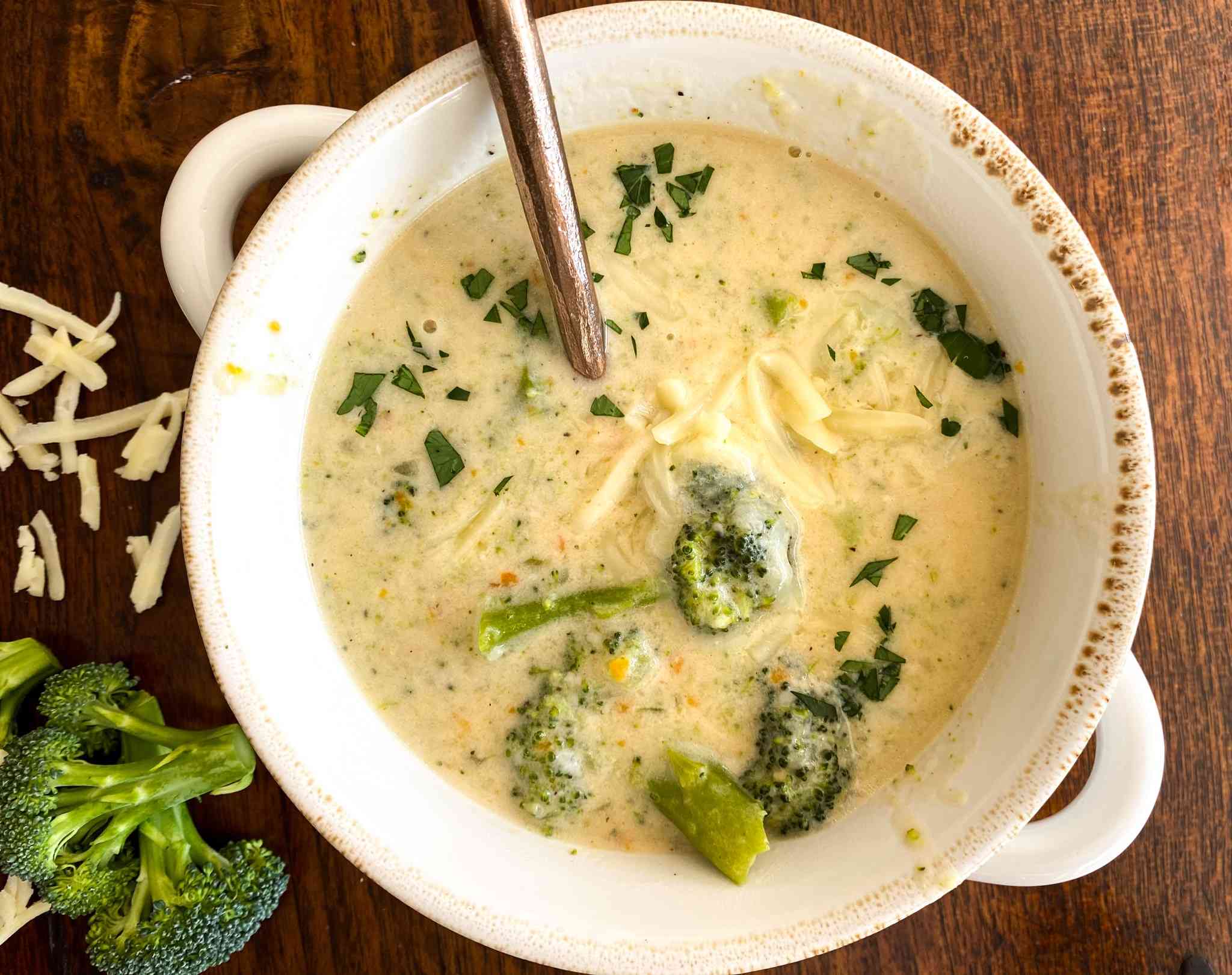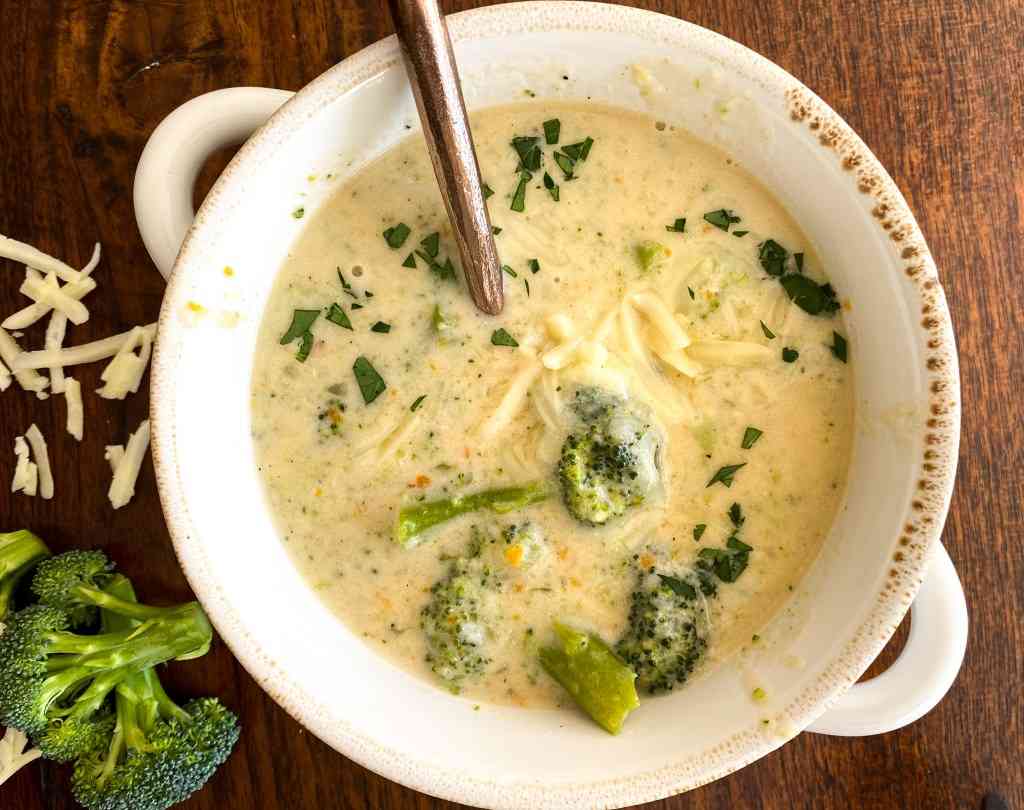 Bread Bowls
Is there a better way to eat soup? I'm obsessed with bread bowls this fall, soft tangy bread in the same bite as creamy warm broccoli and cheese soup is to-die-for. If you haven't done it yet, it's a must try! Here are some simple ways to make sure you can do it right at home!
Recently (during COVID), I realized you can order empty bread bowls from Panera's bakery – curbside (!), Whole Foods also usually carries them, but it might take an in-person grocery run. If you're lucky, your local grocery store bakery will have them too. If you're feeling like taking the homemade path, I'm a huge fan of Sally, she is a baking guru here is her recipe for bread bowls.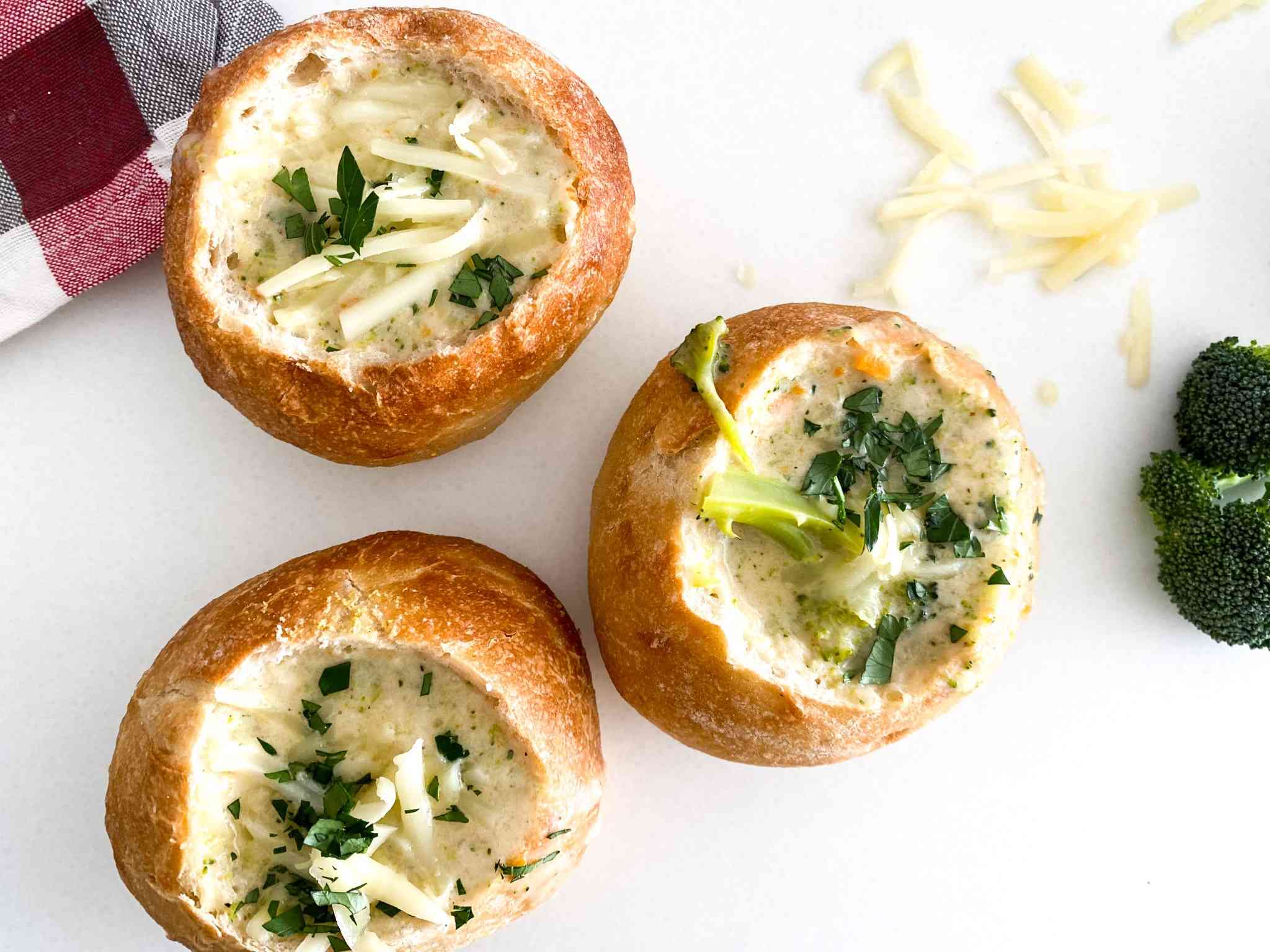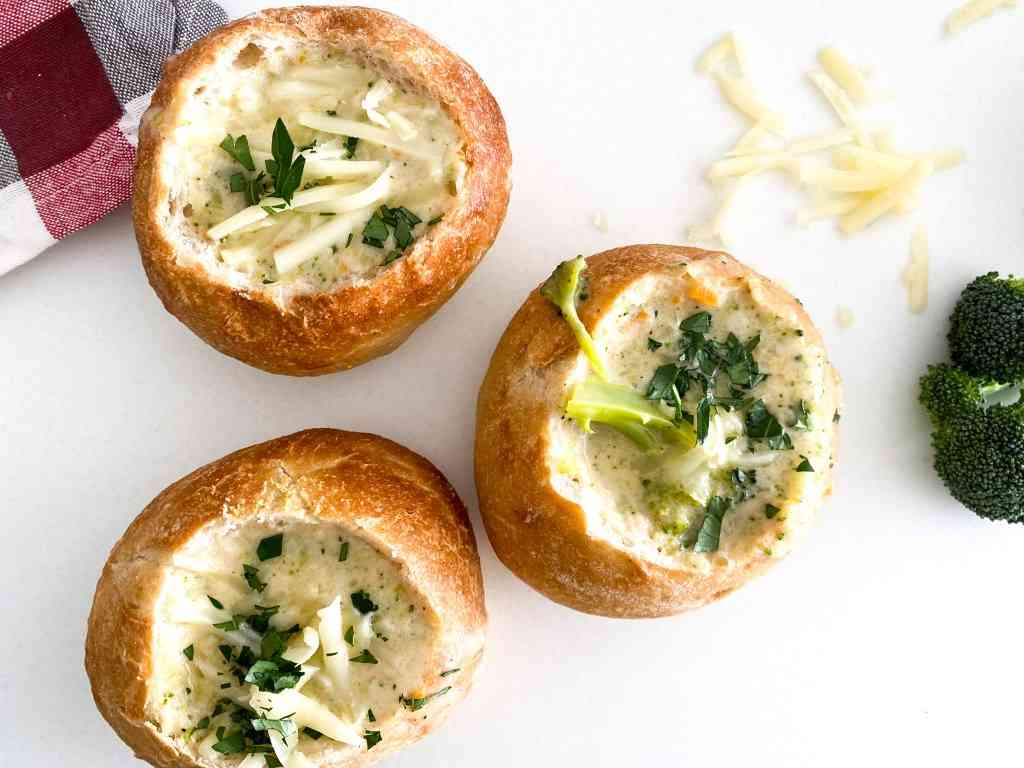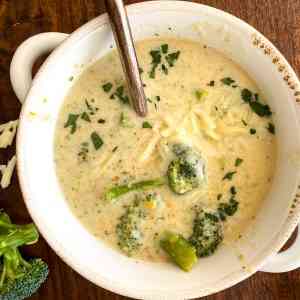 Equipment
Immersion Blender or Blender (optional)
Ingredients
2

TBSP

Butter

½

cup

Diced Celery

½

cup

Diced Onion

½

cup

Match-Stick Carrots (or diced)

¼

tsp

Salt

4

TBSP

Flour

4

cups

Vegetable Stock

2

cups

Whole Milk

2

cups (+)

Broccoli Florets

About 2 small heads, do not use frozen broccoli

½

tsp

Black Pepper

½

tsp

Salt

1 ½

cups

Shredded White Vermont Sharp Cheese

1 ½

cups

Shredded Fontina Cheese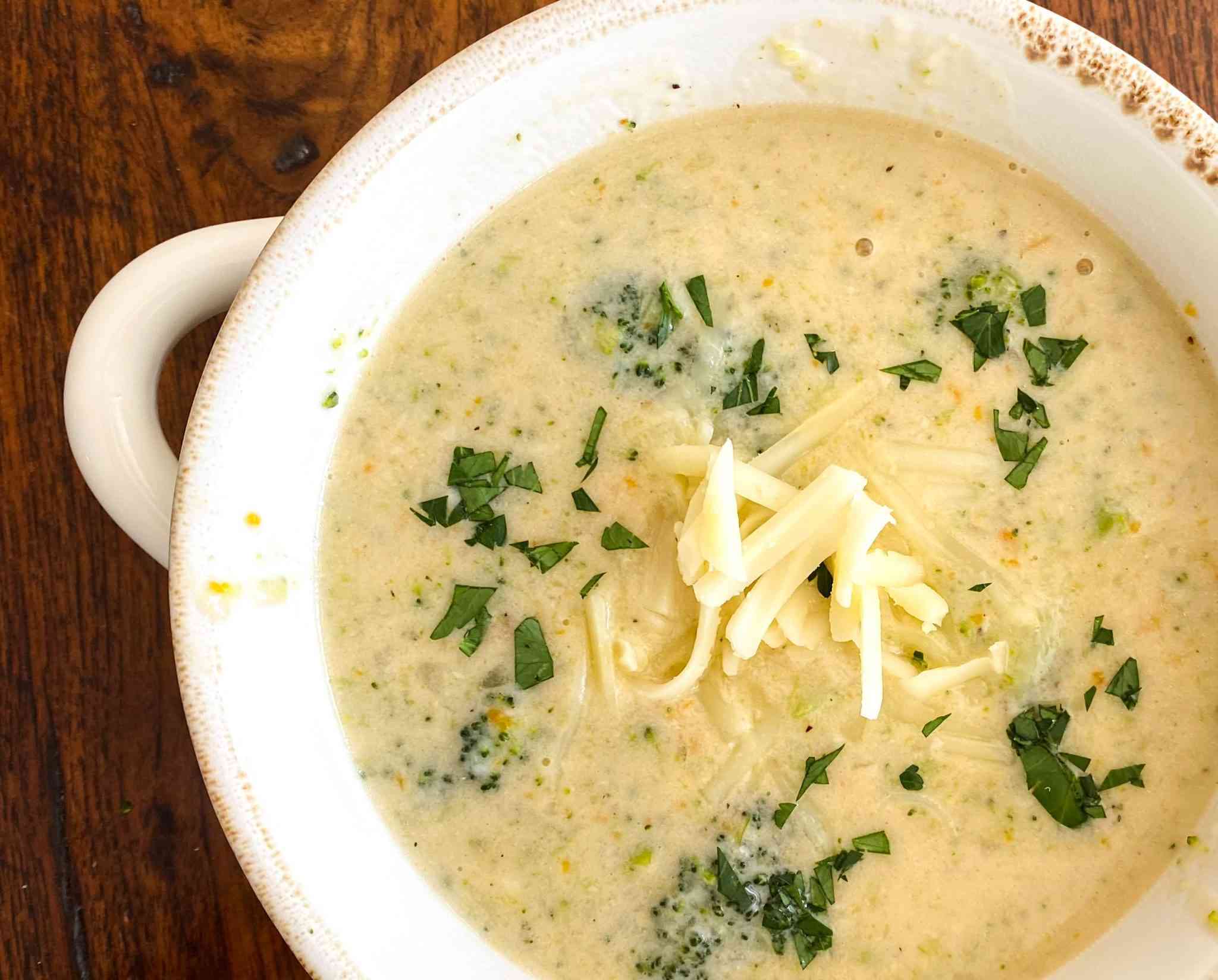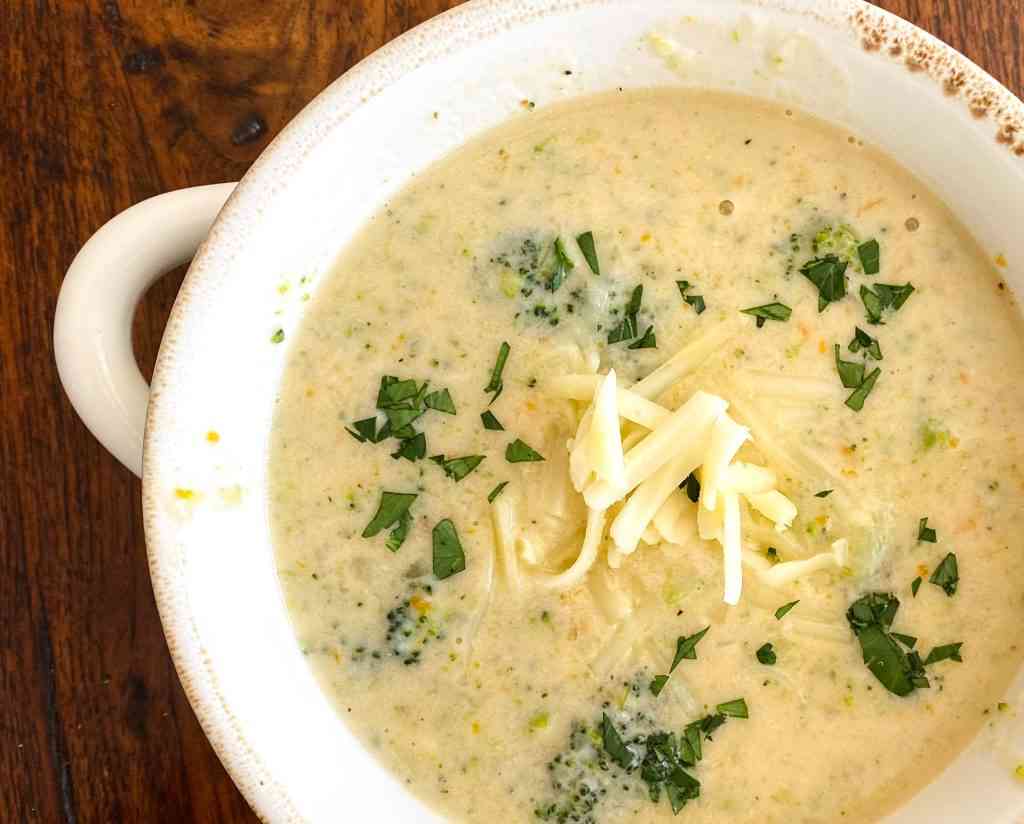 Other cozy soups
Spicy Kale and Sausage Soup
Chicken Pot Pie Soup
Hearty Vegetable Soup
My Favorite Tomato Soup