These no-bake back to school overnight oat bars are a god-send to all parents, kids, teens, college goers, and even young professionals heading back into the office. You will love them when you're on the go, your kids will love them when they're on the go, they are just perfect and so so easy to make. The recipe is gluten-free, nut-free, have no added sugar (unless you choose to add in chocolate chips, which in that case, we are friends.
This year my daughter is starting school, delayed by a year because of the COVID pandemic, she is finally conquering Pre-K. I had planned to have to go live this morning to celebrate her first day but I totally under-estimated the back to school duties of a mom, it was my first time packing a lunch and I've been out of labeling practice since her daycare closed March 2020.
If you're like me and new to the pack snack/lunch routine, or if you're a long time veteran of the duties, everyone is now going nut-free to protect against allergies. This is completely understandable and I'm 100% in support of making sure our kids are safe but it left me with a big giant "what am I going to do now" question mark. So I started thinking about alternatives. My original old overnight bars recipe uses PB powder and she loves them, so I decided to make them but this time without the nut butter to see if I could pass them off. These ended up being even better.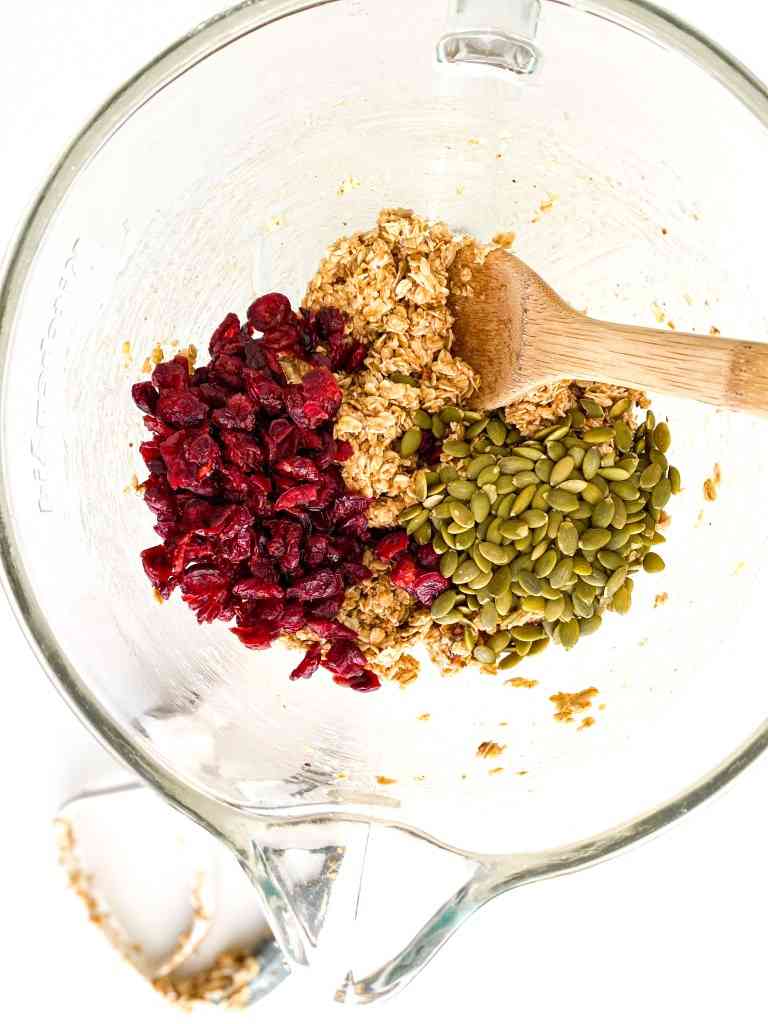 All about them OATS!
Oats by nature are gluten-free. If you are gluten-intolerant make sure to check the package because there is always the chance of cross contamination in the way they are processed.
There are three types of oats; steel cut, rolled, and instant. Here is the breakdown of what is on the market.
Steel Cut Oats are not processed at all. They are the most authentic in texture and taste, however they require cooking. They are too textured for these no-bake breakfast bars.
Instant Oats are the exact opposite of steel cut oats. They are the most processed and purposely created for fast cooking. They are thin and have less texture. You can substitute rolled oats with instant oats but you will lose a little of that chewy bite.
Rolled Oats are the perfect middle of steel cut and instant oats, thinner than steel cut oats but still hold their texture and shape. For overnight oat bars I recommend rolled oats.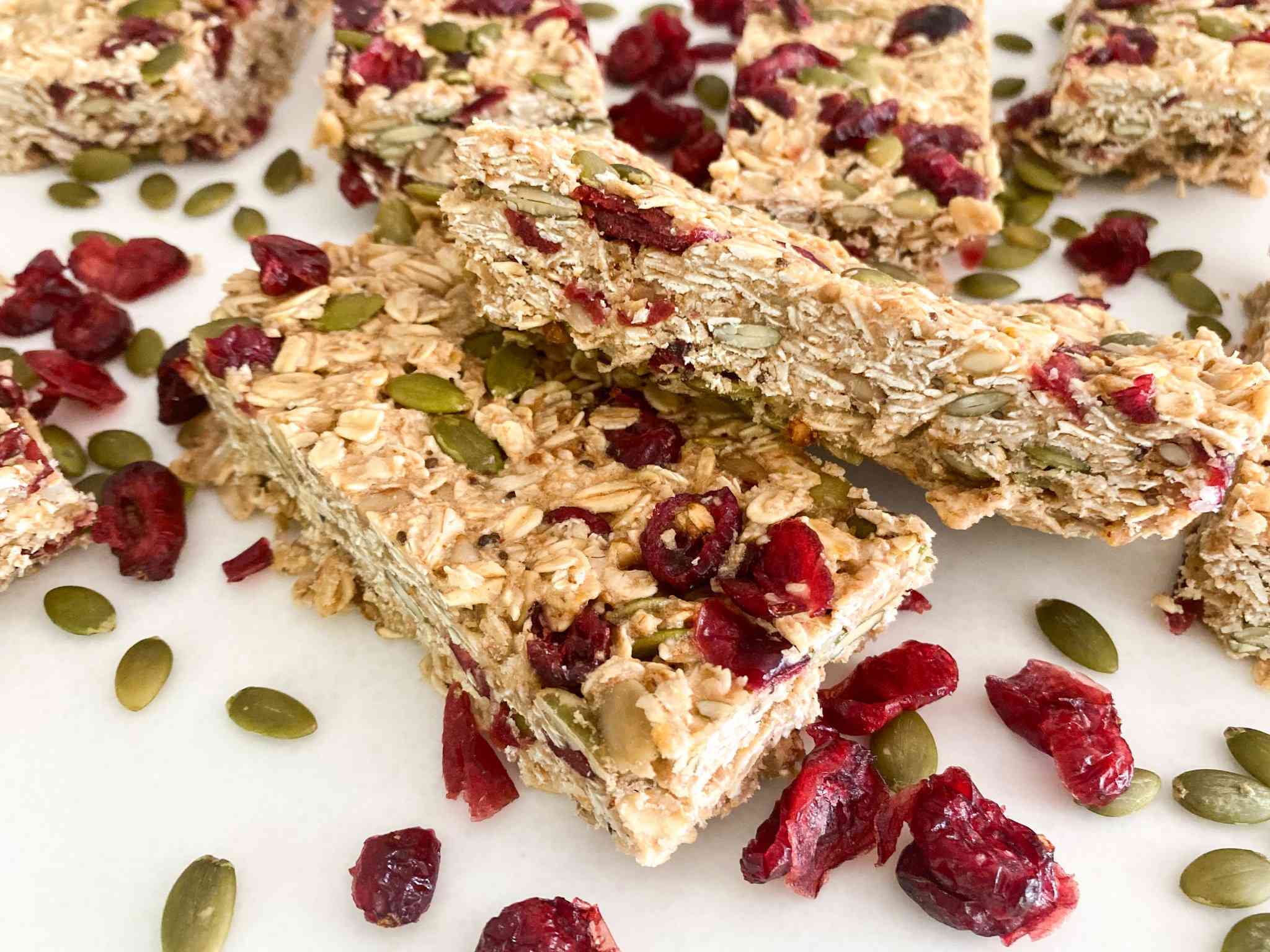 Overnight Oat Bars
Banana: You need one. It has to be RIPE. The flavor is better and it holds the bars together better when it is ripe. You want one that has a few brown spots on the outside, if you are thinking "oh this only has a day or two left" that is the perfect ripe.
Granola: There are so many types of granola choose your favorite. I love vanilla granola so that is what I use. Any flavor should do, or just plain would work. My current granola du jour is Purely Elizabeth – the company is amazing and brand is Grain-Free, Keto & Paleo Certified – all of the current trends and the flavor is ON POINT, so amazing, shockingly so to be honest and it is very very addicting. It's so good. My go-to flavor of choice is the Vanilla and Almond Butter, but the almond butter is not allowed in schools, so make sure you choose wisely. They also have Vanilla Chocolate Chip and so many other delicious flavors. 
Coconut Oil & Honey: These bind the bars together and help soften up the oats. You can also use Bee-Free honey, it's a one for one substitution.
The Add-Ins: make these overnight oat bars your own. It's not what you add in, it's how much. You only want to do about 4-8oz of add ins so if you want to do dried cranberries and pumpkin seeds, like I did, you would want to do about 4oz each, not to exceed 8oz total. Some other ideas would be: any bite size dried fruit, chocolate chips, regular m&ms, flax seed, or chai seed.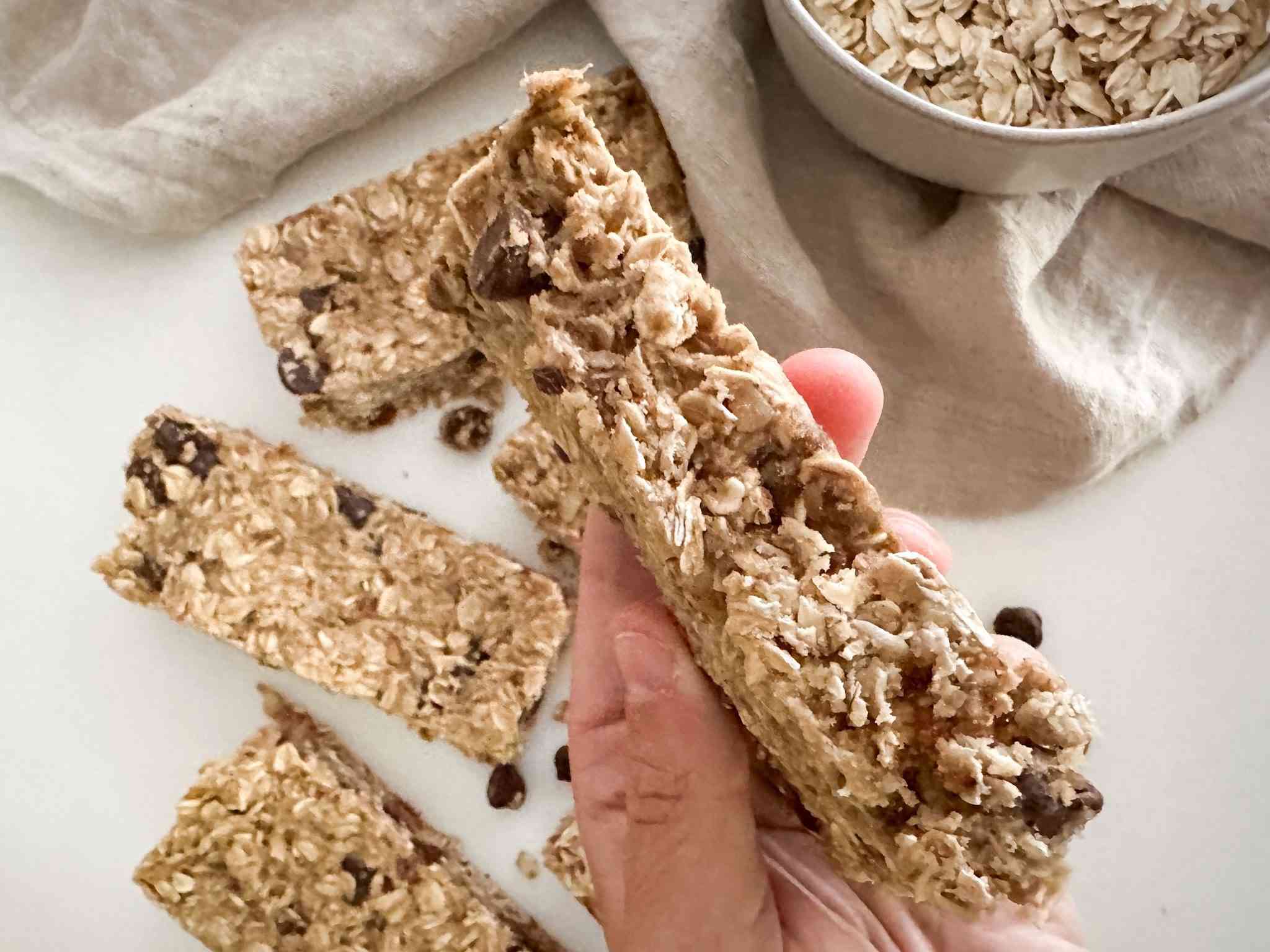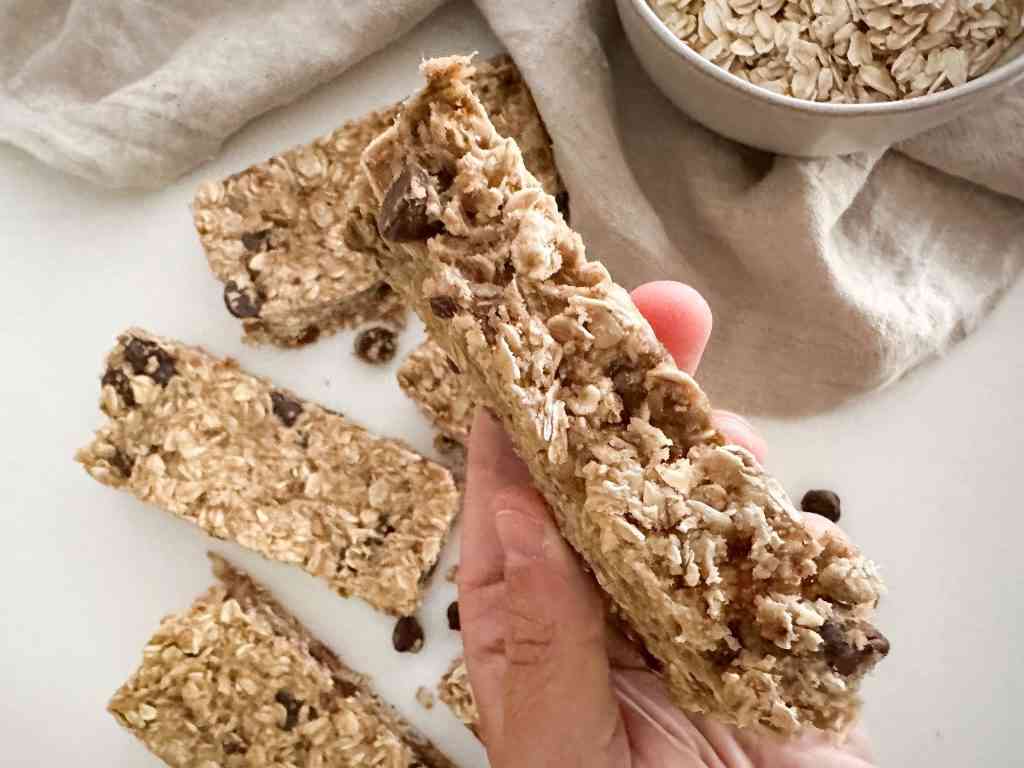 How to Make your Corners with Parchment Paper.
To make it easier to pop the bars out, I like to line my 8×8 pan with parchment paper. Then you can cut it into 8 or 16 serving squares. Here is tip to make it easier to lay parchment paper down in a square pan with sides.
Tear out a piece of parchment paper that is large enough to cover your pan. 
Cut each corner in a slight diagonal about a 1/2 inch or so, just enough that it lays in your pan flat.
Press the parchment paper down into the pan, the corners will overlap.
Pour the overnight bars mixture into the pan.
Firmly press down with your hand to make sure the bars are even and bind together.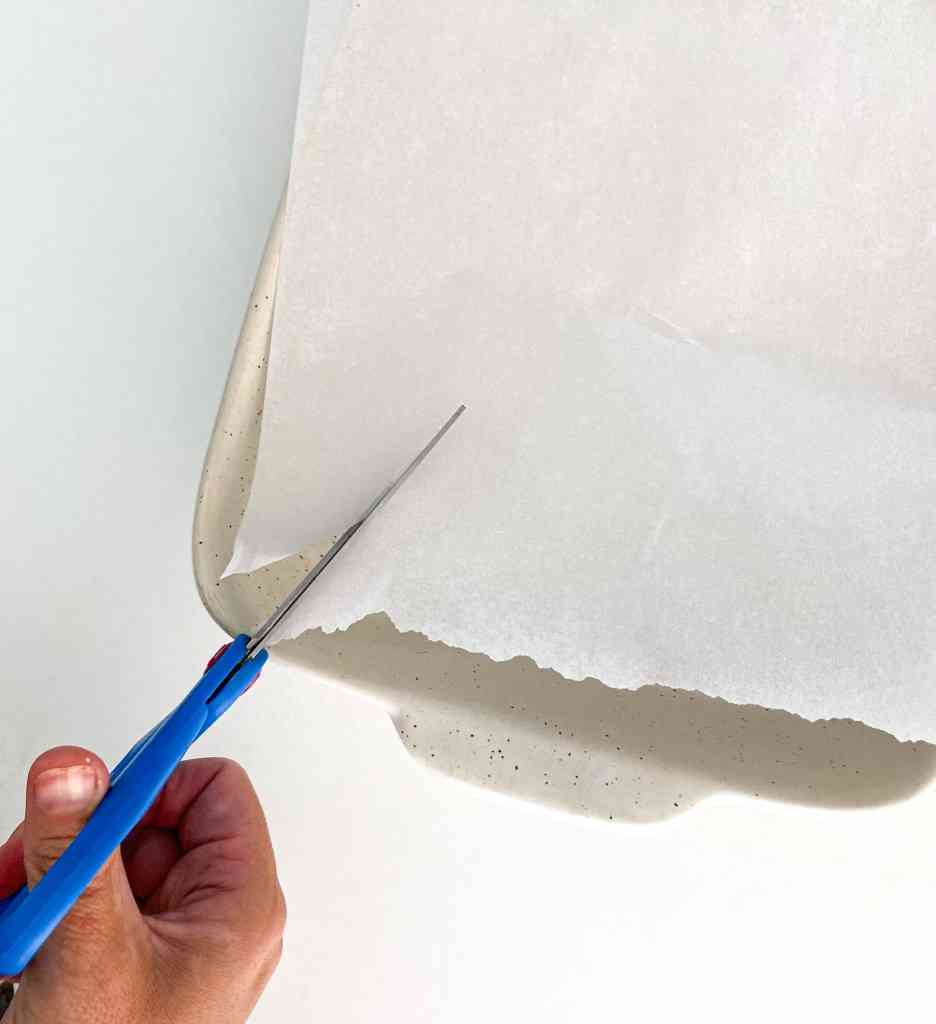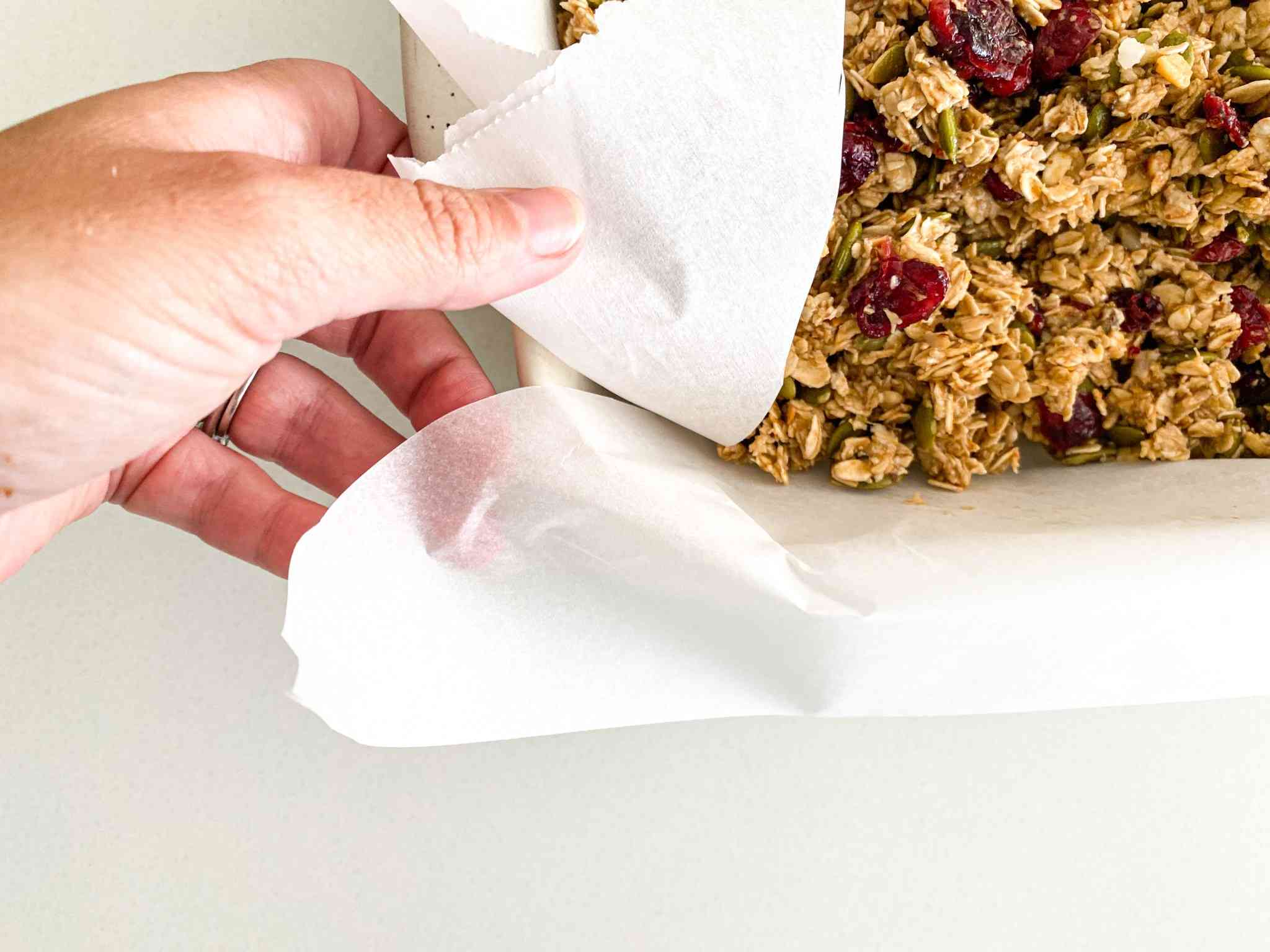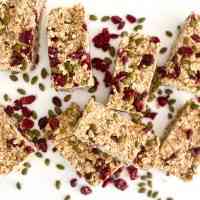 Back to School Overnight Oat Bars
You will love them when you're on the go, your kids will love them when they're on the go, they are just perfect and so so easy to make. The recipe is gluten-free, nut-free, have no added sugar (unless you choose to add in chocolate chips, which in that case, we are friends.
Print
Email
Pin
Rate
Ingredients
3

Cups

Rolled Oats

1

Cup

Granola

2

Very Ripe Bananas

½

Cup

Virgin Coconut Oil

¼

Cup

Honey

⅛

tsp

Salt
Add ins (not to exceed 8oz) – see blog notes
4

oz

Dried Cranberries

4

oz

Pumpkin Seeds

½

cup

Chocolate Chips
Instructions
Line a 8×8 pan with parchment paper and set aside.

See blog notes for a tip on how to get the corners.

Mix together all of the ingredients, except the add-ins. You can do this easily with a paddle attachment to a stand mixer, or by hand. Mix until the ingredients are combined and you may see the oats become a little sticky.

Press into your 8×8 pan. You want to make sure to press down with a little but of weight so that the bars are evenly pressed down.

Place in the refrigerator for at least 6 hours – overnight until firm.