Sheet pan caprese chicken is ideal for any summer weeknight dinner.  Summer calls for easy, fresh and light and it doesn't get any better than this.  These amazing mozzarella cheese-tomato-basil stuffed chicken breasts are so juicy, tender and super simple to make. 
This capresa chicken recipe is so easy to scale up, whether you are making dinner for one, two or a crowd.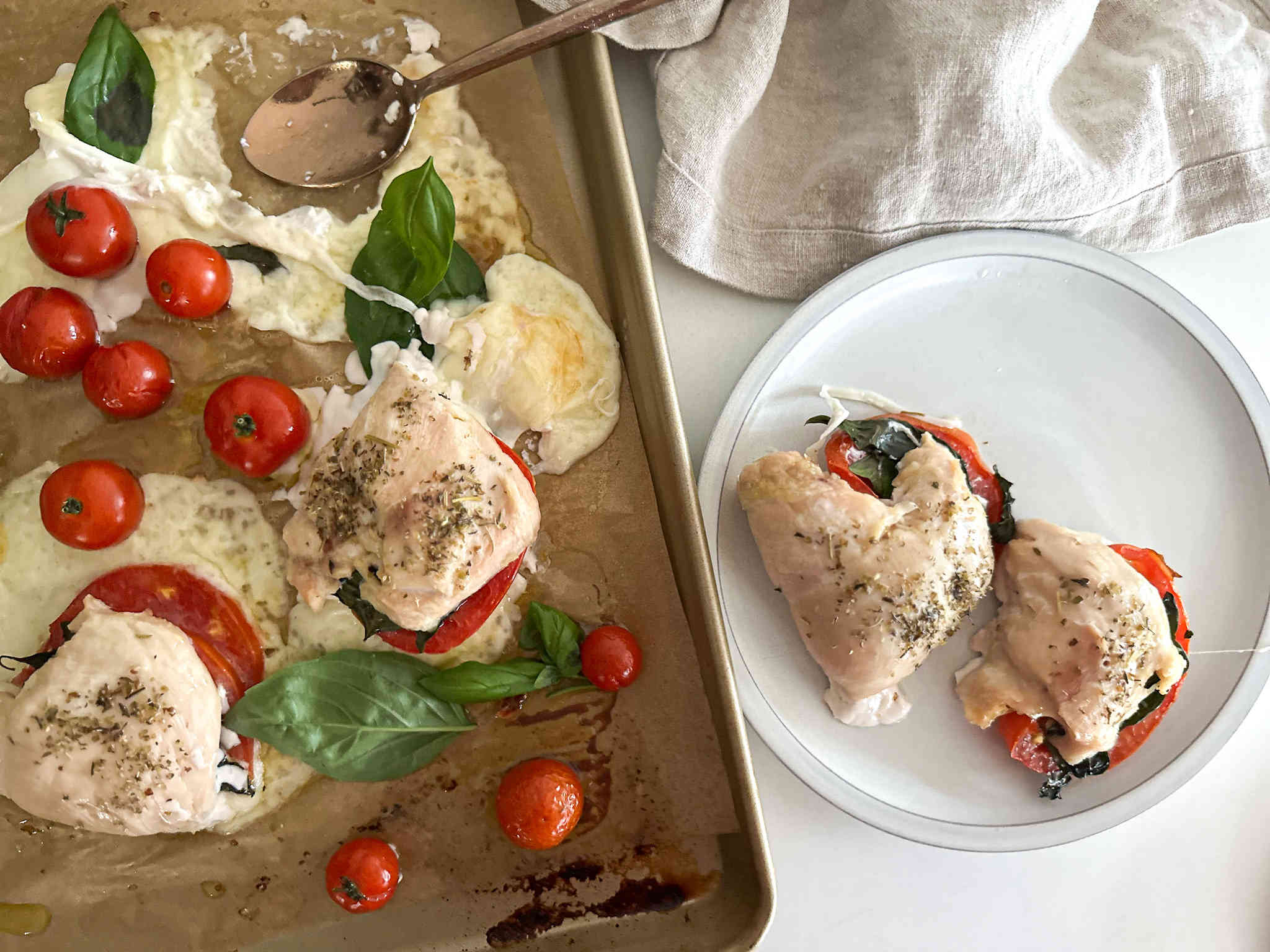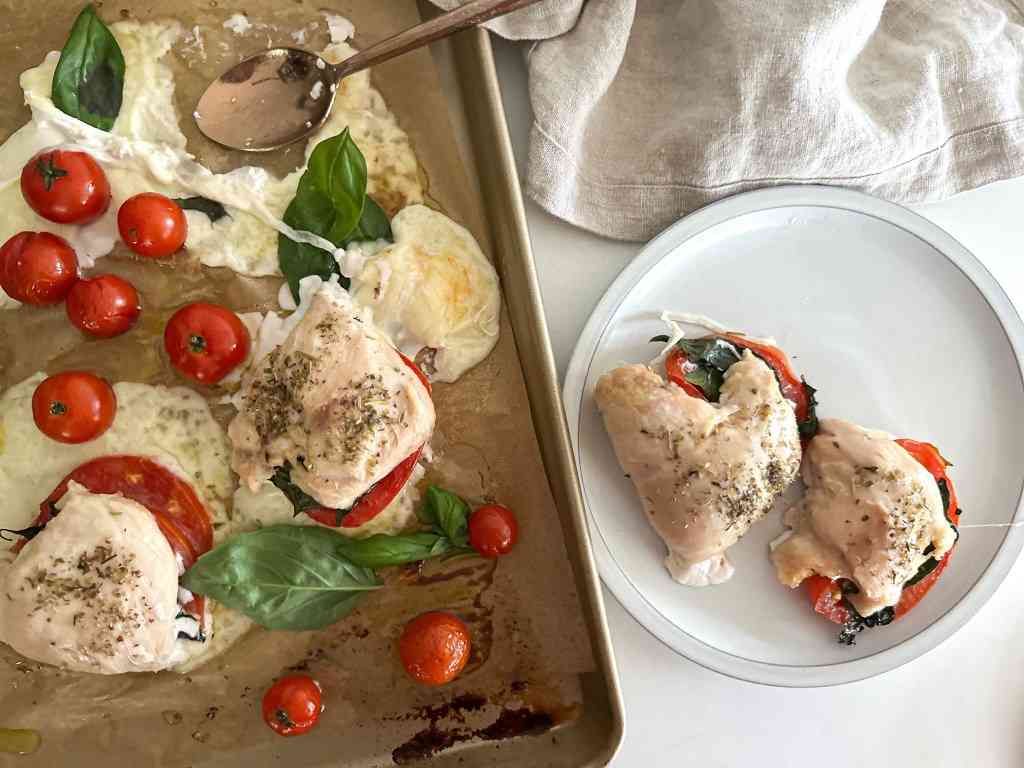 Sheet Pan Caprese Chicken – Ingredients
This dish is super easy to scale up or down, I usually consider one chicken breast (cut into two thin slices) one serving but that is totally up to you and your plans for dinner. The recipe below can be multiplied, click on the x2 or x3 for the math. 
To break it all down:
Chicken Breasts: If you have thick chicken breasts, slice them through the middle to make two thin breasts. To skip this step, you can buy cutlets. Do not buy tenderloins, they are not wide enough for the caprese filling. 
Fresh Mozzarella: Creamy fresh mozzarella is a favorite when it melts and browns a little in the oven. Fresh mozzarella should be sliced into about 1/4 inch thickness. You will need one piece per chicken.
Ripe Red Tomato: Cut the tomato into about 1/4 inch thick slices. If your knives are not sharp enough for a clean cut without squirting out the inside juice and seeds, try using a bread knife. The serrated edges will help cut the tomato without smooshing it into the cutting board. 
Fresh Basil Leaves: Fresh basil gives such a great aroma and flavor for caprese chicken. Each chicken will use about 4-6 slices depending on big they are and how much basil you like. If you're feeling like adding more of a basil garlic option, homemade pesto is also great to add onto your chicken. 
Dry Italian Seasoning: You will use a couple shakes of dry Italian seasoning from the spice rack. If you don't already have it on hand, it is great to use on this recipe and so many more, including on top of freshly baked pizza. 
Drizzle with Olive Oil – Just like a caprese salad, lightly drizzle with olive oil, to wake up the flavors as they bake.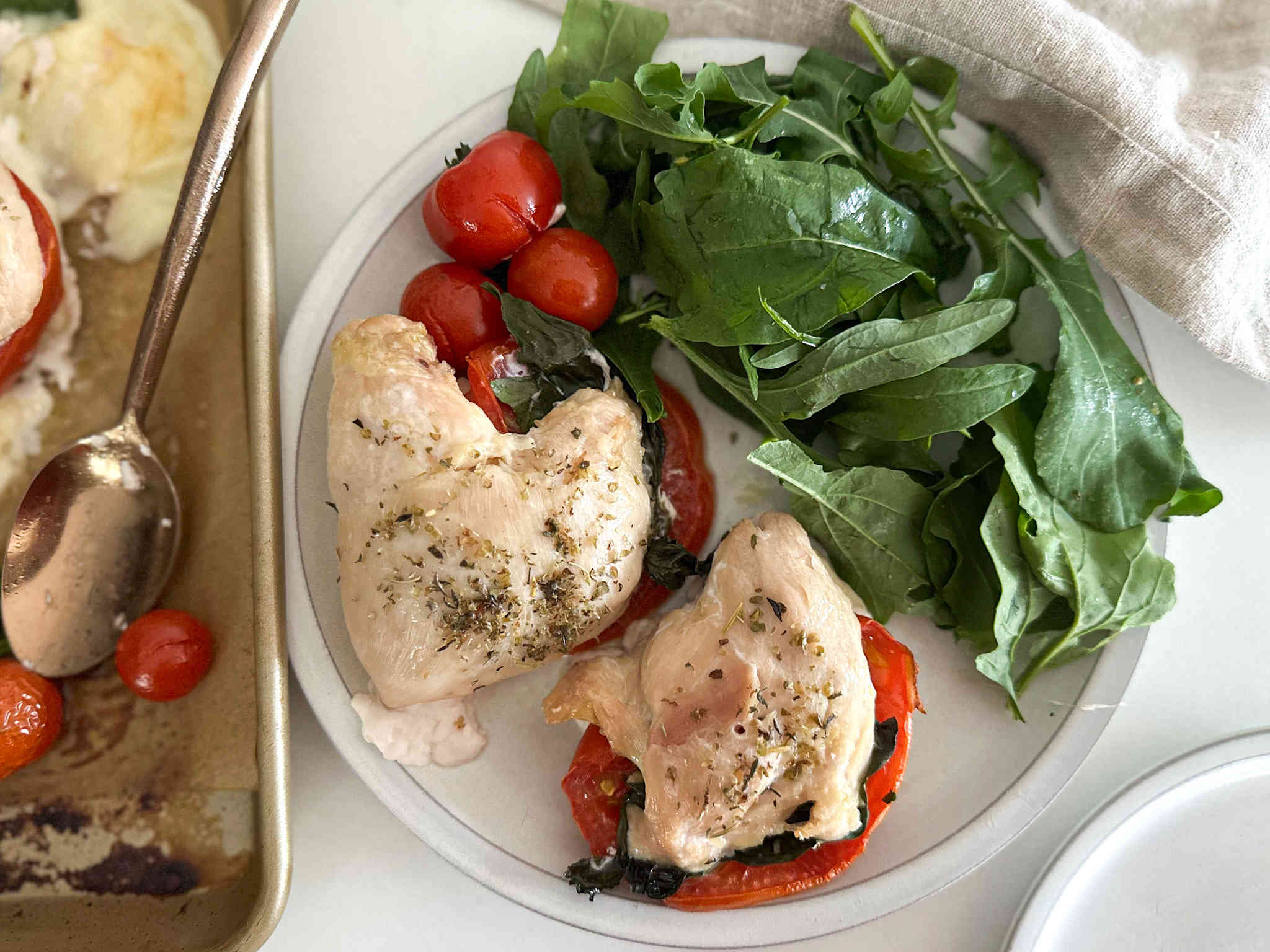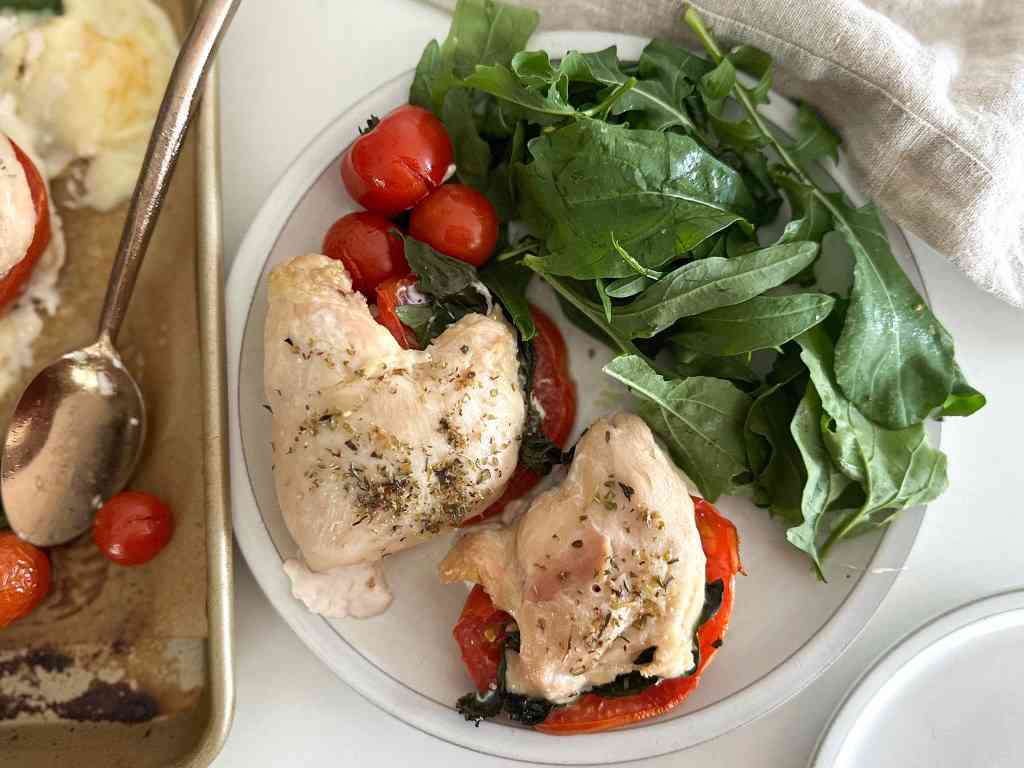 Sheet Pan Caprese Chicken
Sheet pan caprese chicken is ideal for any summer weeknight dinner. Packed with fresh summer ingredients, it's super simple, quick and easy and most importantly delicious. With creamy melted mozzarella cheese, juicy ripe red tomatoes and fresh picked basil, it will become an instant favorite.
Print
Email
Pin
Rate
Ingredients
2

Chicken Breasts

2

TBSP

Italian Seasoning

divided

6

oz

Fresh Mozzarella Cheese – sliced approx. ¼ inch

(approx. 4 slices)

1-2

Ripe Red Tomatoes

(approx. 4 slices)

16-18

Basil Leaves

(more for garnish, optional)

4

TBSP

Olive Oil

½

tsp

Salt

Cherry Tomatoes

(optional, only if you want to roast some on the side of your chicken breasts)
Instructions
Preheat your oven to 350F and line your sheet pan with parchment paper.

Slice your chicken breasts in half so that you have four thin breasts.

Carefully place your hand on top of the breast to apply a little pressure while you cut, this will help keep your knife straight and even so you get four even thin chicken breasts.

Lay your chicken breasts on your parchment paper. You will want at least an inch or so between each. Sprinkle ½ of your Italian Seasoning (1 TBSP) on top of each chicken breast.

Layer your cheese (1 slice), tomatoes (1 slice) and basil (4 – 6 leaves) inside of your chicken breasts on one end so that you can fold over the other side like a book. (If you want to secure your fold, you can stick in a tooth pick through to keep it from possibly sliding off.)

Sprinkle the remainder of the Italian seasoning and salt on top of each chicken breasts.