The March Insta(gram) Recipe is here! If you're new to my website, insta(gram) recipes are posted on the first of every month, first in my Instagram Story @nictastingspoon and then later on my website! They are super-fun 100% homemade treats that are a twist on a classic idea and sometimes use the help of pre-made ingredients from the grocery store.
Since March is my BIRTHDAY MONTH, I decided to do cake donuts. Did you know you can make cake donuts using a box of cake mix?, you just need to switch up the wet ingredients. (Warning – they are cakes but in donut shape, they will not be the same density of a donut, but you will be able to pick it up and eat it with your hands)
After testing this recipe several times to make sure I had the best ratios I learned something else that is just as important to save you from heartache and frustration 1. don't over bake, I discovered that 11 minutes is perfect, you want your cake tester to come out clean but try not to bake much longer than that point. 2. wait at least 25 minutes. you have to wait until the pan and cake donuts are cool to pop them out of the pan, if you try to do this before they are completely cool they may break. After you take your first batch out, wipe the pan clean with a dry towel and re-spray. 3. Lick the spoon and enjoy the process. You can safely eat the batter because there is no raw egg!
Need a donut pan? The one I have is below. If you buy two then it cuts your time in half because you won't have to wait to put in another round of batter.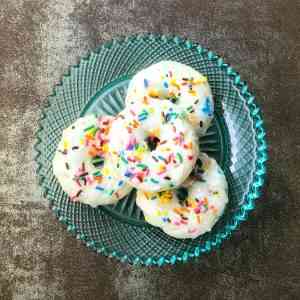 Ingredients
1

Box

Cake Mix

I used Pillsbury's Funfetti

1

cup

Water

¼

cup

Vegetable Oil

¼

cup

Yogurt

Whole Milk
Glaze:
1

cup

Powdered Sugar

½

Lemon

1

TBSP

Water

(+ more if necessary for drizzle consistency)

Sprinkles
Instructions
Preheat your oven to 350F, spray your donut pan with non-stick spray and set aside.

Set your pan on a rack and let it cool! Wait at least 25 minutes before taking them out of the pan. (Repeat step 3 and 4 again for another 6 donuts)
For the Glaze: When the donuts have cooled, it's time to make the glaze!
Place a piece of parchment paper underneath the cooling rack. This helps with clean up after you drizzle your glaze.

In a bowl combine the powdered sugar, the juice of 1/2 a lemon and a TBSP of water. Whisk it together until it becomes a thick glaze. If it's too thick, add more water a tsp at a time until it becomes drizzle consistency. It should be the consistency of thick honey, thin enough that it slides off your spoon, but not too thin that it runs off the donut. If you make it slightly too thin you can add a little more sugar.

Using a spoon, drizzle the glaze over the donuts and top with sprinkles.
Enjoy!