What is your vice? Mine is always crispy onion rings. These swoon-worthy onion rings allow you to satisfy that pub-menu craving right at home.
Onion rings may seem "out of your league" because pan-frying can be feel extra difficult. I promise you these are easy leaving you with an onion that is soft enough to bite though without pulling out of the crispy shell.
I came up with this recipe while I have trying to successfully fulfill my pregnancy cravings two years ago, I'm excited to finally share it with you! My favorite style is using breadcrumbs and cornmeal rather than a tempura-type batter. I hope you love them as much as I do.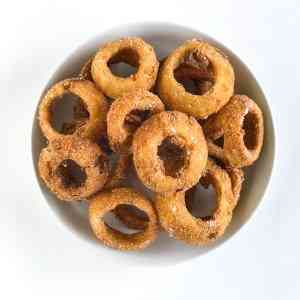 Ingredients
2

Medium

Onions

(will make approx. 20 rings)

1

cup

Flour

1

cup

Whole Milk

1

Egg

1

cup

Breadcrumbs

⅓

cup

Cornmeal

⅓

cup

Garlic Salt

1

Quart

Canola Oil

(or vegetable oil)
Instructions
Build your dredging station. Starting by adding the flour to a bowl. Then prepare the other two dipping bowls.

Grab your onions and set up your dredge station.

1. Onions

2. Flour

3. Milk/Egg Mixture

4. Breadcrumb Mixture

In a dutch oven or deep pan, preheat up your oil to 365F.

Set up a rack to lay your onion rings on after they are done. This will keep them crispy all the way around.

Dredge your onion rings. Dip your onion in the flour and cover the entire ring. Make sure to shake off the excess flour otherwise it will create a bubble.

Then dip your floured onion ring into the your milk/egg mixture, making sure the entire ring is submerged.

Let the milk/egg mixture drip off and then cover your onion ring with the breadcrumb mixture, making sure to coat the entire onion.

Repeat will all of your onion rings making sure they are all dredged before pan-frying them. The pan-frying will go quickly so you want to have all of your onion rings ready to go.

Once your oil heats to 365F carefully drop in 3-4 onion rings at a time. It will take about 3 minutes to cook, make sure to flip about 2 minutes in.

You might need to let the oil come back up to 365F between each batch.

Take them out and rest on the rack. While they are still hot, fresh out of the oil sprinkle salt on top.