Ahhh, you survived Thanksgiving! How did it go? Did you host? Did you cook the turkey? Were you a guest and did you bring a side to the pot-luck style dinner? Either way, I hope you made memories with your family and friends and I hope you snagged some turkey leftovers. There is nothing better than using leftovers for a new meal!
If you're tired of turkey, I have good news for you! This one can be frozen and brought out later at the end of a busy cold winter day. You can even freeze it in individual sizes, more about that below.
Turkey Pot Pie
Servings: 8
Difficulty: easy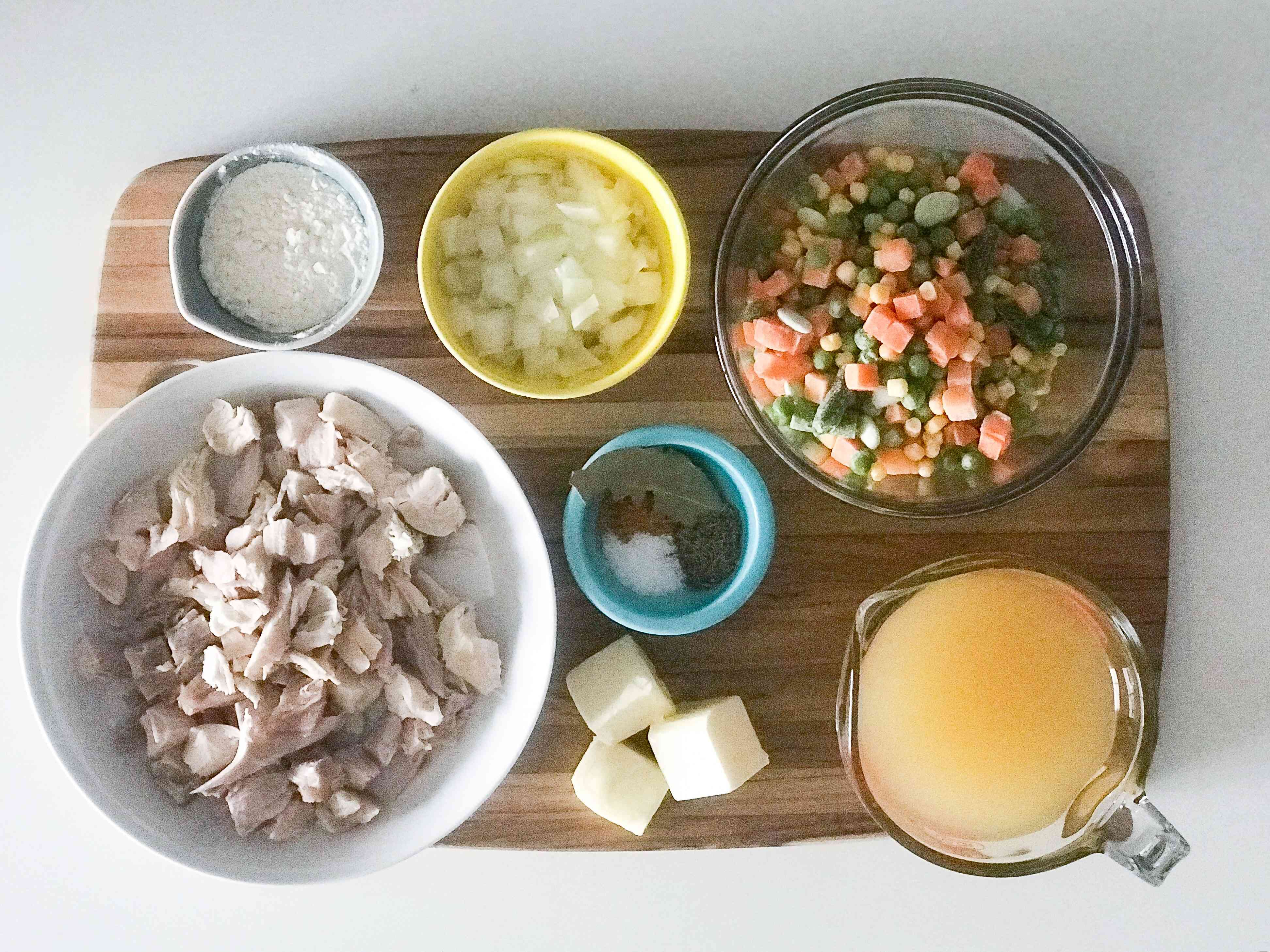 Ingredients
1/3 cup of Butter
1 cup of diced Onion
1 tsp Thyme
1 Bay Leaf
1 tsp Turmeric
1/2 tsp Salt
1/3 cup of Flour
2 1/2 cup of Chicken Stock – Unsalted
2 cups of bite size cooked Turkey meat, I like to use a mixture of dark and white meat
2 cups Frozen Vegetable Medley
Crust (1, 2, or puff pastry) – more about this later
Egg Wash – 1 egg and 1 tsp of water whisked together
Directions
Over medium heat, melt butter. Add in onions and all the seasonings (Thyme, Bay Leaf, Turmeric, Salt), stir to combine. Cook until they are almost soft, about 3 minutes.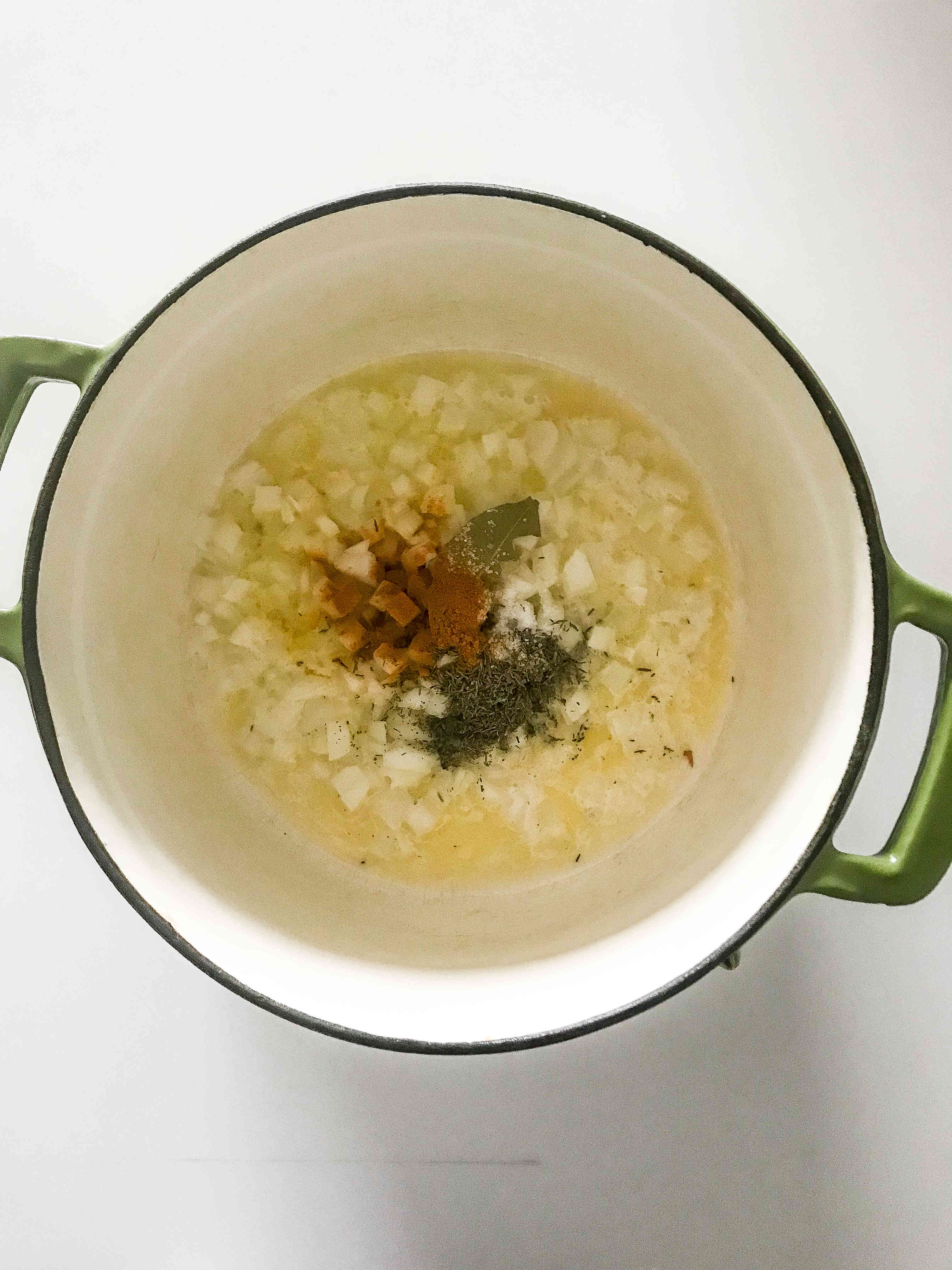 Sprinkle in flour.
Stir to combine.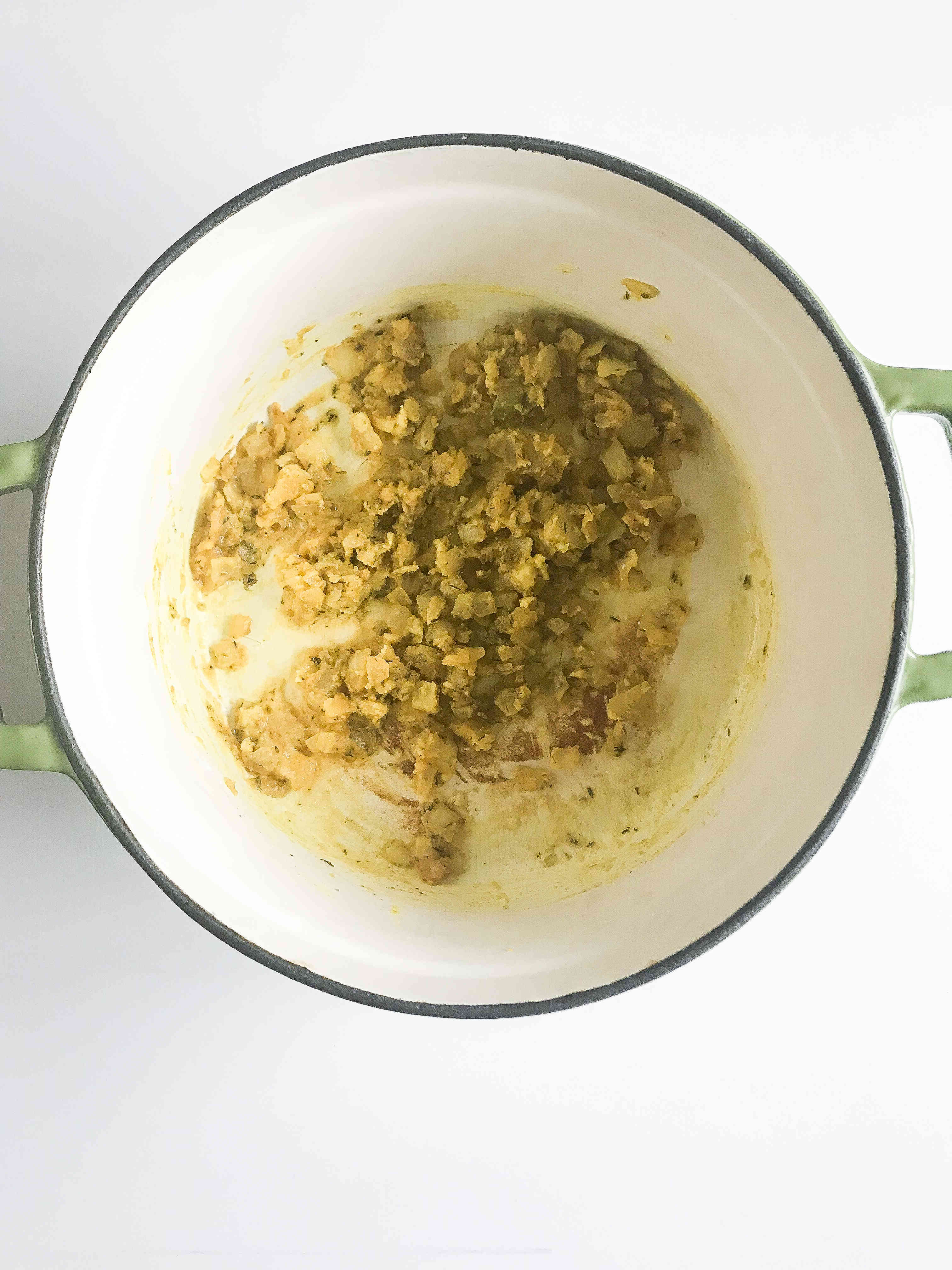 Add in chicken stock and stir to make sure the flour is fully combined, scrapping up any bits stuck to the bottom of the pan.
Bring up to a boil for 1 minute, take back down to a slow simmer and cook for 3-5 minutes to help the stock thicken.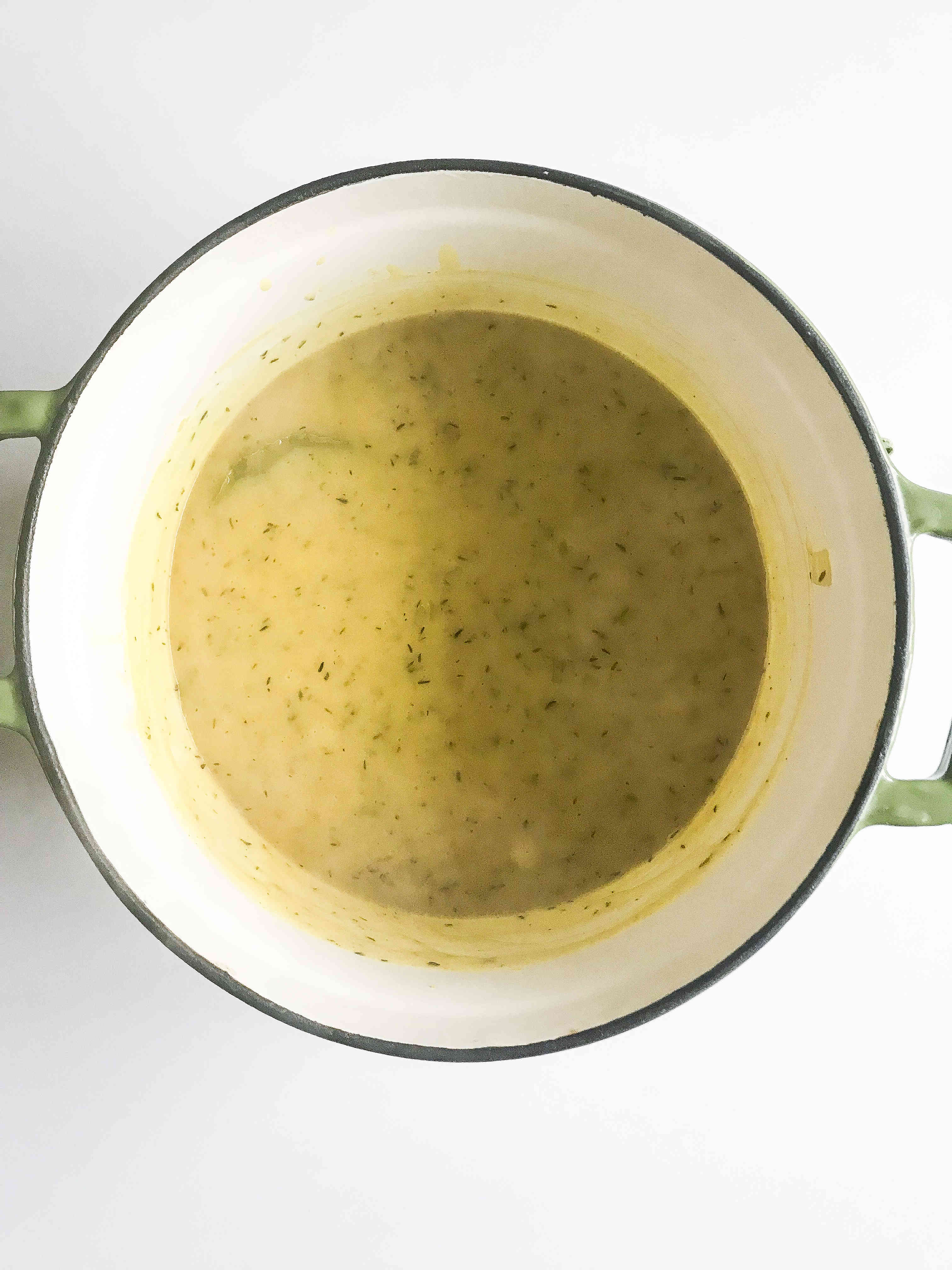 Add in turkey and frozen vegetables. Stir to combine.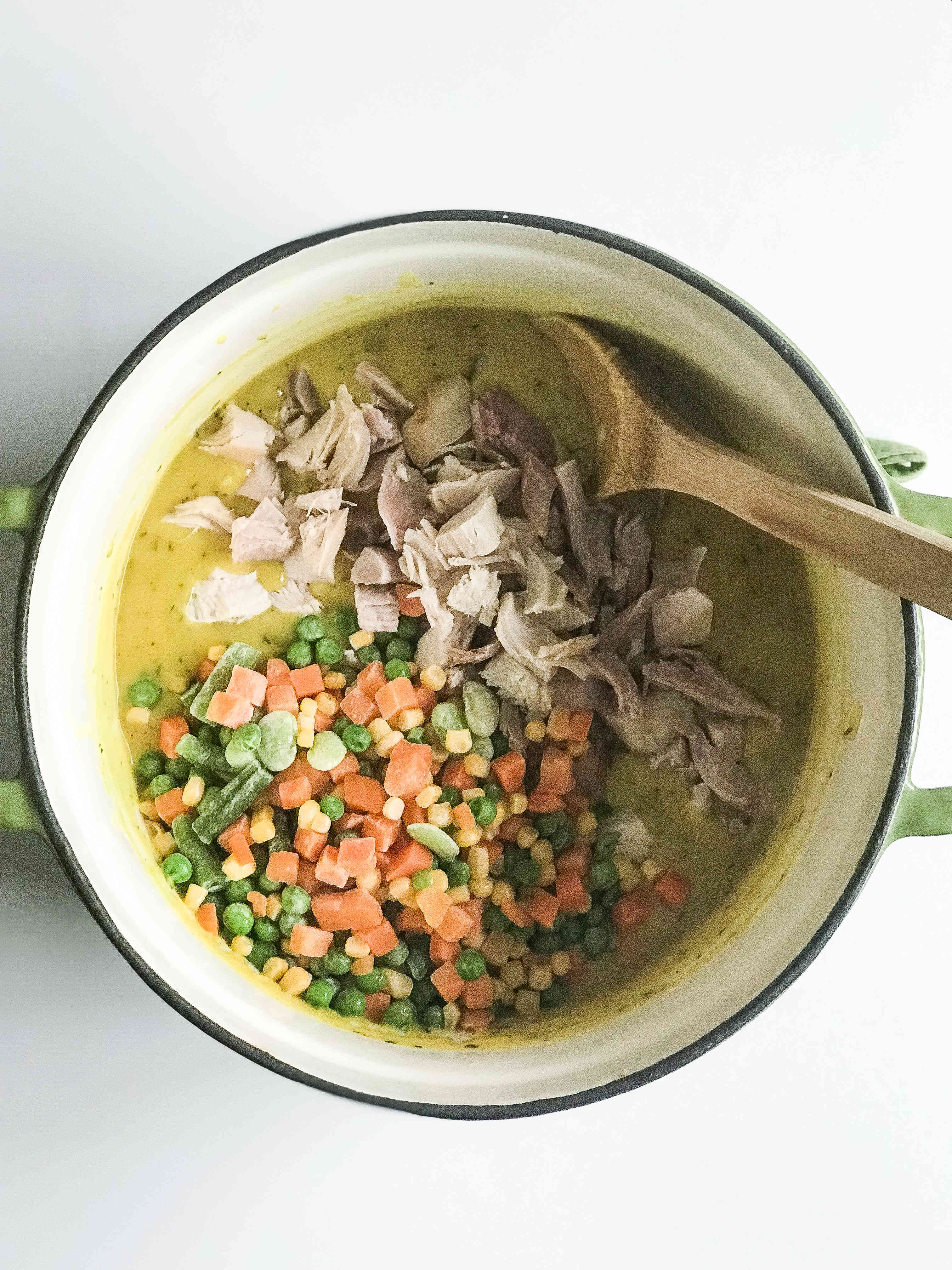 Taste and season. It may need another pinch of salt and pepper.
Remove from heat while you prepare your crusts or puff pastry.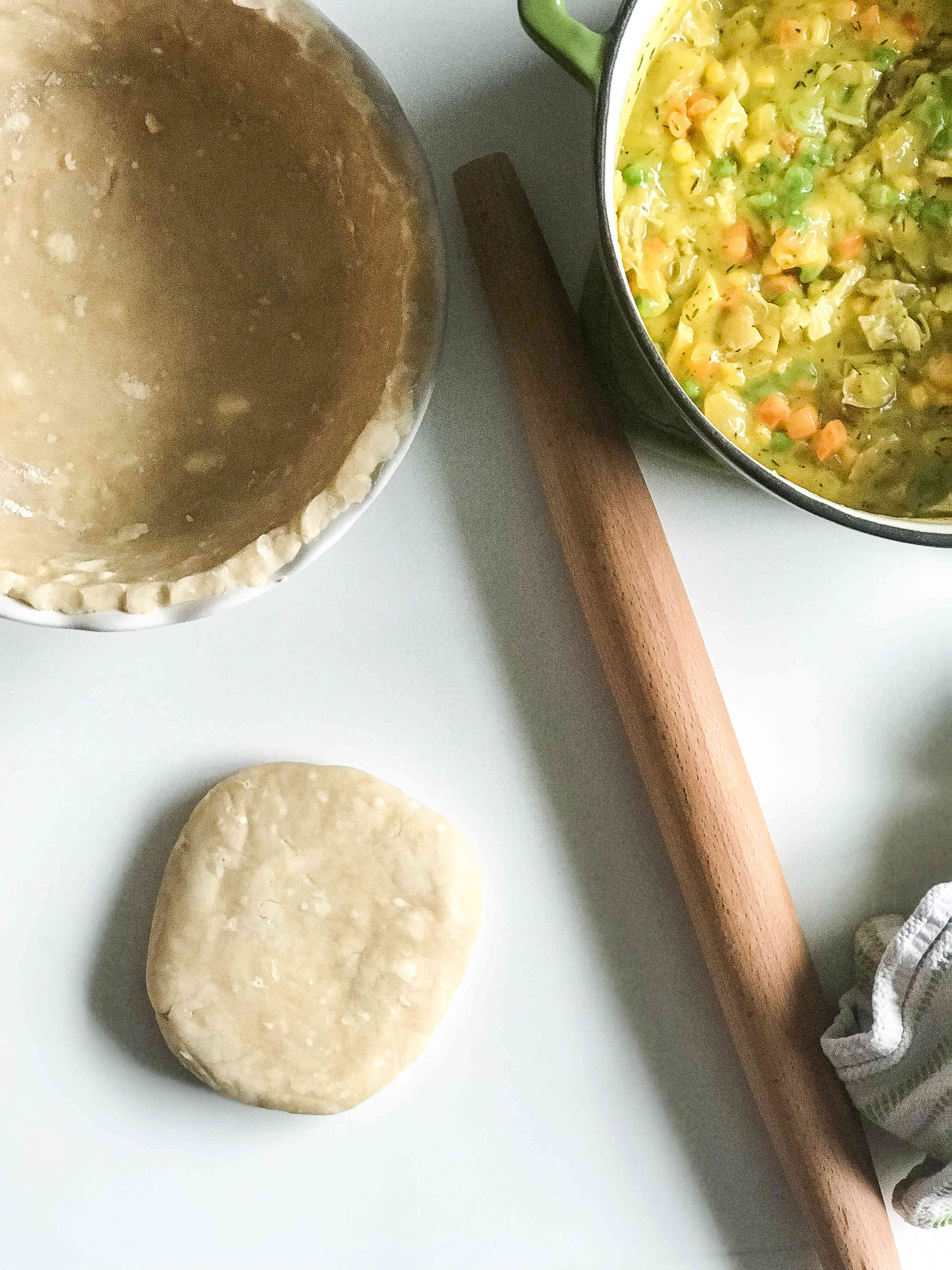 It's important to keep the crusts chilled, keep one crust in the refrigerator while you roll out the bottom and bring out the top after the bottom is placed in the pie pan.
Helpful tip: roll out dough on top of floured parchment paper, this helps with the transfer to the pie pan. Once your dough is rolled out you and place your hand underneath the parchment paper and flip it upside down onto the pie pan.
Pour the filling in the bottom crust and roll out the top crust.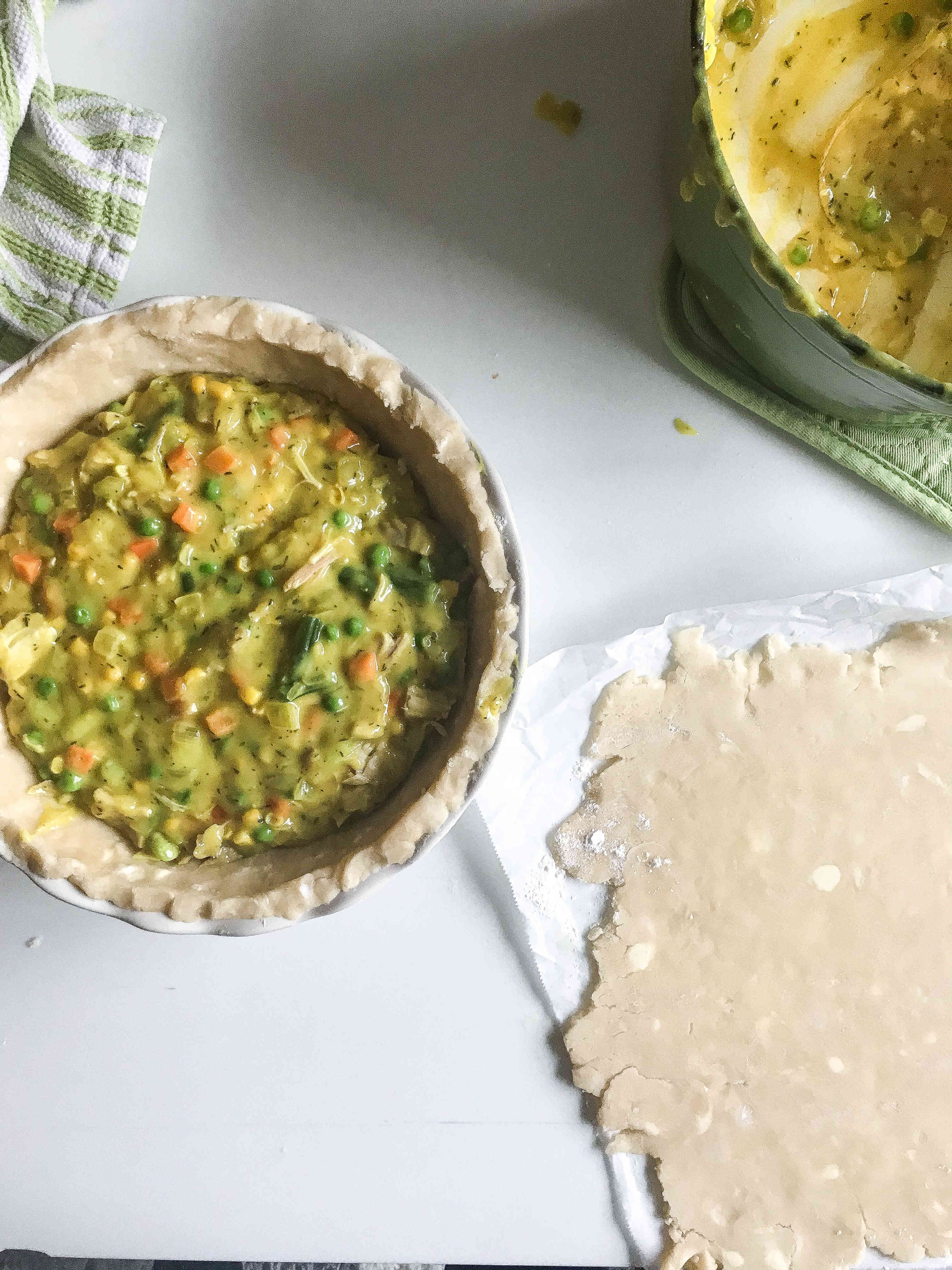 Place the top of the dough as centered as possible on top of the filling. and press the sides together. Brush on egg wash and cut slits in the top to let the inside steam evaporate during baking.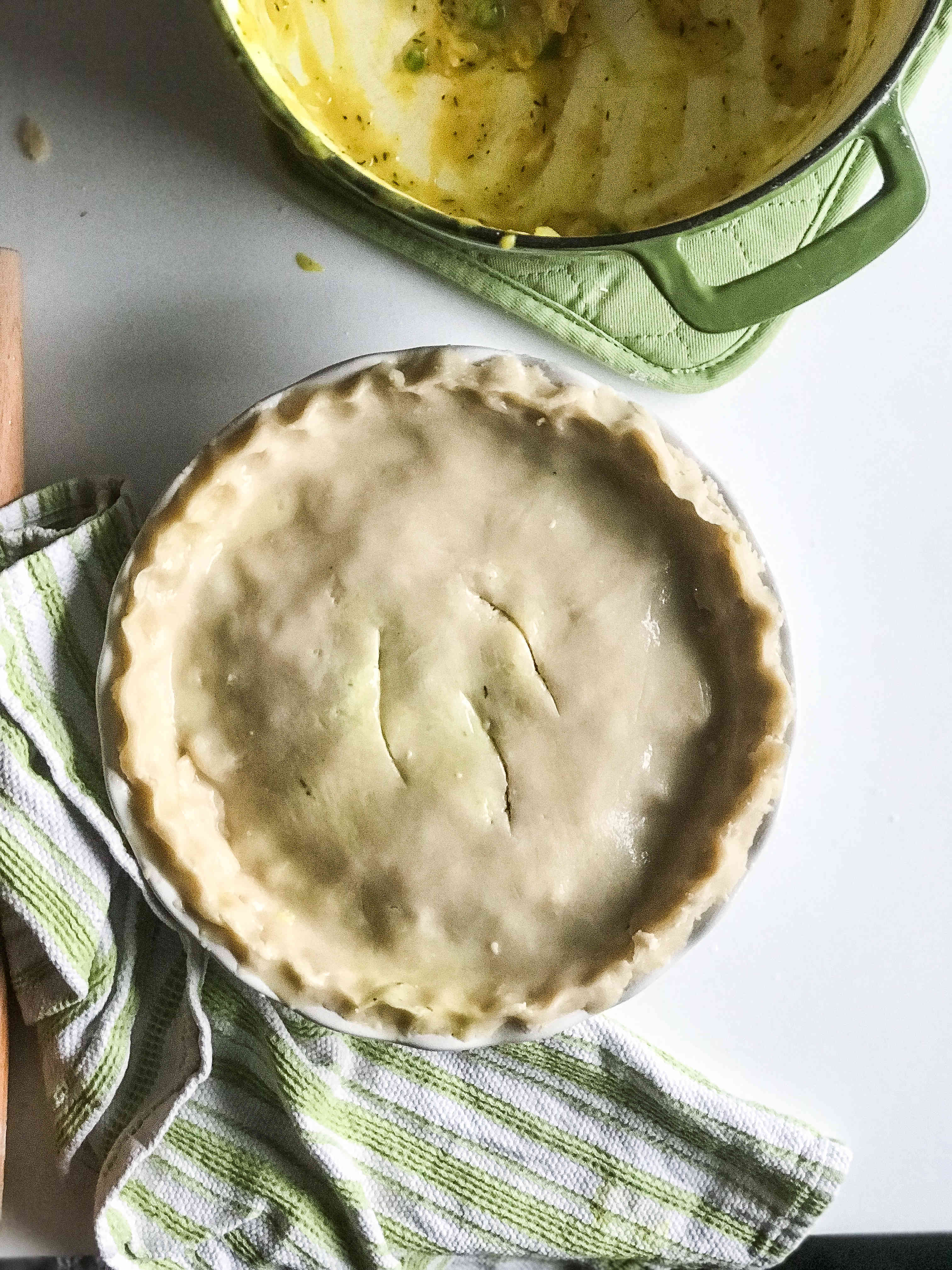 If you're freezing the pot pie – At this time you will want to tightly double wrap the top in foil and place in a freezer ziplock bag if you have one big enough. It will stay 3 months in the freezer. When you're ready to eat, take out and let it defrost, then bake using the instructions below.
Bake at 350 for 40-50 minutes until brown and warmed through. Let it cool slightly before serving.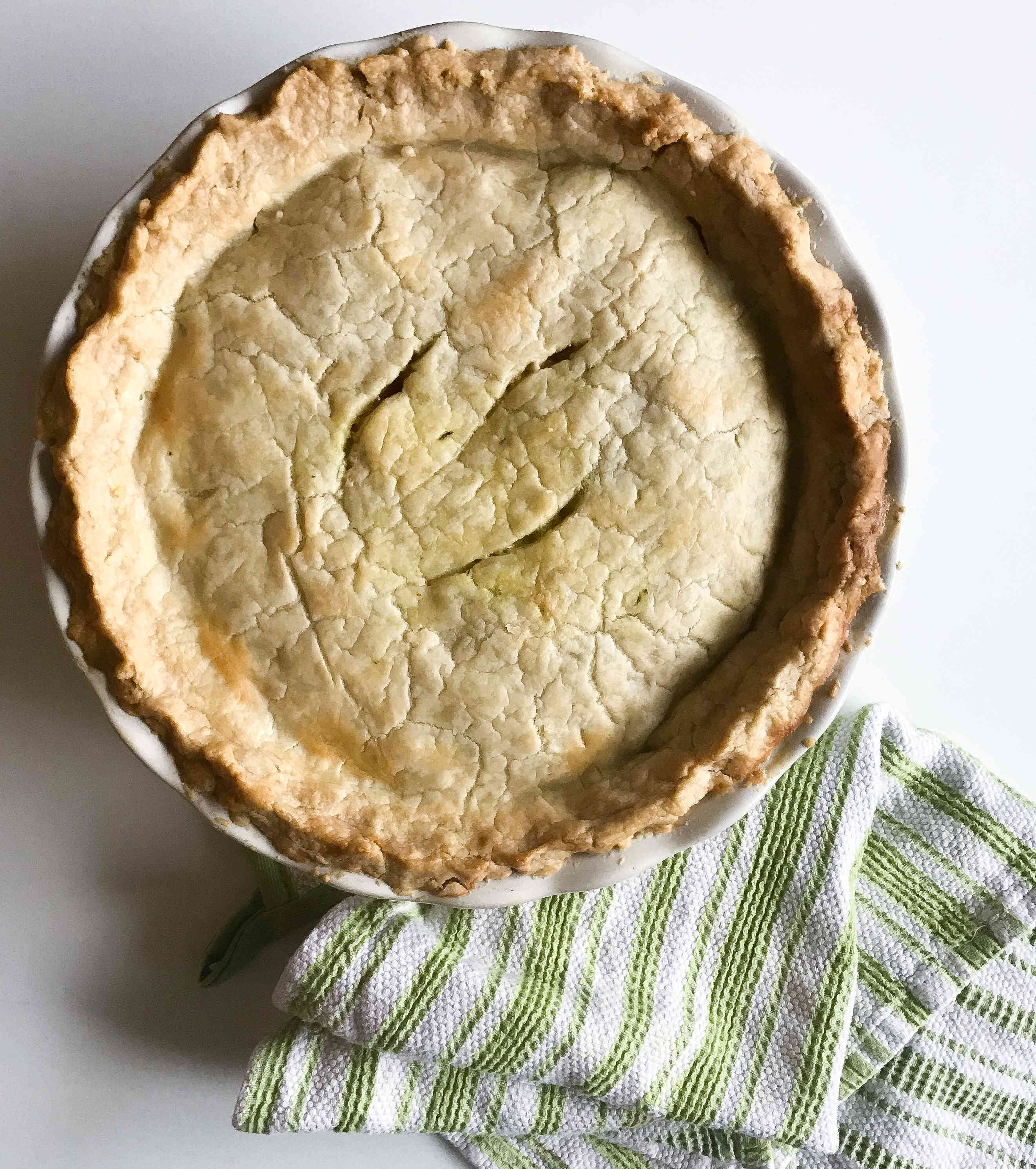 Other Options:
Skip the bottom crust and just cover the top with crust. It won't "slice" like a pie but it will be just as tasty for dinner.
Skip the bottom crust and use puff pastry for the top, this will give a more flaky buttery top.
You can make this into individual servings as well. The best way to do this would be to use small foil individual pans, fill it with filling 3/4 the way up and top with crust or puff pastry, egg wash and slice the top to allow evaporation and freeze. I did this when I was expecting my daughter and it's the best go-to easy dinner, just reheat and serve in the foil dish.
To your future self: If you make pie crusts for the holiday, make an extra for your leftover pot pie. You can use my recipe, I love to add a little lemon zest to the crust specifically for this meal.