Need a new weeknight dinner idea? This pan-seared walnut crusted halibut is just for you! Halibut is a white flaky fish that does not have a strong fish taste and is a great alternative to salmon. Served with a side salad or vegetable and it makes the perfect light weeknight dinner.
This walnut-dijon mustard crust is also good for chicken.
Walnut Crusted Halibut
Walnuts give a crunchy nutty-earthy flavor to the crust and provide a good source of protein and polyunsaturated fat. Walnuts have a variety of healthy benefits such as supporting heart health, reducing inflammation and strengthening your immune health. They are also a good source of folic acid which is important for pregnancy health. http://www.healthline.com
Gluten-Free Alternative
If your gluten-free, you can skip the panko breadcrumbs in the recipe below. Complete steps 1-4, skip over the second part of step 4 and all of step 5. In step 6, using a slightly lower temperature, medium heat, put the halibut crust side down until it forms a crust and starts to brown. Continue with step 7 and 8.
Dicing an onion, check out my step-by-step tutorial on the best (and fastest) way to dice an onion. It's always important to aim for the same size dice so that it will cook evenly throughout. For this dish it can be a rough chop because once it's cooked, it will go into a blender or food processor.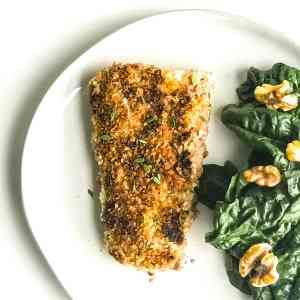 PAN-SEARED WALNUT CRUSTED HALIBUT
Pan-seared walnut crusted halibut, white flaky fish served with a side salad or vegetable makes the perfect light weeknight dinner.
Print
Email
Pin
Rate
Ingredients
2

Halibut Filets

.25 lb each

1

TBSP

Butter

divided

½

Medium White Onion – diced

1

TBSP

Fresh Thyme Leaves

1

cup

Walnuts

(measured before chopping)

2

TBSP

Dijon Mustard

½

tsp

Salt

½

cup

Panko Breadcrumbs

½

tsp

Cayenne Pepper
Instructions
Preheat your oven to 350F.

In a large non-stick pan, over medium heat, melt ½ TBSP of your butter and sauté your diced onions and thyme until soft. Stirring occasionally to not add color to the onions.

While they are cooking, roughly chop your walnuts.

In a blender or food processor, add in your cooked onion and thyme, walnuts, dijon mustard and salt. Blend until creamy.

Keeping the skin on, spread the creamy mixture over the top and sides of the halibut, do not put it on the skin side.

In a bowl, add your panko breadcrumbs and cayenne pepper.

Gently press your halibut top-side down into the breadcrumb mixture and press the breadcrumbs into the sides of the halibut so that it's completely covered in your panko breadcrumbs.

In a large non-stick pan, over medium heat, melt your second ½ TBSP of butter. Once the pan is hot, place your halibut top-side down and sear until it's a nice golden brown. About 3-5 minutes.

Flip your halibut so that it's skin side down, and place pan into your oven.

Bake at 350F for 7-10 minutes, until halibut is cooked through.