Broccoli and leek quiche is the ultimate go-to if you're hosting out of town guests, attending a pot luck, having a weekend brunch, or a breakfast dinner (who doesn't love those?).
It's perfect because you can make it ahead of time, it's delicious served cold, warm or hot so that makes serving it so easy.
You can add just about anything you want into a quiche – I wrote a little quiche blog while in culinary school, you can read all about how to make your own quiche recipe, as you will tell, my writing style and photography have improved over the years…
But just in case (JIC as the cool kids call it) you don't feel like coming up with your own recipe, here is a really good one, using broccoli and quiche, that gets very positive reviews.
Broccoli and leek quiche is naturally vegetarian, however if you want to, diced ham would be a delicious add-in.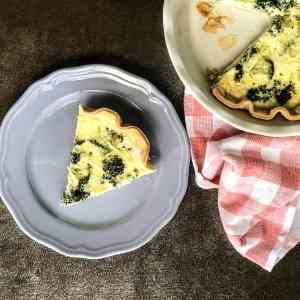 Ingredients
1

Pie Crust

store bought or homemade

1

cup

Broccoli

chopped

½

cup

Leeks

thinly sliced

2

stalks of Green Onions

thinly sliced white bottom up to light green

½

cup

Gruyere Cheese

3

Eggs

1 ½

cup

Heavy Cream

¼

tsp

Salt
Instructions
The first step is to get your crust ready. I used store bought crust this time, so clearly I won't judge you if you take the easy way out too. But I will shamelessly plug my homemade crust because it's so easy, flaky, buttery and delicious.

I recommend blind baking your crust first, during that time you can prepare your quiche custard and filling.

Blind baking will allow your crust to pre-bake your crust half way so that it's completely done at the same time your quiche filling is. To do this you have to have baking weights, if you don't have them, you can use beans, just don't eat them afterwards, you have to make the decisions sacrifice your pantry beans for this quiche (and all your other pie crust needs because you can store them in a zip lock bag and use them over and over again).

To do this:

Place crust in the fridge for 15-20 minutes for it to chill - the colder the crust the better the flakes.

Preheat the oven to 350F.

Then add in your baking weights (or beans or both), make sure to have them snug up against the edge of your crust so that it keeps its shape!

Place in the oven for 15 minutes.

While your crust is blind baking, you can start to prepare the filling ingredients.

First you will want to soak the leeks- this is how you proper clean a leek. Trim off the top leaves, cut in half lengthwise and soak in cold water.

You will want to chop the broccoli until it's in small pieces, slice the leeks and green onions very thinly, grate the Gruyere Cheese and whisk together the custard ingredients (eggs, cream and salt.

Take the crust out, remove the parchment paper and weights. poke holes in your crust and bake again for 10 minutes.

Your crust should have a little color (see above). Now it's ready for the filling.
Notes
You don't have to blind bake your crust beforehand however it is recommended. I've been short of time and skipped that step, however you may have to bake it longer, I would check it in 5-10 minute increments after 35 minutes.