Looking for a healthy snack? These baked oatmeal fruit boats are the perfect treat! Hearty baked oatmeal in naturally sweet fruit is a great way to start off your day or pack for lunch snack.
Using peaches, apples, or pears with your pantry staples, this recipe is quick and easy to throw together and will be loved by the entire family.
Sticking to my September easy weeknight dinner series theme (I guess these could also be dinner) this recipe has 7 ingredients and takes 30 minutes in the kitchen! Lastly, you can scale these recipes up or down very easily no matter if you're cooking for a party of 1 or 6 (+).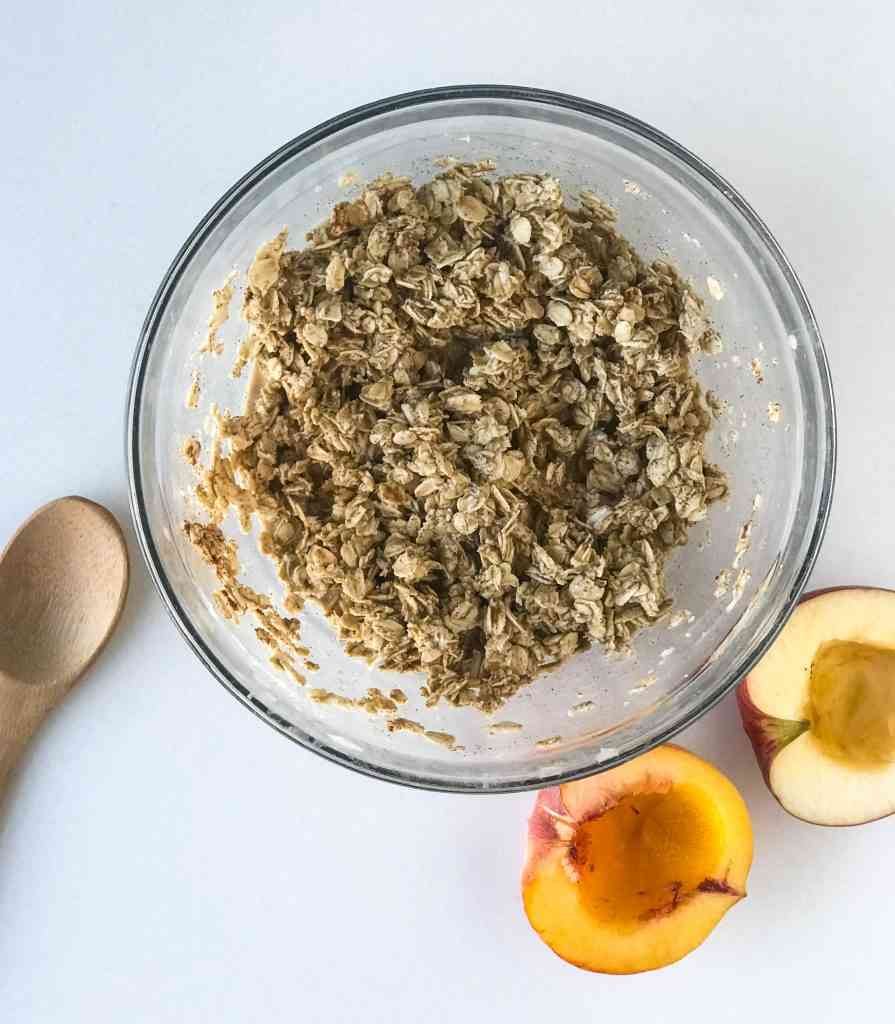 Panty Staples
Oats:
There are three types of oats; steel cut, rolled, and instant. I've broken down the difference of each, for this recipe I recommend rolled oats. I usually get mine in bulk from Costco.
Steel Cut Oats are not processed at all, this makes them the most authentic in texture and taste, however they usually require proper cooking to make them the most delicious.
Instant Oats are the exact opposite of steel cut oats. They are the most processed and purposely created for fast cooking. They are thin and have less texture. You can substitute rolled oats with instant oats but you will lose a little of that bite.
Rolled Oats are perfect for these baked fruit boats! If you were Goldilocks, this would be your bowl of perfect porridge. They are the perfect middle of steel cut and instant oats, thinner than steel cut oats but still hold their texture and shape.
Milk: You can use anything you like.
Brown Sugar: This will draw out the natural sweetness of the oats and fruit. Highly recommended but not necessary if you want to follow the clean eating rules, you can substitute with coconut sugar or omit entirely.
Cinnamon: Cinnamon also provides a natural sweetness with a lot of healthy benefits. It's an anti-inflammatory, helps with maintaining a healthy blood sugar level and is loaded with antioxidants.
Pinch of Salt: This will marry all of the flavors together. Salt helps enhance the natural flavors of your food.
Drizzle of honey: I love using local honey. You can also use maple syrup as a substitute if you want to.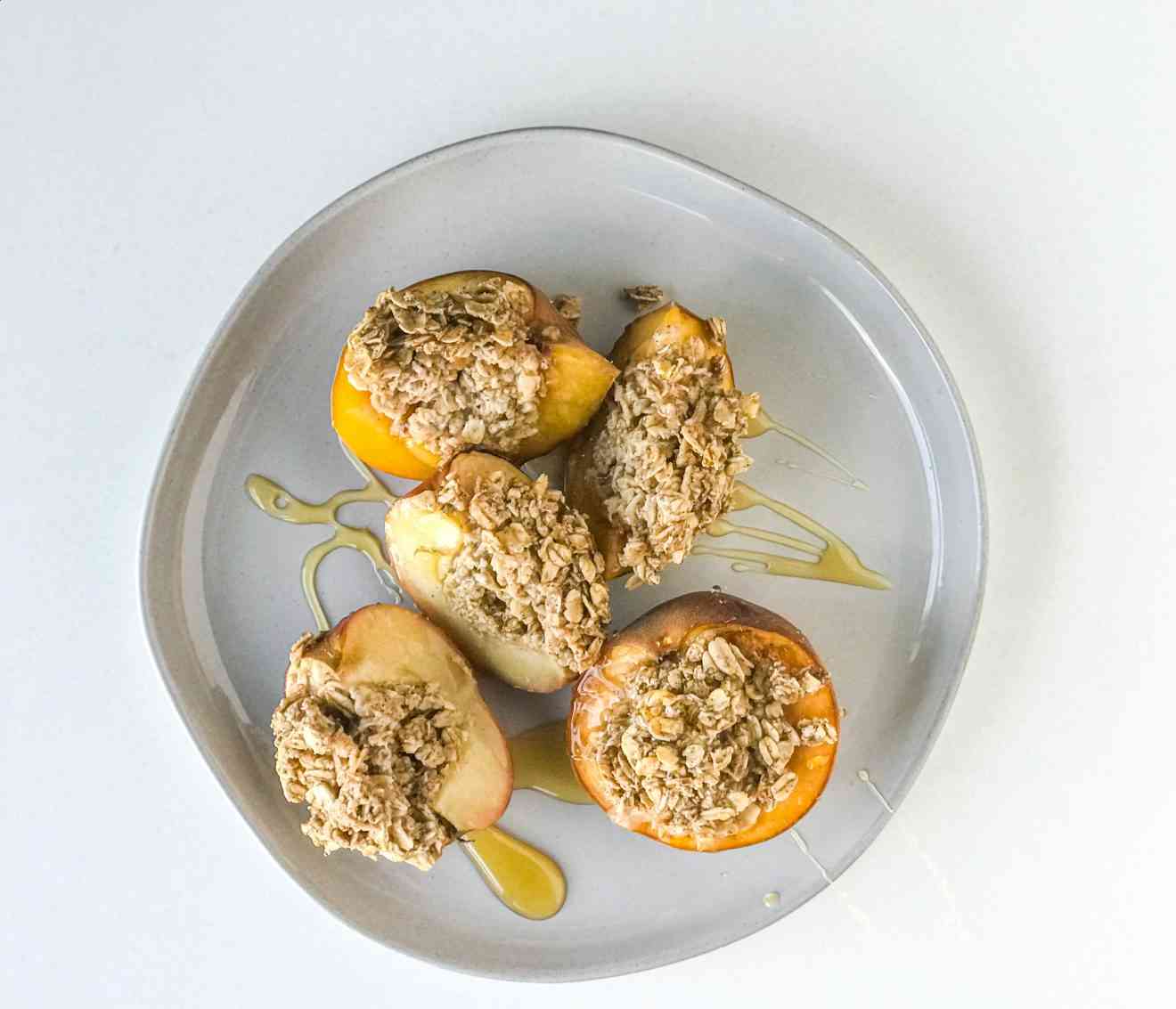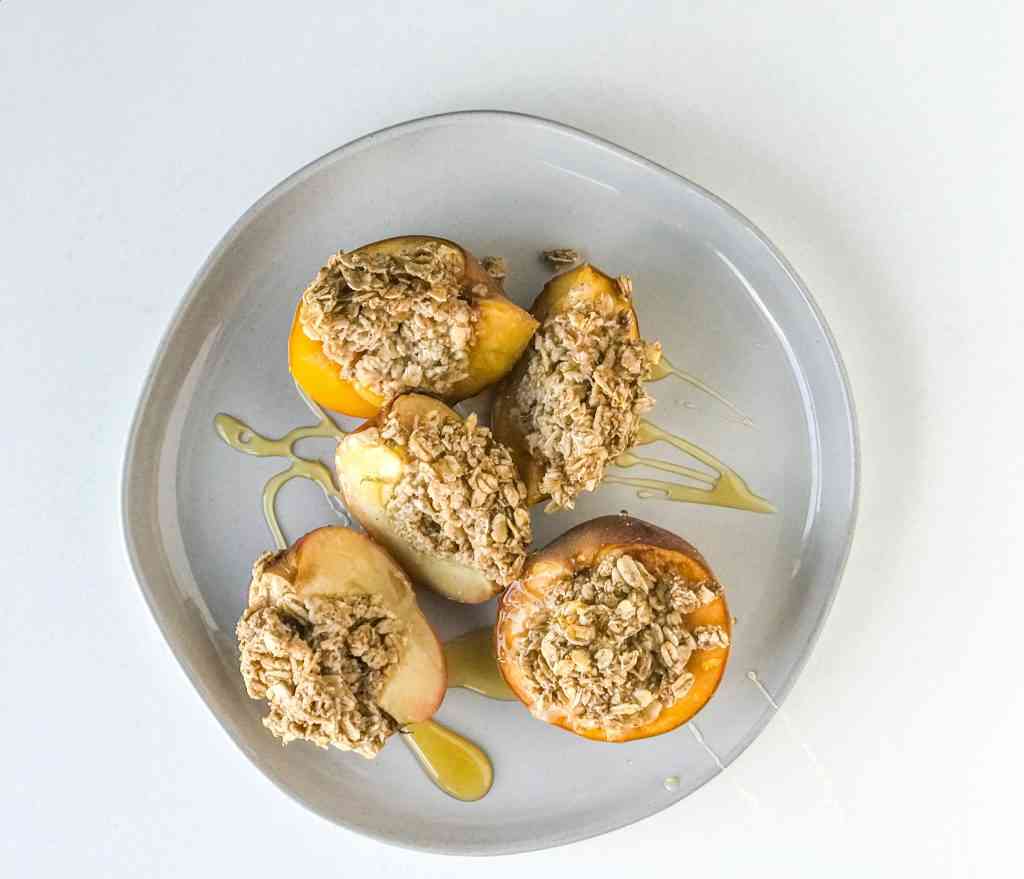 Baked Oatmeal Fruit Boats – How to scale it up (or down).
One serving will be one piece of fruit, sliced into two halves. You can use peaches, apples, pears they all work great with this recipe!
You will want 1/2 cup of oats per fruit. The recipe below is for 4 servings, 8 fruit halves. If you want to make one serving (2 fruit halves) you will want to divide the recipe below into fourths. I hope that makes sense.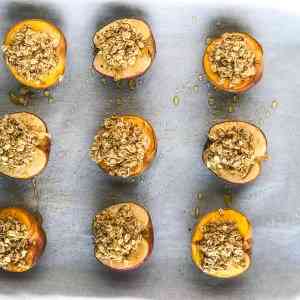 Baked Oatmeal Fruit Boats
Hearty baked oatmeal in naturally sweet fruit is a great way to start off your day or pack for lunch snack. Oatmeal boats!
Print
Email
Pin
Rate
Ingredients
4

Peaches, Apples or Pears

2

cups

Rolled Oats

1

cup

Milk

Any Kind

2

TBSP

Brown Sugar

1

tsp

Cinnamon

1

pinch

Salt

(about 1/4 tsp)

Drizzle

Honey
Instructions
Preheat your oven to 350F. Line your baking sheet with parchment paper and set aside.

Slice your fruit in half and remove the core, seeds or pits with a spoon. This will give you a deep hole in the fruit for your oatmeal mix.

Bake at 350F for 20 minutes. The fruit will bake and become fork tender (easy to bite into) and the oatmeal will bake inside the fruit becoming creamy with a baked top.

Remove from the oven and drizzle with honey.