Buffalo chicken salad wraps are a fun and super easy recipe.  Light, crisp salad with shredded buffalo-sauce-infused-chicken make a perfect quick weeknight dinner or can be made/prepped ahead for lunch.
Buffalo chicken wings are a classic, reliably delicious.
Buffalo chicken, when met with cool ranch, blue cheese crumbles, tangly purple onion and crispy lettuce you have what I call an irresistible match made in heaven.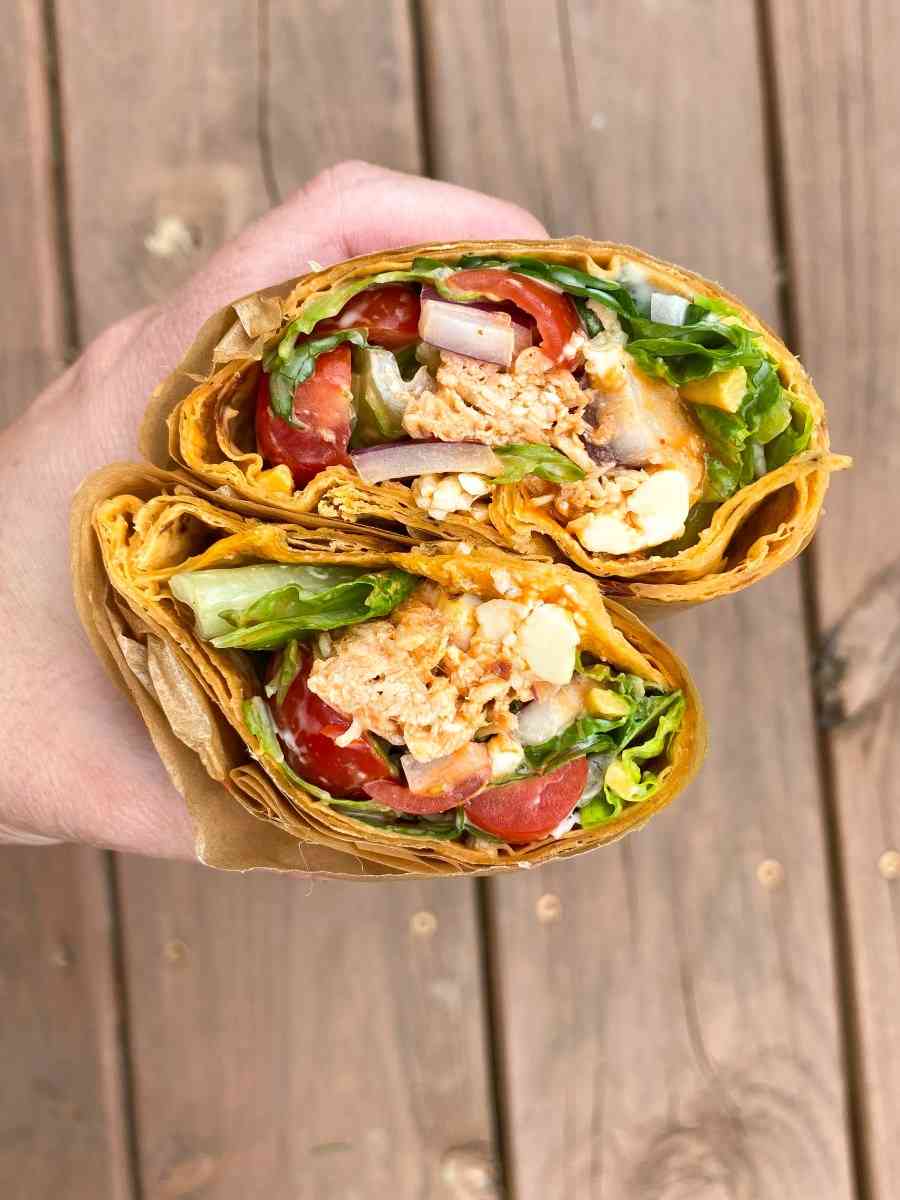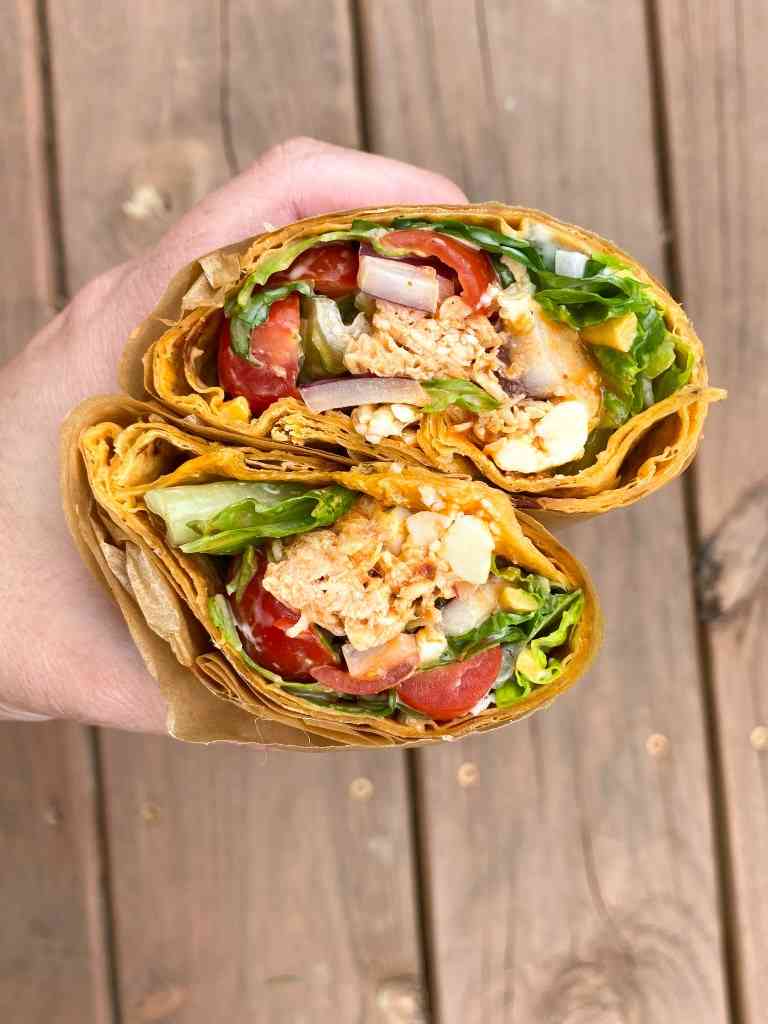 Buffalo Chicken Wings
Are you a wing or flats person? I'm a flats. I will only eat the flats or boneless.
Buffalo chicken got their start in Buffalo, NY. In 2017, when I was just about 9 months pregnant and ready to pop, Brad and I took a road trip to Niagara Falls to celebrate July 4th with family. With my first pregnancy, the only chicken I could tolerate had to be covered in Buffalo sauce, so we decided to stop along the way to pay homage to the rumored original Buffalo Chicken Wing restaurant, Anchor Bar.  Maybe it was the car ride, or the pregnancy, but my honest review was that they were just okay, maybe a little bland? It's hard to remember why but didn't leave overly impressed. Still a fun adventure.
Unrelated but here we are on July 4th, 2017, Niagara Falls, Canada. Olivia was born August 11, 2017.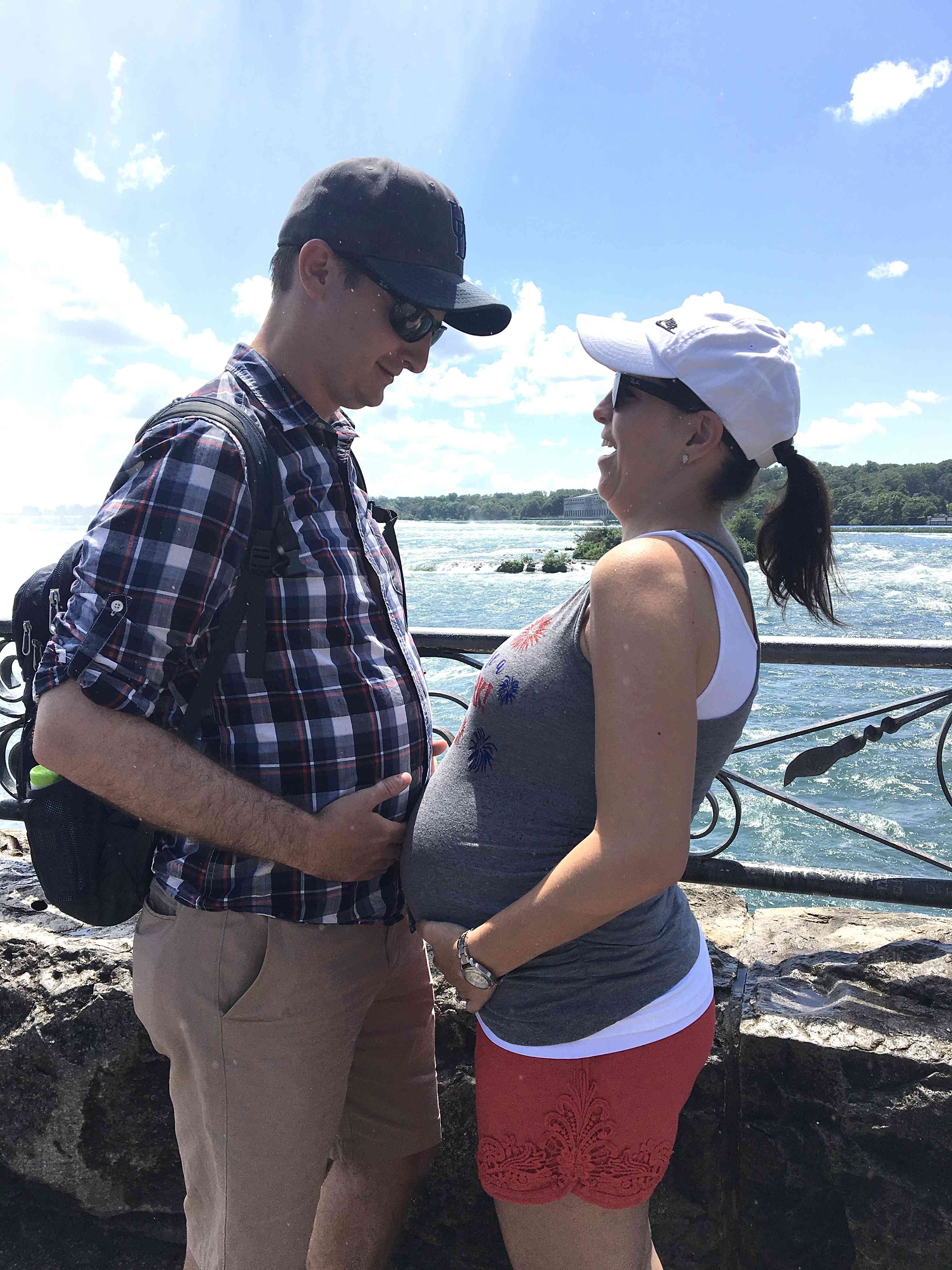 How to Make Buffalo Chicken
You can do this a few different ways.
If you have an instant pot/pressure cooker, this is my preferred way because it's quick and the pressure cooker infuses the chicken with the buffalo flavor. If you cook your chicken from frozen it will only take 11 minutes and thawed chicken takes 9 minutes!
You can also cook the chicken in a crockpot with the buffalo sauce, set it in the morning and have it ready for dinner.
If you want to make it quick and easy, you can also grab a rotisserie chicken, shred and toss in buffalo sauce.
To shred your chicken you can take two forks and pick it apart or if you have a stand mixer with a paddle attachement, you can add your chicken to the bowl and mix it, it will shred your chicken in 60 seconds. If you want to skip shredding, you can also cut the chicken into bite-size cubes.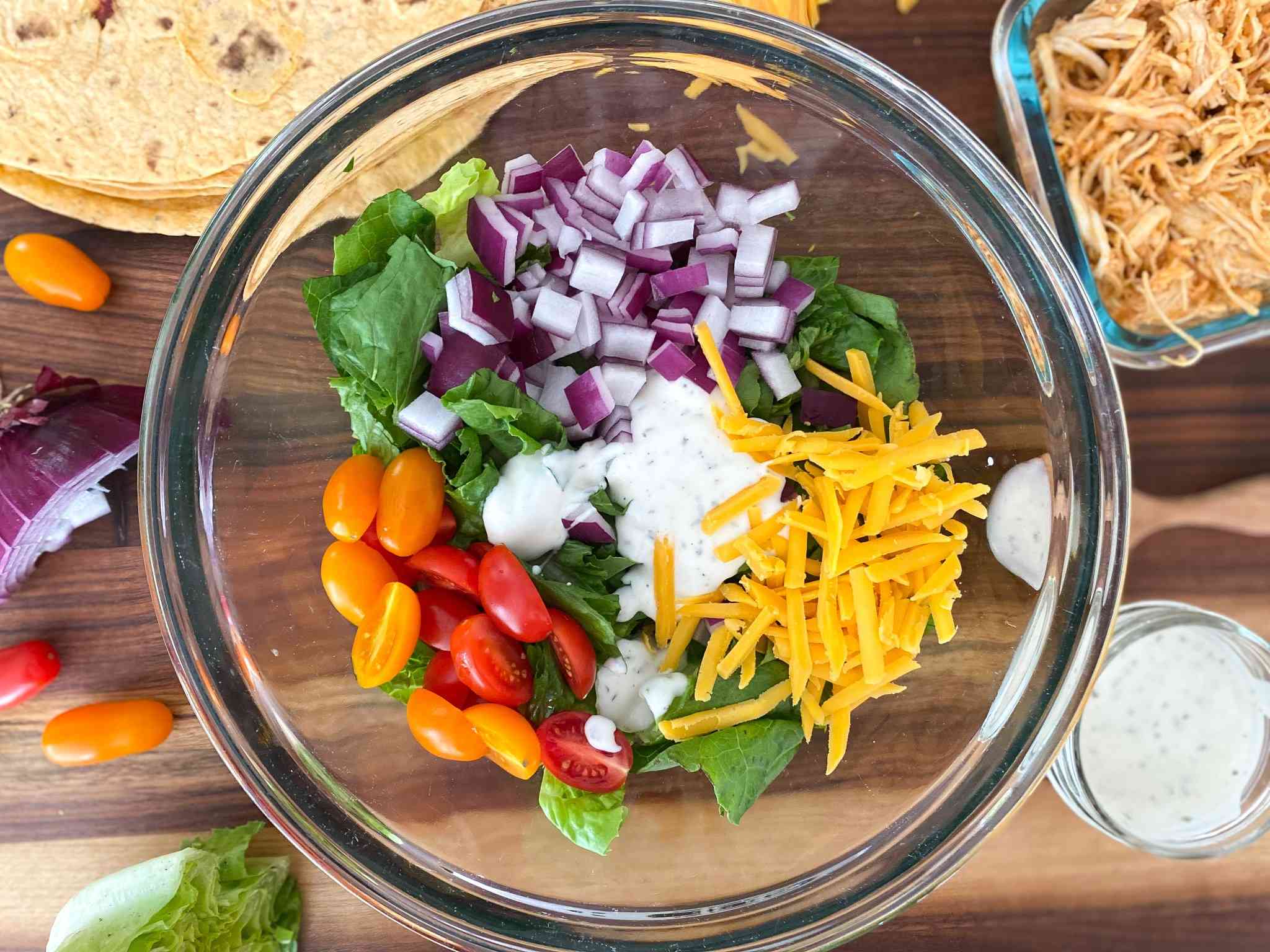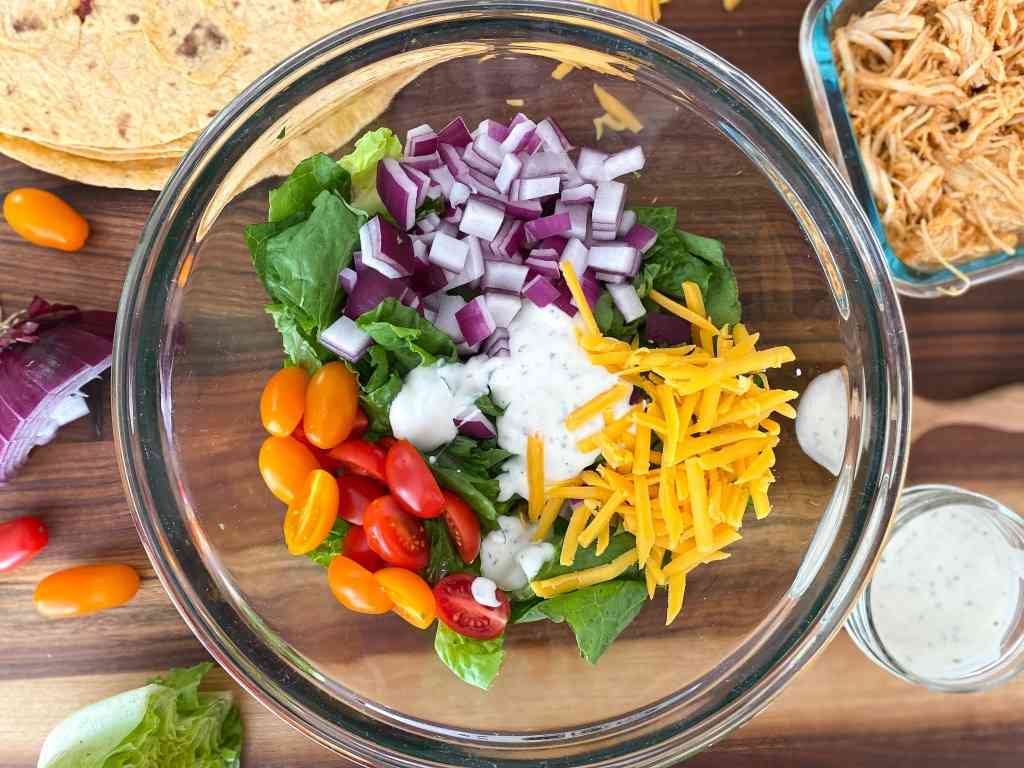 The Salad
Keeping this recipe light and easy for both weeknight dinners and lunches the salad comes together so easily and brings all of the fresh flavors to help balance the heat from the spicy buffalo chicken with super simple ingredients. Are you team ranch or blue cheese? In this wrap you get both!
Romaine lettuce is more sturdy than other options. You will get about two serving per lettuce hearts.
Purple onion adds a fresh tangy bite without the harshness of a white onion.
The cheeses, this recipe calls for shredded sharp cheddar and blue cheese crumbles. You can opt out of the blue cheese crumbles if that is not something you love.
Ranch dressing, I used our favorite store bought ranch dressing, something you already have on hand.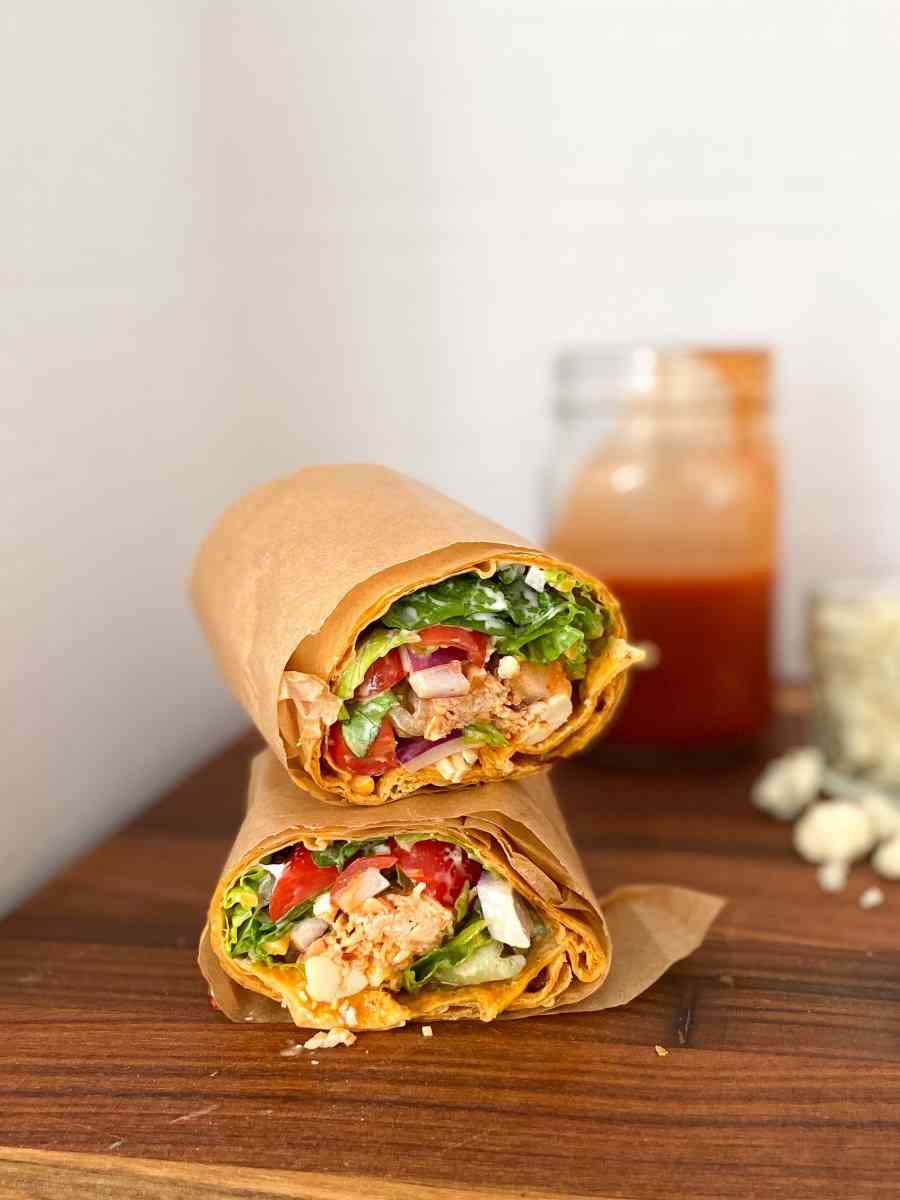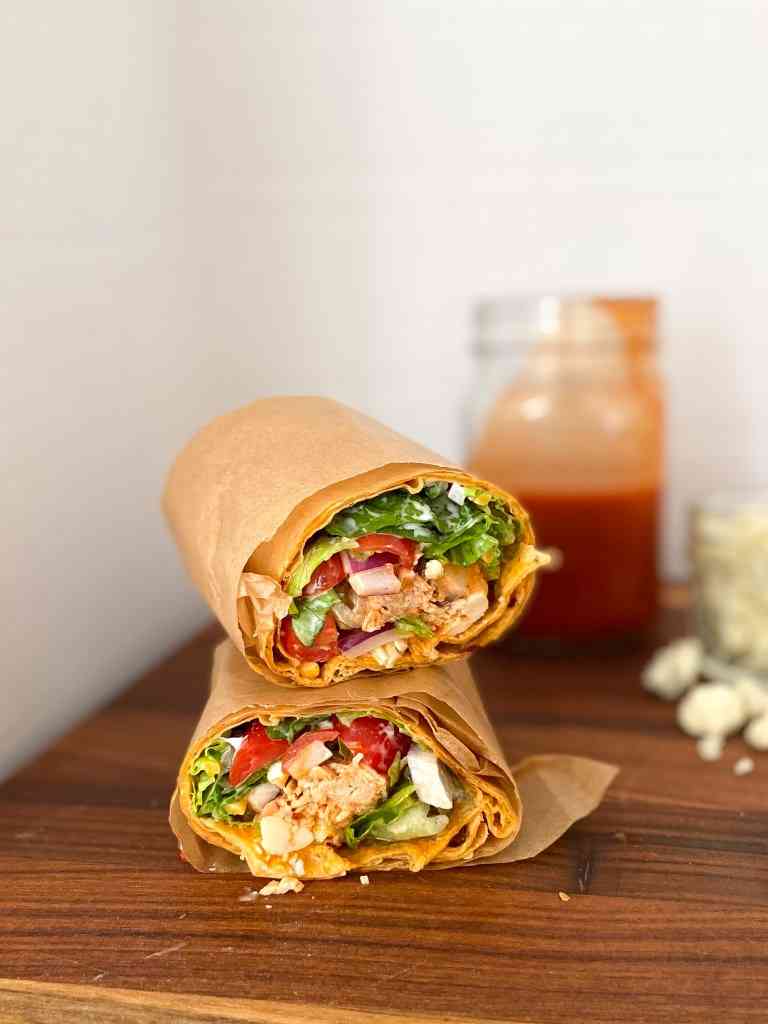 Making Lunch Wraps
This is an ideal take-to-work-lunch. You can prepare the chicken at the beginning of the week and just keep it in the refrigerator to use each day.
The recipe below makes about 4 wraps, if you are like me, and love a fresh salad, you can combine all of the salad ingredients except the ranch dressing.
When you are preparing your lunch, you can take what you need from the prepped saved salad and toss it in your ranch dressing at that time. Same with the prepped chicken, you can take what you need and if you want more buffalo sauce then you can drizzle on more sauce at the time you're making the wrap to keep it same-day-fresh.
Wrap in parchment paper and cut in the middle if you are looking for a restaurant style look.
Buffalo Chicken Salad Wrap
These Buffalo chicken wraps are ideal for an easy dinner, take-to-work-lunch or even a party! Bold rich flavors are guaranteed to satisfy the belly any time of day.
Time for this recipe will vary depending on if you're using a pressure cooker, crockpot or a store bought rotisserie chicken.
Print
Email
Pin
Rate
Ingredients
½

pound

Chicken Breast

6

oz

Buffalo Sauce

2

Romaine Lettuce Hearts - roughly chopped

1

Purple Onion - diced

½

cup

Cherry Tomatoes - halved

½

cup

Sharp Cheddar Shredded Off the Block

½

cup

Blue Cheese Crumbles

¼

cup

Ranch Dressing

1

package of

Wraps

I used sun-dried tomato and basil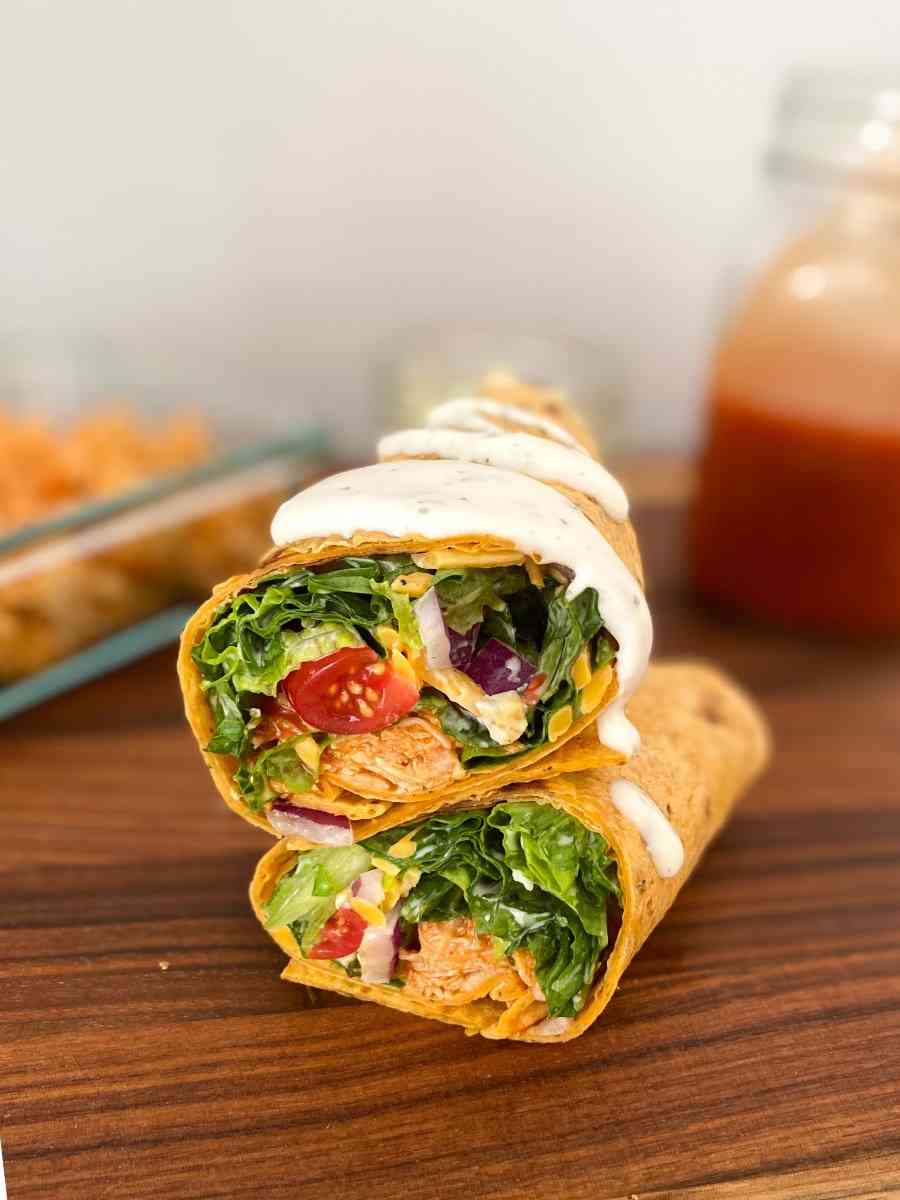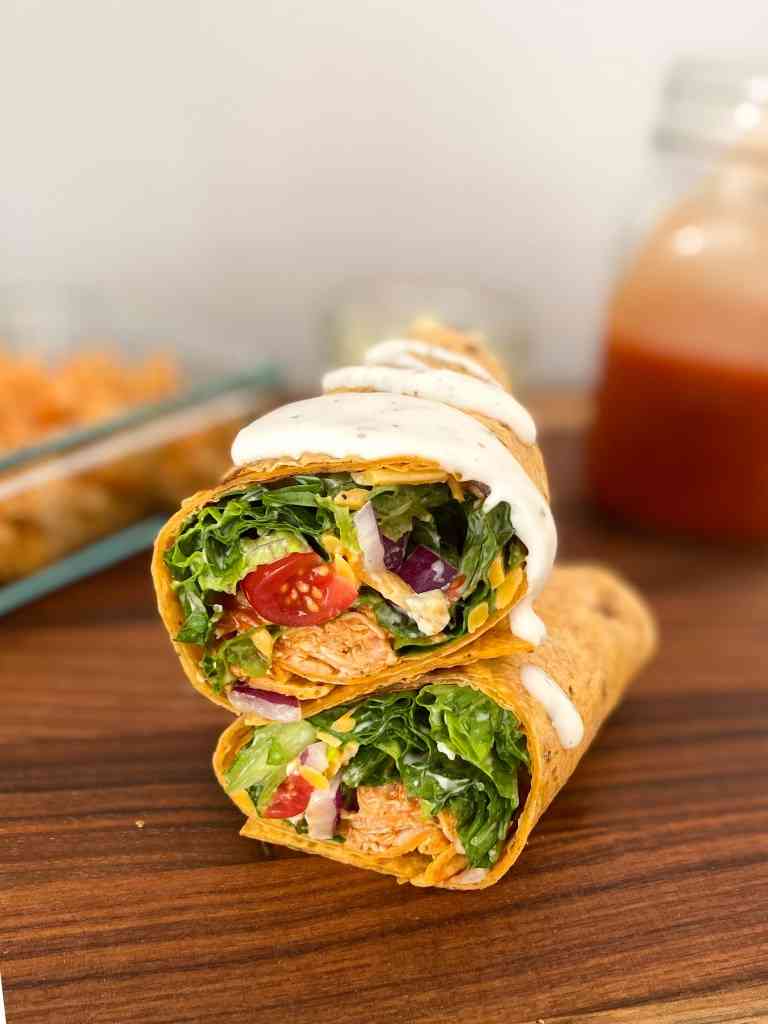 As an Instacart affiliate, at no cost to you, I do make a commission when you purchase from the links in this post. They are not sponsored.