Cacio e Pepe Pizza is the white pizza of your dreams. Cacio e Pepe translates to cheese and pepper, and this pizza goes a step further with a creamy garlicky and herb béchamel cheese sauce, to give you undeniable flavor in every bite.
The nuttiness of fresh Parmesan cheese, the spiciness of the black pepper are the perfect duo, but when you add in Italian cheeses, minced garlic and fresh thyme plucked straight from the stem you get the most epic white cheese pizza.
Perfect for busy weeknight dinner, start to finish is about 30 minutes and everyone will instantly fall in love with this white cacio e pepe pizza.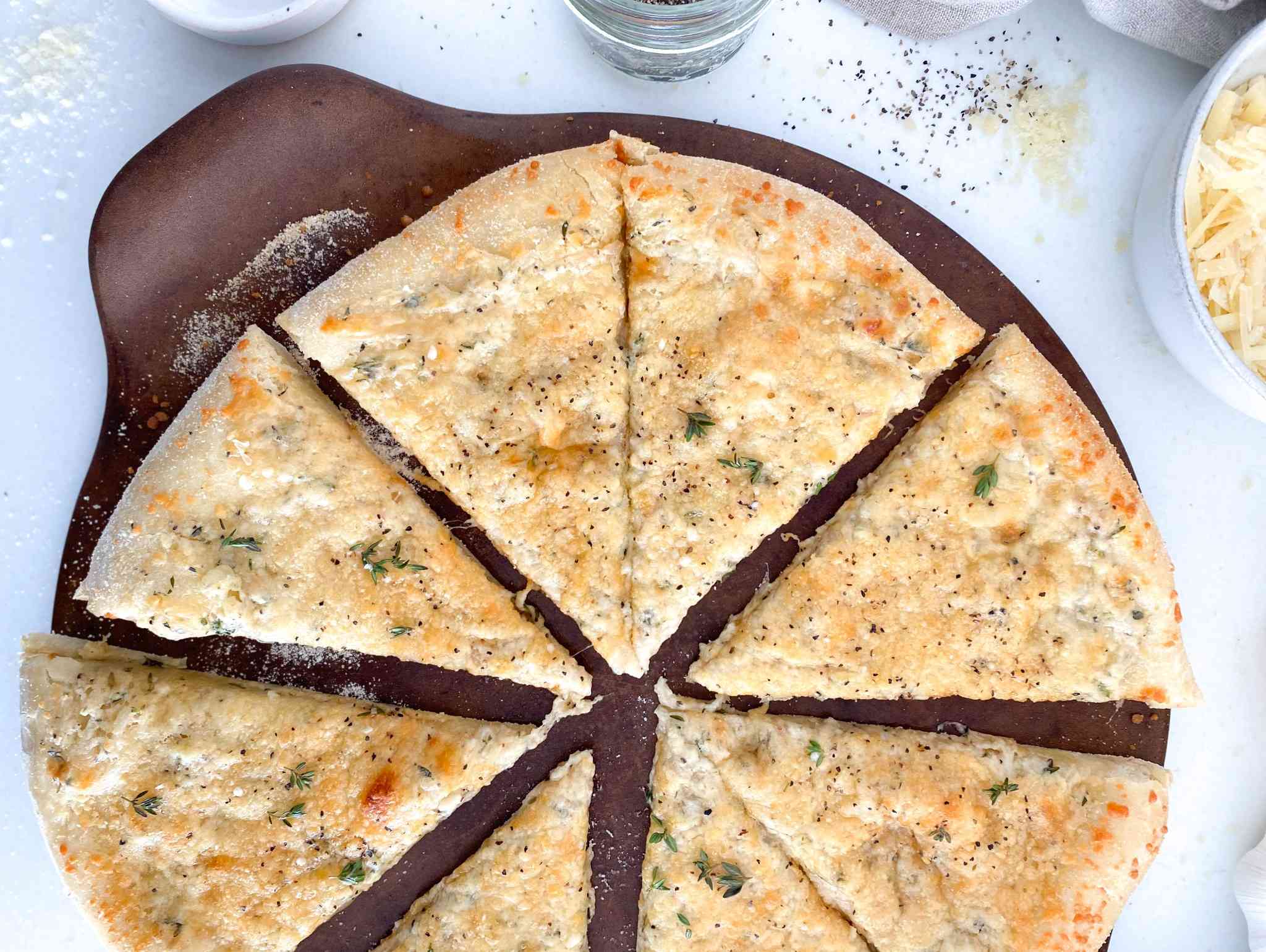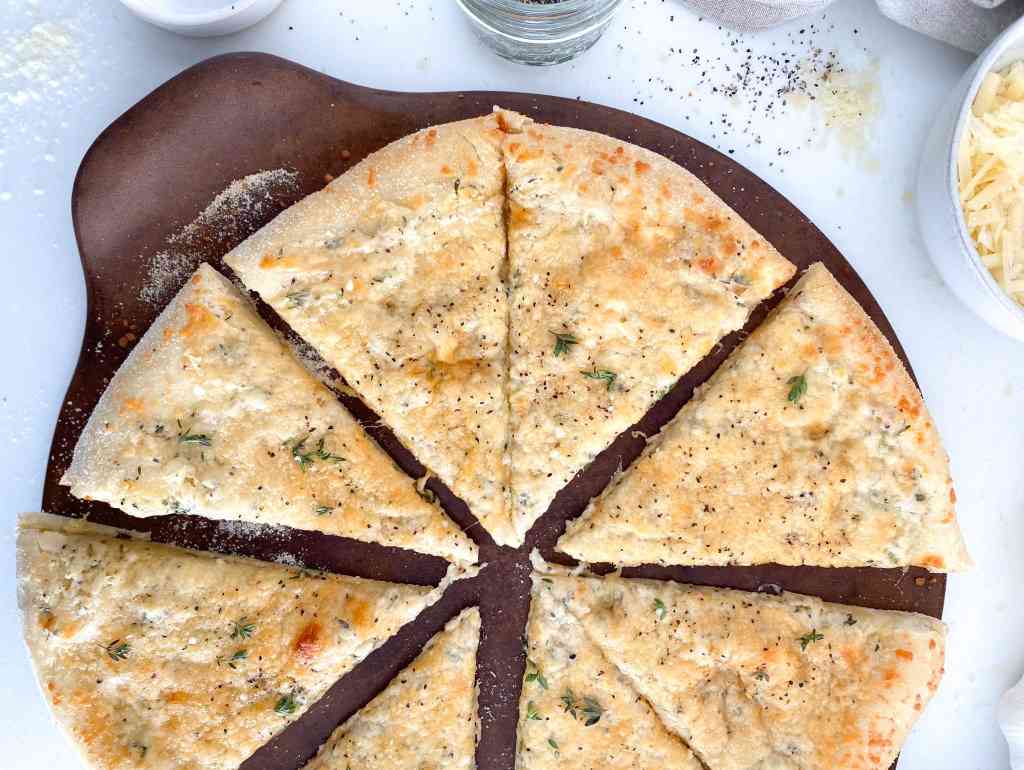 Cacio e Pepe Pizza Béchamel Sauce
Béchamel sauce is one of the French mother sauces in cooking, most people make it without knowing what it is called. When you mix together butter, flour and milk to make a thick white sauce – that is a béchamel sauce, most commonly made for dishes like macaroni and cheese. This cacio e pepe pizza replaces the traditional red marinara sauce with a leveled-up béchamel sauce.
This white creamy sauce has it all – garlic, shallots, fresh thyme, pepper, Italian cheese. I can't wait for you to smell this in your kitchen!
How to take fresh thyme off the stem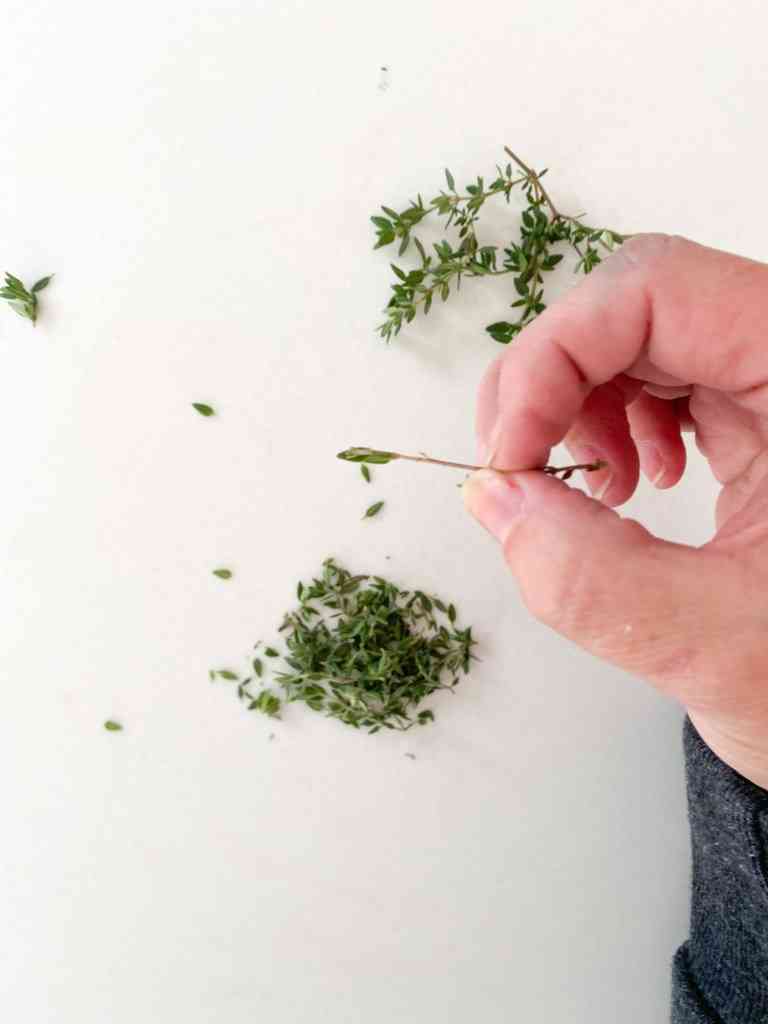 Don't skip this step! I know it may seem quite tedious but it's worth it. To take fresh thyme off the stem, simply use your thumb and pinter-finger nail and scrape the leaves off, they may all in a small bunch but that is okay. Once you have a pile of fresh thyme, you will want to run your knife through it once or twice to break up the small bunches and to wake up the oils.

Parmesan Cheese Options
Cacio e pepe primary uses Parmesan cheese. For this cacio e pepe pizza, I stayed pretty close keeping it authentic but because it is pizza I decided to add more players to the flavor-game, asiago and romano are also part of the mix.
Let me tell you about the cheeses and how to buy them. Fresh is always best, but sometimes it's not feasible both by budget or time and I get that. The next best option is to get the fresh cheese in the grocery store's fancy cheese display, usually near the deli. The reason for this is because those seem to be more-fresh than the prepackaged bags. When you buy the prepackaged already shredded cheese, the cheese has been shredded and then processed do that they have a longer shelf life, which can lead to the cheese not melting as smoothly and the flavors to be more mild.
My grocery store had an option for an Italian mix that was in-store pre-shredded so it was still fresh. I also bought store-freshly grated parmesan. When I say grated, I don't mean shredded, I used that fine grated cheese like the stuff that shakes out of that green canister, it added the most amazing texture to the top of the pizza and the crust edges.

Pizza Dough Options
There are a lot of options for pizza dough. You can alway buy grocery store dough, I do it too, there is no shame in that game, just make sure to get the fresh ball of dough, usually located in the deli area of the grocery store. I also love my super simple homemade pizza crust recipe. This creamy cacio e pepe pizza would also taste great on my whole wheat pizza crust.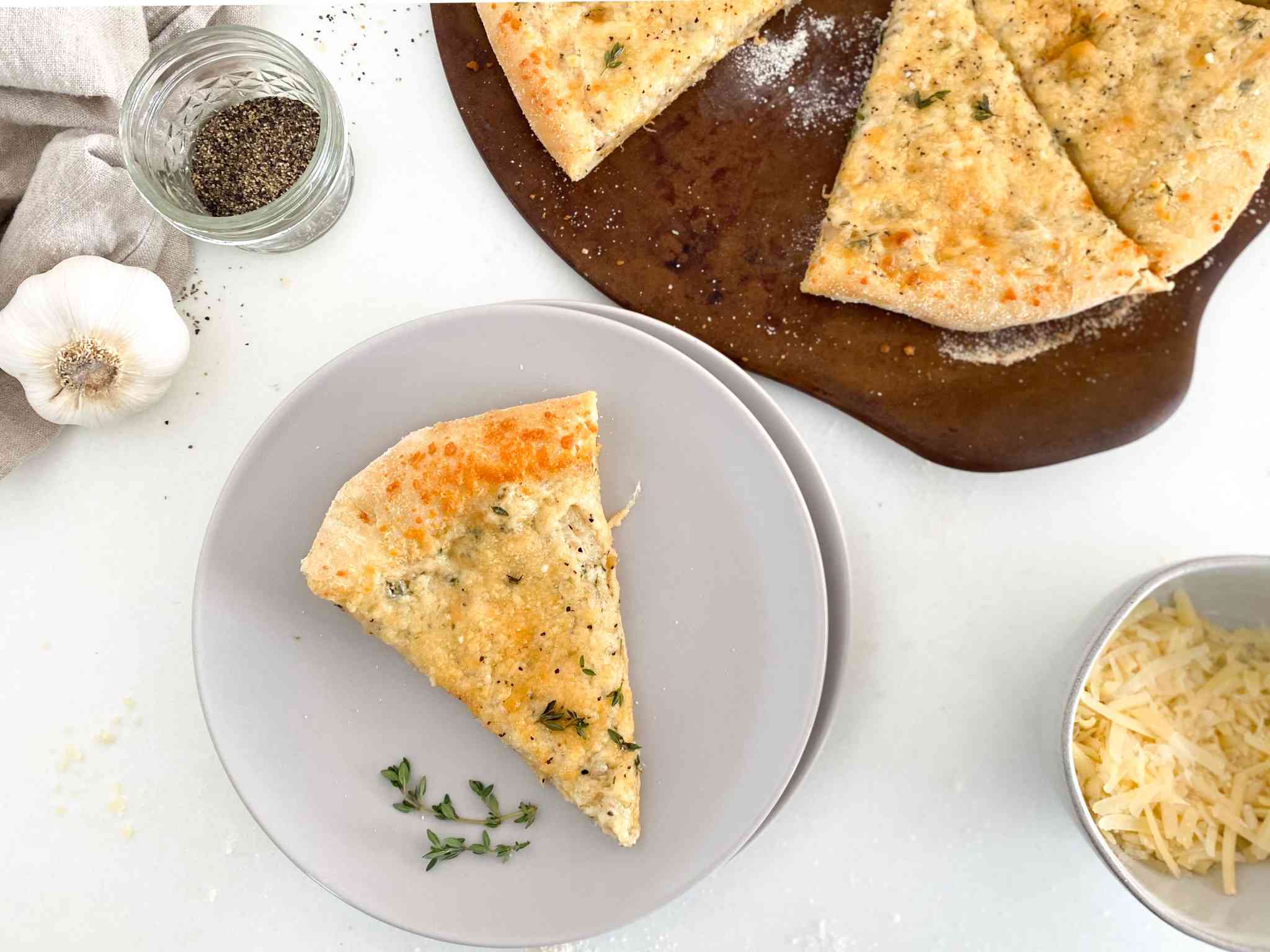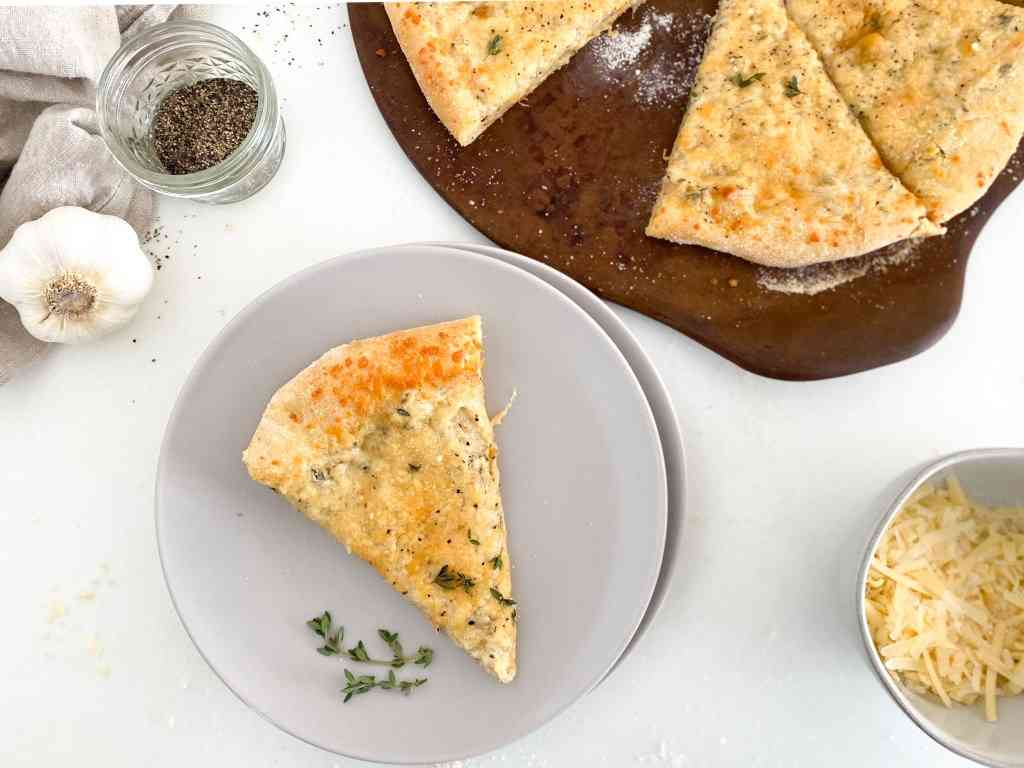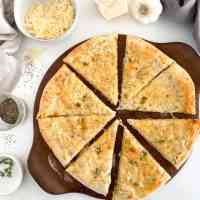 Cacio e Pepe Pizza
Cacio e Pepe translates to cheese and pepper. A quick flavorful béchamel sauce transforms this white pizza, it's absolute perfection.
Print
Email
Pin
Rate
Ingredients
½

TBSP

Butter

1

small

Shallot, thinly sliced

4

cloves

Garlic – minced

¼

tsp

Salt

2

TBSP

Fresh Thyme

see blog notes

½

tsp

Pepper

½

TBSP

Flour

½

cup

Milk

1½

cup

Italian Cheese Mix (Asiago, Romano and Parmesan) – shredded

1

Pizza Dough at room temperature

see blog notes

Corn Meal

1

TBSP

Olive Oil

1½

cup

Fresh Parmesan Cheese – grated

⅛

tsp

Coarse Ground Black Pepper

Fresh Thyme (garnish, optional)
Instructions
If you haven't already, set out your pizza dough, it will roll the easiest at room temperature.

Over medium heat, let the butter melt, the shallot soften and become translucent. Let the garlic and thyme become fragrant, about 3 minutes or so. Stir frequently to prevent the garlic from burning.

Whisk in your milk and let it continue to cook over medium heat until it starts to thicken. Try not to let it boil. Once it becomes thick enough to coat a spoon, take it off the heat.

Once you remove it from the heat, add in your Italian cheese blend and stir until melted and combined.

Preheat your oven to 400F. If you are using a pizza stone, make sure to put it in your oven as it heats up so that it can preheat as well. If you are using a sheet pan, this step is not necessary.

Sprinkle your counter with corn meal, place your pizza dough on top. If the pizza dough is still too sticky to roll out, sprinkle a little corn meal on the top of the dough. Roll out your dough to your preferred thickness (mine was about ¼ – ½ of an inch) and to fit your pizza stone/sheet pan.

Once the dough is rolled out, sprinkle your preheated pizza stone or sheet pan with corn meal to prevent sticking (no cooking spray needed). Carefully transfer the dough and place it on the pan.

Drizzle a tablespoon of olive oil over the dough. Spread the white sauce to cover the bottom of the dough.