The weekend is here! These cinnamon roll pull apart muffins are here for it and you. These are a little bit of cinnamon roll, a little bit coffee cake, a little bit muffin and a little bit monkey bread. LITERALLY A DREAM.
They're slightly over-indulgent, debatably shareable-size and an unwavering perfect match to your cup of coffee. These sweet soft pull apart muffins have small dollop of warm cream cheese throughout the inside and topped with a butter-sugar crumble – they are simply irresistible.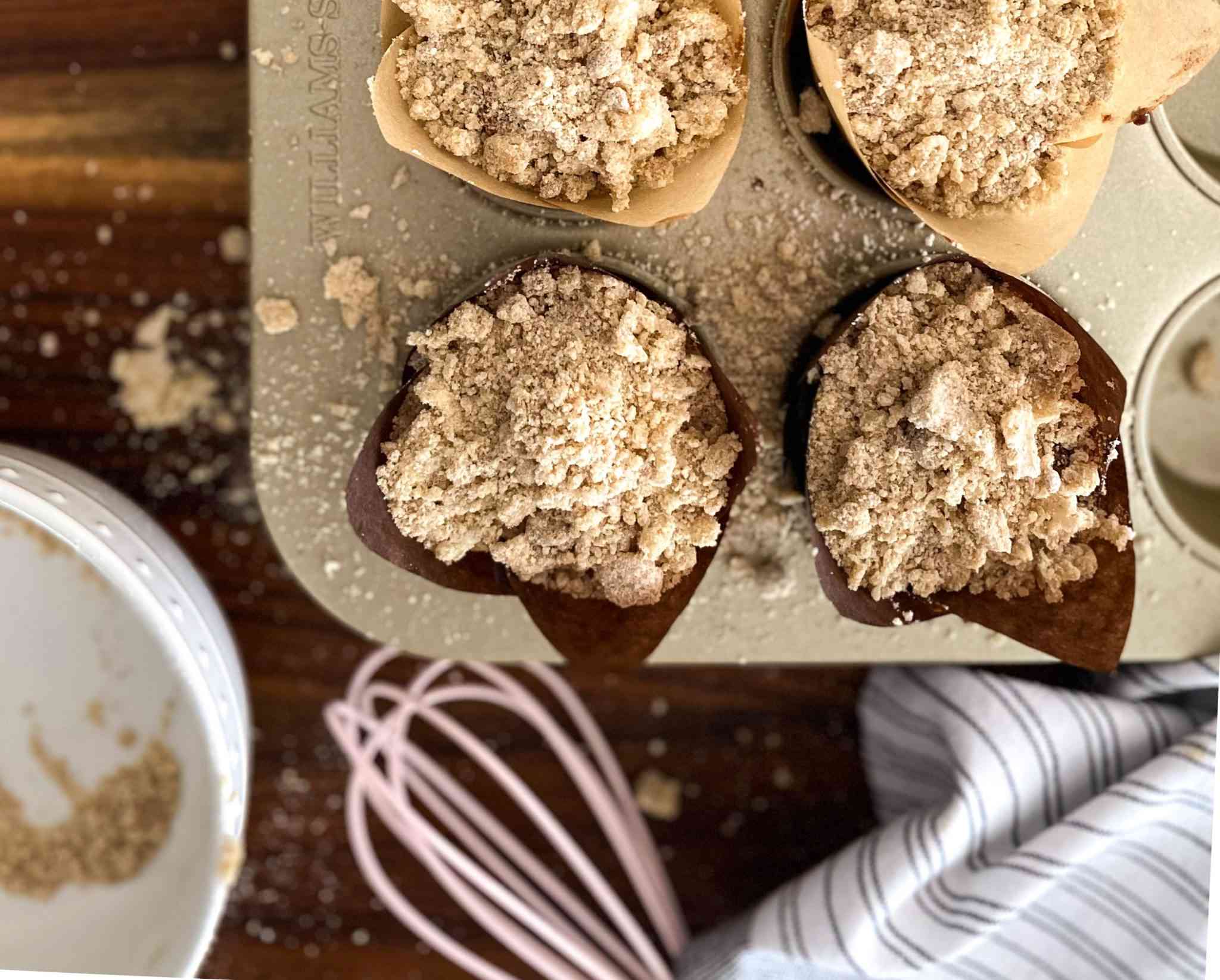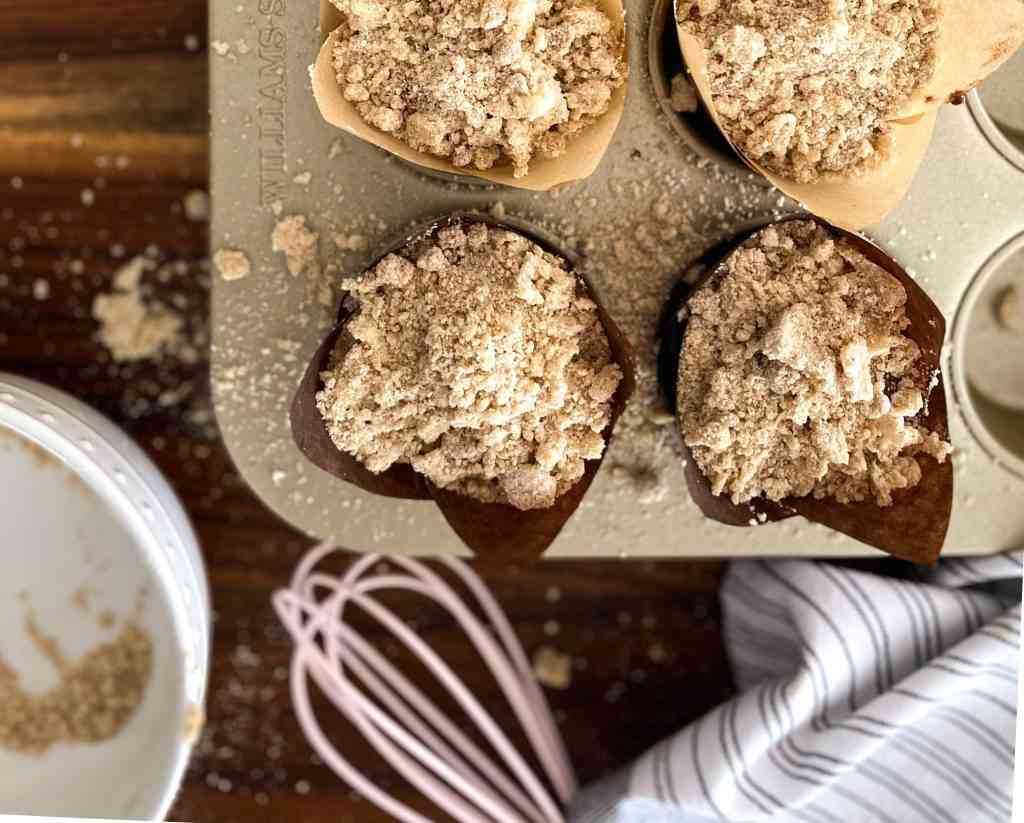 Canned Cinnamon Rolls are the Not-So-Secret Ingredient
The best part about this, you don't have to slave over a homemade cinnamon roll recipe! Using the side of the counter, you can bust open the tube and get on with your day. I use a tube that has five cinnamon rolls to make six overstuffed muffins. Somehow I have defied math and turned five perfectly delicious cinnamon rolls into six even more delicious overstuffed cinnamon roll pull apart muffins and we still use the packet glaze too –  you are welcome.

The Sugar-Crumble Topping
This is where the "coffee cake" part is added to these pull apart muffins – do not skip this very necessary indulgence. You will finger-combine the brown sugar, flour and butter. Just continue to press together until it eventually comes together and small sugar-butter balls are made.
Overstuffed v. Regular-Size Pull Apart Muffins
The choice is yours but you need to line your muffin pan – that is a non-negotiable! For overstuffed, you may want to use these tulip liners like I have in the photos so you and fill it up without the crumble topping falling off.
If you want to make normal muffin size you can use regular muffin pan liners. You will most likely get two or three more muffins with the smaller size. It's the same recipe and process, you will just fill to the rim of the muffin pan.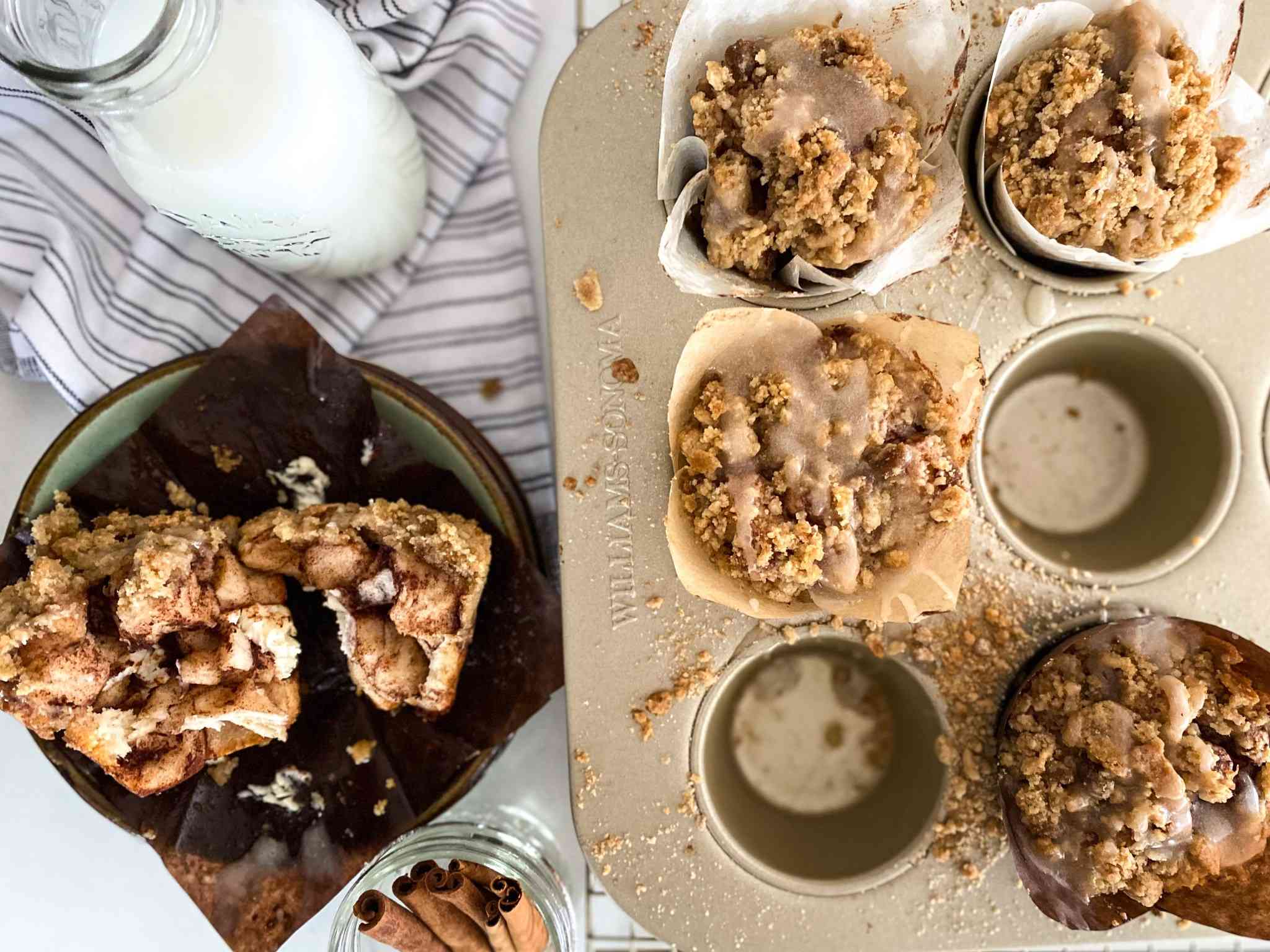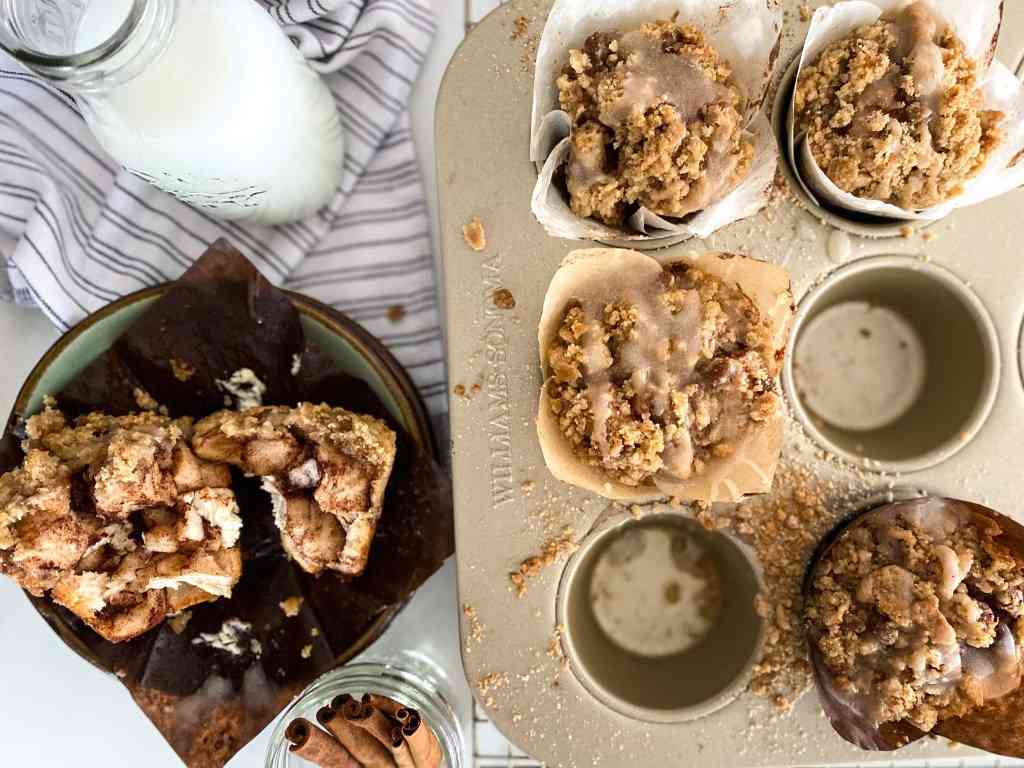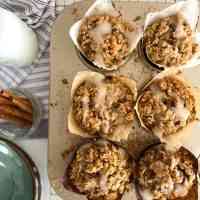 Cinnamon Roll Pull Apart Muffins
Turn your canned cinnamon rolls into something magical. These are a little bit of cinnamon roll, a little bit coffee cake, a little bit muffin and a little bit monkey bread. LITERALLY A DREAM.
Print
Email
Pin
Rate
Ingredients
1

can

Cinnamon Rolls (5 count)

4

oz

Cream Cheese

¼

cup

Butter - melted
Suger-Crumble Topping
½

cup

Brown Sugar

½

cup

Flour

¼

cup

Butter - cut into four squares
Instructions
Preheat your oven to 350F and line your muffin pan with "tulip" paper liners (see blog for the regular muffin/cupcake liner option)

Open your can of cinnamon rolls and cut into small pieces - about penny-size. Cut your cream cheese into similar small pieces and set aside.

*save the glaze-frosting that comes in your tube of cinnamon rolls!

Using a microwavable bowl, melt your butter in the microwave. Place a paper towel over the top to avoid splatter. Heat for 45 seconds. If you need more time, keep an eye on it as your continue to heat in 30 second intervals until melted.

Using your fingers and the palm of your hand, roll one or two pieces of cinnamon roll into a ball and dunk in the butter, add to the muffin liner. Periodically, add in a piece of cream cheese into your roll so that they are sporadically placed inside the muffin. Warning - this gets messy!

Build each muffin with rolled cinnamon roll/cream cheese until you fill all 6 tulip liners.

Make the sugar-crumble topping: in a small bowl, using your fingers pinch together the brown sugar, flour and butter until everything is combined and your sugar-flour-butter pieces are appear to have a crumble texture.

Add the topping to the top of the 6 muffins. Pile it on until all of the crumble topping is used. Don't be shy.

Bake in the oven at 350F for 20-25 minutes.
 
Storing and Re-Warming Up
If you have some to save, you will want to put them in a food-safe container or a ziplock bag and store in the refrigerator. I would think they would stay good for a week.
To re-heat you can warm it up in the microwave for about 30 seconds, until it's warmed through.
—————-
As an Amazon Affiliate I get paid a small compensation from the links provided in this blog. but I do not recommend or provide links unless I absolutely love the product and use it myself in my own kitchen. Thank you!