Already looking forward to the weekend? Classic Eggs Benedict is brunch 101. If you're anything like me you have a list of dishes that are strictly for ordering at a restaurant, and this is on it…until now. With this recipe, I provided a fool-proof way of poaching eggs and I show you how to make almost-traditional hollandaise sauce in the blender! It all comes together on a toasted english muffin with pan-fried Canadian bacon.


Egg Facts. 
There are a lot of components that go into the perfect poached egg but once you have them all, it's quite simple and quick.
Vinegar – adding vinegar to the poaching water allows for the egg white to firm up as it wraps around the yolk so it holds the shape. Caution, you may still get some straggler loose white strings.
New eggs – as an egg ages the white of the egg will become thinner making it harder to make the ideal thick wrap around the yolk. Fun fact: if you look on the side of your egg carton you will find a series of numbers, the random three numbers (without the P) is the day of the year your eggs were picked. If it said 001, they were picked on January 1, if it said 099, they were picked on April 9th.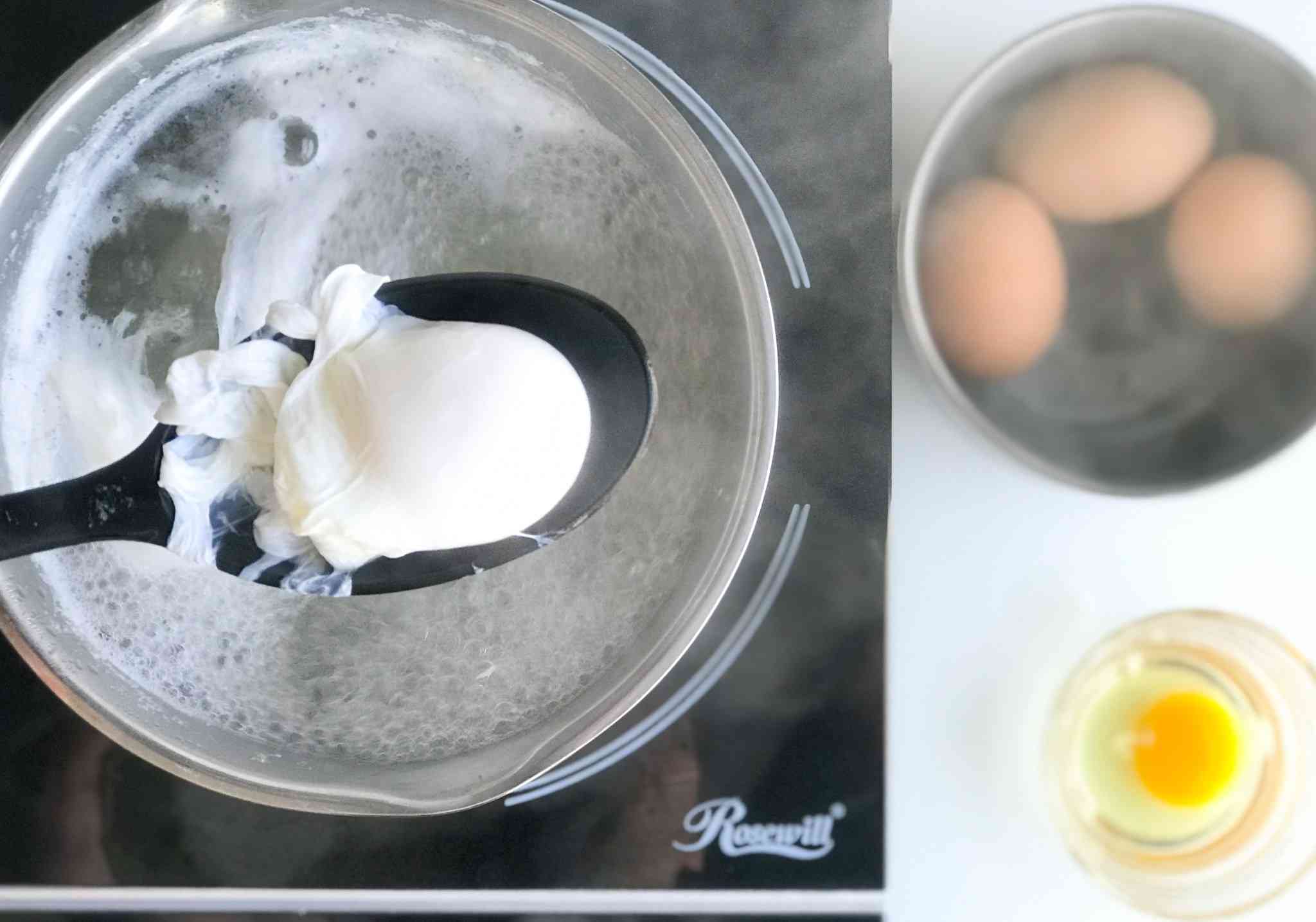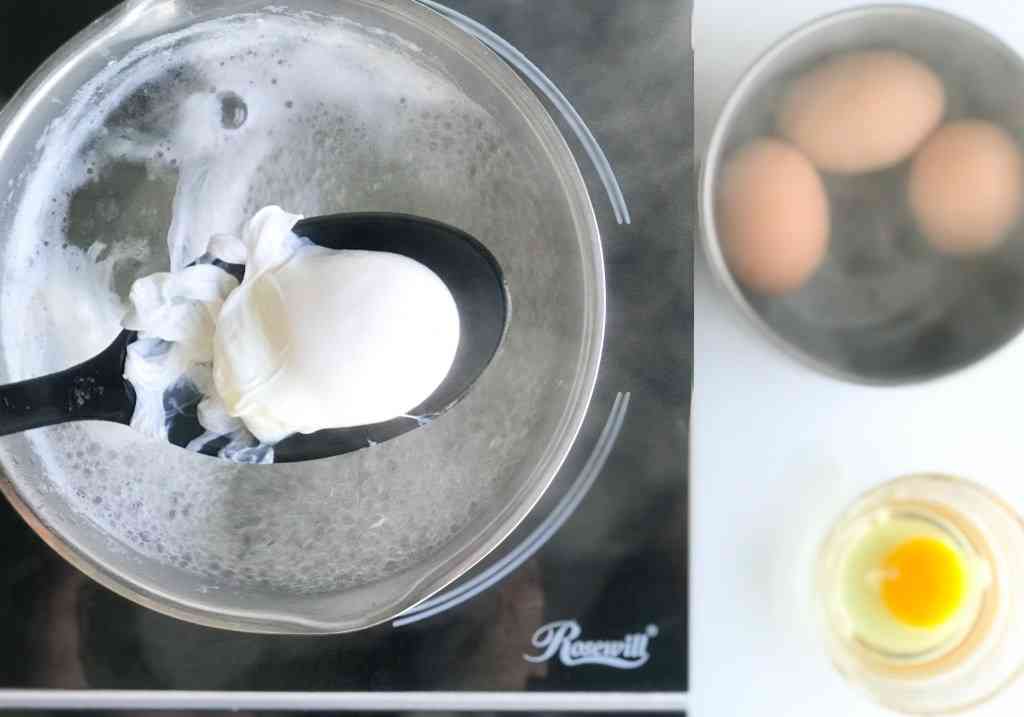 Poaching Eggs Ahead of Time
If you're poaching for a crowd, you can make them ahead of time and reheat them right before serving, many restaurants do this. If you're confident in your poach skills, my recipe can usually make 3-4 at a time. If you decide to make them ahead of time, take 1 minute off their cooking time so you can reheat them in the same poaching water without overcooking them. To reheat, bring your water back up to "hot cup of coffee" temperature and carefully drop them back in for 1 minute.


Poaching Eggs Temperature
You want your water with a simmer bubble, not a boil. If your water is not hot enough the egg whites will not coagulate quickly enough, it's it's too hot your eggs will break. Normal poaching temperature is 170F but you don't need a thermometer, just look for consistent small bubbles rising to the top of the pot.


Top your Classic Eggs Benedict with Blender-Hollandaise Sauce
Blender-Hollandaise Sauce would make my culinary school teacher cringe and roll their eyes because it's not the traditional preparation. Why did I change it up? Because the traditional way of making hollandaise sauce is hard and intimidating and I want you to be able to succeed. It is brunch after all, it's supposed to be leisurely – which reminds me, any Summer House fans "Summer should be fun, Amanda you're not fun!" 
Hollandaise sauce is temperamental and easy to break and does not reheat easily, so cannot make this early like the eggs but this blender recipe will make it fast and easy! It'll be silky, smooth, and thick enough to coat your poached eggs.


Change it up
If you want to change up the classic, you can level-up the Canadian bacon and use fresh ham, crispy prosciutto, or even crab. 
You can change out the traditional English muffin and use a fresh warm biscuit. 
Also add vegetables! You can add wilted spinach, thin asparagus. 


Putting together your Classic Egg Benedict.
Okay now that all the culinary technical stuff is out of the way let's make some easy Classic Eggs Benedict.
It's as easy as 1. 2. 3….and 4.
1) Poach your eggs first.
2) Make your hollandaise sauce and set aside.
3) Quickly, toast your english muffins and at the same time pan-fry your Canadian bacon.
4) Put to all together.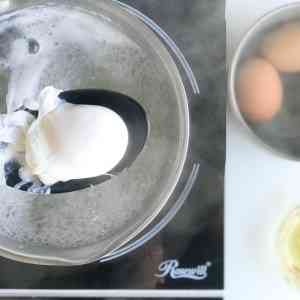 Poaching Eggs
Classic Eggs Benedict is brunch 101. Here's a fool-proof way of poaching eggs.
Print
Email
Pin
Rate
Ingredients
6

cups

Water

½

cup

Vinegar

white or apple cider

Eggs

chilled
Kitchen Tools
Pot

Slotted Spoon

Small ramekin or prep bowl

Kitchen towel or paper towels
Instructions
Fill a pot with water and vinegar. The pot should be deep enough for your eggs to be fully submerged.

Bring your pot up to poaching temperature. It should be simmering with small bubbles rising to the top. Crack your first egg into the small ramekin.

With a spoon stir the water to create a moving swirl. This is so when you drop your egg it doesn't fall directly to the bottom of the pot and it also helps the white wrap around the yolk.

Once the water is swirling, dip your ramekin halfway in and pour your egg into the water. With your spoon, swirl the water again gently. Repeat this with 2-3 more eggs. Or you can do one at a time, it's up to your comfort level.

Cook for 3 minutes, Pull them out with a slotted spoon. When you shake your spoon, it should still jiggle, the white should be firm and fully cooked and the yolk should still be runny.

Place them to drain on a paper towel and set aside while you prepare the hollandaise sauce.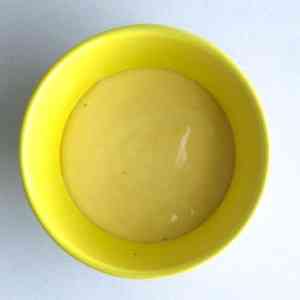 Blender Hollandaise Sauce
Classic Eggs Benedict is brunch 101. Here's how to make almost-traditional hollandaise sauce in the blender!
Print
Email
Pin
Rate
Ingredients
8

oz

Butter

(2 sticks)

3

Egg Yolks

1

TBSP

Hot Water

½

Lemon- Juiced

(approx. 1 TBSP)

1

pinch

Cayenne Pepper

1

pinch

Salt

Blender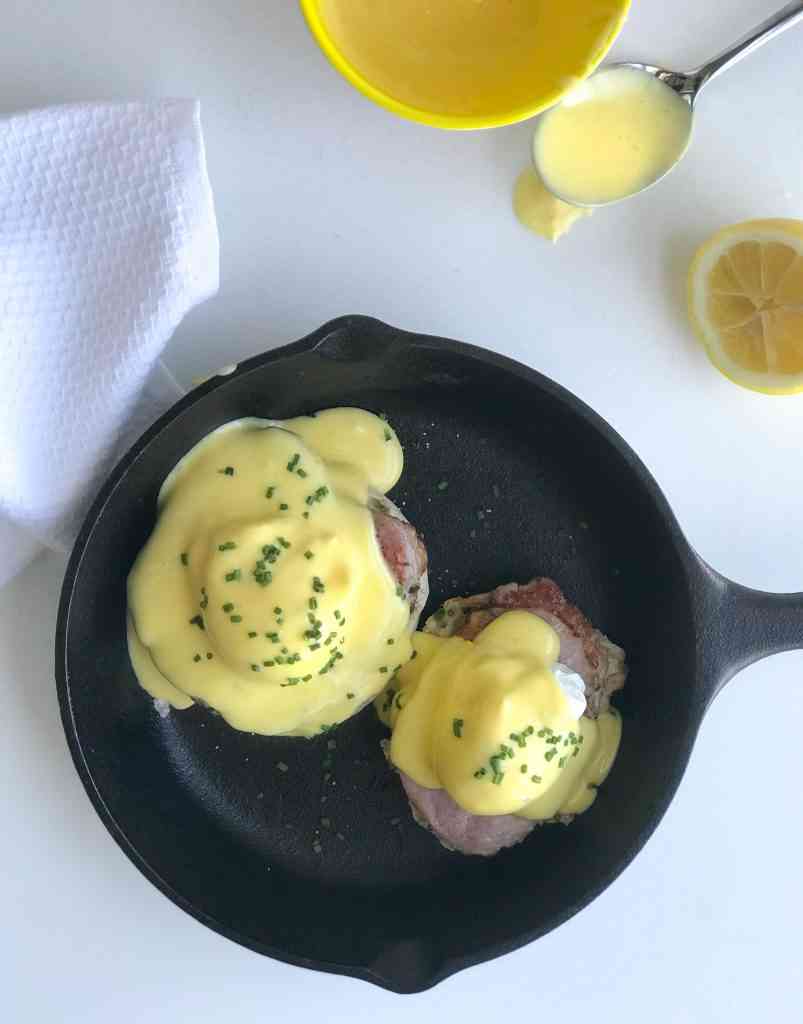 Enjoy and happy brunching!