Easy classic deviled eggs that are no fuss, use simple ingredients already in the refrigerator and can be fancied up for any occasion. You can easily prep ahead for a holiday, brunch or pot-luck or just make them for a grab-and-go snack. 

Everyone's favorite, deviled eggs are so easy and loved by most. They give so many people a familiar nostalgic comfort feeling, so let's keep them classic. I do give you ways to add a little flare with garnishes. 
How to Make Picture Perfect Hard Boiled Eggs
The perfect hard boiled egg is an important foundation to the most incredible devil eggs. The goal is to cook the whites to make the devil egg "boat" and to perfectly cook the yolk so that they are fully cooked and bright yellow. Overcooking your eggs will result in a greenish or blackish outer ring around the yolk. This technique takes 12 minutes in the pot and a few minutes in an ice bath. It's important to drop them in an ice bath to give the eggs a quick shock so that they stop cooking immediately. The ice bath also gives the shell the ability to peel easily without chipping or tearing the egg in the process. 
The Classic Ingredients 
Hard Boiled Eggs – if you have time, put them about about an hour before you cook them so that the yolk can move into the center for a more symmetrical deviled egg. You can make these ahead of time, 24-72 hours before. 
Mustard – I prefer plain yellow mustard for the more classic recipe. Feel free to use a spicier mustard like brown or dijon for more elevated flavor. 

Mayonnaise

– I use the real deal but you can substitute one for one and use any variation at the grocery store – olive oil mayo, avocado oil mayo or even Miracle Whip, which has a different flavor profile than mayonnaise, it sweeter because there is sugar added, make sure you like it before using it. I cannot stand it, but my mom loves it. To make them healthier, you can mash up a ripe avocado to use instead of a mayo. 
Salt & Pepper – I always cook with kosher salt and ground black pepper.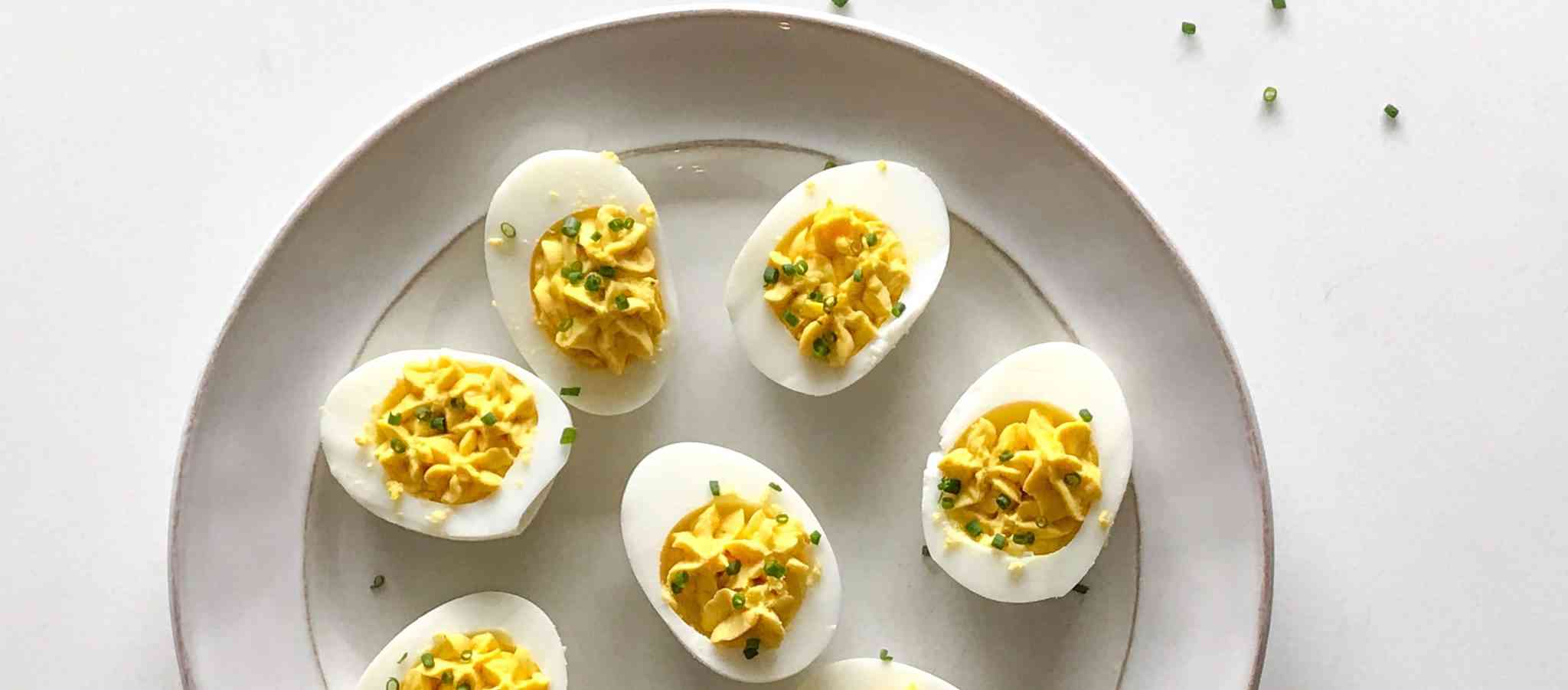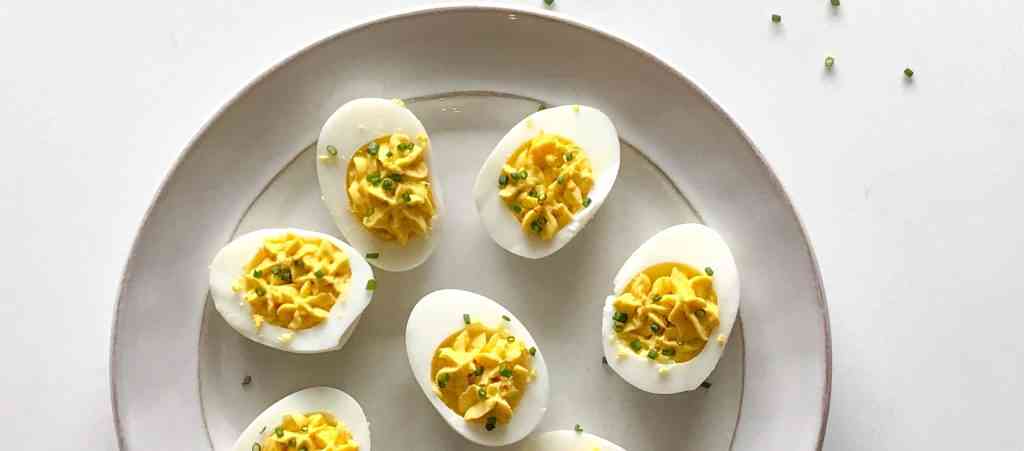 Make Classic Deviled Eggs Fancy
Deviled eggs are usually served for the holidays, family reunions, brunch, so let's fancy them up. 

Scoop or pipe in the filling. Piping is an easy way to add pizazz without much effort, choose your favorite decorating tip. You can also use a ziplock bag, cut the tip off the corner so that it fits the decorating tip, put the tip inside the ziplock and pipe in the filling. Or use the ziplock bag without a decorating tip for an easier way to fill the eggs without a spoon. 

Some people prefer the classic barebones deviled egg so I try to just add a garnish without changing the recipe, it's ideal to only use one or two of the ideas below, so that the platter is not overwhelming.  
Add these right into the creamy mixture for a more unique twist on the classic recipe:
Add in horseradish to give it a kick of tangy spice. Similar to spicy brown mustard. A little goes a long way, taste test as you add it in to make sure it is not too potent. 
Add chopped pickles, relish or capers. This will give a pickled vinegar flavor to it. 
Sprinkle these on top for flare:
Horseradish, if you want to let people know it's there, then instead of mixing it into the creamy filling, give a small dollop on top. 
Chopped Chives, thinly chopped chives have a very very mild onion flavor, they give a nice pop of green color.
Paprika or Smoked Paprika, I think paprika is almost flavorless, the smoked paprika does give a mild smokey flavor, perfect for a BBQ or family reunion. 
Red Pepper Flakes or Cayenne Pepper, a little goes a long way. They look pretty but they give a kick. 
Caviar, I've never had caviar but I have seen this offered so I assume it's delicious.
To Prep Ahead and How to Store
The hard boiled eggs can be made ahead of time and then store in an uncovered in a bowl in the refrigerator 24-72 hours in advance. 

To prep ahead, you can peel the eggs, cut them and make the yolk mixture.
If it's more then 24 hours in advance, store the prepared egg white "boats" covered on a plate, platter, or in a ziplock bag in the refrigerator. Store the yolk mixture separately in a bowl with a tight lid attached in the refrigerator. Add the yolk mixture to the egg white "boats" and serve. 
If it's 24 hour or less, you can prepare the deviled eggs completely and store with Saran wrap or foil over the top of the plate or platter. I would wait to add garnish until immediately before serving.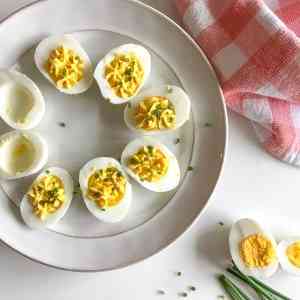 Easy Classic Deviled Eggs
Easy classic deviled eggs that are no fuss, use simple ingredients already in the refrigerator and can be fancied up for any occasion.
Print
Email
Pin
Rate
Servings:
10
Deviled Eggs
Ingredients
5

Hard Boiled Eggs

1/2-1

TBSP

Yellow Mustard

2

TBSP

Mayonnaise

1

Pinch

Salt

1

Pinch

Pepper
Additional Add-Ins (Optional)
1

tsp

Horseradish

½

TBSP

Capers or Chopped Pickles
Garnishes (Optional)
Chopped Chives

Paprika or Smoked Paprika

Red Pepper Flakes or Cayenne Pepper

Caviar
Instructions
Carefully scoop the yolks into a bowl, try not to break the white of the egg.

In the bowl, add your yellow mustard, mayonnaise, salt, pepper. Using a fork break up the yolks and stir the ingredients until evenly distributed.

Add in any additional add-ins (optional).

Taste and season with more salt and pepper if necessary.