Getting ready to get into that new fall routine? I am! These Everything Breakfast Biscuits are the best way to have breakfast on the go. They are easy to pack and reheat at the office, or simple enough to eat on the walk to school. Make your daily grind even easier and add these to your Sunday-prep-day list (aka Sunday funday?)!
Make Everything Breakfast Biscuits your own!
My recipe has traditional bacon or breakfast sausage with eggs and cheese but you can definitely make these with any of your favorite egg combos.
Bacon: I buy organic uncured bacon. I started buying uncured bacon when I was pregnant to help reduce nitrates in my diet and never went back. I found that it was also easier on my digestive system which is a huge win for me (I have ulcerative colitis so I'm constantly looking for new ways to keep it in remission).
Nitrates and nitrites are used in the curing process but now you can buy bacon and other meats uncured. It's a little more expensive and doesn't have as long of a shelf-life, but bacon doesn't stay around in my house very long anyway. My favorite brand is Applegate Organic Sunday Bacon. Applegate has both, delicious bacon and high quality farming standards which I love, this is not an ad, I'm just a huge fan.
Sausage: I used deli sausage, I removed it from it's casing and then crumbled it in a pan over medium heat until cooked through. You can also buy pre-cooked links or patties and cut or crumble them after you cook it according to the package.
Baby Spinach: Another great add in would be spinach with your eggs. To make it easy, you could stick a few raw baby spinach leaves in during the assembling and they will cook down while baking in the oven. If you prefer to cook the baby spinach first, then you will want to pat it dry between two paper towels before adding it into the biscuit.
Salsa: Add a little kick by using your favorite salsa or hot sauce! Just remember a little goes a long way so I would stick with about 1/2 tsp or so per biscuit.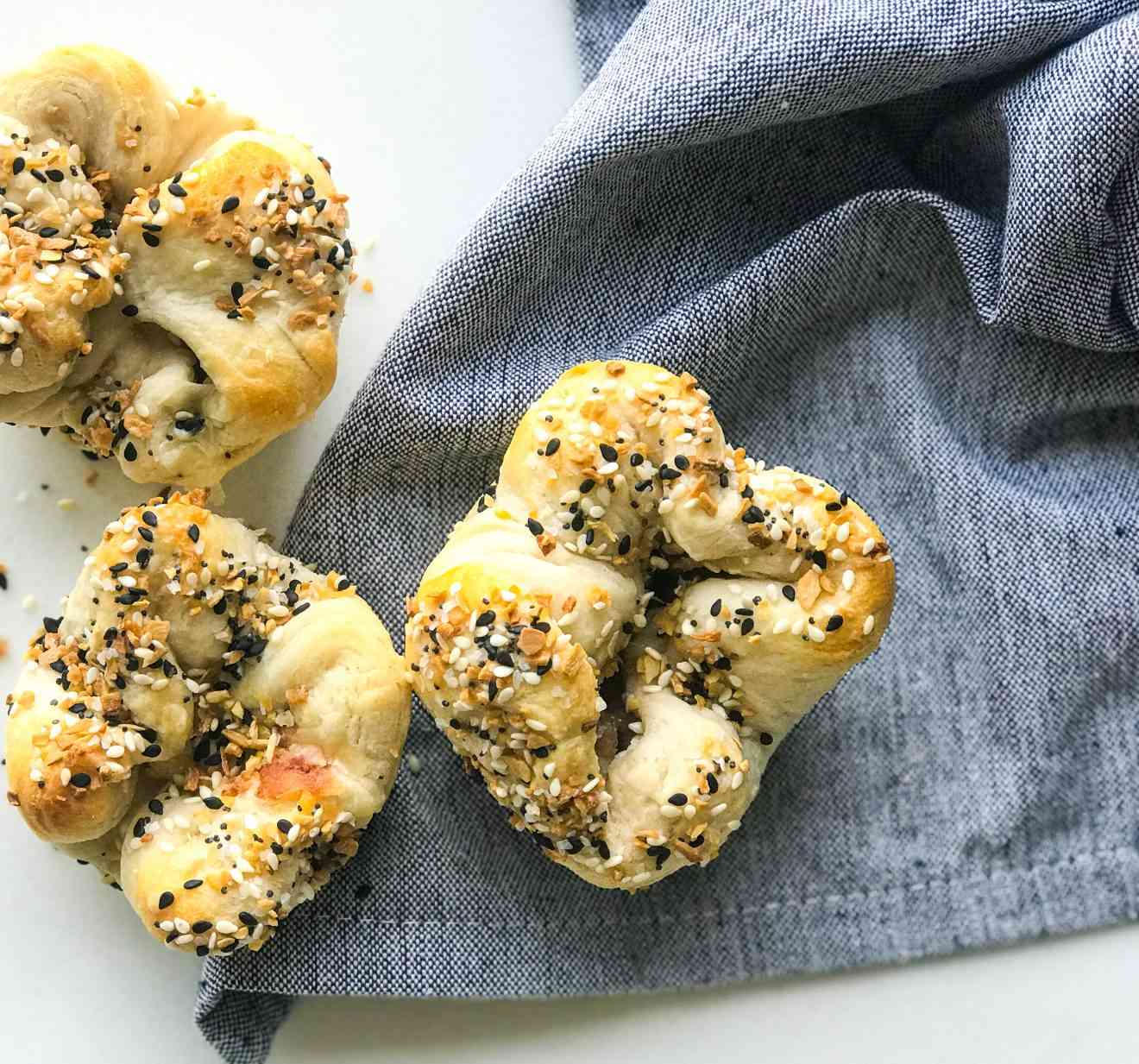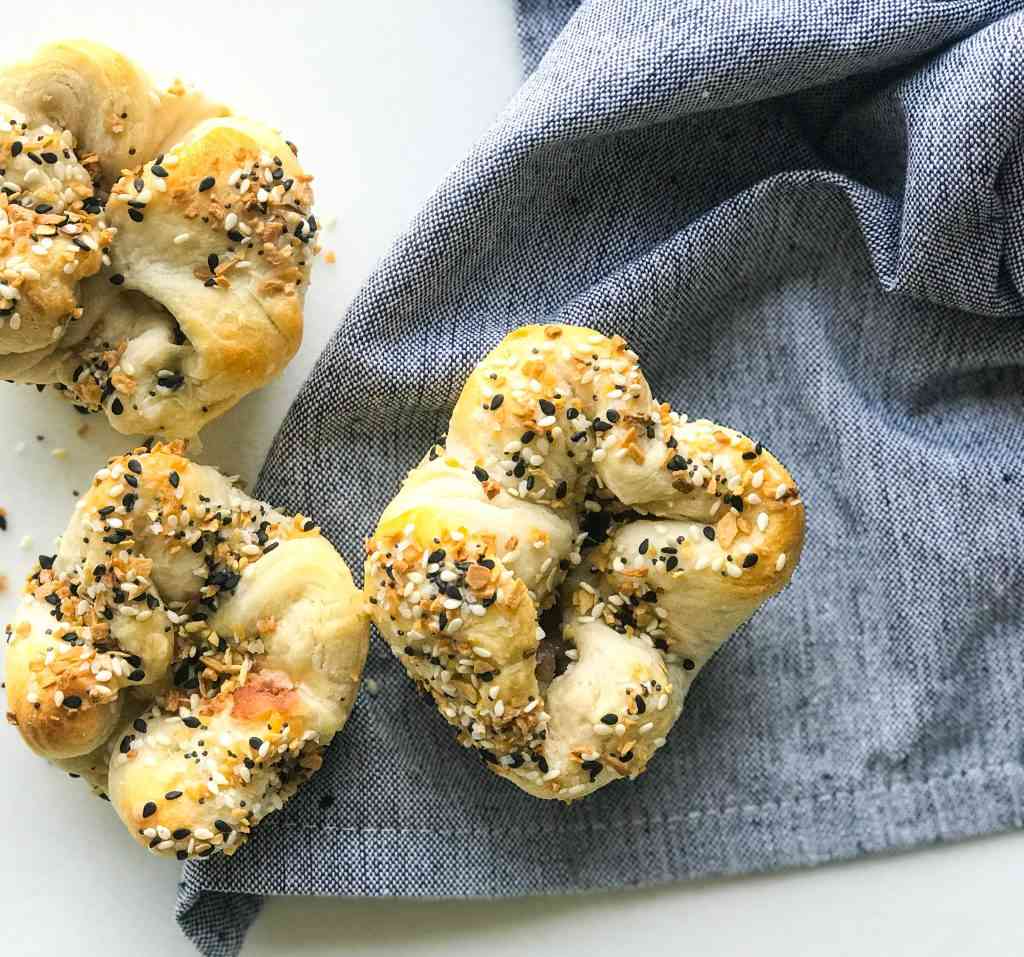 How to make scrambled eggs?
I have a very old blog post with a very old video on how to make the perfect scrambled eggs, did I sell it to you? Click Learn about the perfect scrambled eggs. There is a proper method but I'm sure however you've been doing it works just as well. For the recipe below, I decided to use four eggs and 1/4 cup of milk and to keep things easy I whisked my eggs and milk together before straining them. You don't have to strain your egg mixture but it does keep the scrambled eggs uniform in color and texture.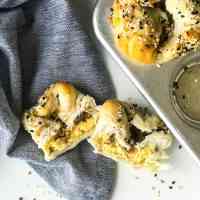 Everything Breakfast Biscuits
My everything breakfast biscuits has traditional bacon or breakfast sausage with eggs and cheese but you can definitely make these with any of your favorite egg combos.
Print
Email
Pin
Rate
Ingredients
4

Eggs

¼

cup

Milk

⅙

tsp

Salt

⅙

tsp

Pepper

1

can

Biscuits

(8 count)

2

Bacon Strips – cooked & chopped

2

Sausage Links – cooked & crumbled

(about ¼ pound)

¼

cup

Cheese – shredded

(cheddar, pepper jack or gouda)

3

TBSPS

Everything Seasoning

Any other add ins that you like

See notes in blog
Instructions
Preheat your oven to the temperature indicated on the instructions on the can of biscuits.

*If your biscuit instructions calls for cooking spray for your pan, go ahead and spray your cupcake/muffin pan.

Over low – medium heat, scramble your eggs to your preferred doneness. Although they will go into the oven later, because they are inside an uncooked biscuit they will not have the opportunity to finish cooking so make sure they are as done as you like them. Set aside.

Using the palm of your hand, press out the biscuits. They should be about ¼ thin, but most importantly if you want them to sit in your muffin pan with a little extra dough over the edge.

Once you have your biscuits pressed out and ready to go, it's time to fill them in! I start with the eggs, you will want to fill them about a ⅓ of the way with eggs.

The next step is to fold over four sides of the biscuits like a present. You may need to carefully stretch some of the dough over, just be careful not to rip a hole.

Bake according to your biscuit package instructions. I baked mine at 350F for 16-18 minutes.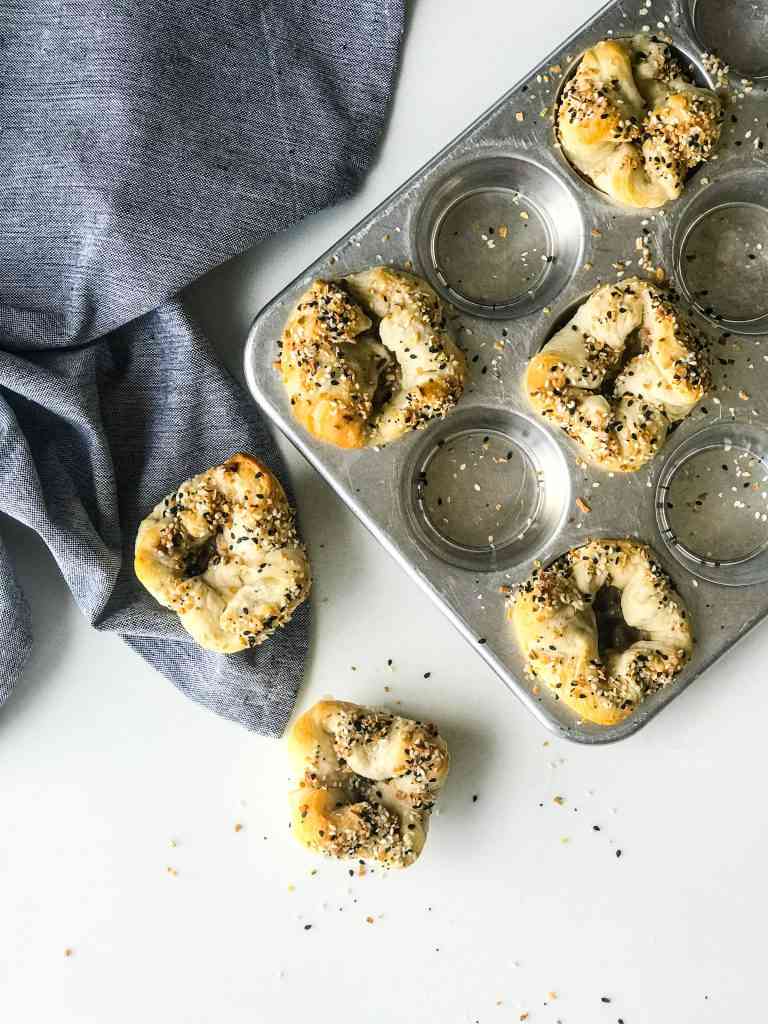 Make them ahead of time!
You can make these Everything Breakfast Biscuits ahead of time for the week or you can make a couple of batches at a time and freeze them for later!
If you make them a week ahead, you can place them in a plastic bag or container and keep in the refrigerator. To freeze them, once they are cooled from the oven, place them in an freezer zip lock bag or freezer-safe container and place in the freezer, they have never lasted longer than a month in my house so I know they last at least that long.
To reheat, wrap a slightly damp paper towel around the biscuit and place in the microwave for 30-40 seconds. The damp paper towel method is my preferred way but not necessary, but I do find that it helps the biscuit stay soft.