Pancakes are one of my family's favorite things to make on the weekend. Now you can make these yummy gluten-free buttermilk pancakes too!
The oat flour makes them hearty but not dense keeping them fluffy, sweet and buttery. You will feel fuller longer without over-indulging making it the perfect way to start the day. We love to top ours with syrup, seasonal fruit or peanut butter.

The best part, I bet you have all that you need in your pantry or refrigerator, these gluten-free pancakes require no additional special ingredients from the store, saving you time and money.
What is Buttermilk?
Does anyone else have a grandma that drinks buttermilk? No? Just me? My grandmother, after she chuckles at the thought, will tell you that she drinks it straight up (you can read how she inspired me to cook in my about me section).
Buttermilk traditionally was the tangy cream left behind after churning butter. My grandmother probably churned butter which is probably where she got her first taste.
Today, it's produced by adding a bacteria to low fat milk and then heating the mixture up making it curdle by changing the pH balance resulting in a tangy acidity thick milk. Buttermilk is usually used in baking because of it's tangy flavor and the acidity causes a chemical reaction with baking powder/soda so that there is a rise. That is how these gluten-free pancakes become so fluffy!
Need a substitute? If you have milk at home and lemon or vinegar you can make a buttermilk substitute. The ratio is 1 TBSP of acid to 1 cup of milk. I live in walking distance to a grocery store so I've never had to make a substitute, so I found instructions for you on the internet. Instructions on how to do this can be found here in this Taste of Home article.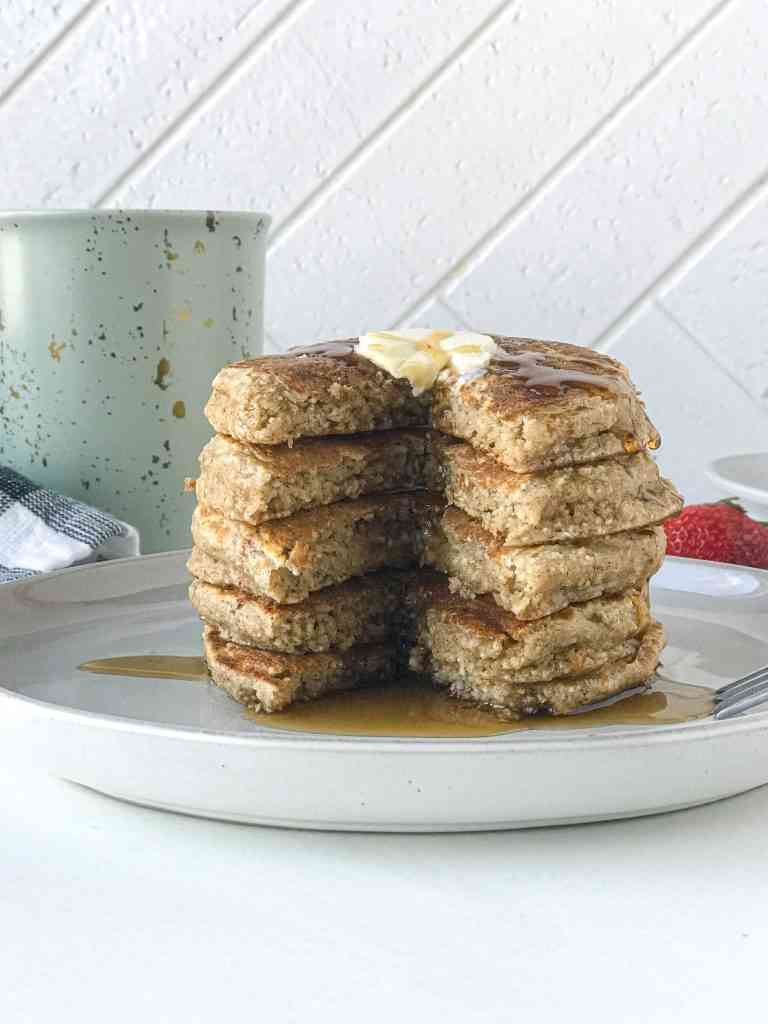 Homemade Gluten-Free Oat Flour
No special flour purchase is necessary for these pancakes. The trick to this recipe is is to use the rolled oats oatmeal you already have in your pantry. Measure 3 cups out and pulse it in a dry food processor or blender until it's a flour consistency, this will take about 3-5 minutes.
Once you have your oat flour, your ready to make your gluten-free pancakes!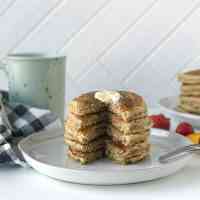 Yummy Gluten-Free Buttermilk Pancakes
Pancakes are one of my family's favorite things to make on the weekend. Now you can make these yummy gluten-free buttermilk pancakes too!
Print
Email
Pin
Rate
Ingredients
3

cups

Oat(meal) Flour

See my instructions in notes above

½

tsp

Cinnamon

1

tsp

Salt

1

tsp

Baking Soda

2

tsp

Baking Powder

2

TBSP

Sugar

2

Eggs

2

cups

Buttermilk

1

tsp

Vanilla
Instructions
In a separate bowl, whisk together all of your wet ingredients.

Pour the wet ingredients into the bowl with the dry ingredients and carefully stir until it is fully combined. Makes sure to not over mix the batter. It will be lumpy and thick. It should be a between a grits and oatmeal consistency.

Over medium heat, preheat your non-stick skillet. If you're confident that your pan is non-stick, you don't have to use cooking spray or butter, but if you want to be on the safe side you can.

Pour your pancake batter into the pan.

Wait until the bottom side is golden brown before flipping. These pancakes will not bubble up as they cook like regular flour pancakes but you will be able to see them cooking around the edges. They should take 2-3 minutes on the first side and 1-2 minutes on the other side.
Add-ins!
Blueberries or chocolate chips are classic add ins! Carefully fold them into the batter with a spatula until incorporated, but make sure to not over mix the batter.
Bananas are also a great add-in. Instead of mixing them into the batter, I have found that it's better to add them once the pancake batter is poured into the pan. This way the banana gets a little caramelized and it has a much better flavor.
Before pouring your batter into the hot pan, you will want to cut your banana into 1/4 inch slices and set them aside. Once you pour your batter into your preheated pan and the first side starts to brown, carefully add in your bananas. Once the first side is brown (about 2-3 minutes), carefully flip the pancakes and let them finish cooking (about 1-2 minutes). The banana will warm up and start to caramelize making them soft and sweet.