New Mexico style Hatch chile chicken and rice bake only has 8 ingredients and takes 40 minutes or less but it tastes like it has been slow simmering all day. The warm depth of the smokey slow heat chiles and smothered saucy cheesy chicken over a bed of rice is a dream. Prep is easy and it all goes straight into the oven so you have time to clean up the kitchen, check emails, or relax.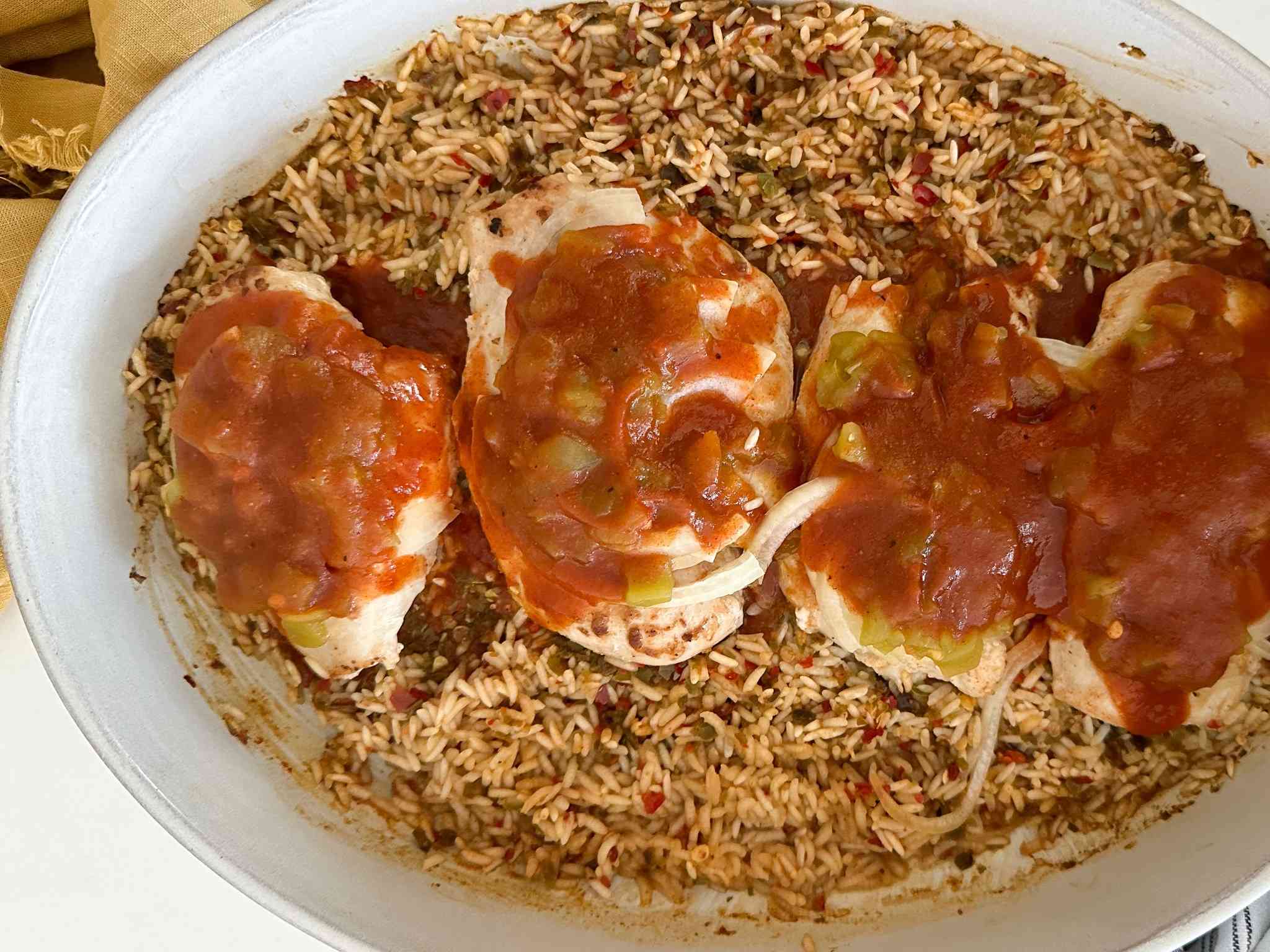 What Makes New Mexico So Special?
Well for starters, one of our best friends is from there.  As soon as she moved to the east coast she was homesick – she missed her family, her roots and the little things that make New Mexico so special. When our friends got married, I finally got the opportunity to fly west to see what it is all about. When we landed, I immediately thought brown, dry and the altitude was horrendous. The entire state was brown, the mountains, the grass was brown, the buildings were brown. My skin never stood a chance. I thought, what can be so great about this place?
Let me tell you, the people were friendly and just a pleasure. The food was everything. The flavors were bold and very unique and true to New Mexico. The smokey spice New Mexico chiles are undeniably delicious, you simply cannot replicate the depths of these flavors.  Unlike the direct spice kick you would get from a jalapeño, the New Mexico chiles have a sweet smokey earthy heat. I ate every dish smothered in green and red chile sauce, which is called "Christmas Style". The day after the wedding, I had my favorite breakfast burrito of all time, sure enough it was dipped in a green chile sauce.
The wedding was beautiful, it was an absolute blast. The food had me longing to go back. As luck would have it, a culinary conference was held in Santa Fe the following year and I jumped at the chance, for the food.
All of this was just to say, I found New Mexico Hatch Green and Red Chile Flakes at Trader Joes and knew immediately I needed to make a recipe for it.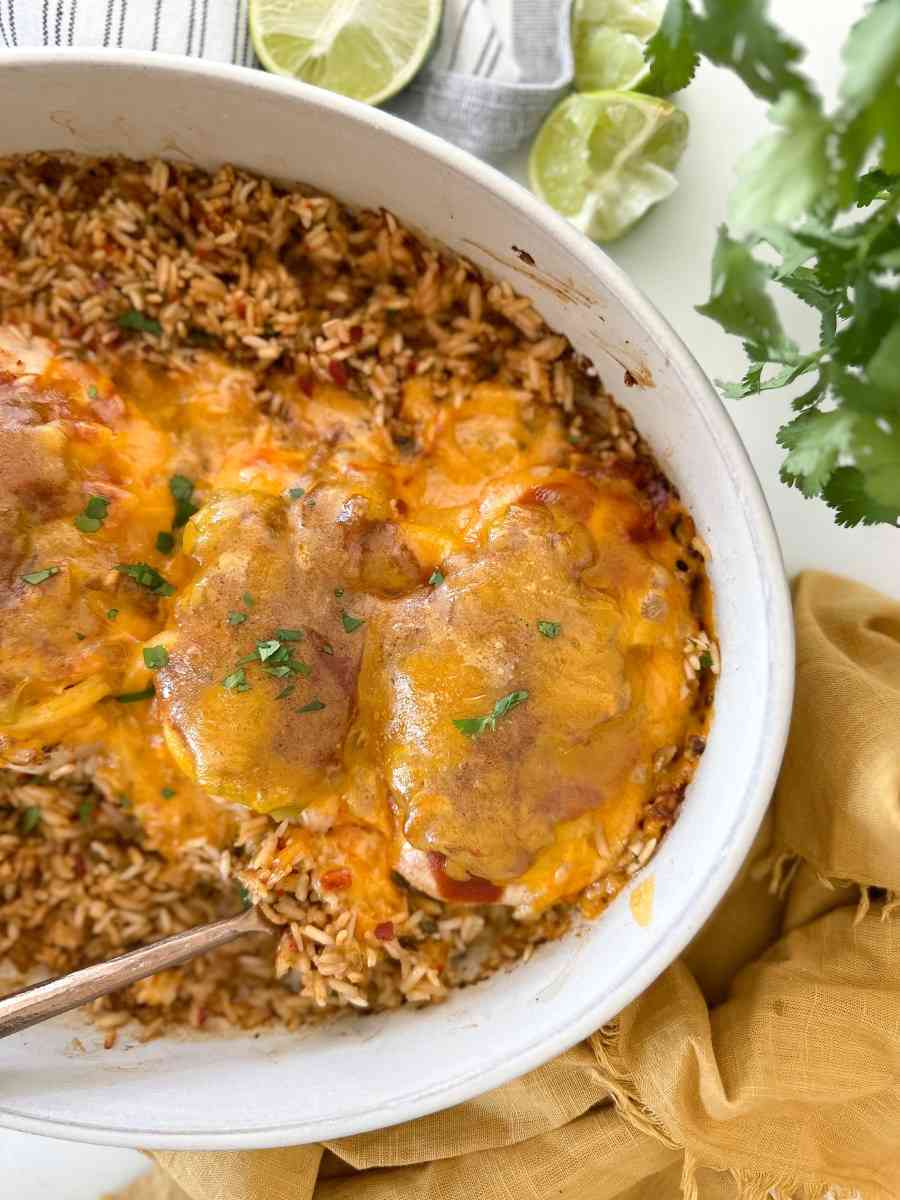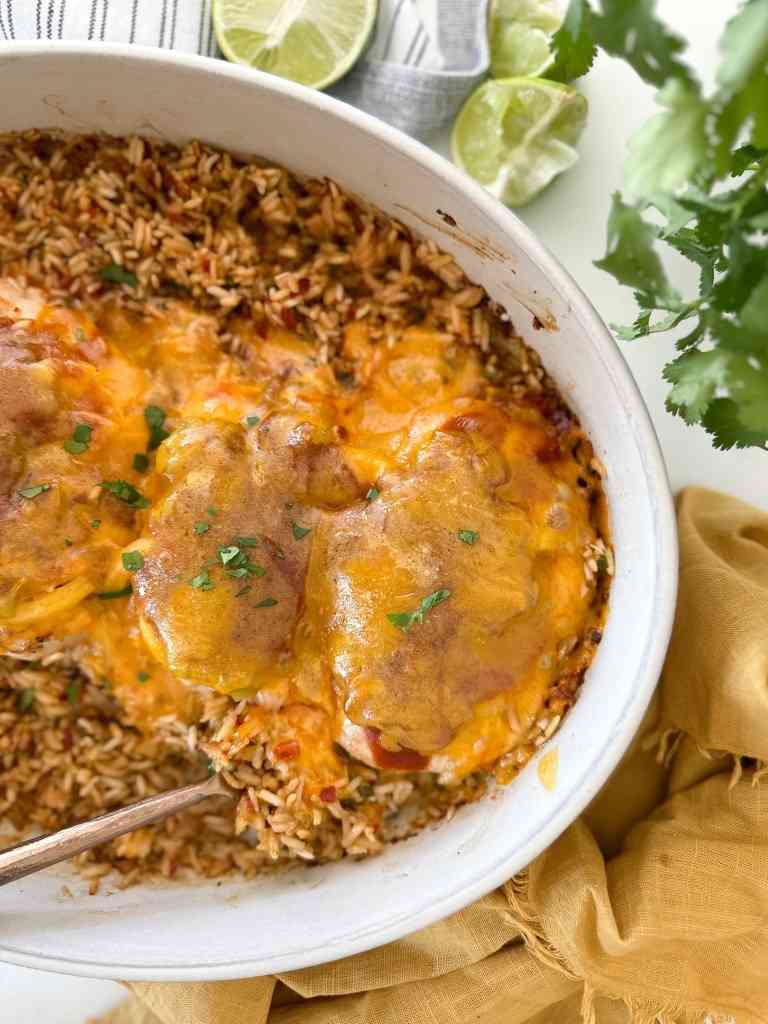 Hatch Green and Red Chile Flakes
I found some in the seasoning section of Trader Joes. Because they are so unique to New Mexico these may be hard to come by if you do not have a Trader Joes, and I'm sorry, I got really excited when I found the jar that I really wanted to make this New Mexico style Hatch chile chicken and rice bake.
I did some research, I want my recipes to be approachable by anyone who wants to make the it and I almost didn't publish this one because my research did not get the result I had hoped for. The internet suggested that red pepper flakes were a common substitute, I disagree, red pepper flakes have a completely different flavor profile.  You can order New Mexico Hatch green and red chile powder from amazon which seem promising but not cheap.
Update: I did find the Trader Joe Hatch Green and Red Chile Flakes on Amazon! (affiliate link)
If you pick up the seasoning from Trader Joe's or if you find it online, trust me, you will fall in love.
Browning the Chicken
You probably know me by now, I cannot put chicken in a rice bake without browning it first. This step is optional and you can skip it to save on dirty pans and time. The recipe below starts with browning the chicken with butter, you will want to just do a medium high heat quick sear to get color and to cook the outside of the chicken breasts, you do not want to cook it all the way through because it will finish baking in the oven and you want to keep it juicy and not over cook.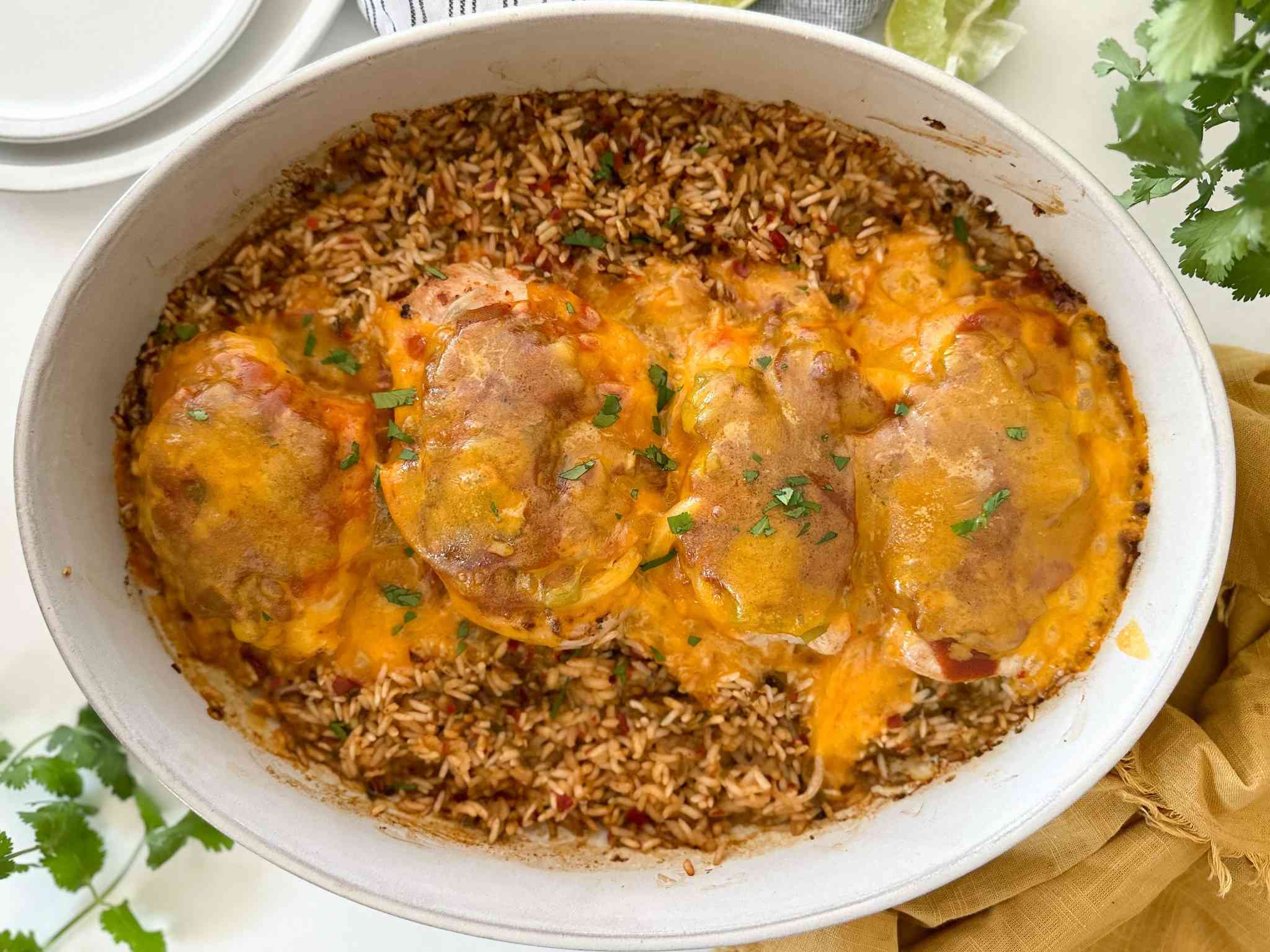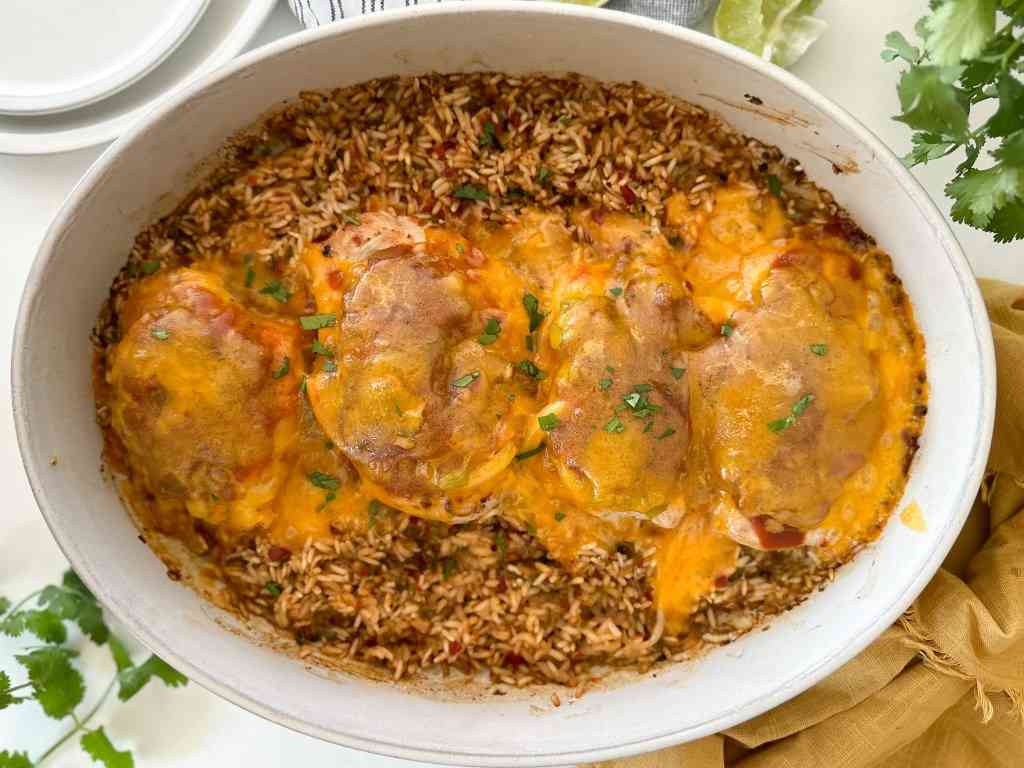 Baking Rice
When you bake rice it is key to have a tightly sealed lid or foil wrapped around the dish. The rice should bake uninterrupted for 17 minutes, after that, you will want to take a peak. There will still be water in the dish and the rice is not completely cooked through. The top rice may be a little more crunchy than the rice under the chicken. Take a spoon and stir the rice to mix the top rice into the rest of the rice and water. Cover again and cook for another 8 minutes. Remove the lid, give the rice another fluff and stir, the dish will then go back into the oven uncovered for 10 minutes. Fluff with a fork and serve.
There is an option if you like your rice to be a little more goopier, you can add a can of tomato sauce or diced tomatoes for another layer of flavor. The addition of tomatoes will make the chile spice more mild and give the rice a red-ish hue. I would only add about 4oz of canned tomato sauce or diced tomatoes to the recipe, stir it in with the water in the recipe.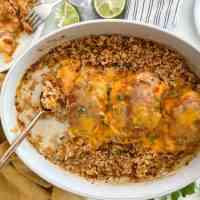 Hatch Chile Chicken and Rice Bake (New Mexico Style)
This dish has a warm depth of the smokey slow heat chiles and smothered saucy cheesy chicken over a bed of rice, with only 8 ingredients and 40 minutes or less and it tastes like it has been slow simmering all day.
Print
Email
Pin
Rate
Ingredients
1

lb

Chicken Breasts

pinch of

Salt

1

TBSP

Butter

1

cup

White Rice

2-3

TBSP

Green and Red Hatch Chile Flakes

2

cups

Water

½

Onion - thinly sliced

4

oz

Canned Hatch Green Chiles

chopped or diced

¼-½

cup

Red Enchilada Sauce

4

slices

Sharp Cheddar Cheese
Instructions
Preheat the oven to 350F.

Sprinkle the top of the chicken with salt.

Over medium high heat, melt the butter in a large sauté pan. Add the chicken and brown both sides, about 1-2 minutes on each side. Do not cook all the way through.

Remove from heat and set aside.

Layer on the canned green chiles and enchilada sauce. Pour the sauce so that it completely covers the surface of the chicken.

Cover with a tight lid or foil, crimping the sides around the casserole dish. Bake at 350F for 17 minutes.

Remove the lid, stir the rice and if the rice is not done, and there is still excess liquid in the casserole dish, re-cover and bake 8 minutes.

Remove the casserole dish from the oven.

Preheat the oven to 400F.
Groceries Are Expensive These Days – What to do with leftover ingredients
There are only a few ingredients in this Hatch chile chicken and rice bake, but there are some leftovers. Store the green and red Hatch chile flakes in the same cabinet as the other seasoning jars. You can add a tbsp the next time you make mac and cheese or the next time you make chili.  This recipe will leave you with leftover onions, enchilada sauce and cheddar cheese. You could make homemade enchiladas or saucy tacos.