Sheet pan sweet and sour chicken is an easy one (maybe two) pan dinner that comes together quickly after a busy day. It's fresh, sweet and tangy with a little bit of sticky, making it finger licking delicious.
This recipe has a marinade to keep the chicken tender and give it an extra boost of flavor. It's a quick marinade that you can do while the chicken defrosts. Simply put it together the night before or the morning before you start your day.

All of the Ingredients You Need for Sweet and Sour Chicken
Chicken – I usually default to skinless and boneless chicken breasts. Gently pound down the chicken breasts so that they are even thickness for even cooking. If you prefer, you can also use chicken thighs.
Pineapple – go ahead and grab a fresh whole pineapple from the produce section or a container of them already cut. You can also use a can of pineapple rings. You will also use a can of crushed pineapple for the chicken marinade.
Brown Sugar – brown sugar is necessary for the finger-licking sweet and sticky. Together with the pineapple, it will caramelize and give the chicken the most irresistible layers of sweet. You can use either light or dark brown sugar for this.
Ketchup – the hidden tangy ingredient that ties the whole dish together. Don't skip this step, you can use any kind.
Rice Vinegar – you can find this in the international aisle of any grocery store. It is a more mild-flavored vinegar that will add just the right about of sour to this recipe. Store it in the pantry and use it in other Asian-inspired recipes.
Fresh Ginger – to add another level of freshness and brightness to the marinade.
Honey – just a quick dollop of honey to help enhance the sweet caramelization of the marinade while the chicken bakes.
Broccoli – to make it a perfect weeknight dinner, I like to add fresh broccoli florets to the sheet-pan for a quick roasted vegetable.
Green Onions (Scallions) – cut the fresh green ends and sprinkle it on top for a fresh garnish right before servings.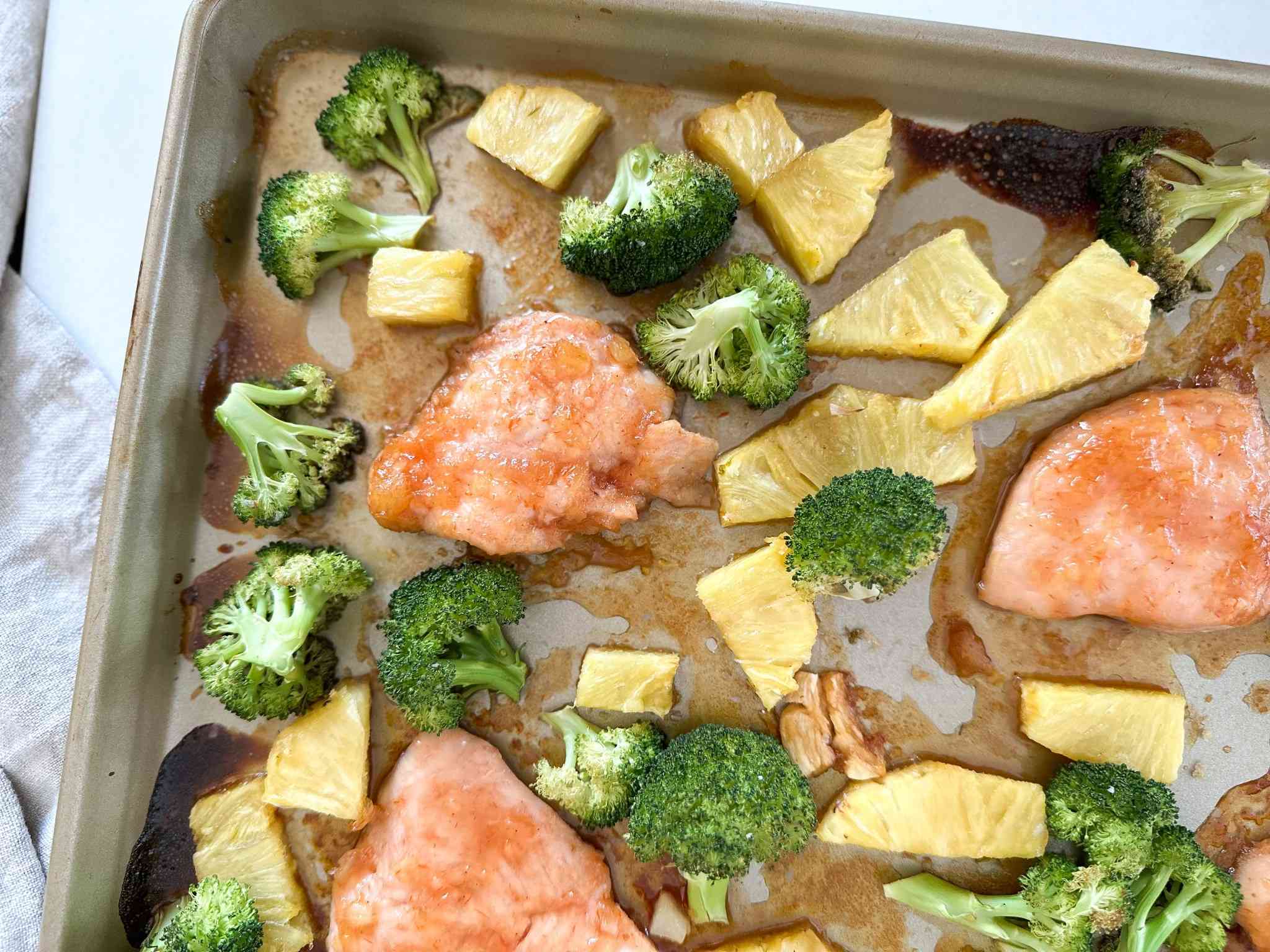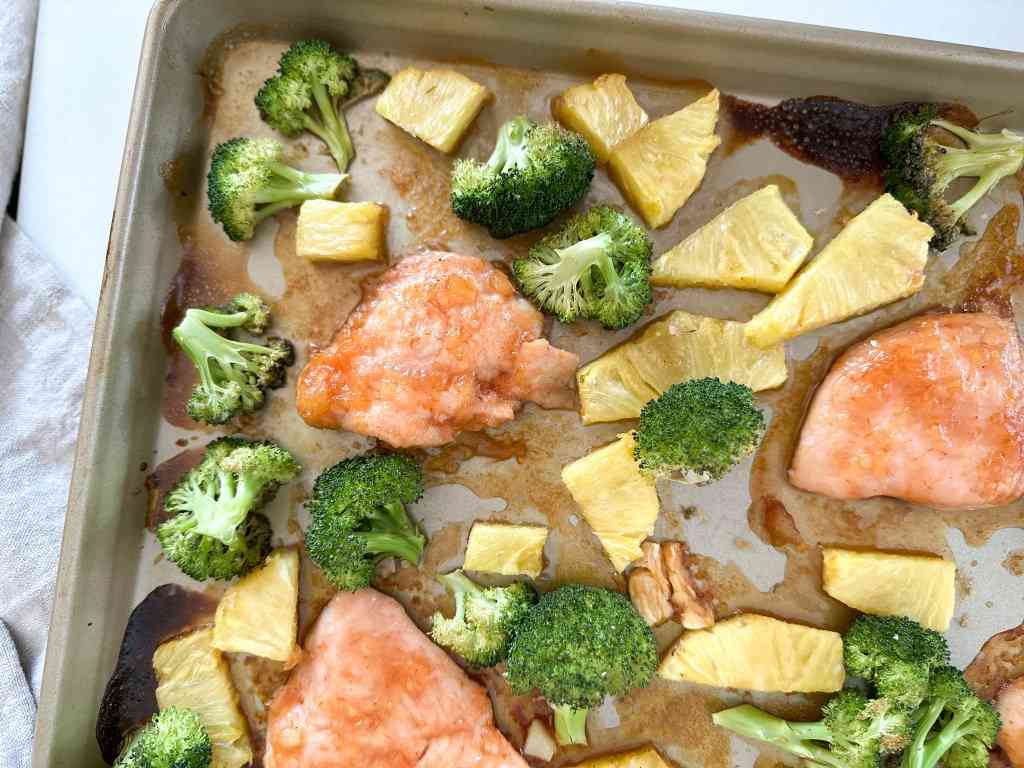 Sweet and Sour Chicken Marinade
The marinade is the most time-consuming part of this entire recipe and it can be done in less than 15 minutes. It is also the most important part of the recipe because it provides all of the sweet and sour flavors.
Simply whisk together the ingredients, place the raw chicken in a large ziplock bag or another food container and pour the marinade in to submerge the chicken and let it rest 2-24 hours.
Just remember, once the chicken is taken out of the marinade, the marinade needs to be discarded – do not eat because it has been contaminated with raw chicken.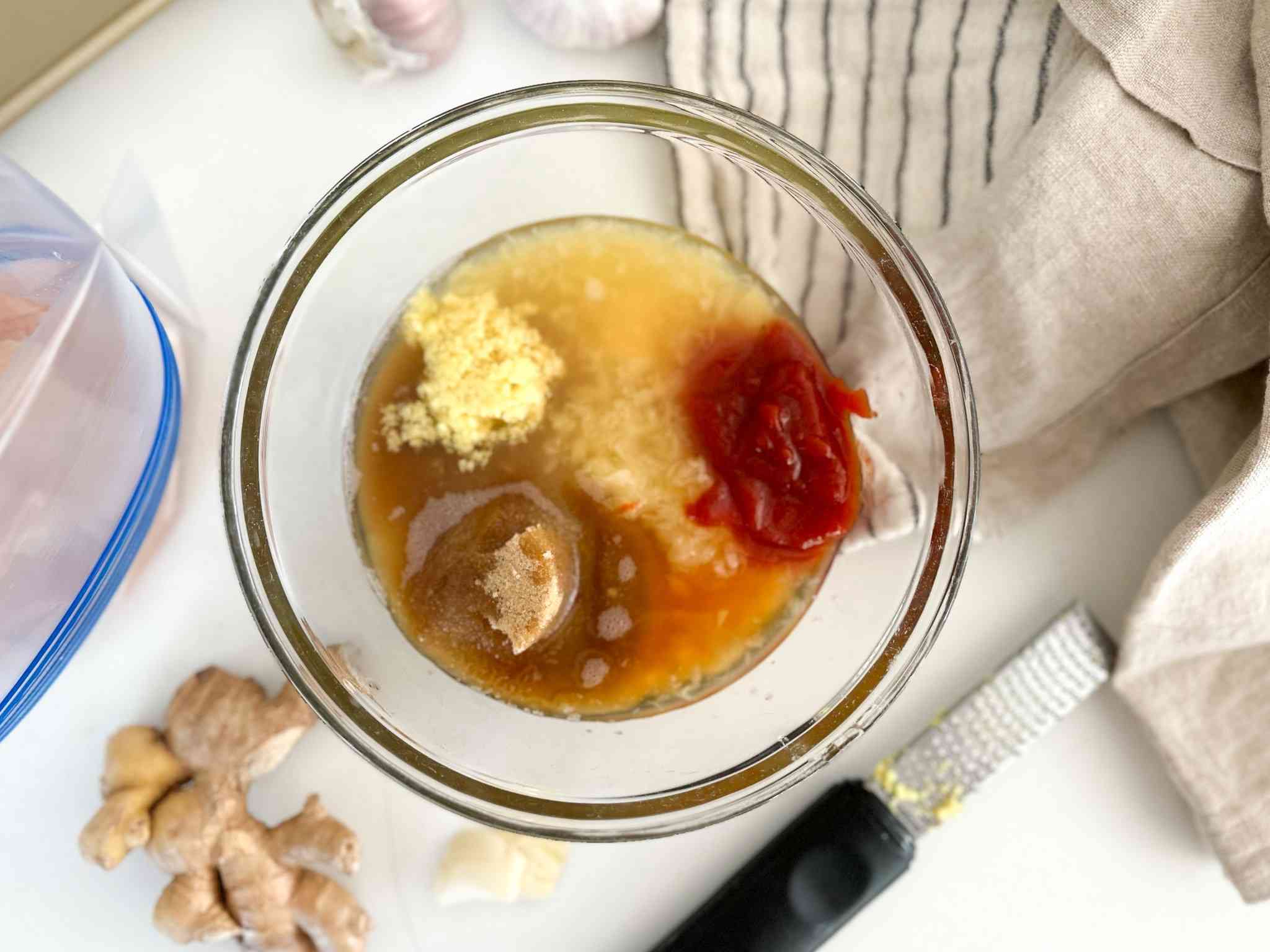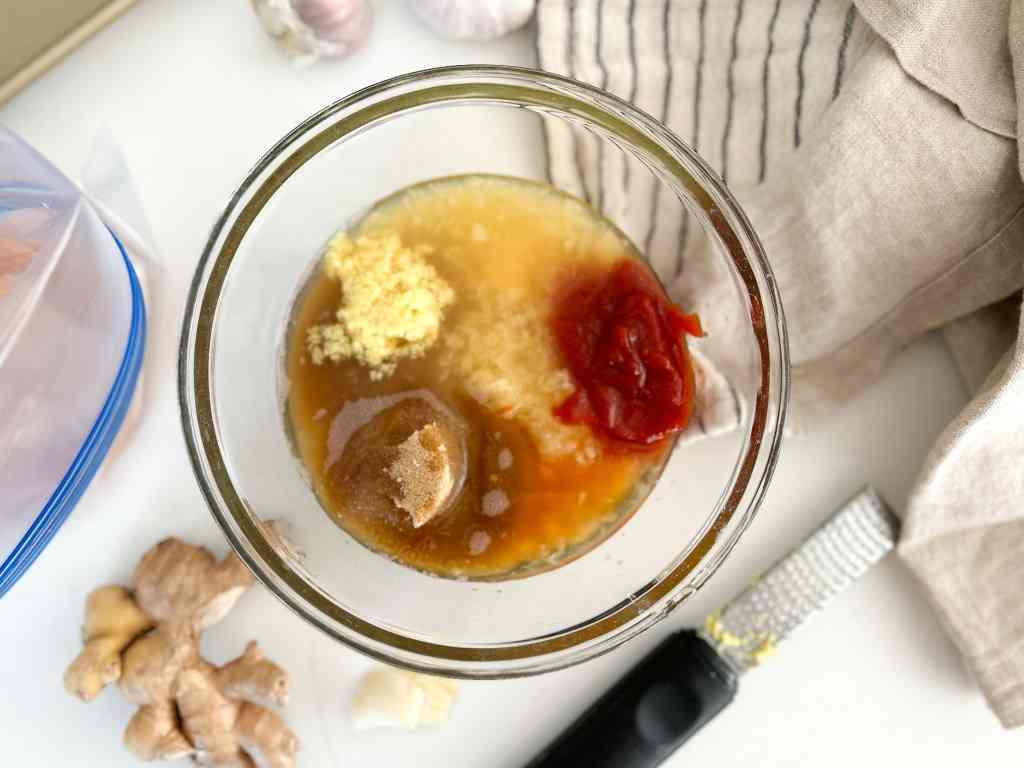 Make it Saucy
After you make the marinade, I encourage you to set aside and reserve about 1/3-1/2 cup before pouring it onto the raw chicken. The reserved sauce can be brushed on at then end of the baking process and heated on the stove if you want more sauce on your plate.
Do not try to use the same marinade that the chicken is resting in. You can if you boil it to a safe 165F, it should be a rolling bubble boil. But this should only be done if you're desperate for extra-sauce.
Make it a Bowl
As the chicken roasts in the oven, make your favorite side of quinoa or rice, add a little squeeze of fresh lime juice to make it the most delicious bowl. I used 1/2 lime for a serving of 4.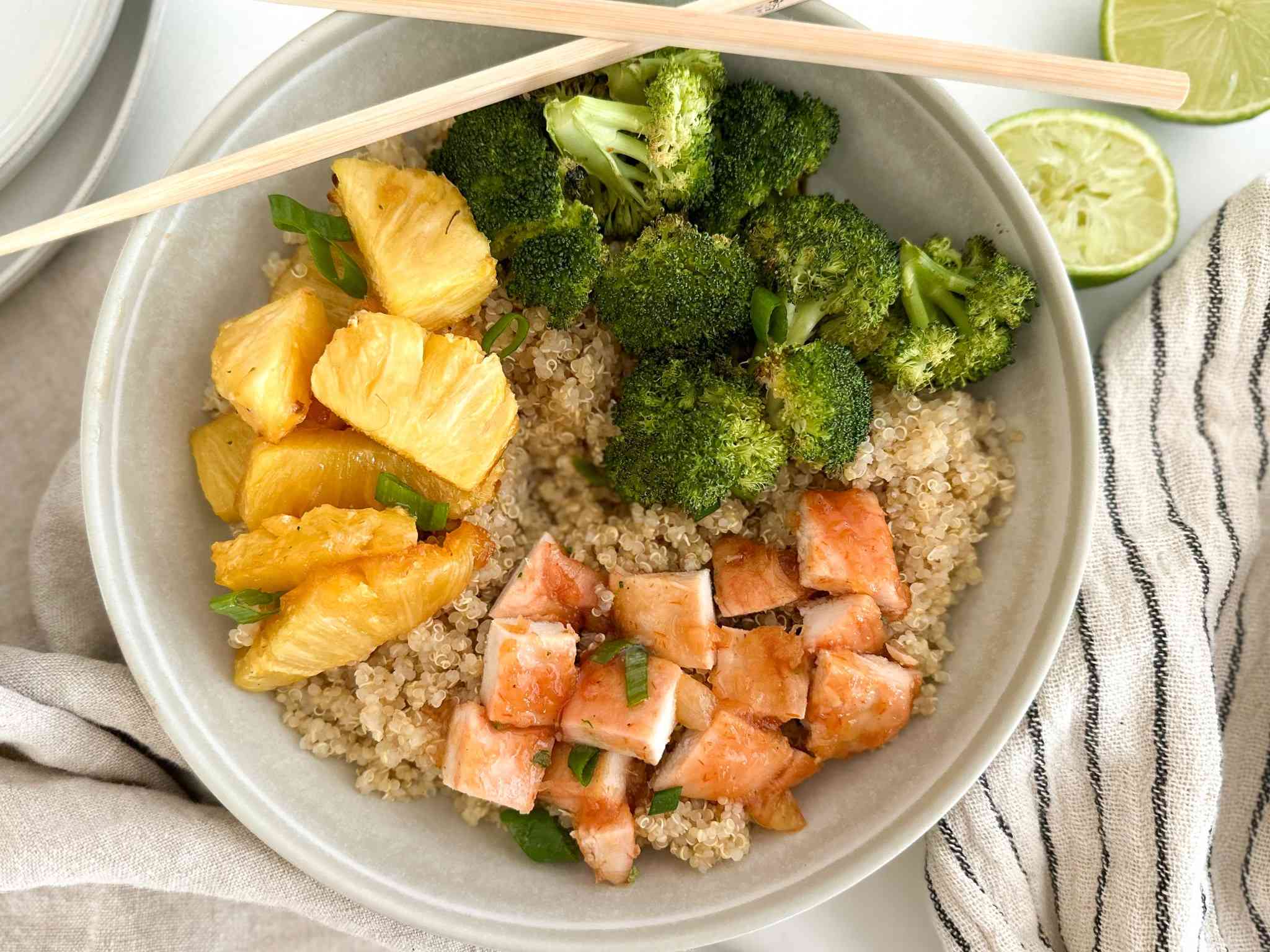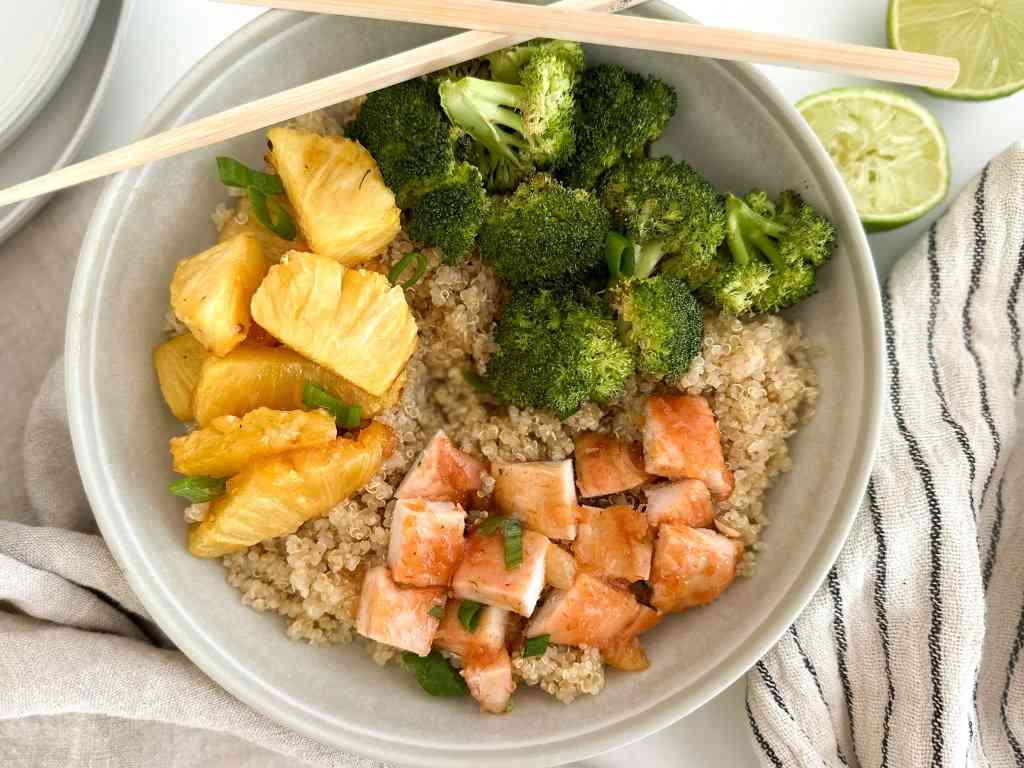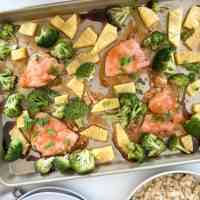 Sheet Pan Sweet and Sour Chicken
Nothing beats a quick and easy sheet pan dinner after a busy day. It's fresh, sweet and tangy and a little bit of sticky, making it finger licking delicious.
Recipe time does not include marinade time.
Print
Email
Pin
Rate
Ingredients
Sweet and Sour Marinade
8

oz

Canned Crushed Pineapple

¾

cup

Brown Sugar

3

TBSP

Ketchup

3

TBSP

Rice Vinegar

2

TBSP

Freshly Grated Ginger

1

clove

Garlic - peeled and smashed

1

TBSP

Honey

1

tsp

Salt
Sheet Pan Sweet and Sour Chicken
1

lb

Chicken - Marinated in the Sweet and Sour Marinade

see blog notes

1

Fresh Pineapple - cut into chunks

1

TBSP

Brown Sugar

1-2

heads

Fresh Broccoli - cut into florets

Pinch of Salt

⅓-½

cup

Reserved Marinade
Instructions
Prepare the chicken - if necessary, pound the chicken breasts so they are an even thickness.

Prepare the marinade - in a bowl whisk together the crushed pineapple, brown sugar, ketchup, rice vinegar, fresh ginger, garlic, honey and salt.

For extra sauce, measure out ⅓-½ cup of marinade and set aside for reserve. (optional)

In a large ziplock bag or other food container, add the chicken and marinade, making sure the chicken is submerged.

Let it marinate in the refrigerator for 2-24 hours.

Preheat your oven to 400F.

On a sheet pan, add the marinaded chicken and pineapple chunks. Add a little brown sugar on the top of the pineapple.

Bake for 10 minutes.

Add the broccoli to the sheet pan. Sprinkle a little pinch of salt on top on the broccoli.

Bake for 7-12 minutes, until the chicken is done and broccoli is fork tender.
Groceries Are Expensive These Days – What to do with leftover ingredients
Brown sugar and rice vinegar can be stored in the pantry at room temperature. Make sure to store the brown sugar in an air-tight container, if it starts to become hard you can add in the heal slice of a loaf of bread and it will soften the sugar back up so you can use it.
I use brown sugar weekly when I make classic overnight oats.
Rice vinegar and any left over scallions (the white part, and green if you have more) can be used in my weeknight beef and broccoli, also a great way to use leftover rice.
Fresh ginger and honey goes great in a hot cup of tea.