Homemade pizza crust is so easy to make and to keep on-hand for easy-pizza-night weeknight dinners. This Italian herb and garlic pizza crust is jam-packed with flavors it will completely transform your pizza-experience.
Like really really transform, just look at this dough!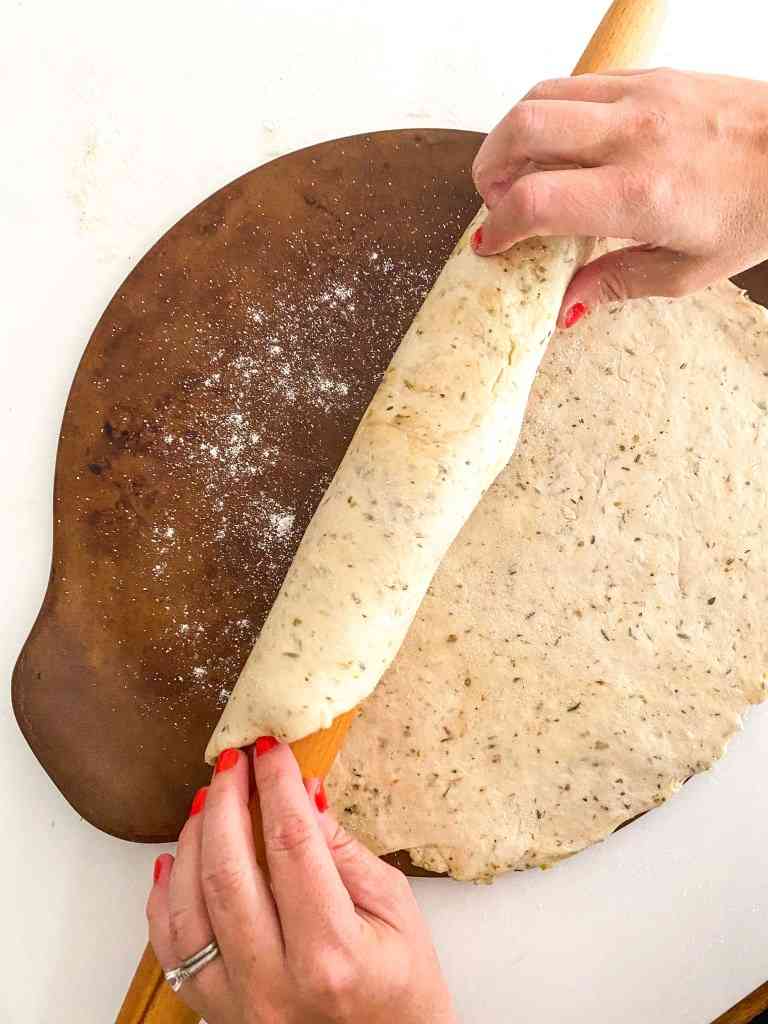 Italian Herbs and Garlic
The simple step of adding the herbs and garlic right into the pizza dough crust will give it the unbeatable layers of familiar warm flavors – pure comfort food.
It couldn't be easier. You use dry Italian herb seasoning, no need to buy a bunch of fresh herbs to only chop a few – this recipe uses the seasonings right out of the jar for more of a jam-packed undeniable flavor.
You do need four cloves of garlic, you can minced them with a knife, use a garlic press or even a cheese grater/zester to get the job done.
Making your Italian Herb and Garlic Pizza Crust – dough
You can make you Italian herb and garlic pizza dough same-day if you're deciding late that you would rather have pizza for dinner, once you combine the ingredients it will need to rest and rise, about one hour, so you can be spontaneous!
If you have time, I love making my dough a two-three days in advance, now that I'm working from home, it's easy to spend my lunch break whipping up pizza dough. I like to make mine 48 hours in advance because it is then given the opportunity to slow-rise in the refrigerator. Scientifically, the temperature of the refrigerator will slow down the production of carbon dioxide – which is the result of the yeast eating the sugars of the flour, which means it will develop a tanginess similar to sourdough, but not nearly as strong in flavor.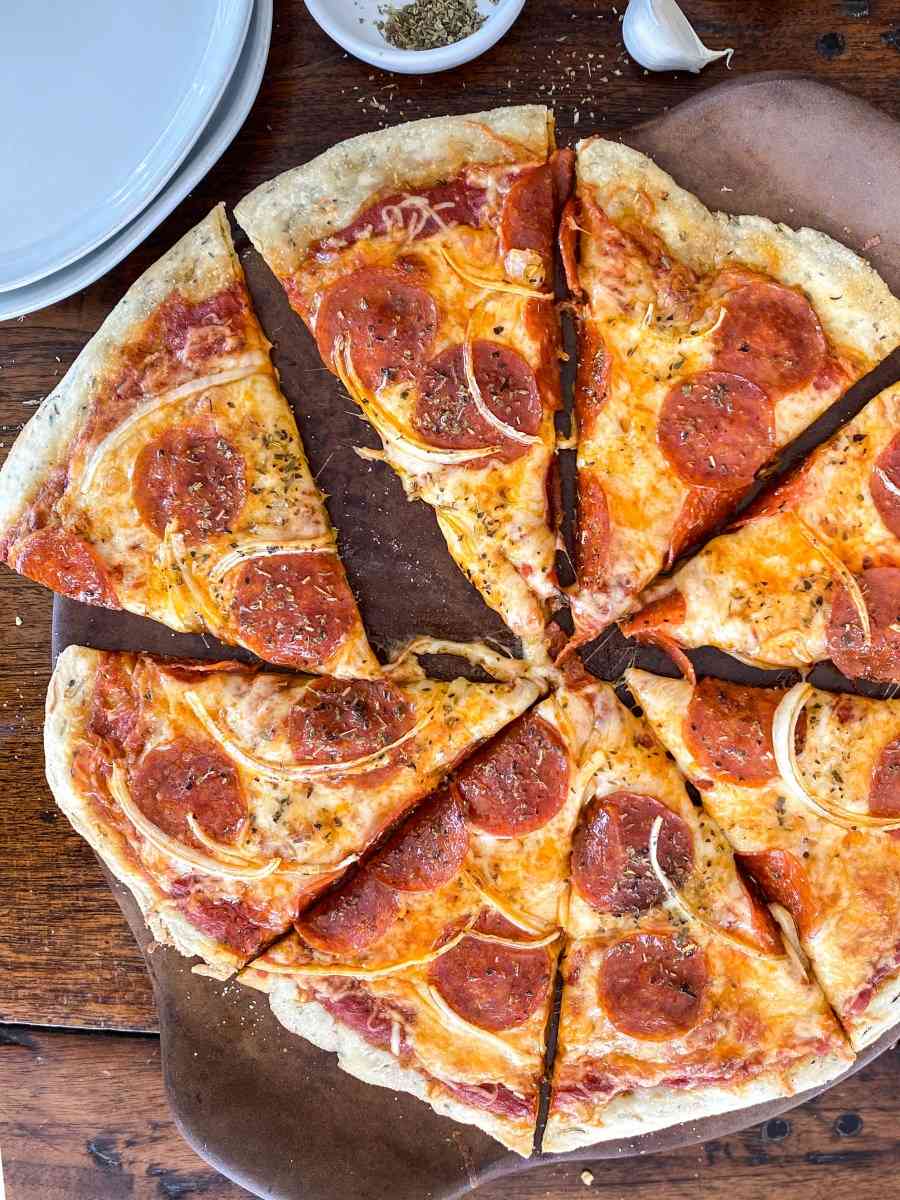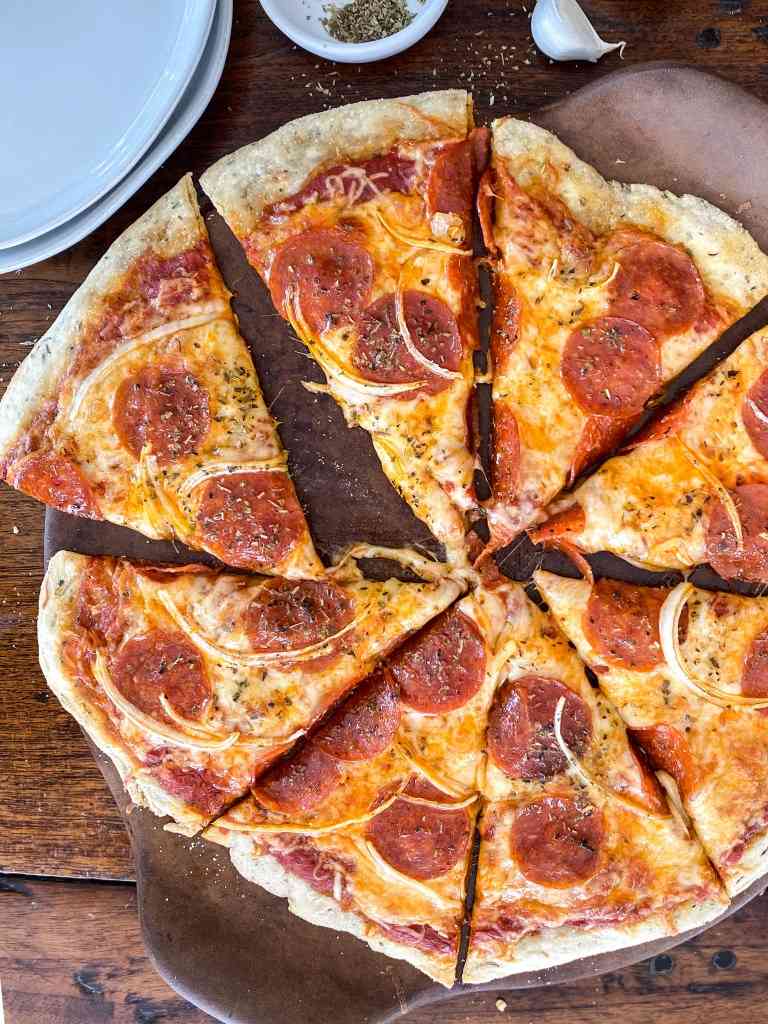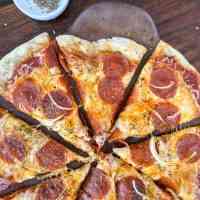 Italian Herb and Garlic Pizza Crust
Level up your pizza with this jam-packed herb and garlic pizza dough, it's so simple and comes together in 10 minutes. Readers say it's their favorite go-to pizza dough recipe!
Quick rise 1 hour or slow rise 24-72 hours before baking.
Print
Email
Pin
Rate
Ingredients
1¼

cup

Warm Water

1

packet

Instant or Active Dry Yeast

approximately 2 1/4 tsp of yeast

1

tsp

Sugar

4

cups

All Purpose Flour

2

tsp

Kosher Salt

2

TBSP

Italian Seasoning (dry)

4

cloves

Garlic - minced

see blog notes

1

TBSP

Olive Oil + enough to coat the bowl + drizzle the top of the pizza

3

TBSP

Corn Meal
Instructions
You want to measure out 1 1/4 cup of warm water. Luke-warm, warm to the touch. In your measuring cup, sprinkle on top of the water your sugar and yeast and let it sit for 5 minutes, it should start to look foamy.

Using a stand mixer with the douch attachment, combine your flour, salt, Italian seasoning, minced garlic and your water with the activated yeast.

Start mixing it together, make sure to turn your mixer on slowly so that flour doesn't pop out of your bowl, as it starts to come together you can turn the speed up faster.

While the mixer is still running, add in the TBSP of olive oil.

Let the dough mix for about 5 minutes until it starts to form a ball.

Drizzle your bowl with olive oil, place your dough in the bowl and cover to rise.

If you are doing a quick rise on the counter, cover with a clean kitchen towel and let it rise until it doubles in size, about 1 hour. If you are doing a slow rise, cover with plastic wrap and place in the refigerator.

Punch the dough and divide in half for two crusts.

If you plan on freezing one of the doughs, then shape it into a disk, wrap in plastic wrap or place in a large ziplock bag, try to remove as much air as possible – label and freeze. 

Preheat your oven to 425F and if you're using a pizza stone, place it in the oven to warm up as the oven preheats. If you're using a sheet pan, no need to preheat it. 

Sprinkle the counter with corn meal to help prevent it from sticking and it will help create a crispier crust. Roll it out, until it's about 1/4 inch thick, you may want to turn it between rolls to make it a circle shape. 

Sprinkle corn meal on your pre-heated pizza stone or sheet pan. Place your rolled out dough on the stone or pan.

Bake at 425F for 10-12 minutes.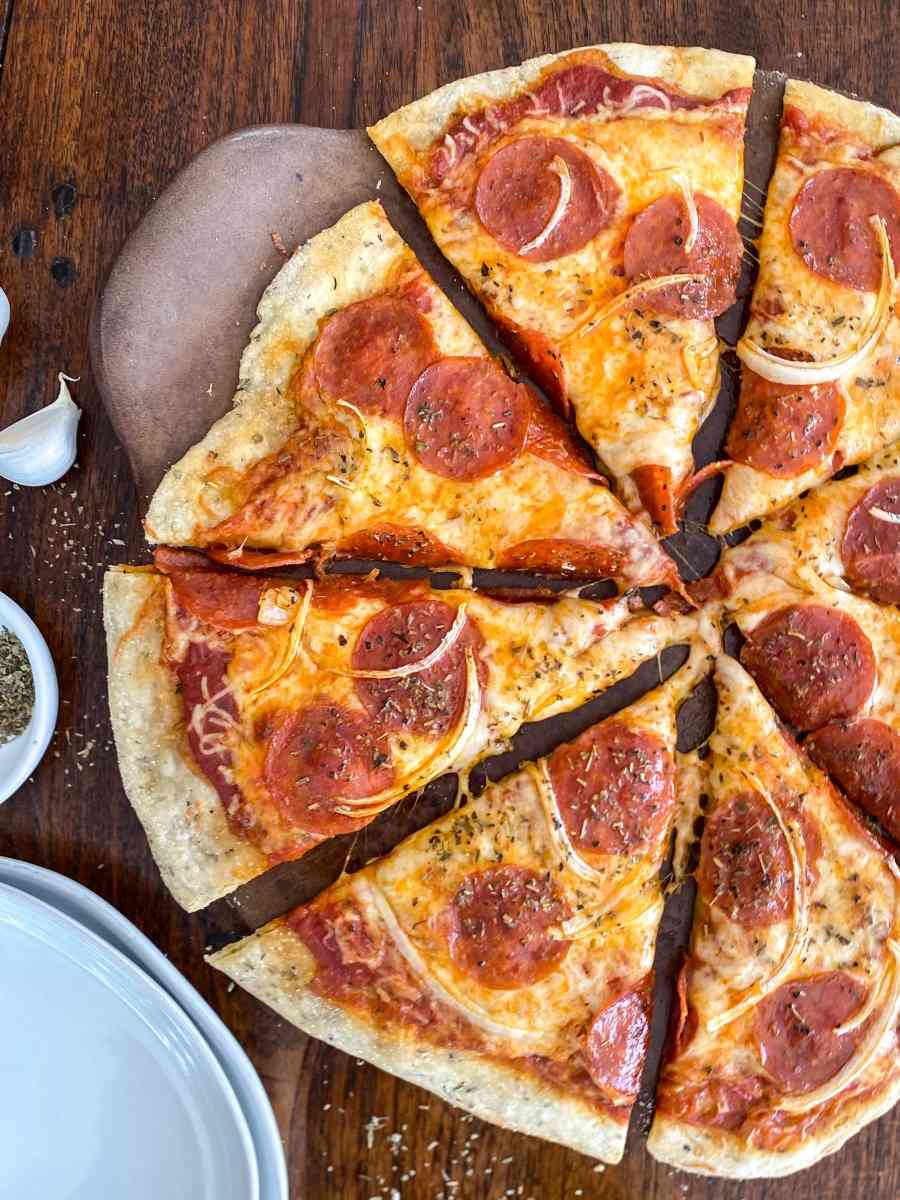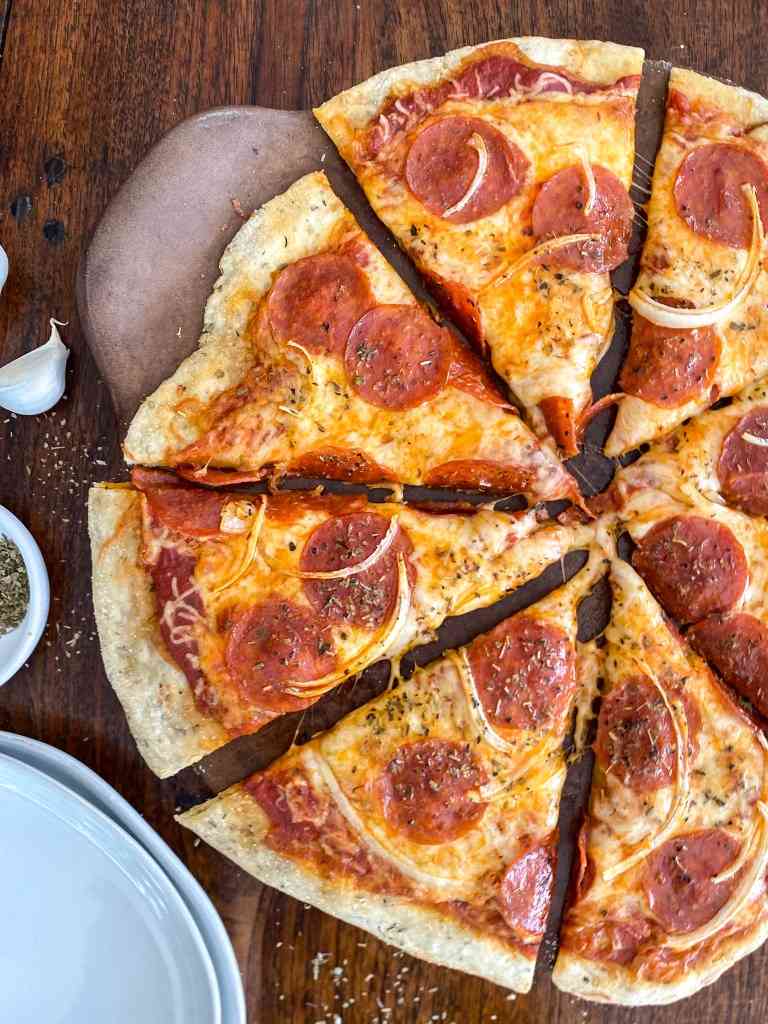 Italian Herb and Garlic Pizza Helpful Tips!
It is easier to roll out your Italian herb and garlic pizza dough when it is a little chilled. Even if I have my dough rise on the counter I pop it in the refrigerator for about 15 minutes, just to have it slightly chilled before rolling out.
If you want to make this dough ahead of time you can mix together the ingredients and let it rise in the refrigerator 24-72 hours – when you're ready to bake, let it sit out on the counter for 15-30 minutes, it doesn't need to come up to room temperature, keeping it slightly cool will help with rolling it out.
To defrost, place in the refrigerator a day or two before you want to use it and let it thaw out slowly. When you are ready to make the dough, remove from the refrigerator for about 30 minutes.
Because pizza is a way of life
Here are a few other pizza doughs to try!
Classic 
Whole Wheat
Gluten-Free (partially cauliflower)