Pea Carbonara is a go-to "spring has finally sprung" dish and although I have tried too many times to count, I have not yet mastered the classic pasta carbonara dish. So…I decided to turn it into a pizza!
You get the same creamy silky egg, nutty fresh Parmesan cheese deliciousness without the disappointment of accidentally scrambling your eggs or your cheese becoming clumpy. If you can make pasta carbonara – hats off to you, I will continue to try and once I get the hang of it, I'll share the secret tips on how to make it at home.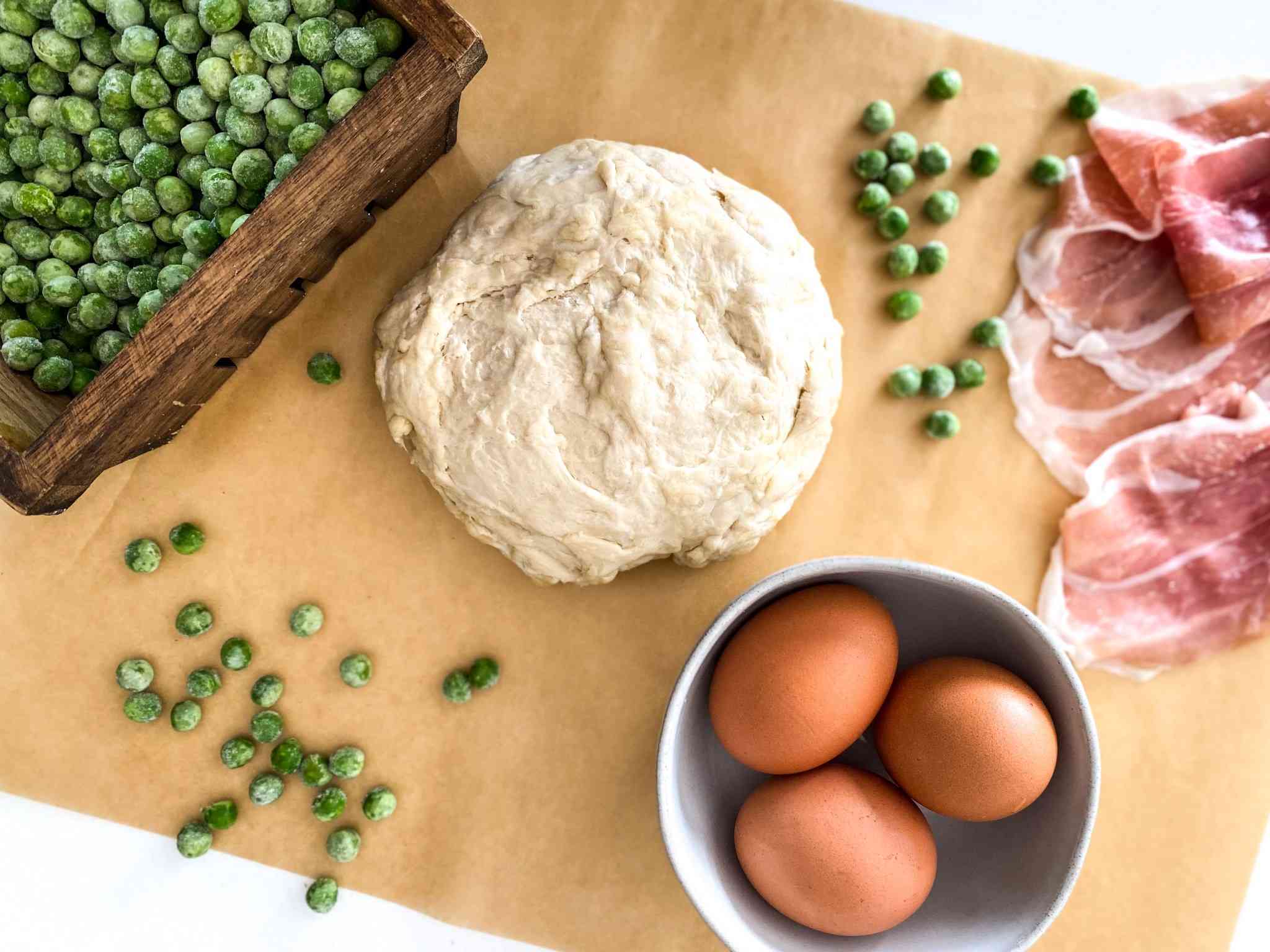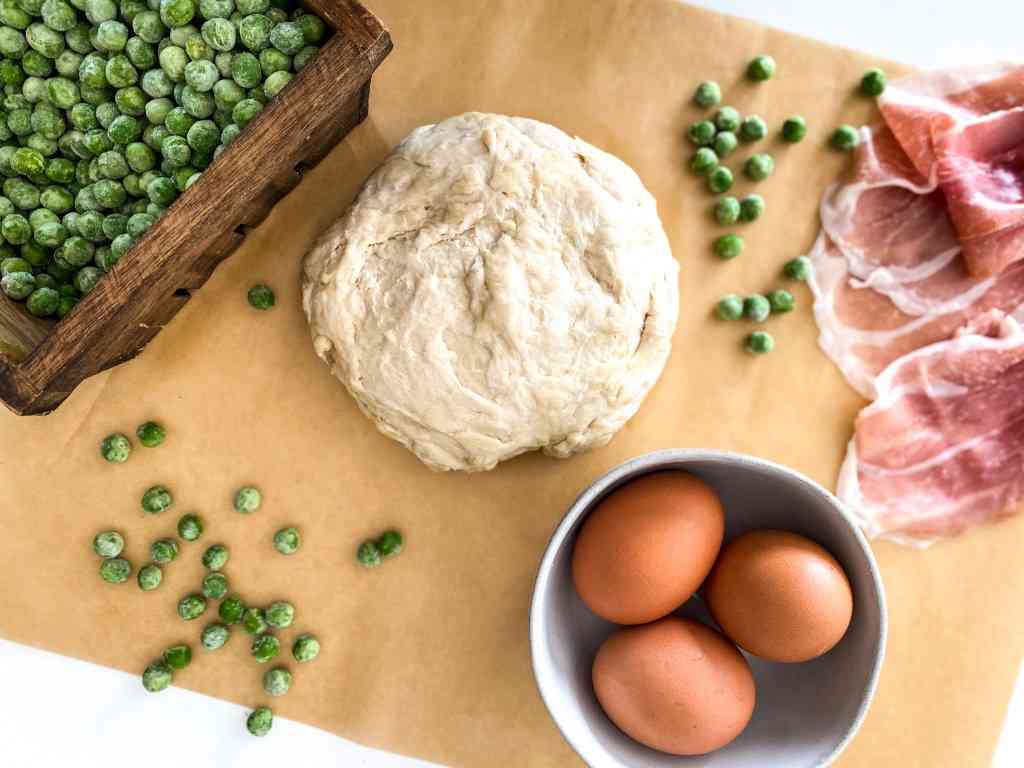 What is Pea Carbonara?
Good question, I was well into my adult life before hearing about carbonara and even older before I gave it a try and I am sad I didn't try it earlier.
I put this dish in the same category of Cacio e Pepe, because they seem lighter than the usual pasta covered in a heavy creamy white, red or vodka sauce. When I say lighter, I mean in actual weight and how I feel after I eat, not necessarily lighter in calories – that part I can't confirm because I didn't crunch the numbers
Carbonara is a pasta dish that is tossed in Parmesan cheese, black pepper and egg until a creamy silky smooth sauce coats the noodles, topped with pan fried pancetta. Absolutely ahhhmazing.
You can then toss in vegetables, making pea carbonara the current Spring trend, and an absolute expectation for the season.
I highly recommend you have it the next time you're at an Italian restaurant.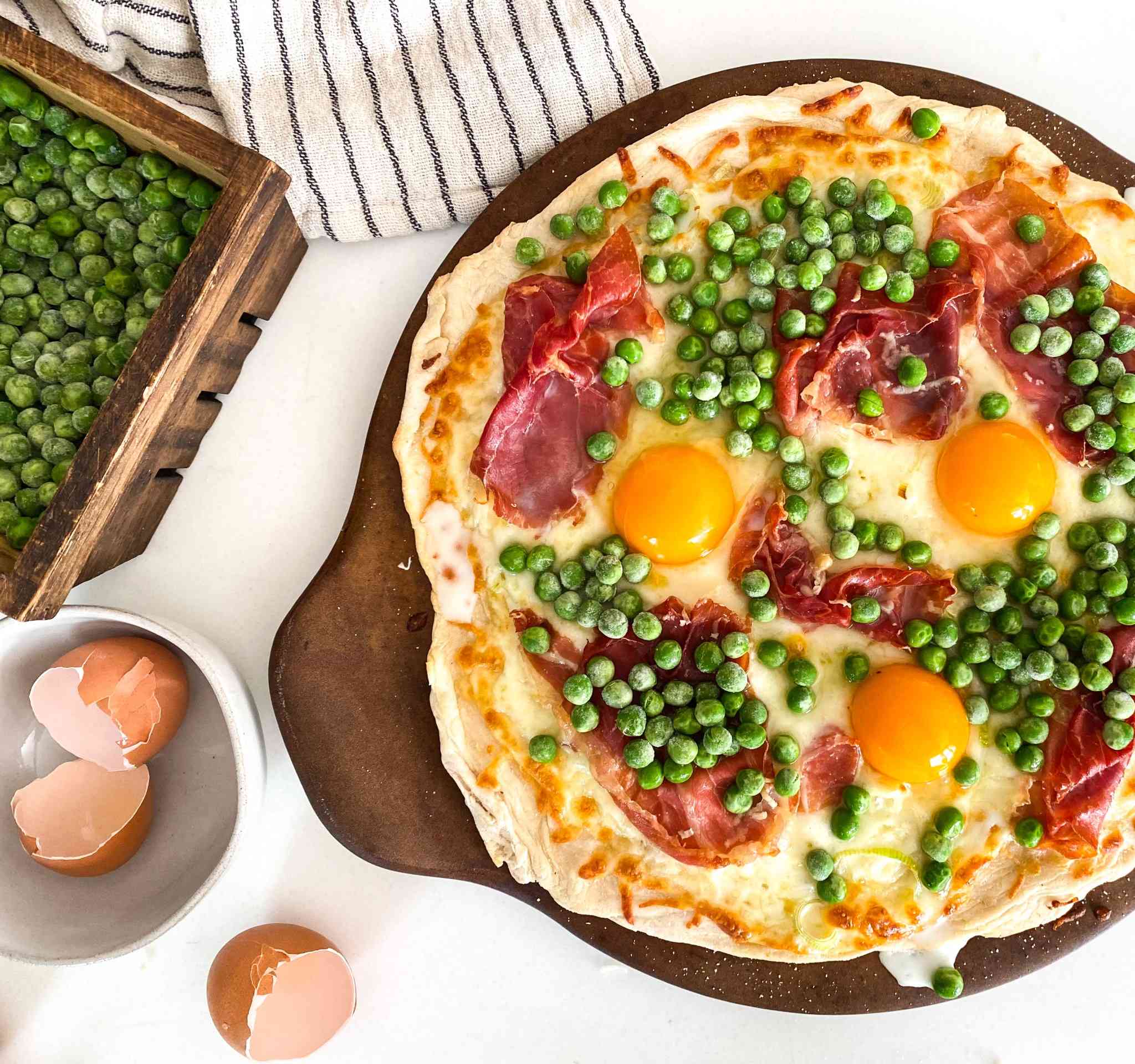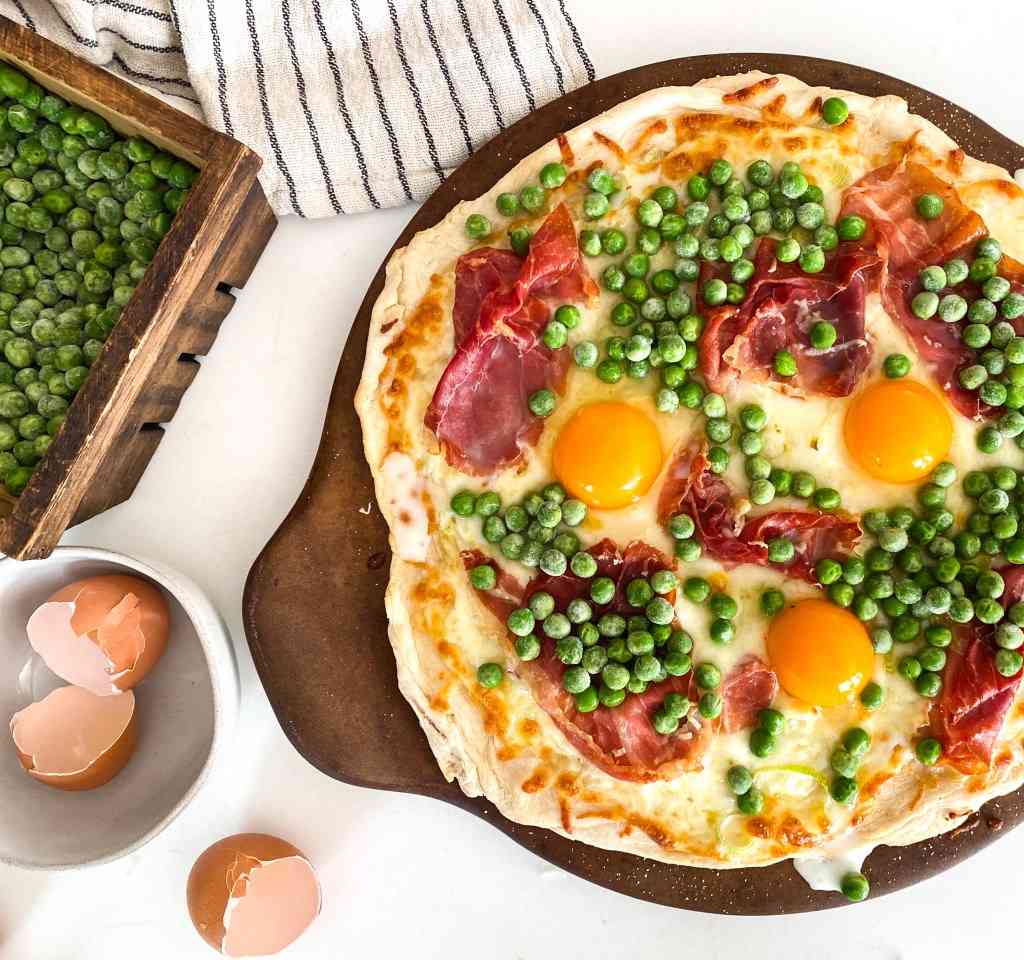 Making it into a Pizza.
I decided to deconstruct the pasta version to make it into a pizza, because the flavors together are unmatchable, irresistible, crave-worthy and who doesn't love pizza?
The first thing a pizza needs is the dough. You can make my homemade pizza dough recipe and let is rise for an hour on the counter, or better yet for busy schedules, you can make it 24-72 hours in advance and let it slow rise in the refrigerator. The slow rise also gives is a better yeasty-flavor if that is something you love, like I do.
If you're looking for alternative pizza crusts, I also have a gluten-free – cauliflower crust or a whole wheat pizza crust.
You can also buy pre-made dough, if you do this, I highly recommend buying the store-made ball of dough, usually near the deli section of any grocery store rather than usingg anything that is in a can, tube or the frozen section. Store bought pizza dough is an easy way to make this a last-minute weeknight dinner.
Let's level up this pea carbonara pizza with crispy prosciutto, thinly sliced leeks, fresh Parmesan, peas, perfect sunny-side up eggs and of course ball of creamy soft Burrata cheese for the top. We are living our best pizza-life right now. I mean it's just gorgeous when it comes together right?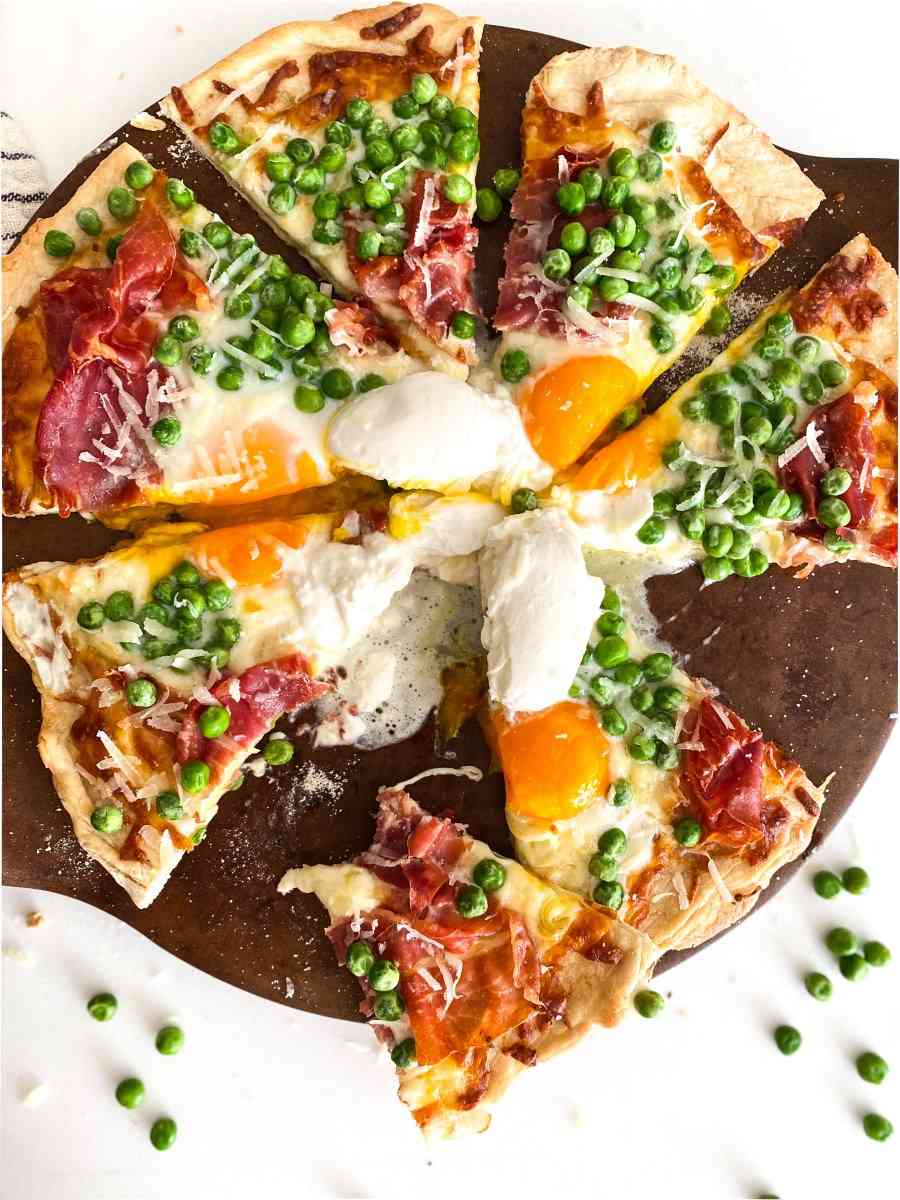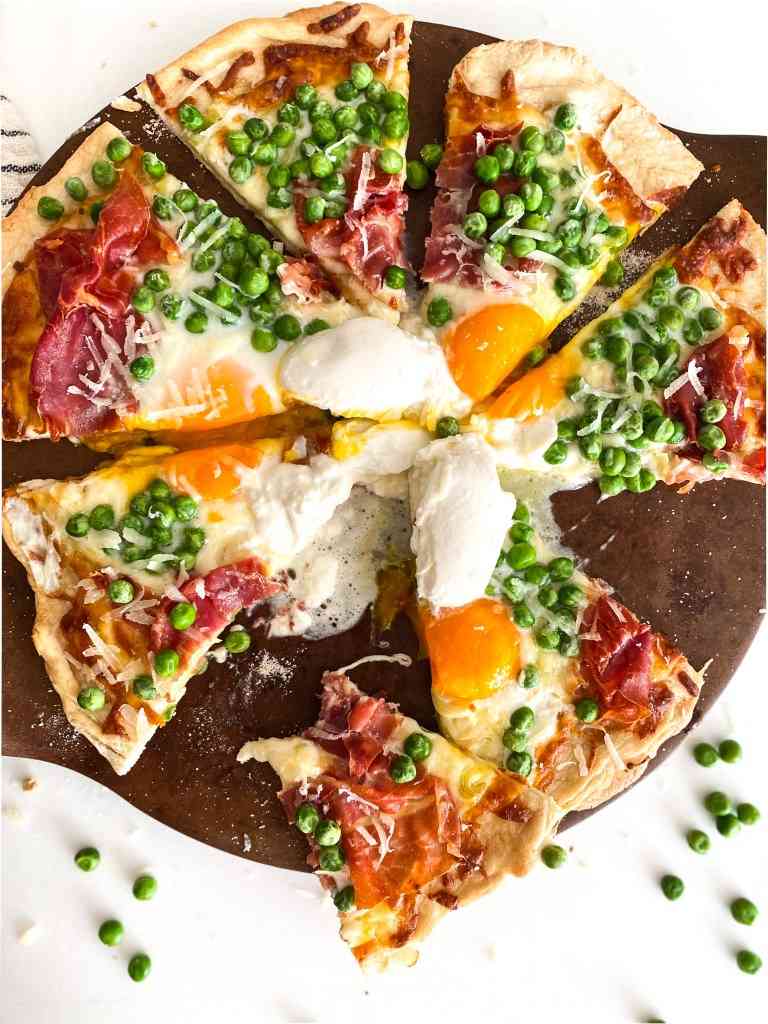 Frozen Peas are the Way to Go.
Pea carbonara pizza called for a bag of frozen peas!
Fun fact! Frozen peas will always be fresher than fresh-from-the-produce-section peas unless you live on a farm or grow them in your backyard. Here is why – peas, as soon as they are harvested, start to age and lose their freshness immediately. Unlike some fruits and vegetables that ripen after harvest, like a green banana that turns yellow on the kitchen counter or peppers that do not make a significant change at all, peas start to age right away.
When peas are harvested to freeze for the grocery store they are flash-frozen right there on the spot, meaning they have less time to age compared to those in the produce section. The peas in the grocery store produce section had to be picked, put on a truck, delivered to the store, and put on the shelf, so even if you grab them on delivery day, they are already several days past their fresh-off-the vine status.
Who knew? I learned this in culinary school, otherwise I don't think I would have given it much thought, but now we all know.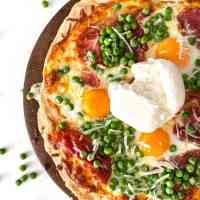 Pea Carbonara Pizza
Skip the pasta but get the same silky creamy delicious carbonara on a pizza!
Print
Email
Pin
Rate
Ingredients
1

Pizza Dough

See blog notes

2-3

TBSP

Corn Meal

1

TBSP

Olive Oil

½

Leek - clean and thinly sliced

7-8

slices

Provolone Cheese

2

cups

Shredded Mozzarella Cheese

3

oz

Prosciutto Slices

3

Eggs

1

cup

Frozen Peas

1

ball

Burrata Cheese

< ¼

cup

Freshly Shredded/Grated Parmesan Cheese
Instructions
Preheat your oven to 425F, if you're using a pizza stone, heat up the stone in the oven as it preheats (this will prevent your stone from cracking).

If you are using a sheet pan, no need to preheat while the oven comes up in temperature.

As your oven heats up, roll out your pizza dough, sprinkle the counter top with a little bit of corn meal to roll out your dough.

Tips for pizza dough - if you have time - if you are using same-day rise dough, place it in the refrigerator for about 10 minutes, it will help roll it out. If you are using slow-rise or store bought pizza dough that was stored in the refrigerator, pull it out of the refrigerator 20 minutes or so before rolling out, to let the chill come off of it, this will help roll it out.

Once your pizza stone is preheated, pull it out of the oven, be very careful because it will be piping hot.

Sprinkle the bottom of the pizza stone or your sheet pan with a little corn meal, this will prevent your dough from sticking to the bottom as it bakes.

Lay the dough down, and press out if you need to. Drizzle the top with your olive oil, this will keep the crust firm and crispy.

Place your thinly sliced leeks over the bottom of the pizza.

To clean leeks, slice then in half, lengthwise to expose all of their layers, place them in a bowl of cold water and allow the dirt to fall to the bottom of the bowl. Do not dump the water out with the leeks still in the bowl, just take your leek out, dab dry and cut into thinly slices.

Pull out your pizza and top with your eggs and frozen peas.

Crack your eggs and carefully add to the top of your pizza. I didn't use all of the egg white.

Add your peas.

Bake for another 3-5 minutes, keeping an eye on the eggs to make sure they don't over cook.