Weeknight ranch chicken nuggets are too easy to make, you can prep them in the same time it takes your oven or air fryer to preheat. Make the entire recipe from start to finish is 19 minutes or less.
The perfect weeknight dinner for those exceptionally busy days when hunger sets in before your get home.
Ranch Chicken Nuggets – Just Shake and Bake.
Yep, I said it, it's that easy. Preheat the oven (or air fryer) to 400F, as it preheats, the chicken nuggets shake around in a large ziplock bag with the breadcrumb coating and that is all you do! Easy peasy.
Ranch seasoning is added right in with the breadcrumb mixture and baked in for a delicious pop of ranch flavor with each nugget. I use the ranch seasoning from Trader Joes, but you can also use any packaged ranch seasoning from the grocery store.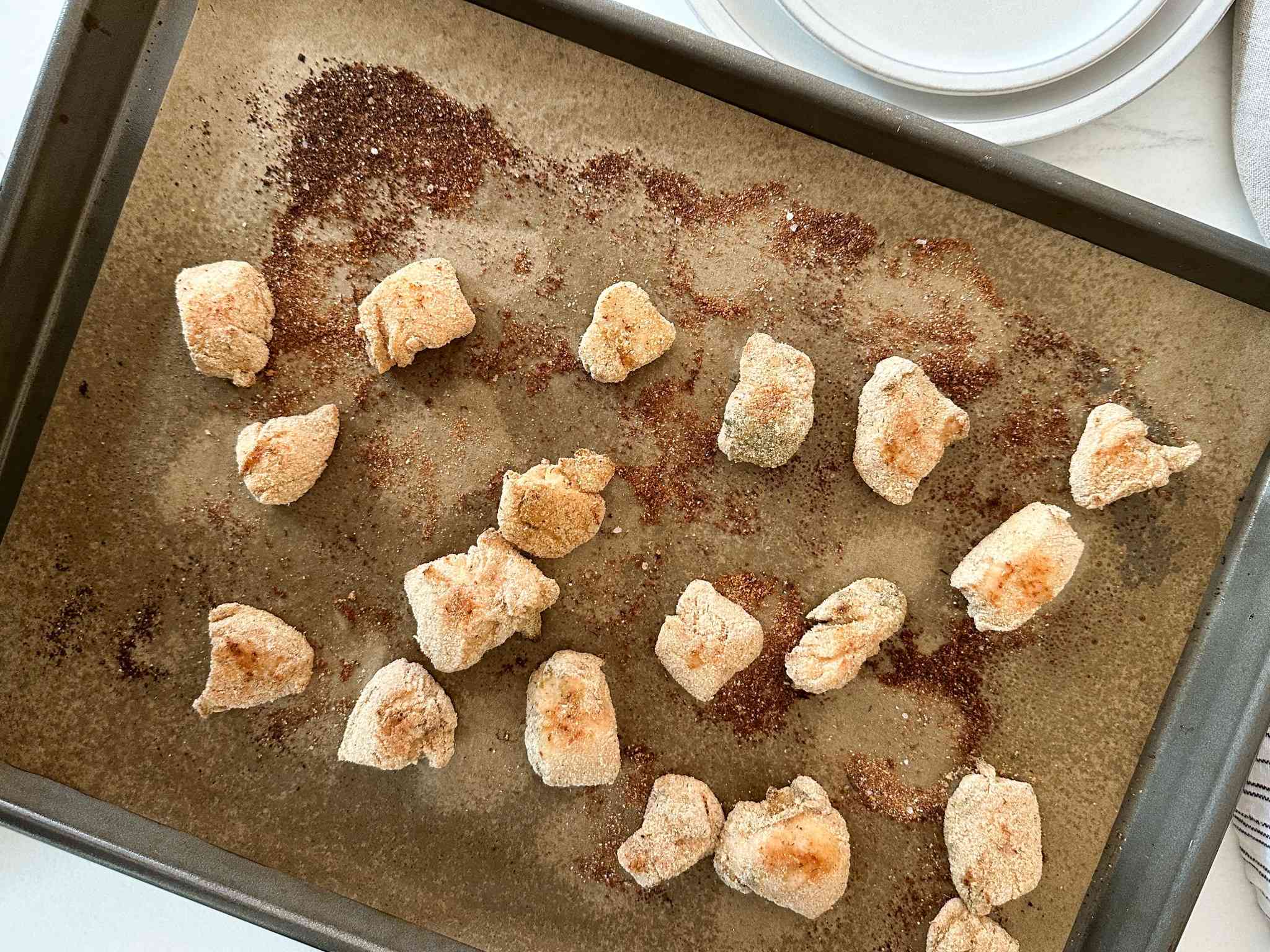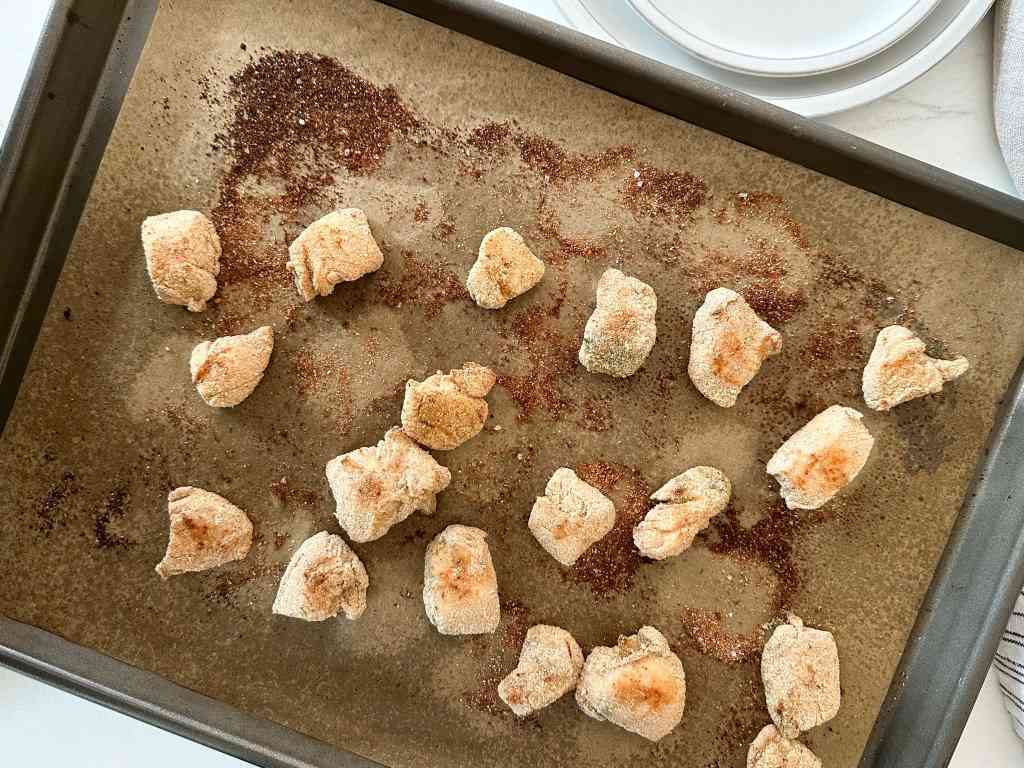 Ranch Chicken Nuggets Gluten Free Option
The recipe is very easy to adapt for gluten-free. The first step is knowing what ingredients have gluten in them. Most of the grocery store breadcrumbs contain gluten.
Cornmeal does not.
Hidden Valley Ranch seasoning packets are certified gluten-free.
If you have a favorite gluten-free breadcrumbs, it's a one to one replacement, which means you can use the same measurement that is in the recipe below or you can just use corn meal without breadcrumbs.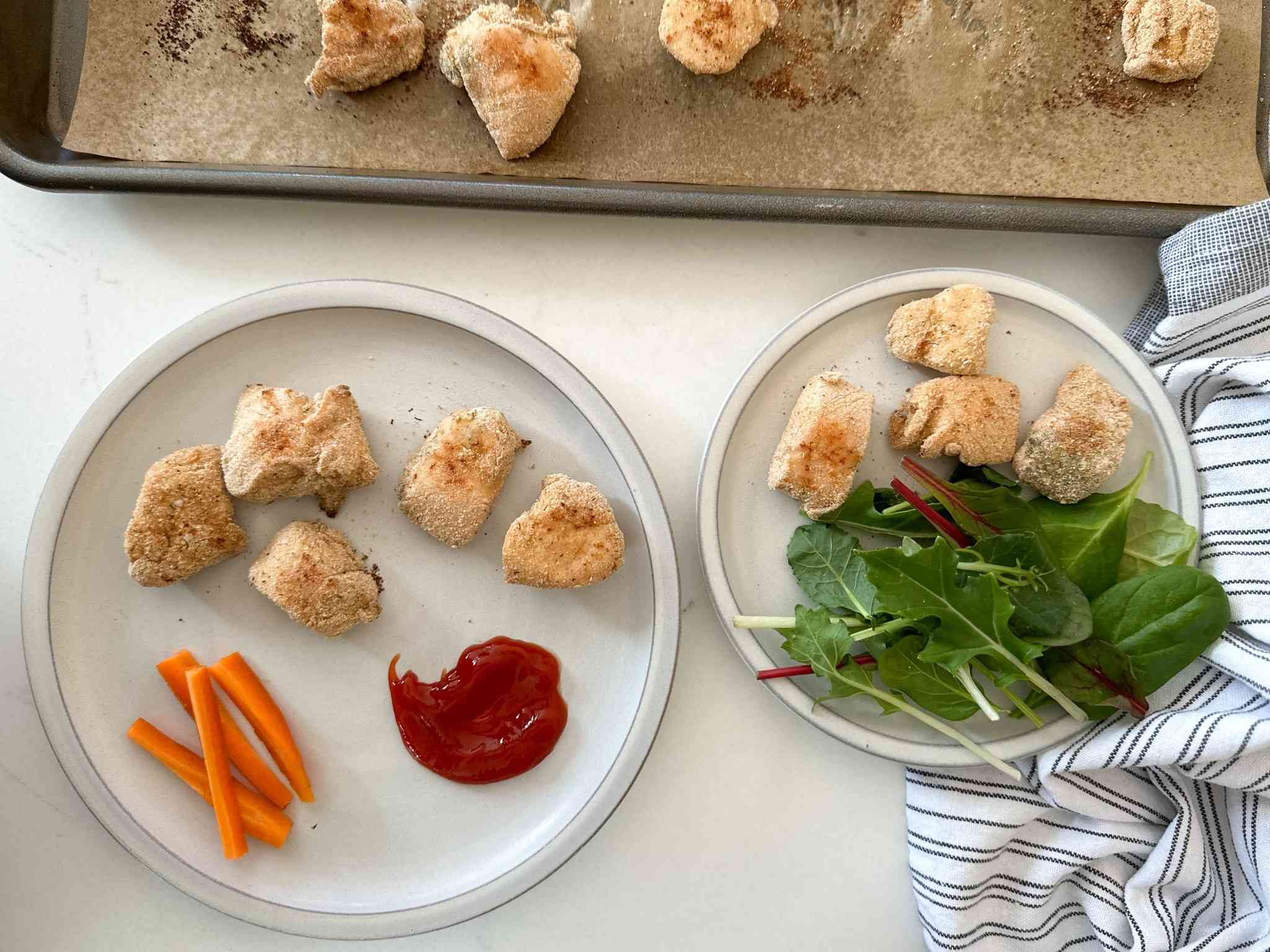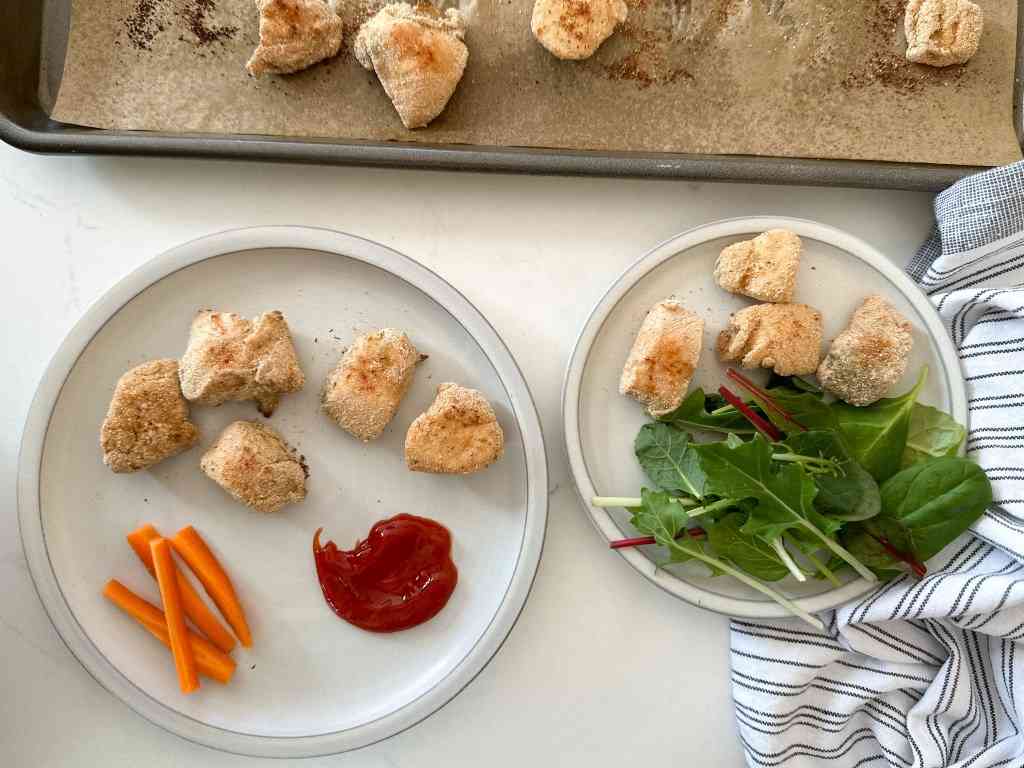 Oven Bake or Air Fryer
The recipe below is written for oven baking, however they can also be made in the air fryer. Preheat your air fryer to 400F. Add in your ranch chicken nuggets. Spray with canola spray and bake for 3-4 minutes, shake and flip and bake for another 2 minutes.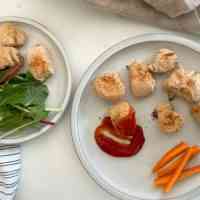 Weeknight Ranch Chicken Nuggets
The perfect weeknight dinner for those exceptionally busy days when hunger sets in before your get home. 19 minutes start to finish.
Print
Email
Pin
Rate
Ingredients
1

lb

Chicken Breast or Tenders

½

cup

Breadcrumbs

¼

cup

Corn Meal

1

tsp

Salt

2-3

TBSP

Ranch Seasoning

(1 oz Ranch Seasoning Packet)

Canola Oil Spray
Instructions
Preheat the oven (or Air Fryer) to 400F.

Rinse the chicken, do not pat dry, it needs to be slightly wet for the coating. Cut or use kitchen scissors to cut into bite size nuggets.

Place the nuggets in a one layer on a sheet pan. Lightly spray with canola oil and bake at 400F for 8 minutes. Flip them over and bake for another 6 minutes until crispy brown.

Air Fryer: Place in the air fryer, spray with canola oil and bake 3-4 minutes and shake the pan, then bake another 2 minutes.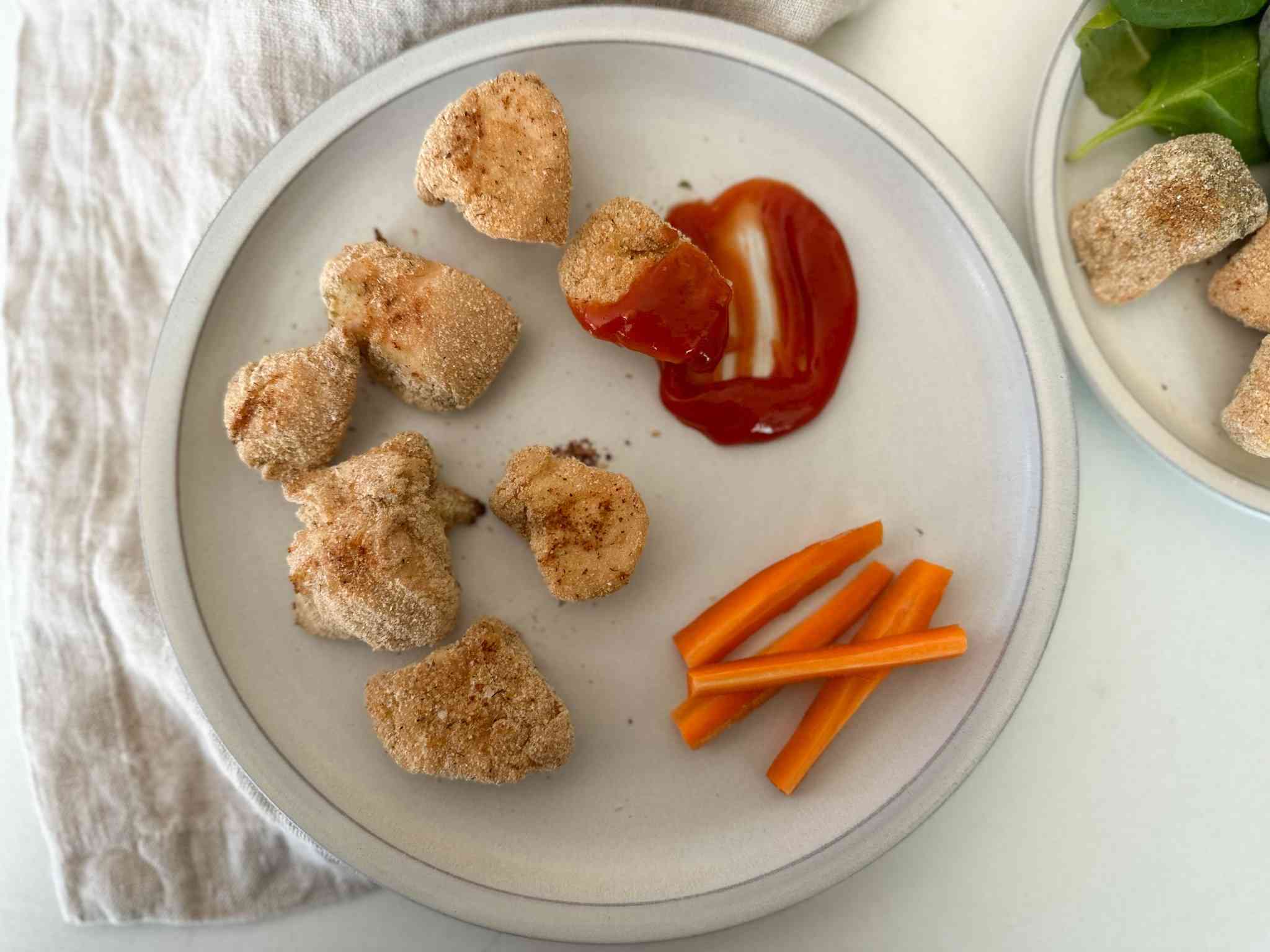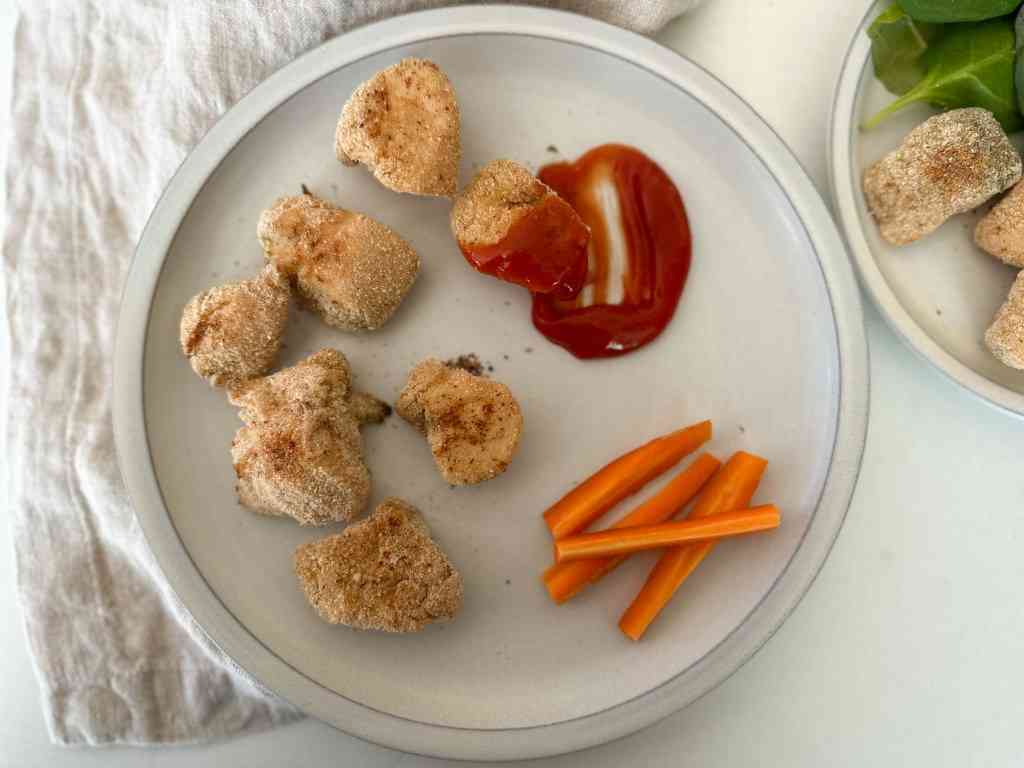 Groceries Are Expensive These Days – What to do with leftover ingredients
As promised, 2023 is the year we budget for groceries, we use leftovers wisely and we get creative! If you have leftover breadcrumbs, cornmeal and ranch seasoning, these are all pantry items, make sure they are sealed and store in a dry place until next time!
Cornmeal is a great way to make your homemade pizza crust crispy on the bottom and strong enough to pick up and eat, even with all of your favorite toppings. Sprinkle it on the pan or preheated stone before laying down your pizza dough and it also prevents the pizza from sticking. This is my favorite homemade pizza recipe. 
Do you have leftover chicken nuggets?