Guys I really knocked this one out of the park. This pozole soup is so deliciously satisfying, I'm speechless, you have to try it for yourself, I promise you won't be disappointed. This slow roasted pozole has a light red warm broth, filled with layers of flavor, spicy in all the right ways and when topped with a little lime, is the perfect spoonful.
I'll be completely honest with you, I had never had pozole soup before I made it. I made it completely inspired by my husband. He went on a trip to Mexico City to visit his brother-in-law's family where he had this soup. He has continued to talk about that meal now for 9 (maybe 10) years so I finally did some research and made my own pozole rojo soup.
Proudly, I sent my brother-in-law a photo and he immediately told me I was missing the authentic Mexican toppings – thinly sliced radishes, lettuce & oregano. This is just to say, I know. This recipe is not an authentic Mexican recipe, handed down from generation to generation, but it is authentically mine and I'm so excited to share it with you.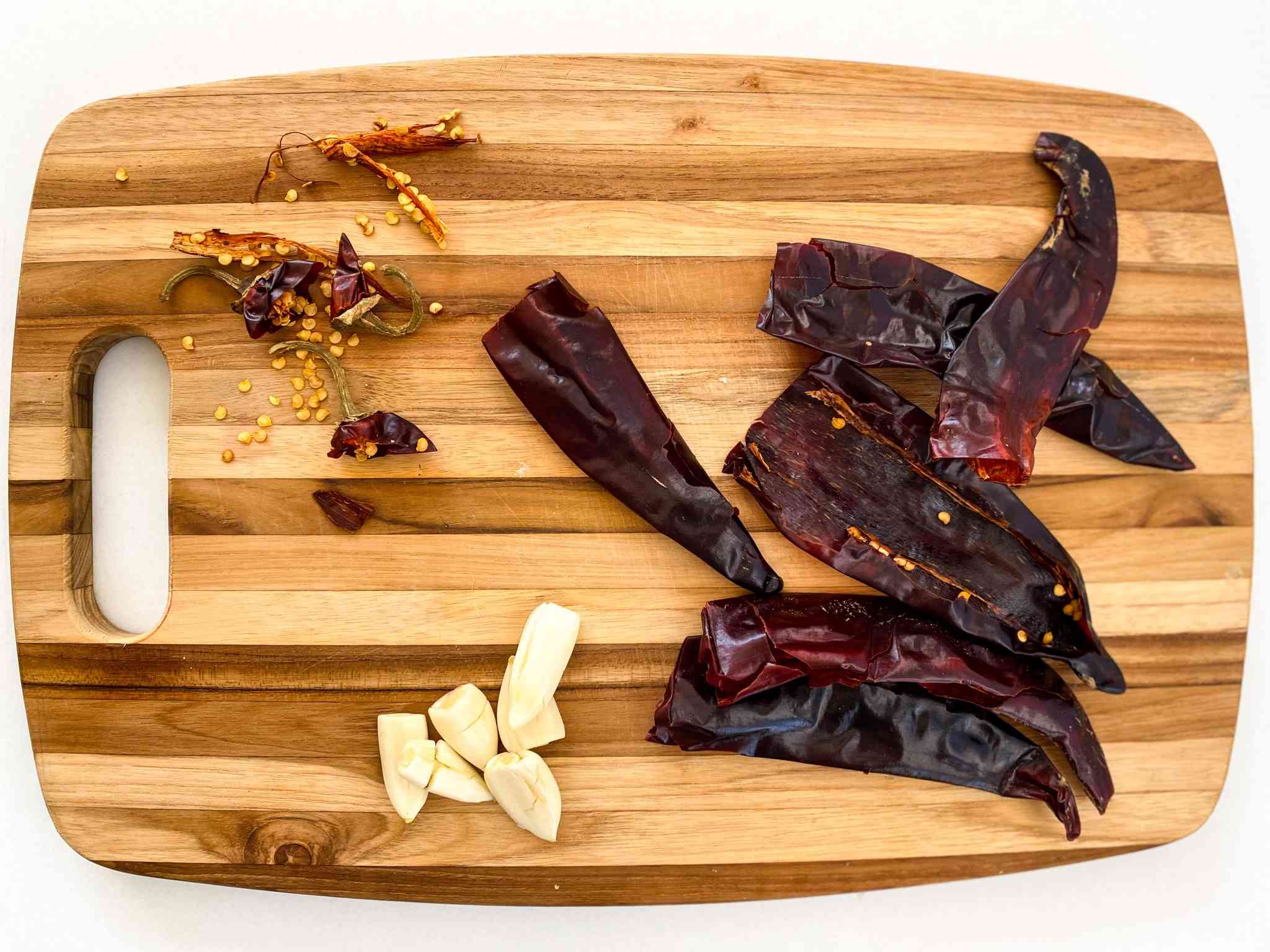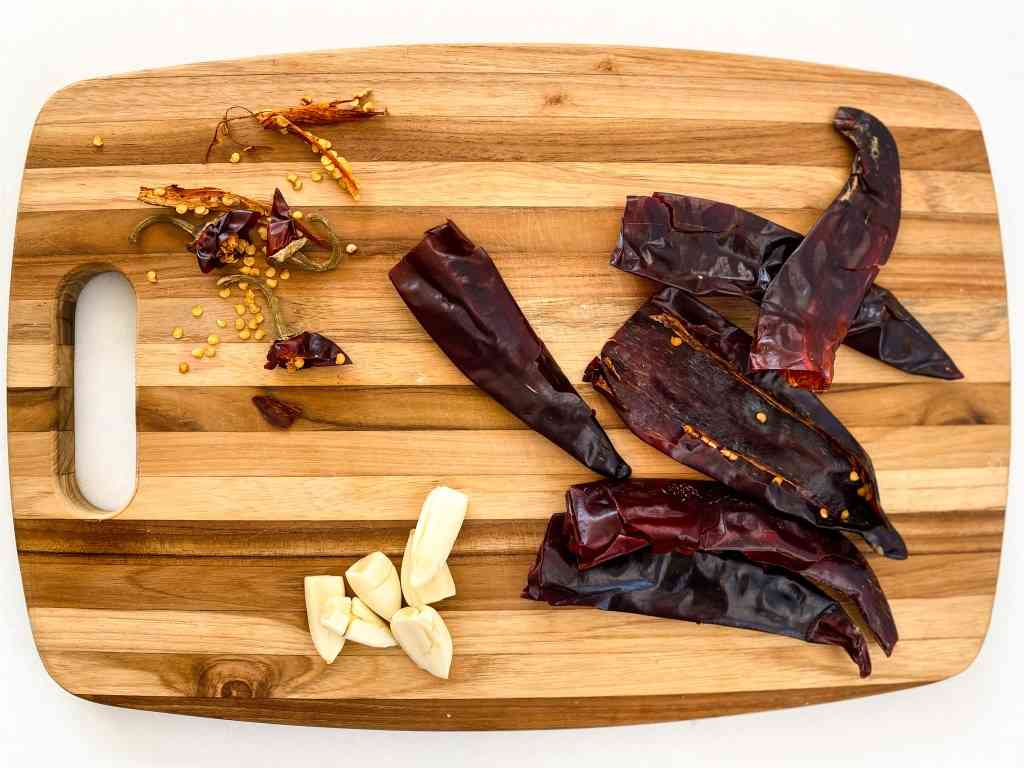 Layers of Flavor
This soup is made in such a way to build flavors so that when you take a bite you have a warm hug from the warm spicy layers, each standing out on their own but merging together like old friends.
I use a blend of cumin, cayenne, oregano, salt, garlic cloves and guajillo peppers – deseeded.
In the recipe below you will notice that the dry spices are added early, this is to allow them to wake up. Their individual flavors will start to develop and become fragrant. All of this early work makes the broth and pork unbelievably delicious, jam packed with spice.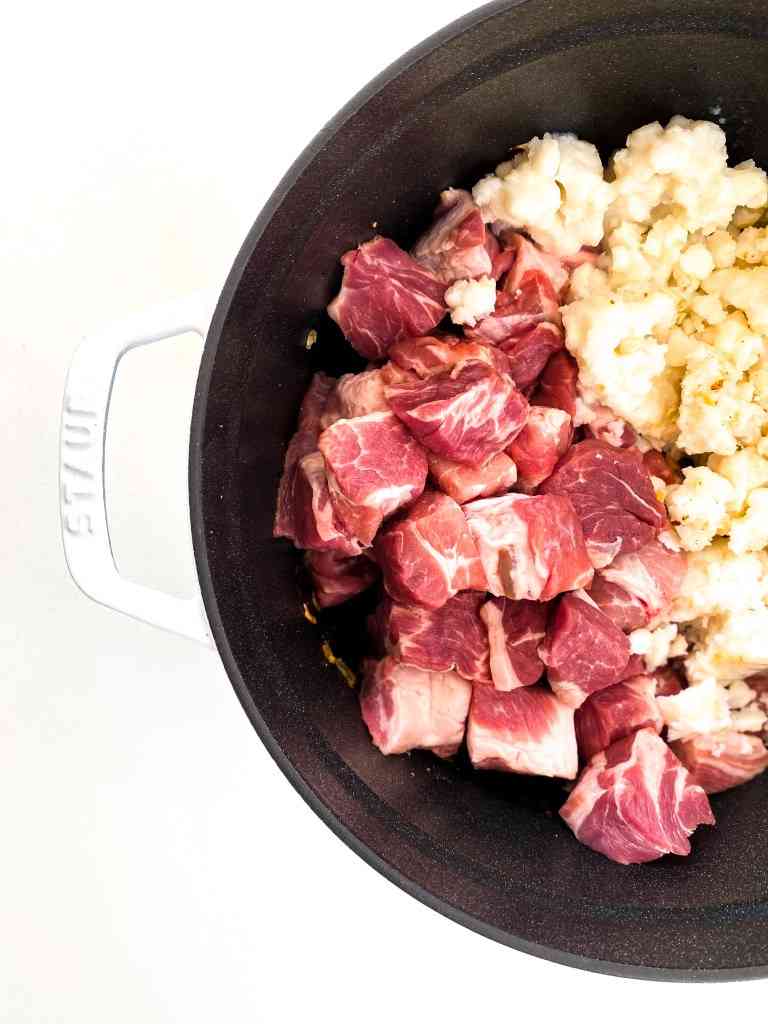 Adding in the Garlic
This pozole recipe calls for 6 cloves of garlic. The good news is that you don't have to chop or mince them, it's really easy to incorporate the flavor without that messy stickiness. Because the pozole is being slow-roasted, there is plenty of time to get the garlic flavors out of the whole cloves, not to mention they will eventually be blended for the base of the broth. So all we need to do is peel the paper off and then smash with your chef knife to break it apart.
If you've never smashed garlic before, it's simple. Break apart the garlic into individual cloves, peel the paper wrapper off, place the clove on the cutting board and then using the flat side of your knife press down so that it smashes and breaks apart.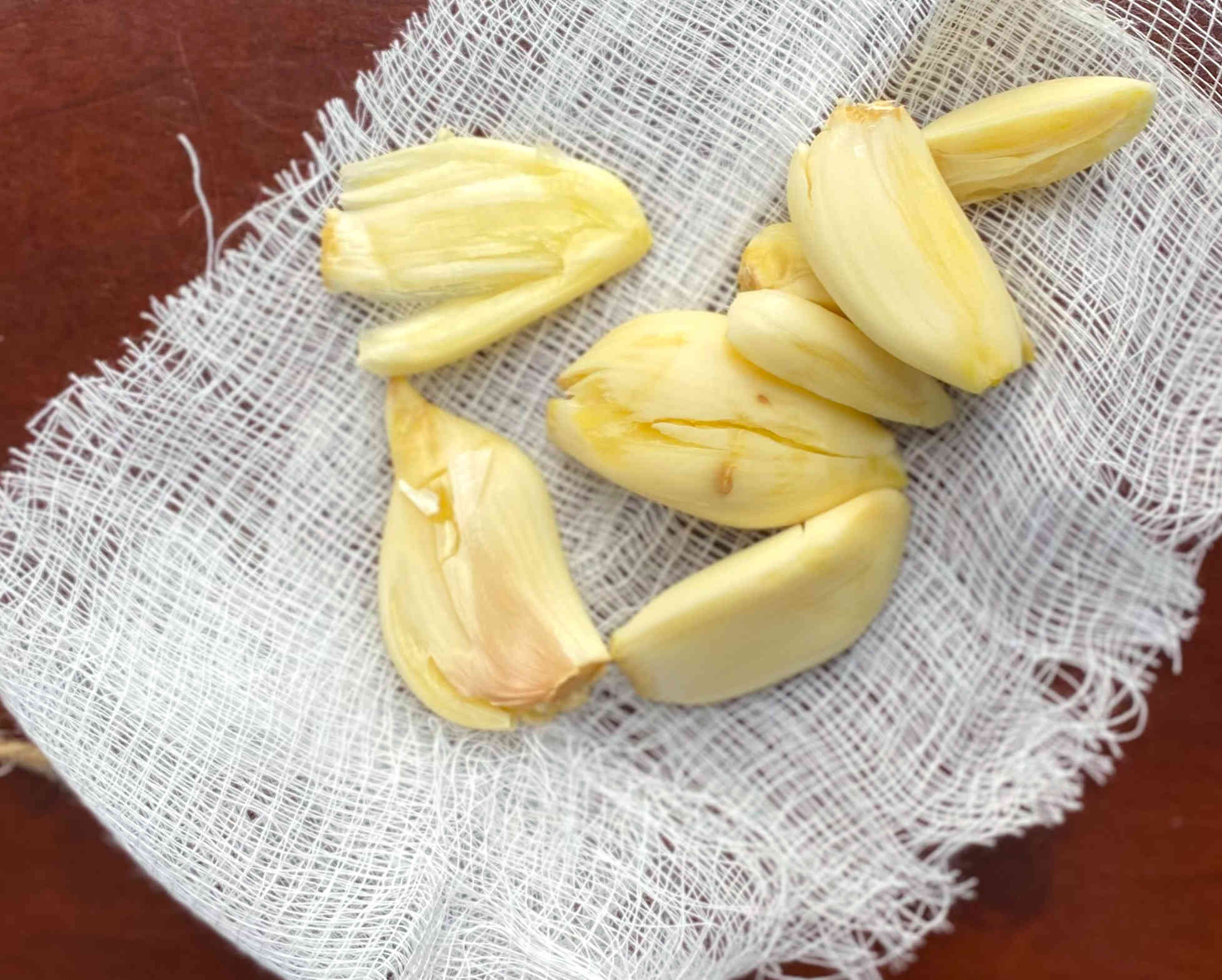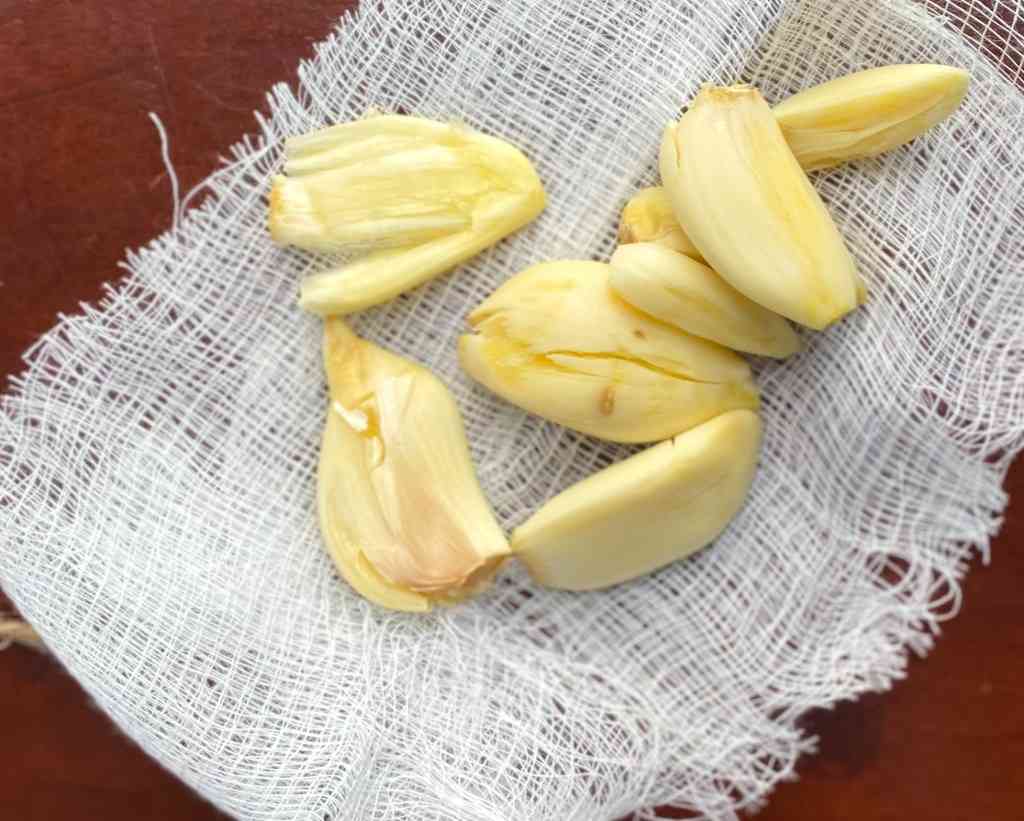 Another quick garlic tip – the recipe will ask you to remove the garlic and guajillo peppers from the roasting pot to blend for the broth. Instead of fishing the garlic cloves out one by one, with some cheesecloth and twine you can make a garlic sachet for all six cloves making it easier to retrieve later.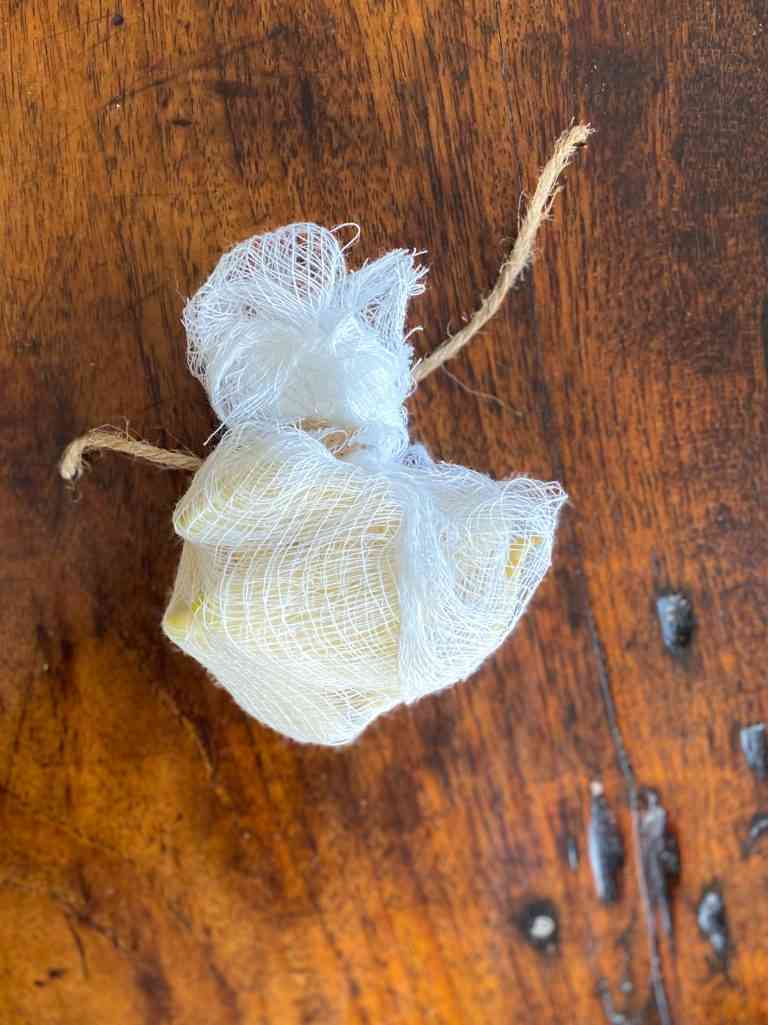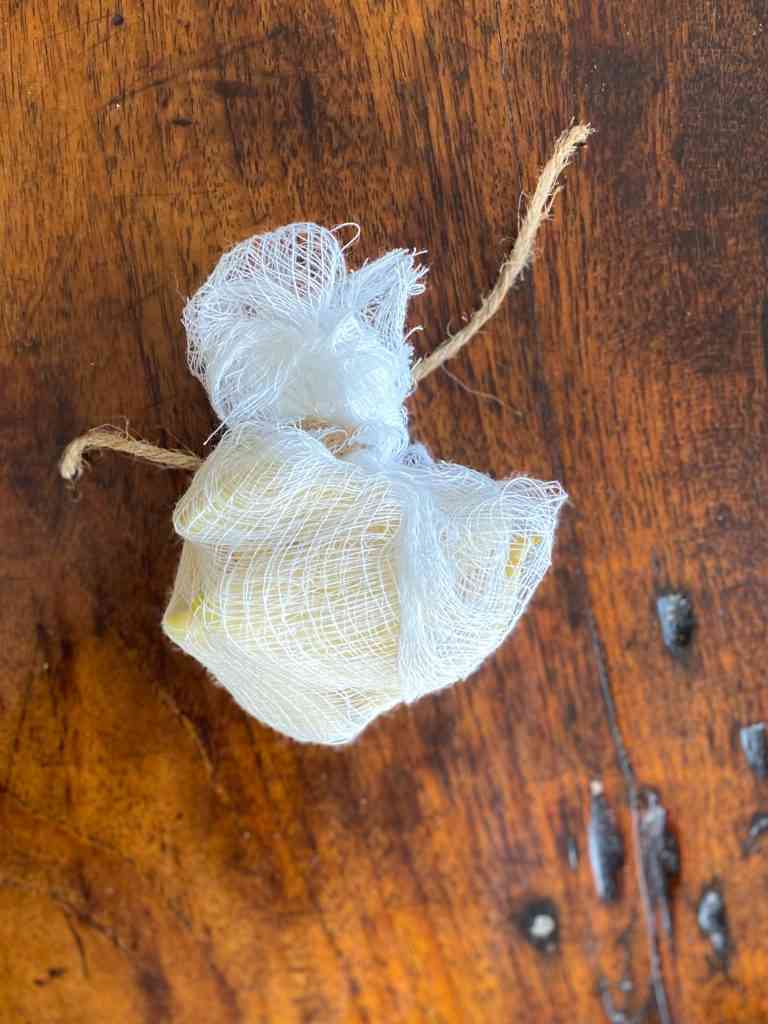 Oven Roasted
I decided to do a slow roasted soup like you would for a stew. After starting it on the stove, I moved the entire pot to the oven with the guajillo peppers in the broth allowing them to re-hydrate.
The slow roasted technique also gives the pork shoulder the ability to cook slowly at a lower heat allowing it to stay soft and tender for each bite.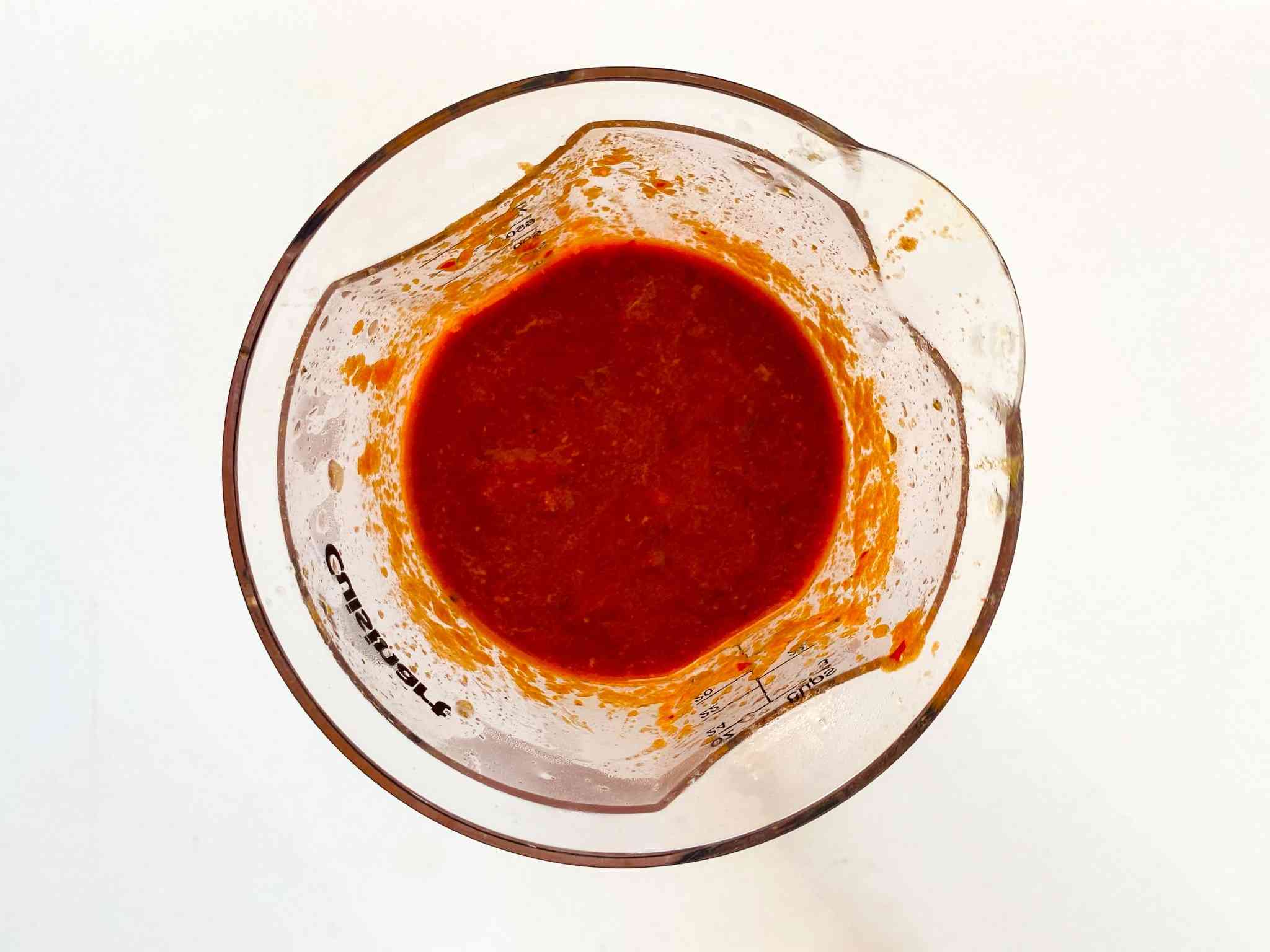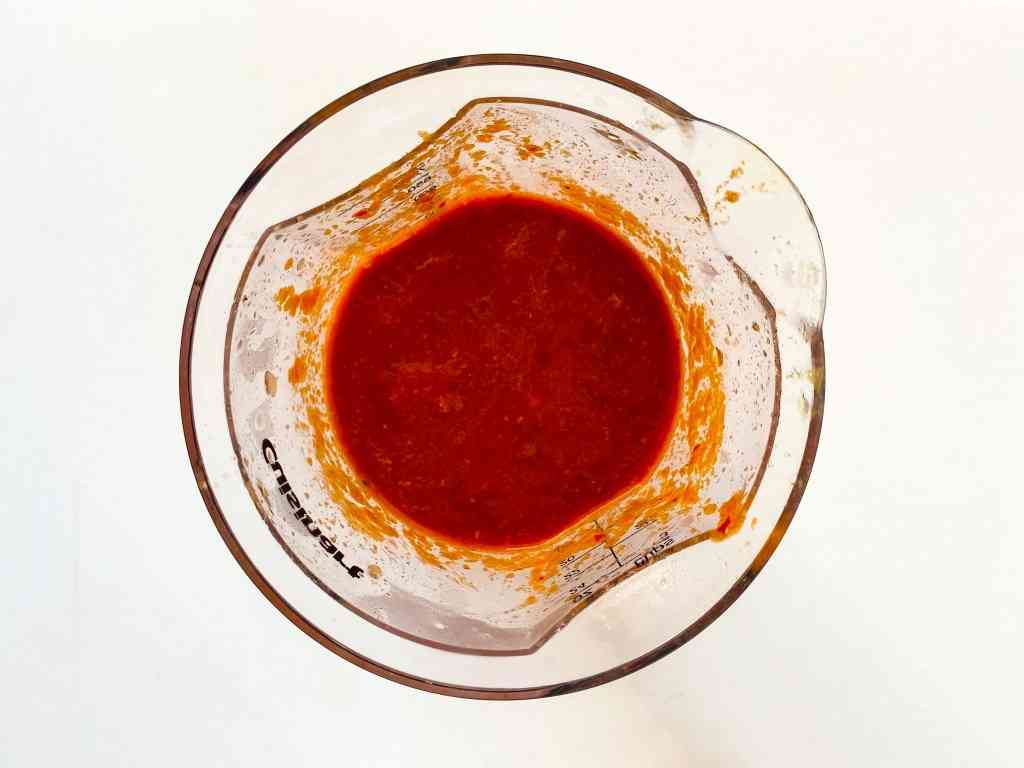 Making pozole rojo –
About 30 minutes into slow roasting the soup, you will remove the re-hydrated peppers, garlic cloves and 1 cup of the broth. Adding them and a tomato – quartered to a blender or by using an immersion blender, you will want to blend until smooth. Once that is done, pour it back into the soup broth, and stir until combined. Roast the soup for another 30 – 60 minutes, at least 30 minutes but it can go longer if that better works for your schedule.


What is Hominy
Homily is made from dried maize (corn) kernels that have been treated with neutralizer, causing the kernels to double in size so it's a heartier bite. This technique also makes hominy much more nutritious than corn. Ground hominy is what corn tortillas are made out of.
Low in calories, high in fiber and is considered suitable for a gluten-free diet. It is a great addition to soup or stews, especially this pozole soup.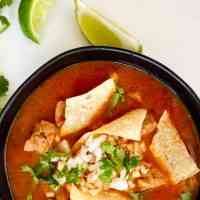 Slow Oven-Roasted Mexican Pozole Rojo Soup
Inspired by my husband's trip to Mexico City this is 100% supper vibes. Perfectly spiced slow-roasted pull-apart pork shoulder in a flavorful red tomato-based soup is next level delicious.
Print
Email
Pin
Rate
Ingredients
1

TBSP

Olive Oil

2

cups

Diced Onion

(about 1 large onion)

1½

TBSP

Cumin

½

tsp

Cayenne

1

tsp

Oregano

1

tsp

Salt

2 ½

Lbs

Pork Shoulder – cubed into about ½ inch cubes or smaller

40 -50

oz

Canned Hominy

size of can depends on the brand

4

cups

Chicken Stock

2

cups

Water (as much as you need to make sure the pork and hominy are submerged)

6

cloves

Garlic

6

Guajillo Peppers – deseeded

1

medium

Tomato
Garnish
Tortilla chips

Raw Onion

Cilantro

Fresh Lime Wedges

Avocado

Thinly Sliced Radishes

Lettuce

Oregano
Instructions
In a large oven safe pot or dutch oven, over medium heat add your olive oil and diced onion. Cook until they start to become soft and translucent.

Add in your spices, cumin, cayenne, oregano and salt. Let them cook until they become fragrant, about 5 minutes or so.

Add in your cubed pork and hominy. If your canned hominy has liquid, drain before adding. Using a spoon, break up the hominy if needed.

Pour in your stock and water. Make sure that everything is fully submerged. Bring up to a boil, about 10 minutes.

Preheat your oven to 250F.

Cover with a lid and place in your over, roast for 30 minutes at 250F.

Remove the whole garlic cloves, guajillo peppers and 1 cup of the broth.

In a blender or with an immersion blender, carefully blend the garlic, guajillo peppers, broth and a tomato. Use more broth if needed. Blend until smooth and add back into the soup. Stir to combine.

Cover with a lid and place in your over, roast for another 30 minutes at 250F.

Once the soup is done, remove from the oven. It will have grease that is sitting on the top. With a spoon skim the top of the soup to remove the grease. I removed just about 1 cup of liquid/grease.

Serve with garnishes. I highly recommend squeezing a wedge of fresh lime juice.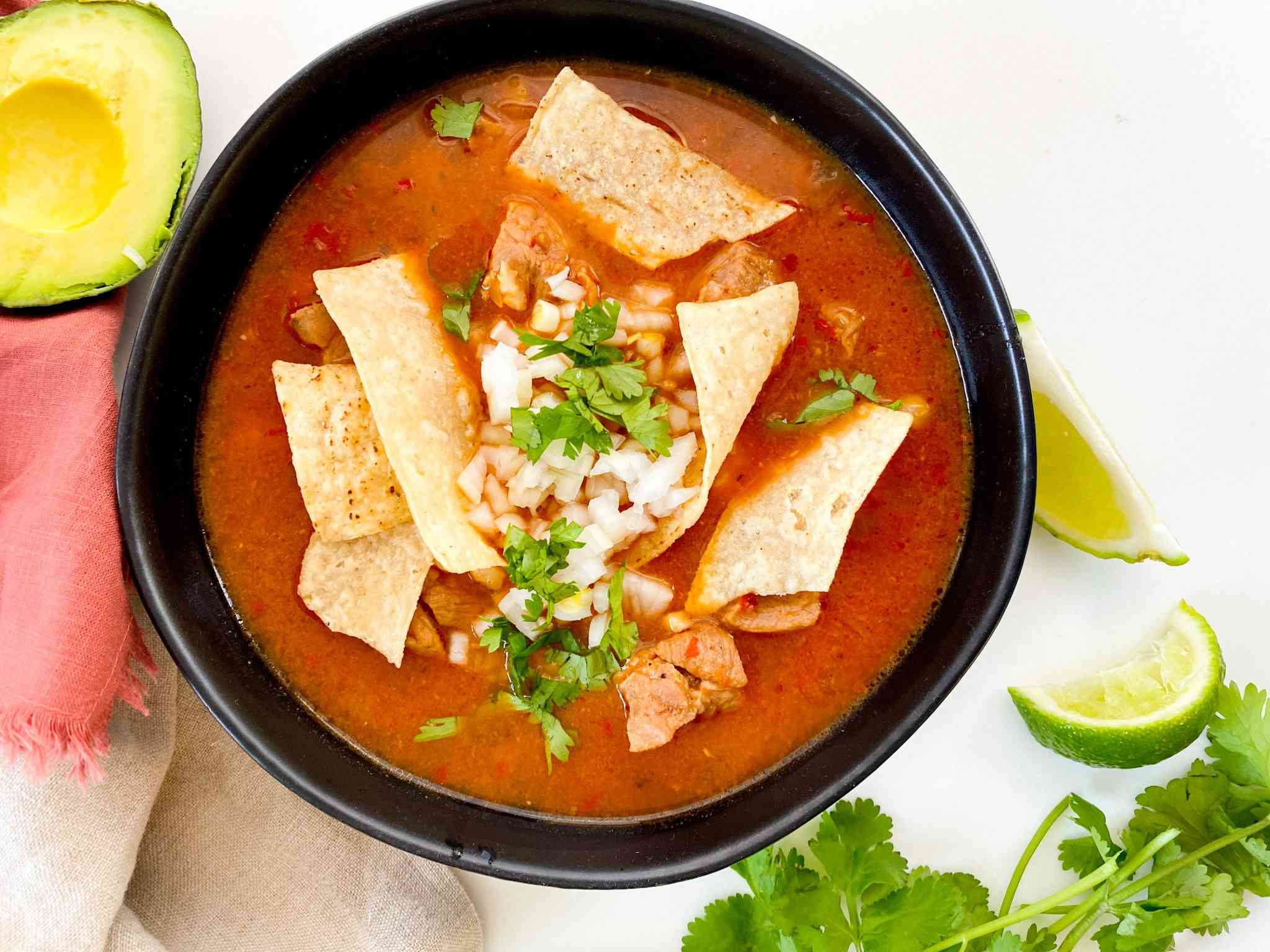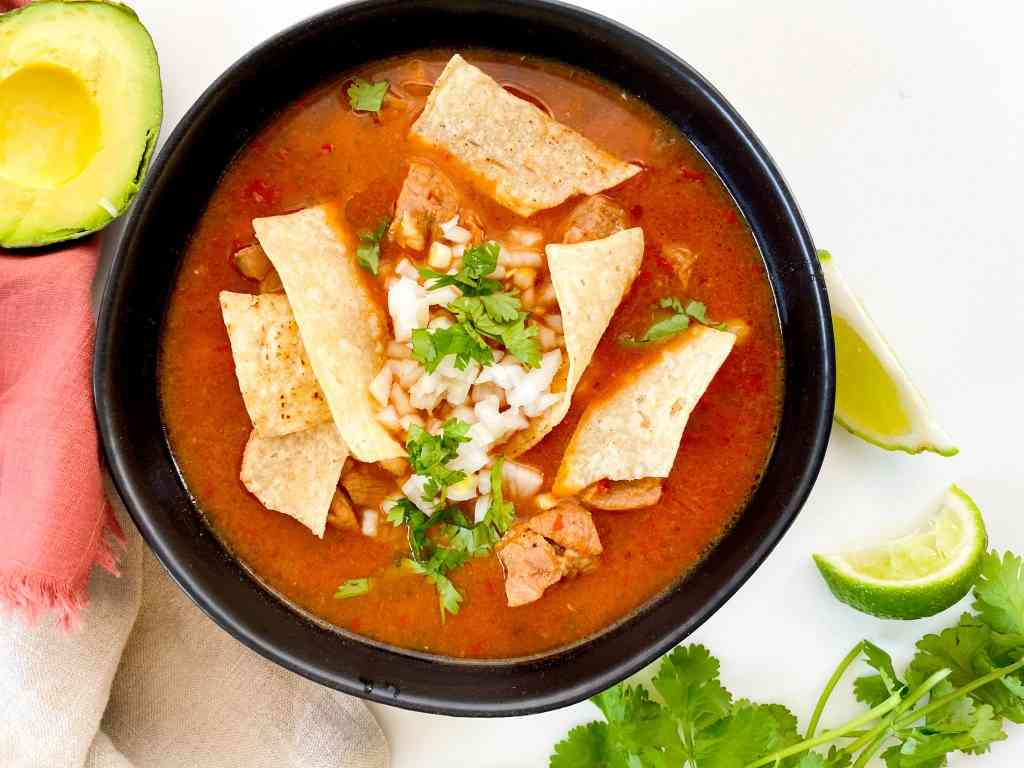 Other Mexican Inspired Dinners
Brad's Stuffed Spicy Poblano Peppers
Quick Butternut, Kale and Black Bean Quesadilla
Easy Jalapeño Popper Chicken