These overstuffed beef burrito-enchiladas are so amazing. Deliciously indulgent with so many Mexican flavors and textures, it is one of our favorite weeknight dinners right now. With a few simple ingredients, these wrap up and bake to perfection. Super easy taco-seasoned ground beef, black beans, jalapeño rice and cheese all smothered under red enchilada sauce and more cheese.
What is a Burrito?
A burrito is defined as a Mexican dish, with a tortilla wrapped around a filling.
For this dish, we use flour tortillas. We use the soft taco size, but they are large enough for a single-serving burrito, not as large as you would find in Chipotle, but bigger than a soft-taco. If you're looking for a deal, you can get a ton from Costco for I think $6.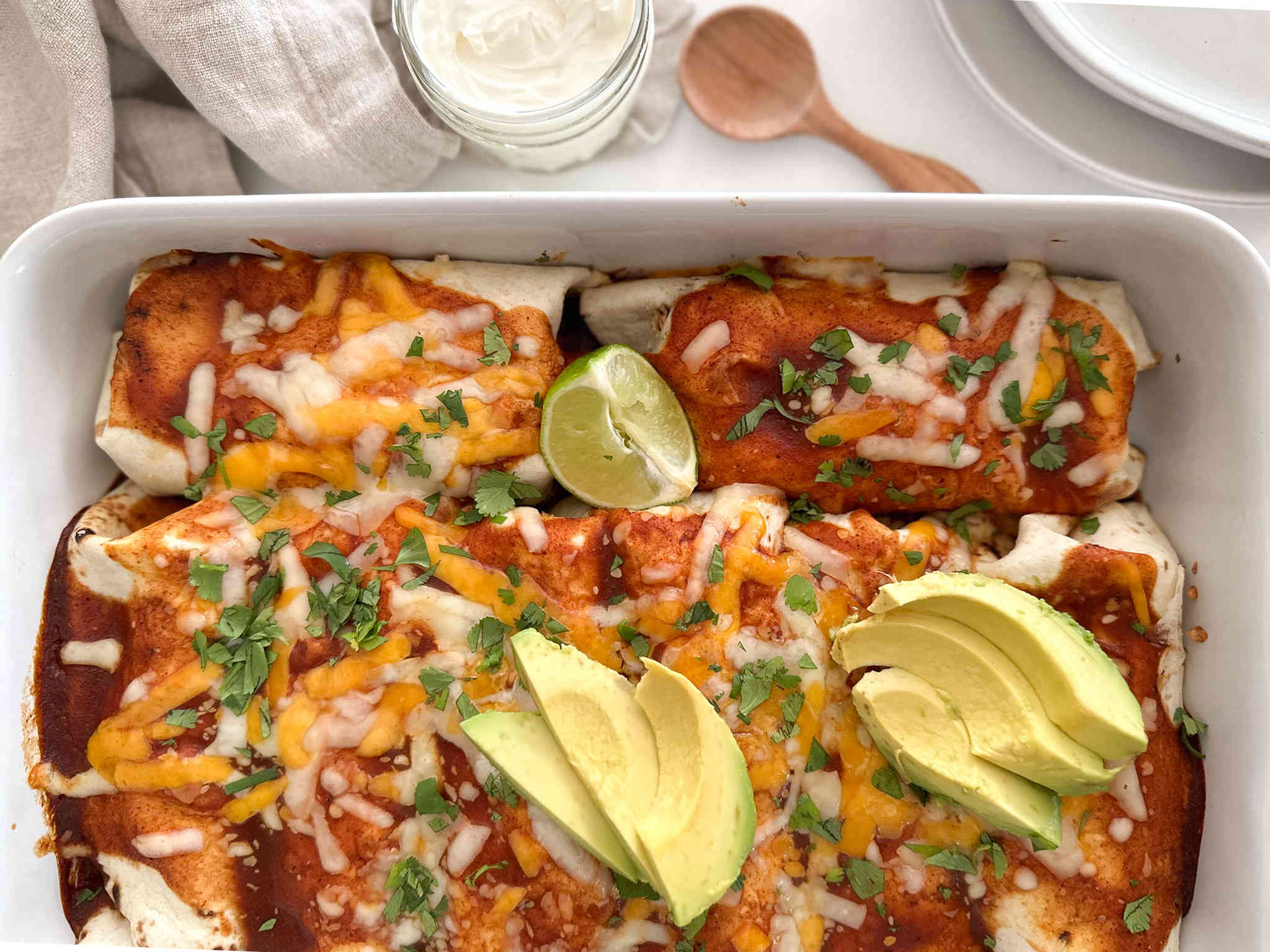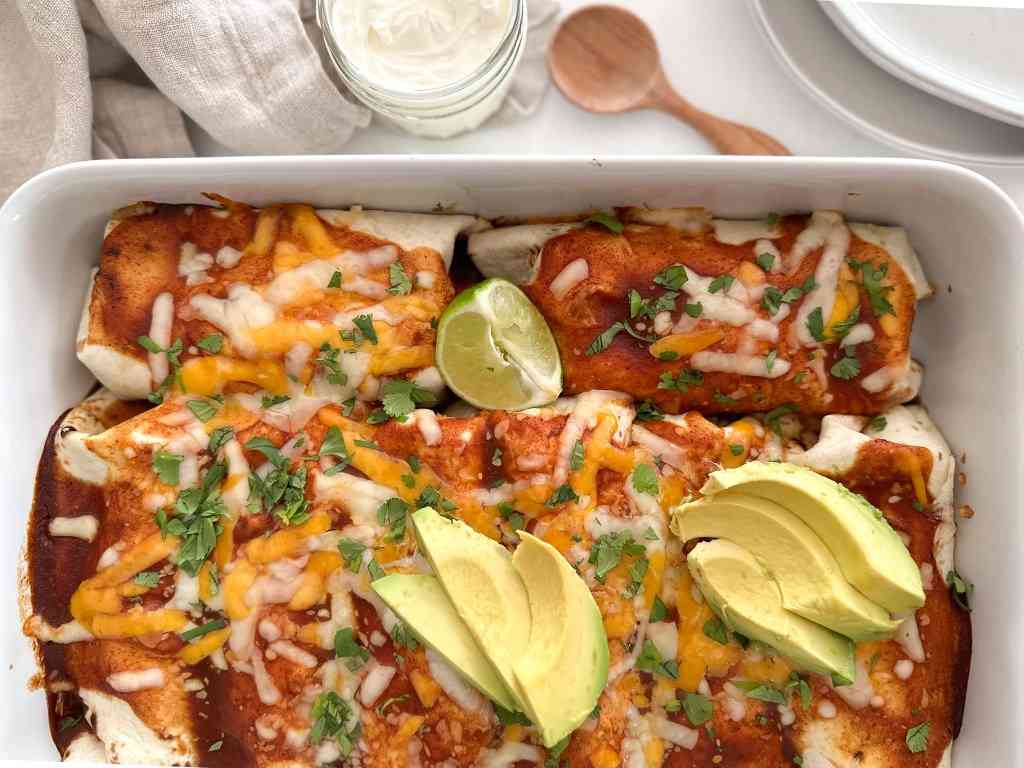 What is an Enchilada?
By definition, "Enchilar" means to season (or decorate) with chili. In Mexico this is done with a tomato-based read enchilada sauce.
You can find several difference enchilada sauces in a can or jar in the International section of your normal grocery store. We use mild flavor (mostly because of the kids). You can choose whatever spice-heat flavor you love.
The Jalapeño Cilantro-Lime Rice
Jalapeño rice is a perfect addition to these overstuffed beef burrito-enchiladas. Unlike the very popular cilantro-lime rice, jalapeño rice gives it another layer of flavor that gives these burrito-enchiladas a little spicy kick.
I made this two ways because not every grocery store is the same. To keep this easy for weeknight dinners, both ways are made with ready-to-serve microwaveable rice.
My favorite jalapeño rice is Minute Rice. It comes in three individual, single serving packages, you will need to use three of them (13oz), with a squirt of fresh lime juice. I was having hard time finding the jalapeño flavor available so I had to improvise with another microwavable rice option.
The second option is Ben's Original Ready Rice – Cilantro Lime. I used almost all of two 8.5 oz pouches. After I cooked it in the microwave, stir in a 4 oz. can of diced jalapeños to really make it delicious.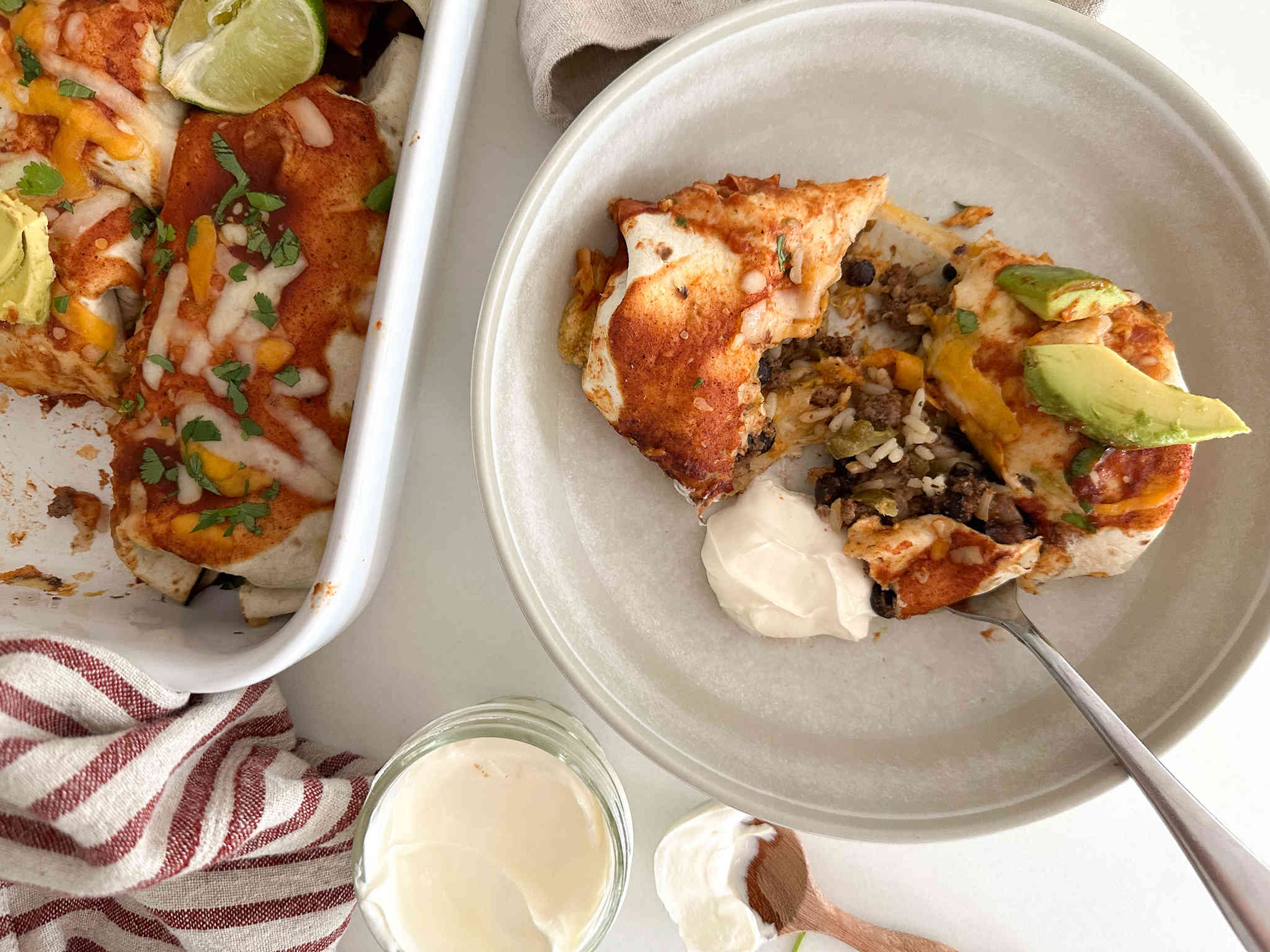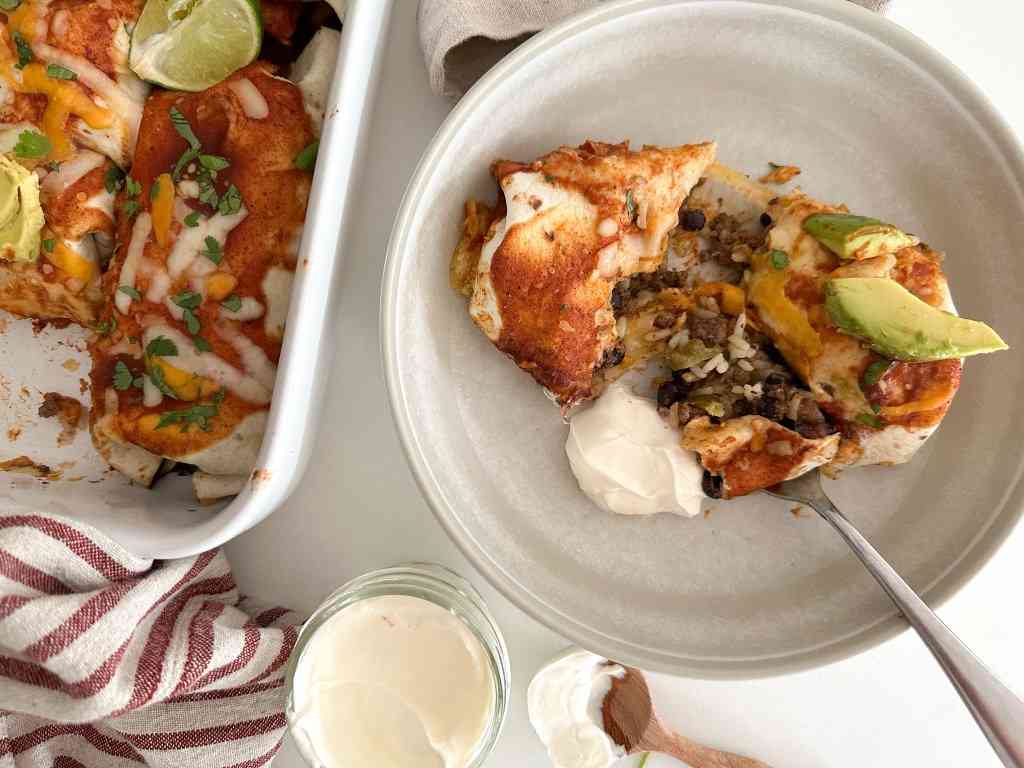 Heating up the Tortillas
Flour tortillas are key for these overstuffed beef burrito-enchiladas. There are two pros for pre-cooking flour tortillas. The first one, when tortillas are heated they are easier to fold and bend into a burrito without tearing. The second one, once the tortillas cool, they become more formed with a harder shell on the outside making them more likely to stand up to the enchilada sauce without becoming too mushy.
I actually don't mind it when the flour tortilla becomes soft and a little mushy under the enchilada sauce, so if you're like me, this can be optional.
The easiest way to cook tortillas is over a flame of a gas stove, if you have one, turn it on to medium heat and let the tortillas heat up, flip with a pair of tongs and let the other side heat up as well, you only need about 20 seconds on each side.
If you do not have a gas stove, you can use a non-stick pan to do the same. Pre-heat the pan to about medium-high, add in a flour tortilla, let it cook on one side and then using tongs, flip over. Cook about 20-30 seconds on each side.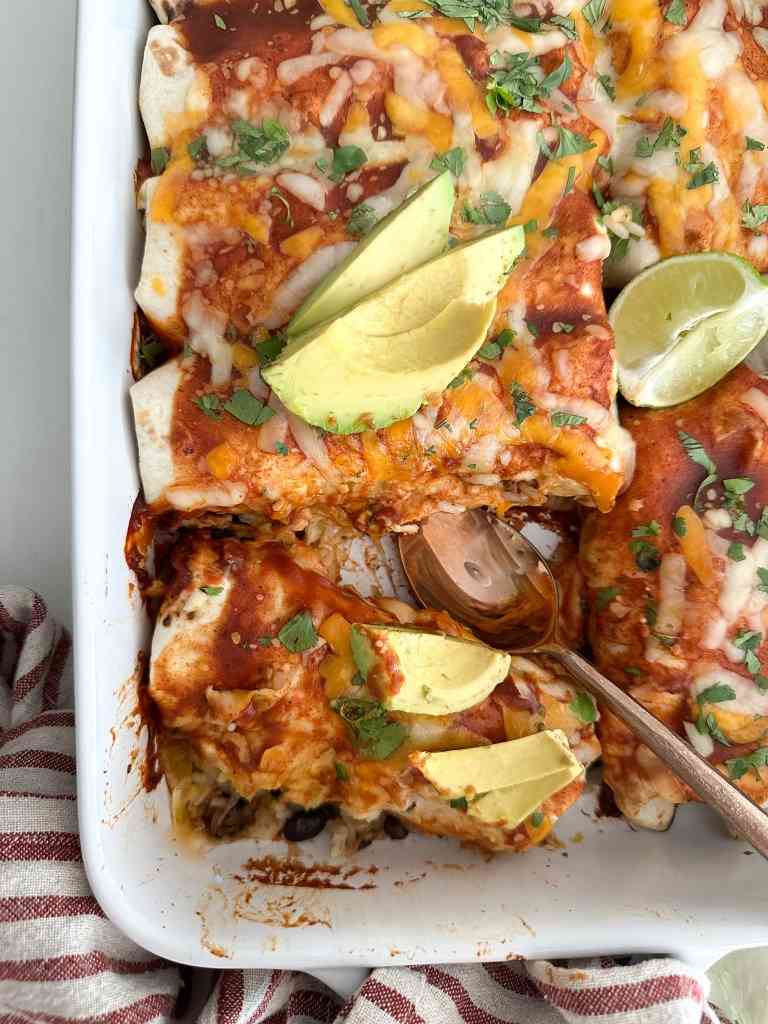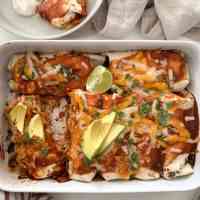 Overstuffed Beef Burrito-Enchiladas
Overstuffed beef burrito-enchiladas are amazing! Taco-seasoned ground beef, black beans, jalapeño rice and cheese covered in enchilada sauce.
Print
Email
Pin
Rate
Ingredients
1

medium

Yellow Onion - Diced

1

lb

Ground Beef

3

TBSP

Taco Seasoning or Southwest Seasoning

1

tsp

Salt

15.5

oz

Can of Black Beans - drained

12-13

oz

Jalapeño Rice

See blog notes

8

Soft Taco Burrito Flour Tortillas

8

oz

Mexican Cheese Blend

15

oz

Red Enchilada Sauce

Cilantro, lime and avocado
Instructions
Preheat the oven to 350F.

In a pan over medium heat, add the diced onion and ground beef. Add in the taco seasoning and salt. Cook until the ground beef is browned and the onion is soft. About 6-7 minutes.

Over medium heat, cook the tortillas - 30 seconds on each side.

See blog post for how to do this over a gas-stove flame or in a non-stick pan. See video for demo.

Pour a little enchilada sauce in the bottom of the 13x9 pan. Set up the assembly line for the burritos - tortillas, enchilada sauce, ground beef mixture, rice, and cheese.

In a tortilla, add a spoonful of enchilada sauce. Top that with a couple large heaping spoonfuls of ground beef mixture, rice and cheese.

Fold in the sides and tightly roll into a burrito. Place seam-side down in the prepared baking dish. Repeat for all 8 burritos.

Pour the remainder of the enchilada sauce over the top of the burrito-enchiladas and sprinkle the remainder of the cheese on top.

Cover the baking dish with foil and bake for 20 minutes. Remove the foil and bake for 10 minutes until the cheese is melted

Top with chopped cilantro, sliced avocado and lime.
Groceries Are Expensive These Days – What to do with leftover ingredients
You will use all of the ingredients in recipe! If you have leftovers and you're working from home – heat it up and add an over-easy egg on top for a brunch -lunch, it's so good.