Spring green vegetable carbonara is jammed packed with fresh green vegetables, fusilli pasta and tossed in a Parmesan-egg sauce. I topped this one with crispy prosciutto and soft creamy burrata, because why not.
This weeknight meal comes together in the same amount of time it takes to boil water and cook the pasta. The key to success is to prep all of the ingredients before you get started so that it's smooth sailing from there. You'll have dinner on the table in under 20 minutes (or less depending on how fast you can chop a few vegetables).

Choose Your Own Pasta
For this dish I used fusilli pasta. I love this pasta shape, the sauce has the ability to get caught inside of the swirly pasta.
You can also use spaghetti, bucatini, pappardelle and cavatappi are other great choices. You can also use fresh pasta, just remember that fresh pasta cooks much faster than dry pasta so plan accordingly.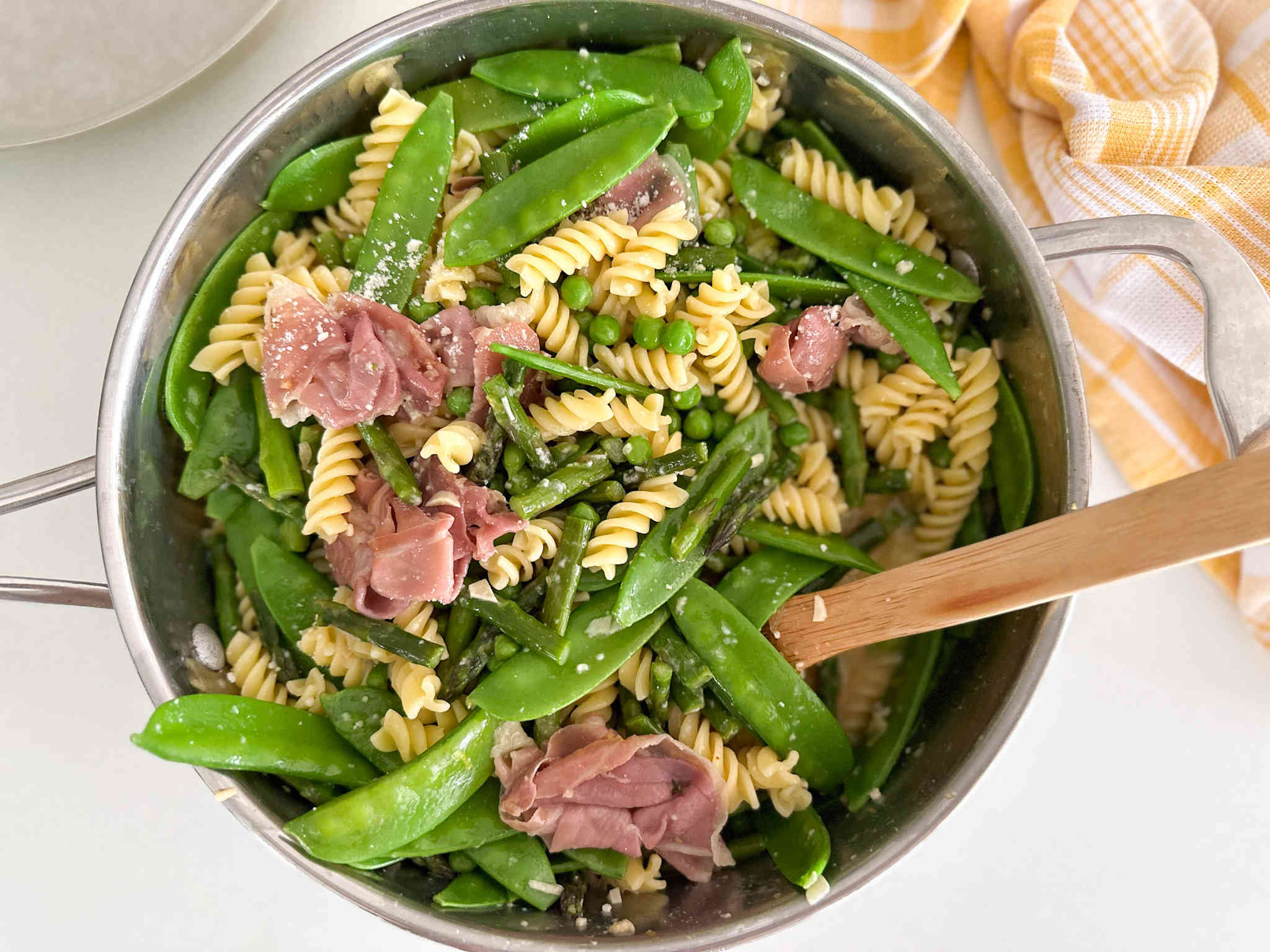 The List of Vegetables
The list is quite simple but it gives the dish a beautiful presentation and a lot of texture. They all cook quickly and easily for the ideal weeknight dinner.
Fresh Shallot – thinly sliced
Fresh Asparagus – with the top 2/3 chopped into approximately 1 inch pieces.
Fresh Snow Peas – grab a bag from the produce section
Frozen Peas – frozen peas are always so fresh because they are flash frozen on the farm when harvest. Use directly from the freezer, there is no need to defrost beforehand.
Keep it Vegetarian
Simply skip the prosciutto. In the recipe below, substitute the prosciutto with 1 TBSP of olive oil. Easy peasy.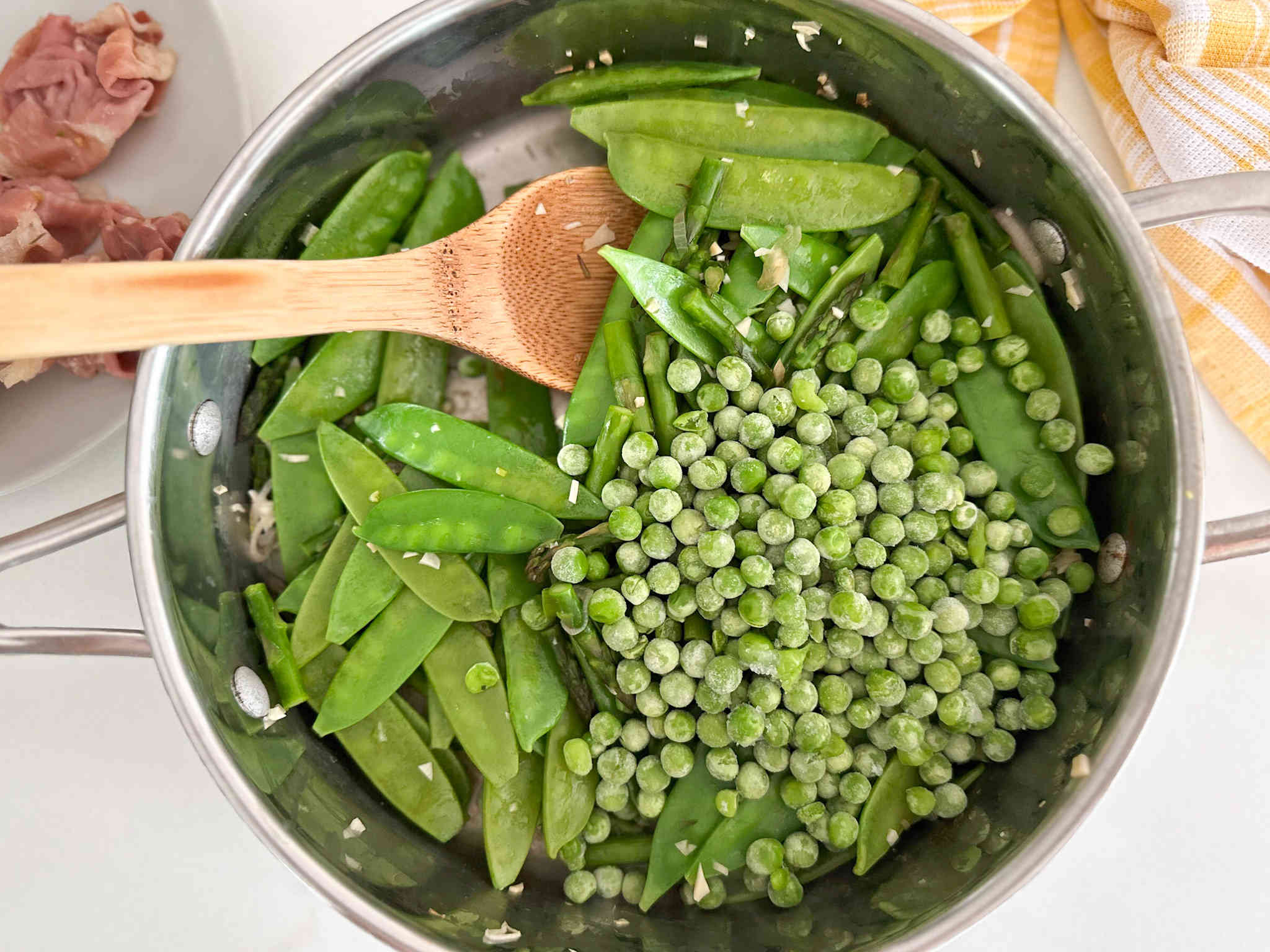 How to Make the Parmesan-Egg Sauce (what makes it a carbonara)
The key is to avoid scrambled eggs. In whisk together the eggs, add the Parmesan cheese, salt and black pepper. Then using 1/4 cup of the reserved hot pasta water, slowly pour that into the egg mixture while vigorously whisking until combined.  Keep the other 1/4 cup of reserved hot pasta water because you may want to add it to the dish if you need more sauce once you toss it all together in the pan.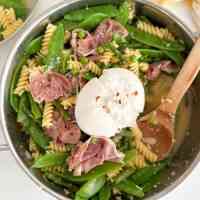 Spring Green Vegetable Carbonara with Crispy Prosciutto
Spring green vegetable carbonara is a jammed packed with fresh green vegetables, fusilli pasta and tossed in a Parmesan-egg sauce, topped with crispy prosciutto and soft creamy burrata.
This weeknight meal comes together in less than 20 minutes.
Print
Email
Pin
Rate
Ingredients
8

oz

Fusilli Pasta

1

Shallot - thinly sliced

3

oz

Prosciutto

Asparagus - with the top ¾ of the stalks cut into 1 inch pieces

(about ⅔ of one pre-wrapped rubber band bunch from the grocery store)

4

cloves

Garlic - minced

8

oz

Snow Peas

3

Eggs

½

cup

Fresh Parmesan Cheese - grated

¼

tsp

Pepper

½

cup

Reserved Hot Pasta Water - divided

½

Lemon - zested

1

cup

Frozen Peas

Garnish with burrata and red pepper flakes
Instructions
On the stove, start the large pot of water for the pasta. Make sure the pasta water is salted (at least 1 TBSP). Over high heat, start to bring up to a boil.

It's okay if it starts to boil before your are ready, just let it continue to boil, add more water if necessary.

In a large pan with high edges, over medium heat, add the shallot, prosciutto, and asparagus. Let the shallot sweat, prosciutto become crispy and the asparagus start to cook. About 5 minutes.

Drop the pasta into your boiling water. Cook the pasta accordingly to the instruction on the box.

In the pan with the asparagus, remove the crispy prosciutto and set aside. Add in the garlic and snow peas. Let asparagus continue to cook until fork-tender and the snow peas cook, tossing occasionally. About 2-3 minutes.

As that cooks, in a bowl, whisk together your eggs, Parmesan cheese and black pepper until combined. Slowly pour in ¼ of the hot pasta water into the mixture as you continue to whisk vigorously (this will help prevent scrambling the eggs). Set aside.

In the pan with the asparagus and snow peas, add in the lemon zest and frozen peas. Add in your cooked pasta and toss to combine. Reduce the heat to low-medium and pour in your prepared egg mixture. Toss so that the sauce covers the pasta and vegetables. Cook for about 2-3 minutes. If necessary, add in the other ¼ cup of reserved pasta water.
Groceries Are Expensive These Days – What to do with leftover ingredients
With this Spring Green Vegetable Carbonara, you may have a few leftover ingredients.
Depending on the pasta you buy, you may only use half of the box. If you don't want to save it in the pantry – indefinitely. Here are a few recipes so you can have a plan.
If you have left over prosciutto you can make up a quick charcuterie and cheese board for a fun easy weeknight dinner outside on the patio. Here are a few other ideas too!
Peas – if you have left over peas, this pea pesto salmon is a great spring/summer weeknight dinner.