Summer is officially here! Grilled pizza is a great fun way to make dinner and enjoy those longer summer nights! Fun, quick and easy to throw together after a busy day of summer camps, swimming or even after work, especially this spinach and artichoke pizza.
Spinach and artichoke are hashtag couple goals. They bring out the best in each other and I decided to set them up with pizza – a match made in heaven!
This pizza is light and tastes like summertime. The fresh spinach and ripe tomatoes pair perfectly with the tangy marinated artichokes. I did not add any meat, however you could add prosciutto to make this extra delicious.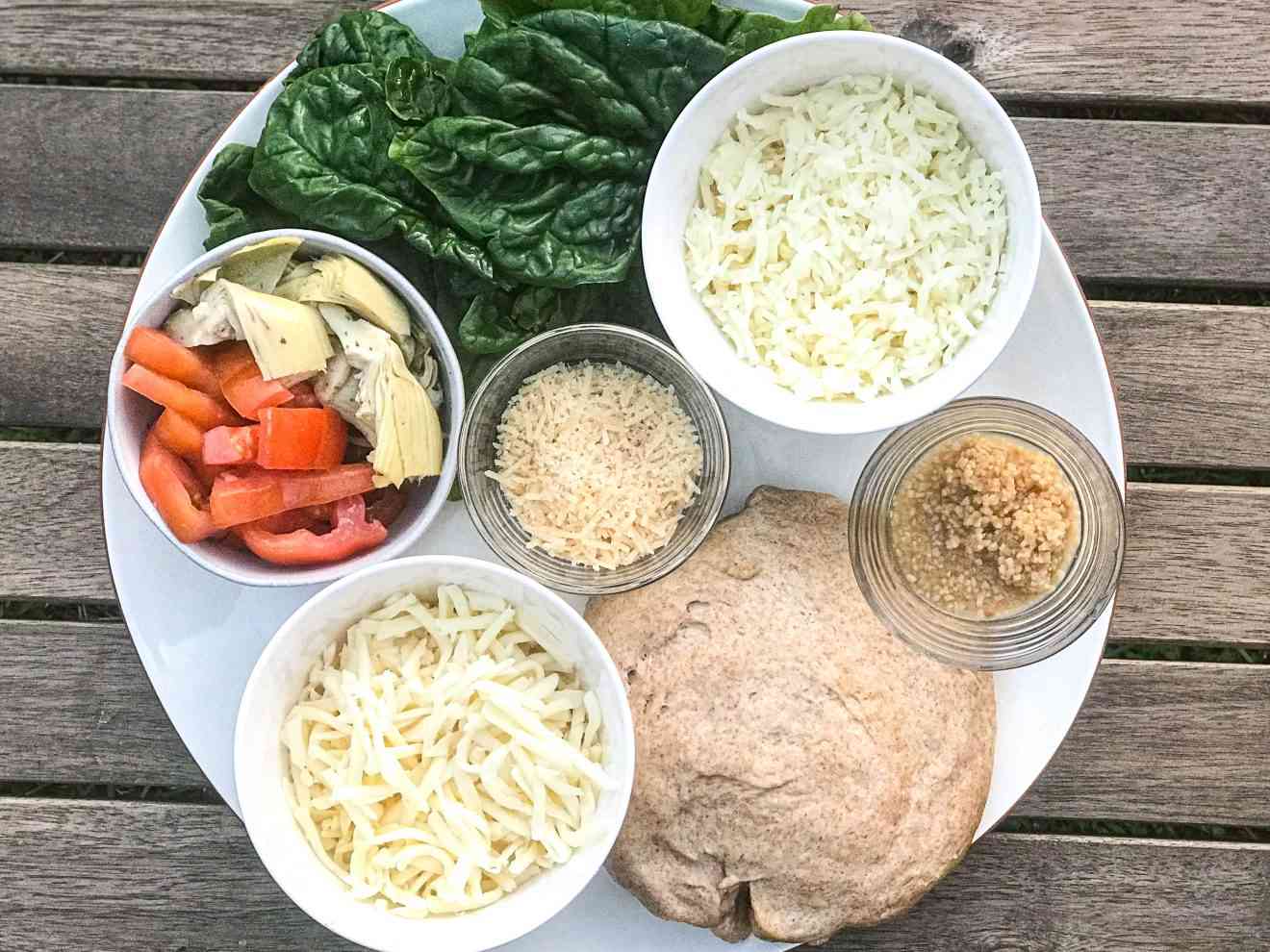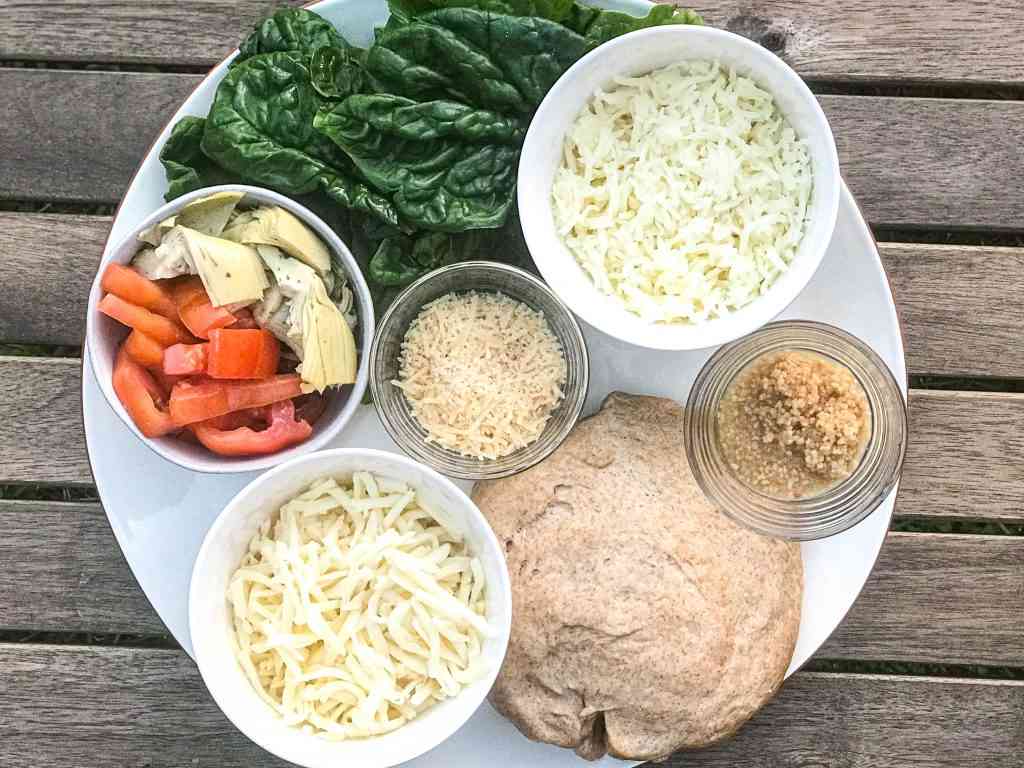 Keep it simple: Spinach & Artichoke Pizza
Before firing up the grill (or while it's heating up), you want to make sure you prepare all of your ingredients so that they are ready to go. Once you put the dough on the hot grill the cooking process will go very quickly so you want to be prepared.
Pizza Crust: I used my whole wheat crust because it's my absolute favorite, you can also use my classic pizza crust.

If you use store bought dough, make sure you grab the pizza dough that looks like a ball of dough, it's usually in a bag. In my store, it's near the deli area. Canned pizza dough will not hold up on the grill.

If your dough is coming out of the refrigerator, let your dough sit out on the counter for about 20-30 minutes. This will make it easier to roll out and keep it's shape.
Spinach: You can use regular or baby spinach leaves, just make sure to trim the stems. Wash and dry your spinach.
Cheeses: Made sure they are all shredded and ready to go! I used pre-shredded mozzarella and parmesan cheese. Fresh cheese off the block is always better, but if you need something easy, already shredded cheese works well for this. If you get fresh mozzarella it will give a creamier texture when melted.
Marinated Artichoke Quarters: They come in a jar usually near canned vegetables. I get the marinated ones because they are already seasoned and delicious right out of the jar.
Garlic: I think you already know that I "cheat" with garlic unless it makes sense not too. I buy a large jar of already minced garlic to make life easier. Feel free to do the same – there will be no judgement from me.
Tomato: Use whatever you like, heirloom or a regular red vine, either way the tomato adds a freshness to the pizza, keeping it light. When you get a bite of spinach, artichoke and tomato together it's the perfect trifecta.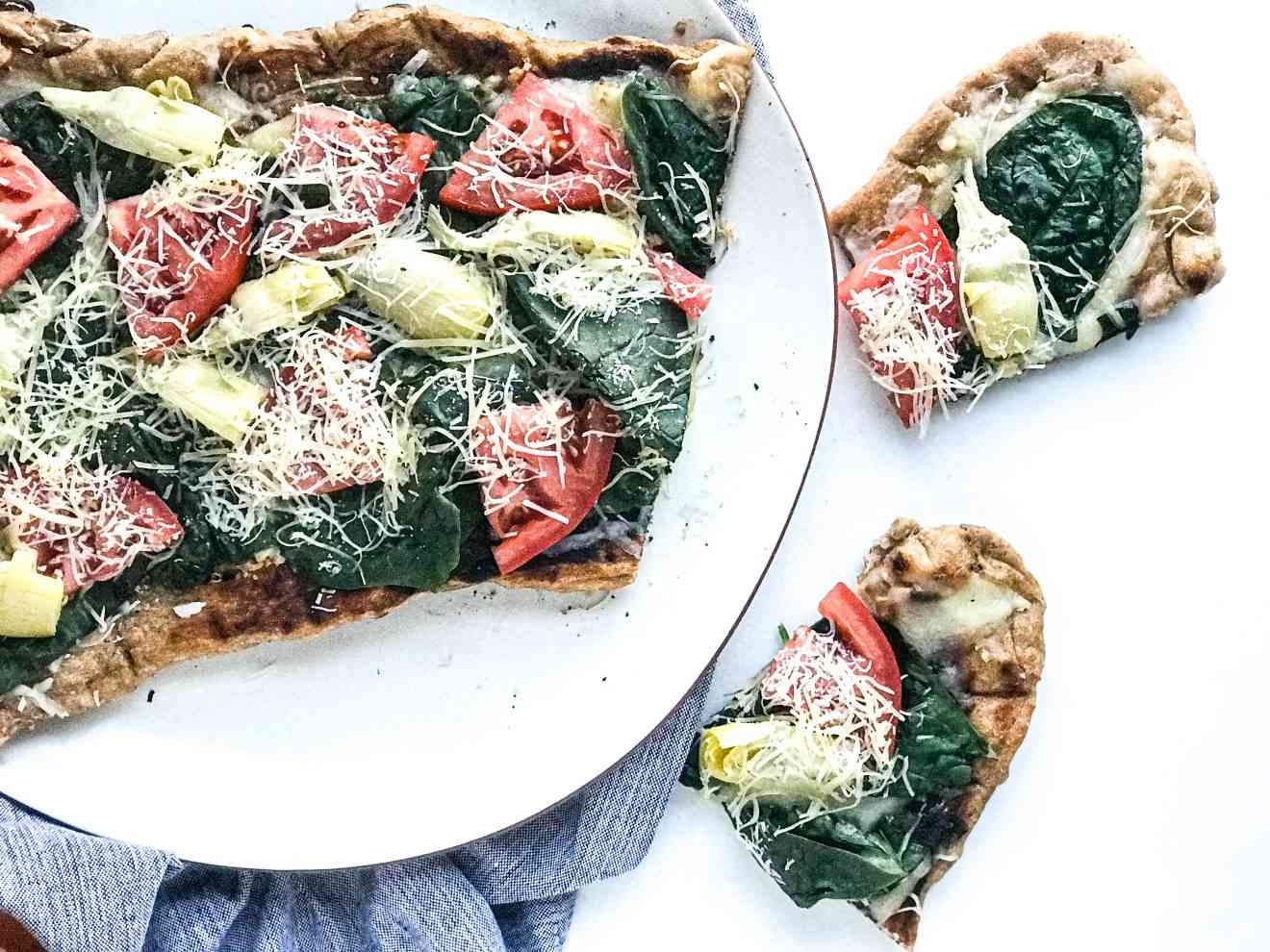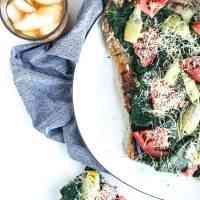 Spinach & Artichoke Grilled Pizza
Spinach and artichoke pizza is light and tastes like summertime. The fresh spinach and ripe tomatoes pair perfectly with the tangy marinated artichokes.
Print
Email
Pin
Rate
Ingredients
1

Pizza Dough

(see links above for recipe options)

Drizzle

Olive Oil

2

TBSP

Minced Garlic

(approx. 3-4 cloves)

1

cup

Shredded Fontina Cheese

(approx. 4oz)

1

cup

Shredded Mozzarella Cheese

¼

cup

Shredded Parmesan Cheese

1

bunch

Spinach Leaves

3.7

oz

Marinated Artichoke Hearts – quartered

1

medium

Tomato – sliced
Instructions
Prepare all of your ingredients and heat up your grill.

Roll out your pizza dough. After rolling, I like to toss it around in my hands until it's about ¼ inch thick and is more rustic in shape. Drizzle with a little olive oil.

When your grill is hot and ready, place your dough olive oil side down. Drizzle the top-up side with olive oil.

When your dough starts to puff up (about 2 minutes), take a pair of tongs or a grill spatula and flip the dough over – you'll see nice grill marks!

Once the bottom of the dough starts to crust (about 1-2 minutes) take off the grill.

Top the pizza with your toppings: garlic, cheese, spinach, artichokes and tomatoes.

Put the pizza back onto the grill. Place it on a spot that does not get direct heat to help prevent the bottom from burning. Close the top to let the cheese melt and the toppings warm up (about 1-2 minutes).