Brad's spicy stuffed poblano peppers is one of his specialties and always on rotation in our house. Stuffed poblano peppers with salsa-cooked shredded chicken, onions and cheese, I mean how can you go wrong? He has been making this dish for so many years now, and I'm so excited to share it with you. 

My husband was born and raised in Southern California and has rightfully claimed anything with a Mexican flare his territory, who am I to argue? His recipes just hit the spot and are so satisfying after a busy work day or for a leisure weekend feast complete with an ice cold margarita.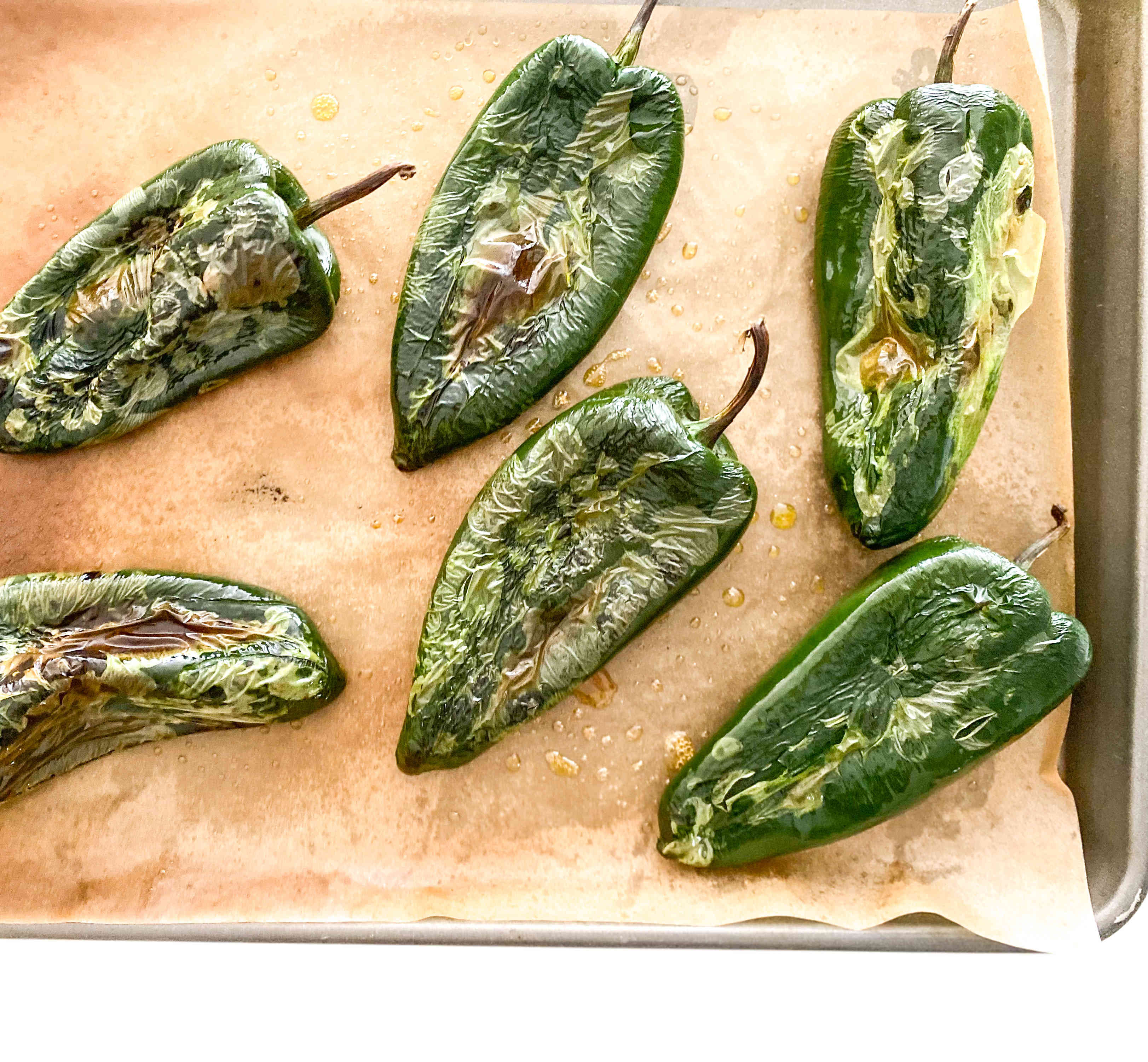 Blistered Poblano Peppers.
Blistering the peppers is key. The process makes them more edible because the peppers cook and become more soft for a better bite. Also and arguably more important, blistering of the poblano peppers develops an irresistible char flavor.

It take about 20 minutes to get the blister when you use your broiler, once they are cool enough to handle, you will pull away the outer later to show off the deep green color and expose the unique deliciousness of the poblano pepper. 
Salsa Chicken.
This hack is all over the internet by now, we started doing it 10 years ago when we were still dating and trying to impress each other with our cooking skills, pre-culinary school times.

Here's the deal, all you need to do is grab your chicken and a jar of your favorite salsa, dump it into a crockpot and let it cook all day while you work or do other things. 

We leveled it up and you can too if you have an instant pot/pressure cooker – grab your favorite salsa and your chicken and pressure cook it. Not only do the flavors infuse themselves into the chicken for an undeniably better flavor, your chicken is done cooking in 15 minutes, so you do have to think about what is for dinner before breakfast. Best of all – you can cook your chicken from frozen in the instant pot/pressure cooker making it really ideal for those days when you lose track of dinner time. 

Shredded Salsa Chicken – Another hack that is currently very popular, shred your chicken using a stand mixer and paddle attachement. It's so simple! Place your cooked salsa chicken in the bowl, do not include the left over salsa in your crockpot/pressure cooker and slowing mix with the paddle attachement. The chicken will instantly shred to perfection. Be careful not to over mix because it will become chewy if it's over-worked.  
You will most likely end up with leftover shredded chicken after you stuff your poblano peppers, it's perfect for left over tacos, nachos, quesadillas.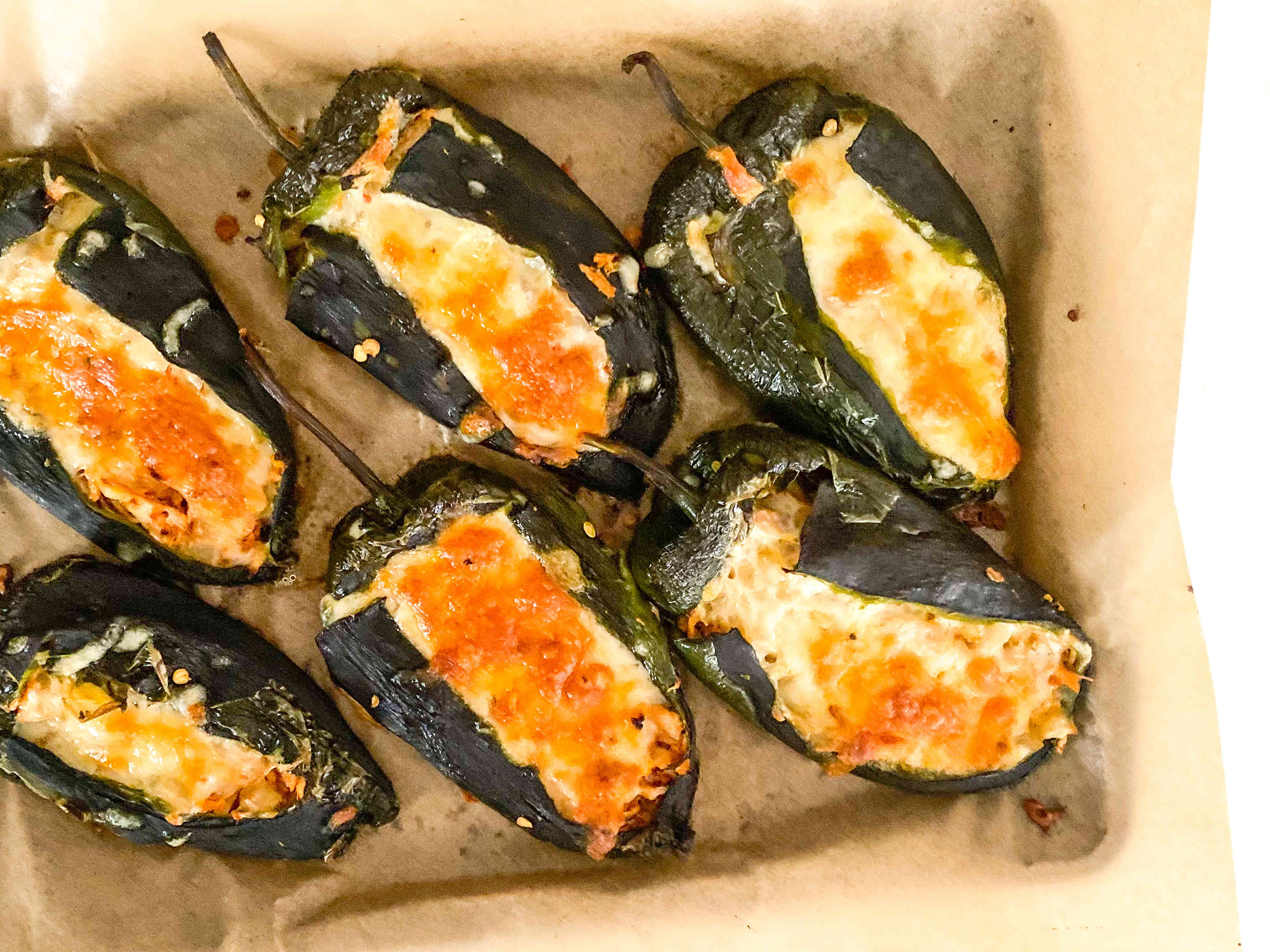 Go all in with a side of Rice and Beans. 
We always include a side of rice and beans with this meal to complete the dish. We used include the rice inside of then poblano peppers, which is a great "all-packaged" deal but we found that we like more chicken and cheese to our pepper.

There are several different recipes for rice we have used over the years, and it of course just depends on the night and how invested we are in the meal.

Back in the heyday, thanks to my sister-in-law and brother-in-law we would stock up on seasoning packets they brought home to us from Mexico but our stash has run dry. So we now use this Cilantro-Lime Rice recipe, but if I'm being completely honest, we usually do not have cilantro on hand until it grows in the garden so we usually skip the cilantro and lime and add 2 more tsps of garlic salt. 

I also fully 100% support using the boxed version.

You do you.

Cilantro-Lime Rice
1 TBSP of Olive Oil
1 cup of White Rice
2 tsp of Garlic Salt 
2 1/4 cup of Water
1/3 cup of Fresh Lime Juice
2 TBSP of Chopped Cilantro -loosely packed. 
In a large pan, over medium heat, add in your 1 TBSP olive oil. Once the olive oil is warm, add in your white rice. Toast your rice for 3-5 minutes.  Add in your 2 tsp of garlic salt while the rice is toasting.

Add in the water, and bring it up to a boil.

Turn your heat down to a low simmer, cover your pan and let the rice cook for 15 minutes.

After 15 minutes, stir your rice and add in the fresh lime juice.

Cook another 5 minutes or so, the water should be completely dissolved.

Take off the heat, fluff up with a spoon and sprinkle in your chopped cilantro.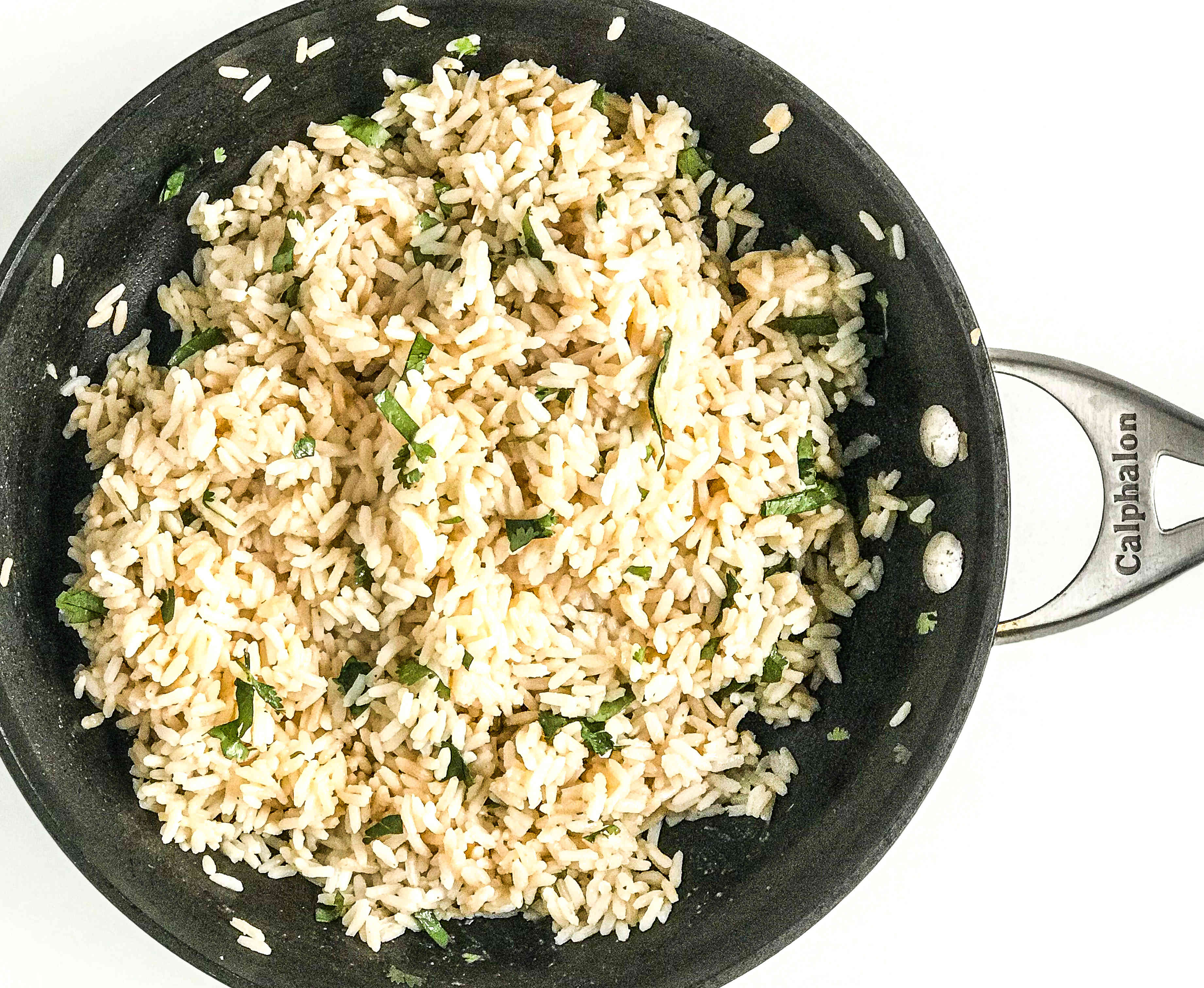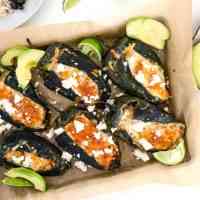 Brad's Mexican Style Stuffed Poblano Peppers
My husband also cooks and his spicy stuffed poblano peppers are addicting! They are hands-down one of my favorites.
Print
Email
Pin
Rate
Ingredients
½

lb

Chicken Breast

you can make more for leftover salsa chicken, see blog notes.

12

oz

Red Chipotle Salsa

6

Poblano Peppers

3

TBSP

Olive Oil

divided

1

medium-large

Onion - diced

½

tsp

Salt

8

oz

Pepper Jack Cheese - shredded off the block
Garnishes
Crumbled Queso Fresco

Sliced Avocado

A dollop of Sour Cream

Chopped Cilantro
Instructions
In a crockpot or pressure cooker - add your chicken and cover with your red chipotle salsa.

Crockpot- cook on high 4-5 hours until the chicken is fully cooked.

Pressure cooker - pressure cook for 9 minutes, make sure the valve is sealed, allow for it to naturally release.

Frozen chicken in a pressure cooker - pressure cook for 11 minutes, make sure the valve is sealed and allow for it to naturally release

Please note that there are a lot of steps but they can be done in the order that best fits your schedule/timeline depending on how you're cooking your salsa chicken. Please read through the steps before starting.

While the chicken in cooking, you will want to prepare your poblano peppers, rinse and lightly coat your peppers in olive oil, making sure the entire surface area is covered. 

Lay them out on your sheet pan and broil for 5-10 minutes, on each side, until they blister.

*You can also do this step over the gas flame of your stove. Using tongs, carefully hold over the flame until they start to blister. 

Put them in a bowl and cover. Place in your refrigerator to cool.

Peeling the blistered outer layer skin off your poblano peppers, you should be able to grab and slowly pull most of the skin should come off in one sheet.

Once the skin is peeled off, you will want to remove the seeds. The more seeds you leave behind, the spicer it will be. Poblano peppers have a different spice than jalapeños so I suggest removing as much as you can.

Carefully cut down the center of the pepper, cut below the the seed rib and pull out, you should be able to pull the seed out attached to the rib.

You can also use a tsp spoon to scrape them out.

You can do this while your peppers cool to save prep time, sauté your onion. In a pan, over medium heat, add a 1 TBSP of olive oil and a pinch of salt. Cook until they are translucent and soft about 5 minutes.

Shred the chicken.

See the blog notes for how to do this using a stand mixer with a paddle attachment.

Preheat your oven to 350F. And line a sheet pan with parchment paper.

Stuff your peppers, a layer of chicken, onion and topped with shredded pepper jack cheese. Lay on your prepared sheet pan.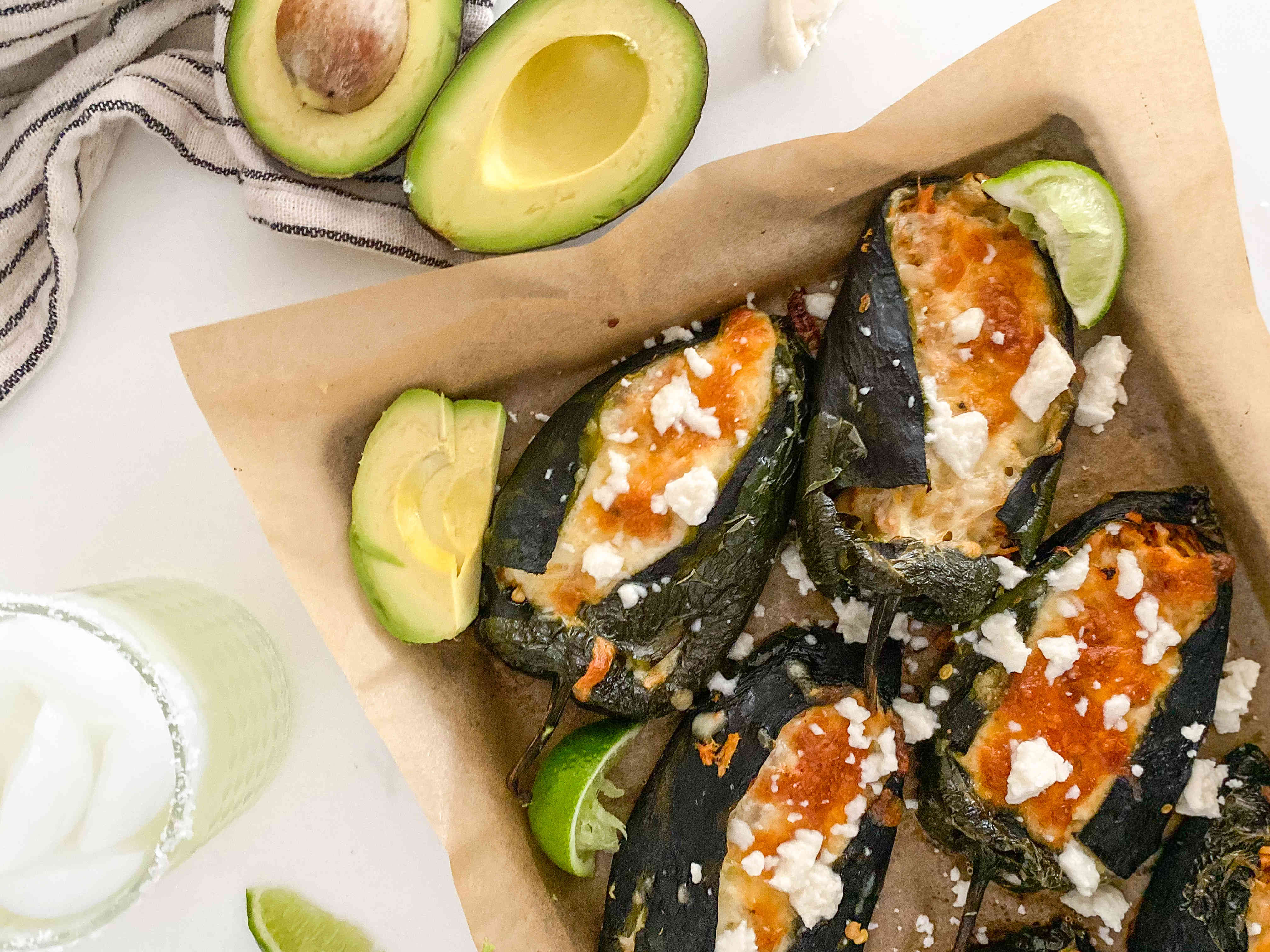 Not to steal Brad's thunder, but if you're looking for another great weeknight casserole dinner my jalapeño popper chicken casserole.