Nothing beats a warm fried hand held empanada overstuffed with creamy buffalo chicken dip. I have a very healthy obsession with all things buffalo chicken, wings, wraps, dips and now these empanadas are currently my everything.

Buffalo Chicken Dip Empanadas with Whipped Blue Cheese & Honey
You may be thinking that this is a crazy idea, I'll admit I wasn't sure how it would turn out but oh my goodness it's irresistibly addicting – it has everything, it's sweet, spicy, salty, creamy and crunchy, it is perfection. The spicy tangy flavors of the buffalo chicken dipped into a salty and sweet whipped blue cheese is the ultimate flavor-punch-bite. These are made to share, but it will be incredibly hard, I just can't get enough.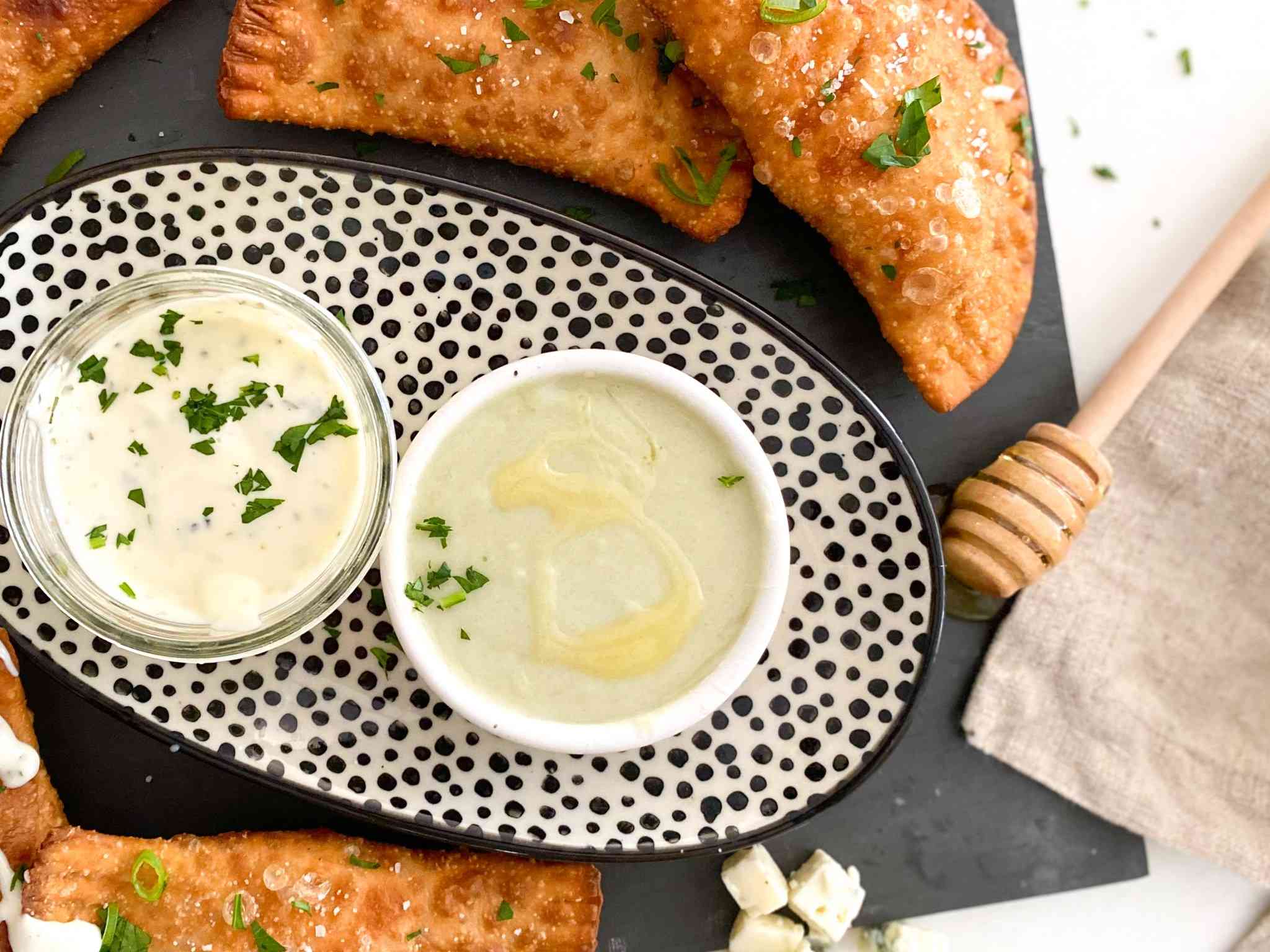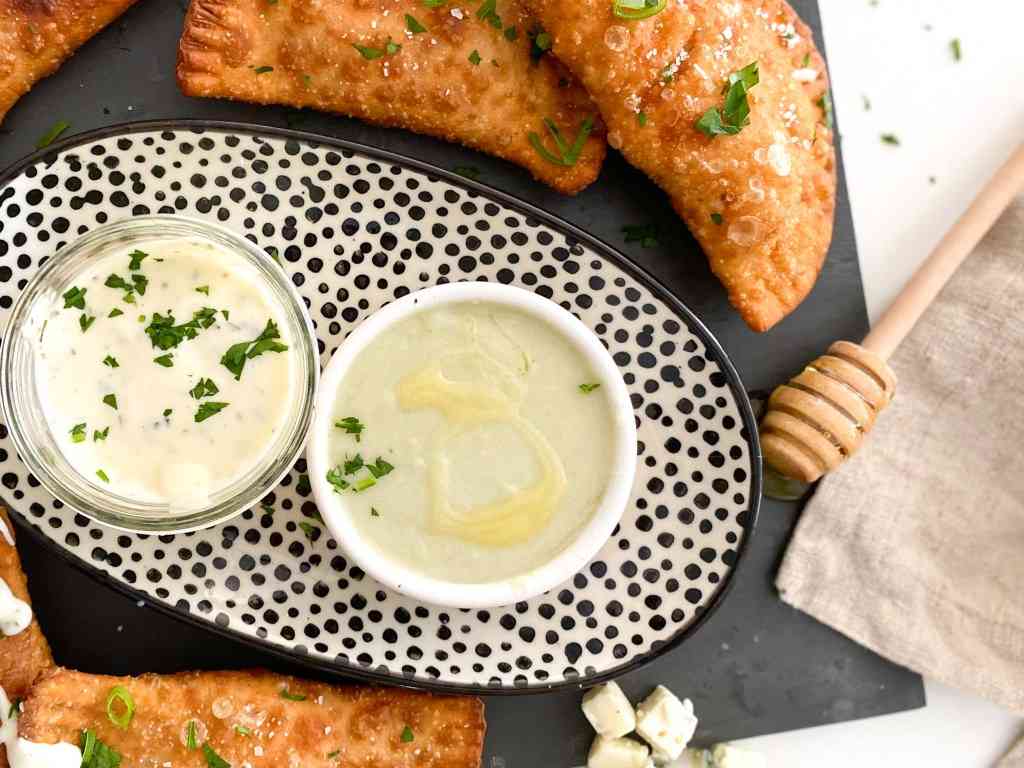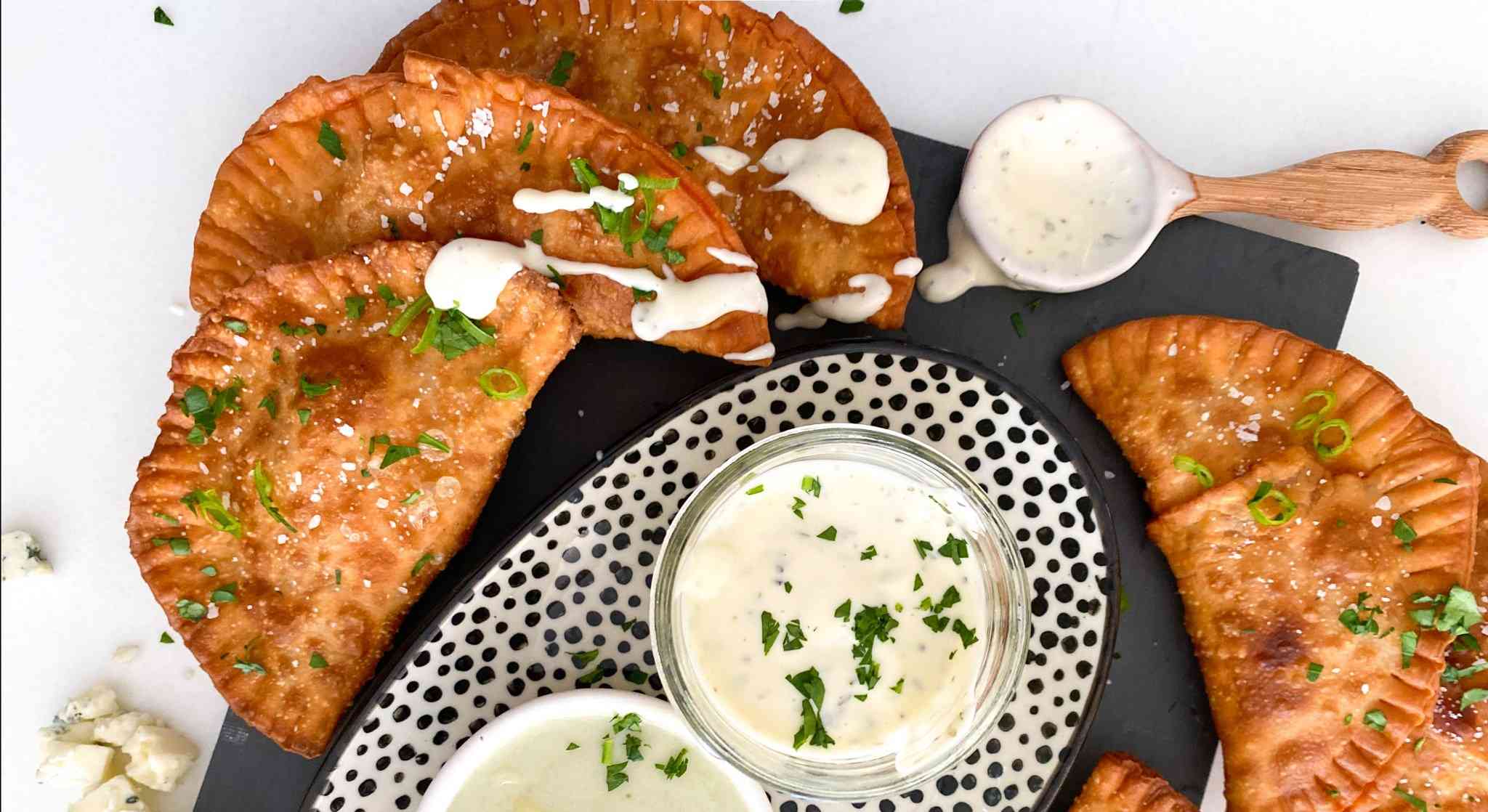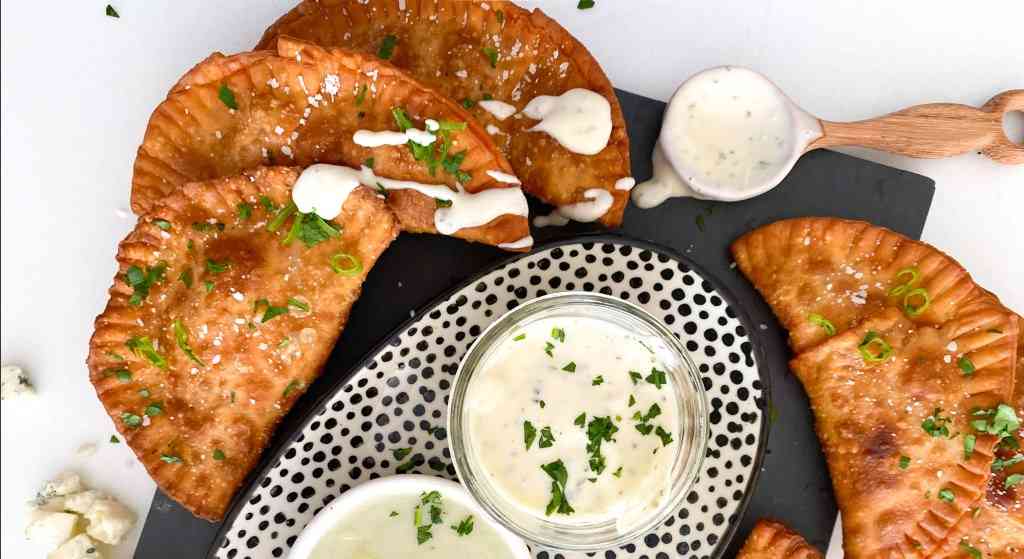 Frying your Buffalo Chicken Dip Empanadas
It may seem intimidating to oil-fry something in the pan, and I completely understand the hesitation, but once you do it, it becomes less-scary over time. And these empanadas are a good entry level introduction. If you want to try more fried-recipes, these are also great to make – swoon-worthy onion rings and fried green tomatoes.
It's best to use canola oil because it has a high-temperature smoking point which means it is easier to heat up to 375F without it burning or smoking.
The idea is to keep the oil as close to 375F as possible because if the temperature is too low, it will take too long for your empanada to fry giving it more time to soak up the oil and become greasy. If the temperature is too hot, you risk burning your empanada or pulling it out before it's crispy and hot all the way through. It's ideal to use a thermometer in the pan.
Once the temperature reaches 375F, slowly add in a few empanadas, not to overcrowd the pan. You will notice the temperature drop a few degrees, when you add a batch of uncooked empanadas, this is to be expected. When you remove your hot buffalo chicken empanadas from the oil, place on a rack and sprinkle with salt. In the pan, let the oil temperature come back up to 375F before doing the next round.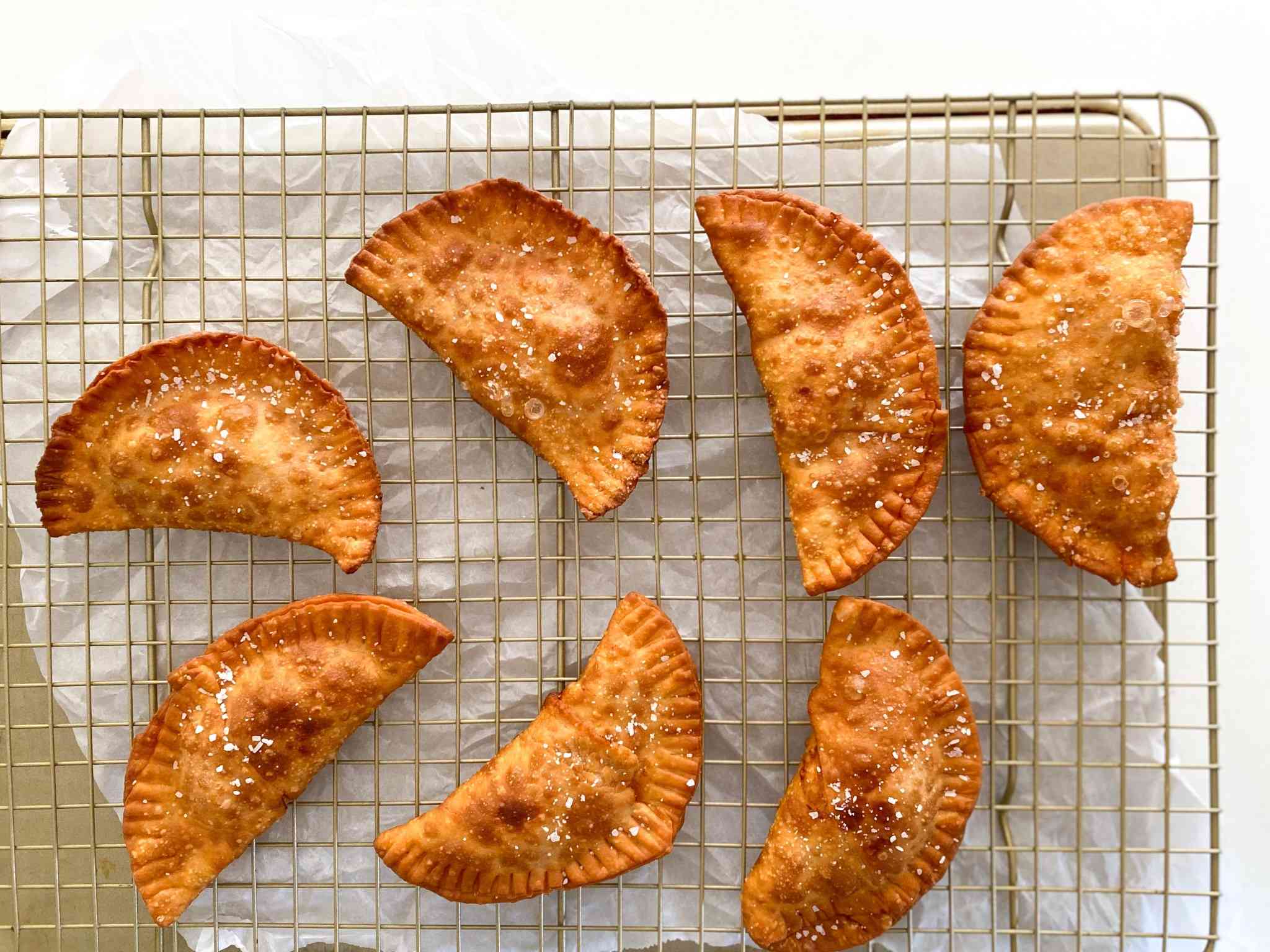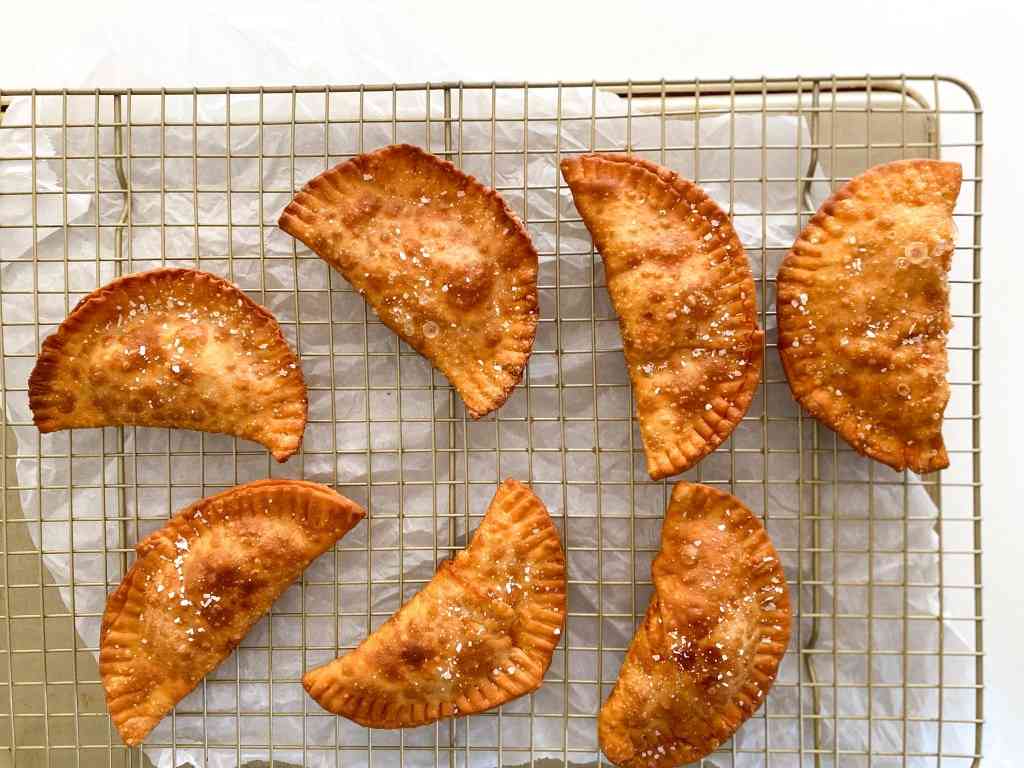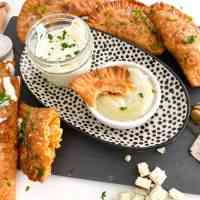 Easy Buffalo Chicken Dip Empanadas (with a whipped blue cheese and honey)
Gooey buffalo chicken filling inside of a crispy warm empanada shell dipped into a tangy and sweet whipped blue cheese and honey dip has the most enjoyable bite. The ideal for entertaining.
Print
Email
Pin
Rate
Ingredients
10

oz

Can of Cooked White Chicken – drained

½

cup

Shredded Cheddar Cheese

½

cup

Buffalo Sauce

2

TBSP

Ranch Dressing

10

Frozen Empanada Dough Discs – defrosted

The packaging may indicate "frying" dough or "baking" dough choose "frying" if available.

24

oz

Canola Oil
Whipped Blue Cheese and Honey
⅓

cup

Blue Cheese Crumbles

1

TBSP

Honey

1

TBSP

Milk
Instructions
Make the Whipped Blue Cheese and Honey. In a food processor or blender add your blue cheese crumbles, honey and milk. Blend until creamy. You may have to stop and use a spatula to scrape down the sides once or twice. Place in a small bowl and set aside.

In a bowl, add your chicken and break apart with a fork until shredded.

Add your cheddar cheese, buffalo sauce, and ranch to the chicken and stir until evenly combined.

Lay out an empanada dough-disc and place a spoonful of filling in the middle. Fold over and using a fork, press the edges of the dough together to seal it closed. Make sure not to over fill, you do not want the filling to leak through.

Do this for all 10 empanadas.

See video for demo.

In a deep pan, pour your canola oil into the pan and heat over medium high heat until it reaches 375F.

Add in a few empanadas, not to over crowd the pan, they should not touch. Cook until golden brown, about 2-3 minutes on each side.

Remove and place on a wire rack. Immediately top with a sprinkle of salt.

See video/blog post for more tips!