It's time to change up pizza night with this white pizza that is total FALL VIBES. Fig, gorgonzola and crispy prosciutto are the perfect match. This pizza is warm, creamy, tangy, sweet and savory, all of those favorite flavors all in one place and I'm totally here for it and you should be too!
Let's talk about the cheese because I feel like most people will shy away before giving it the second chance it deserves…gorgonzola is a stinky blue cheese that is creamy and rich in tangy savory flavors that push your taste buds to their boundary and it's so worth it – you may have also heard about the 5th flavor palate called umami, it's that, the unexplainable yet undeniable satisfaction when you take a bite. If you think you don't like it, give it a try with these sweet figs, the combination is a total yin to yang experience.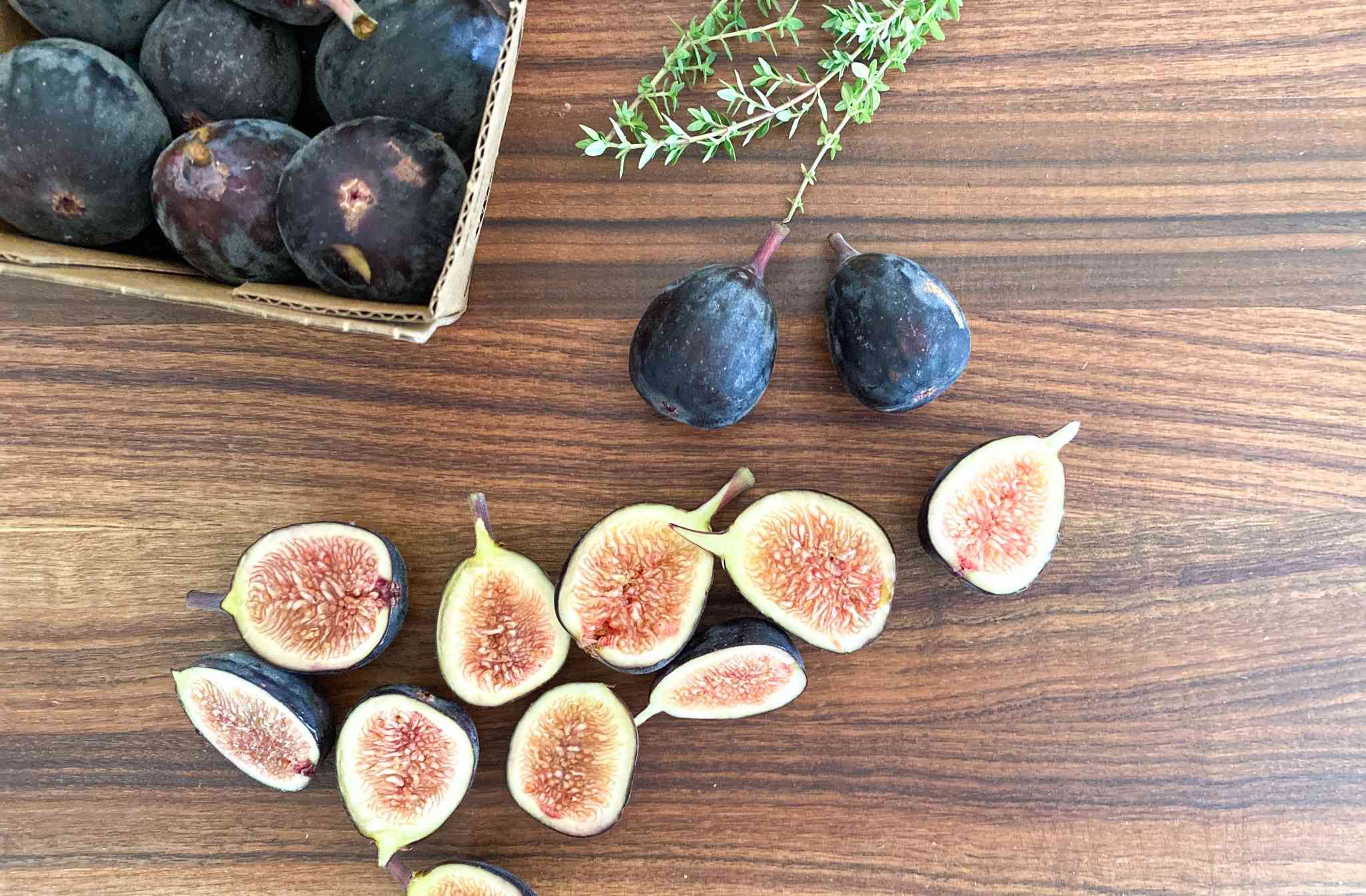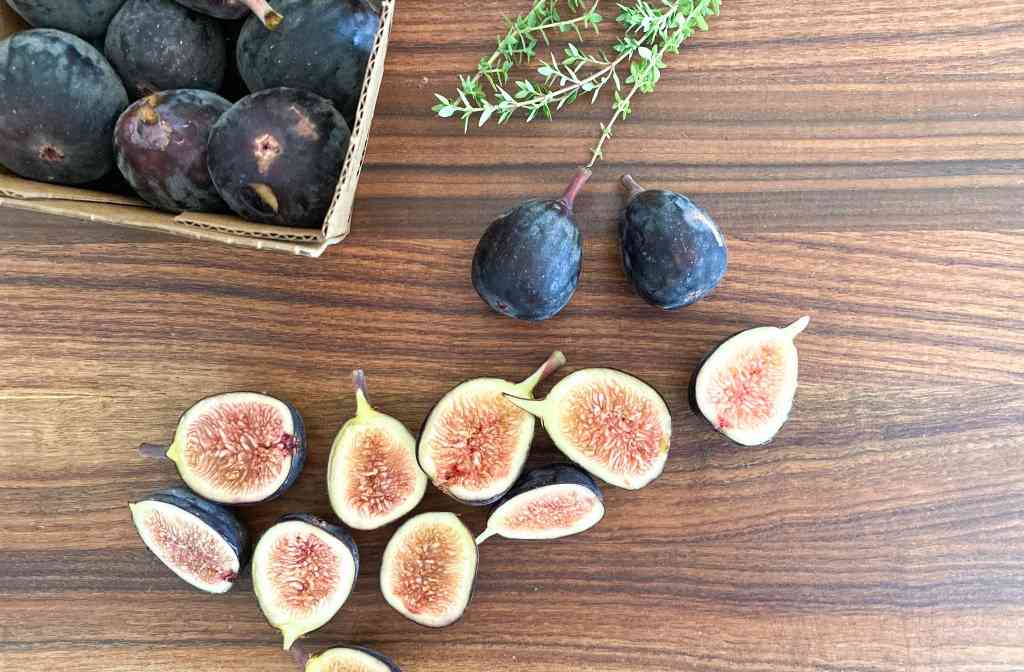 Figs
I don't know much about figs and I'm not going to pretend to. I wasn't even sure I liked them up until last year and even now I forget they exist but somehow we got here and this pizza is amazing. The combinations of creamy and stinky cheeses, sautéed shallot, sweet figs and crispy prosciutto all just go together, they enhance each other and boy oh boy it is the best bite.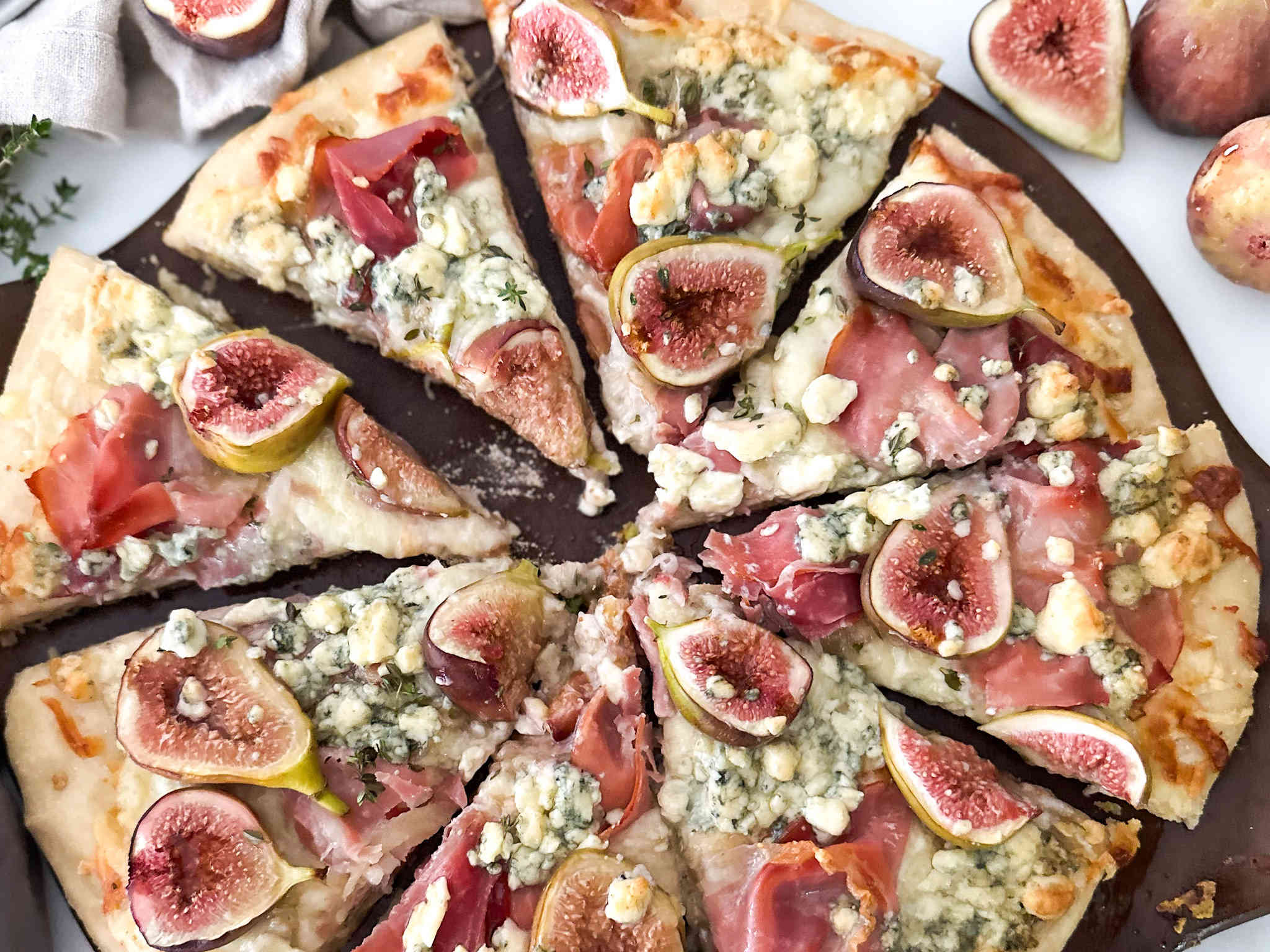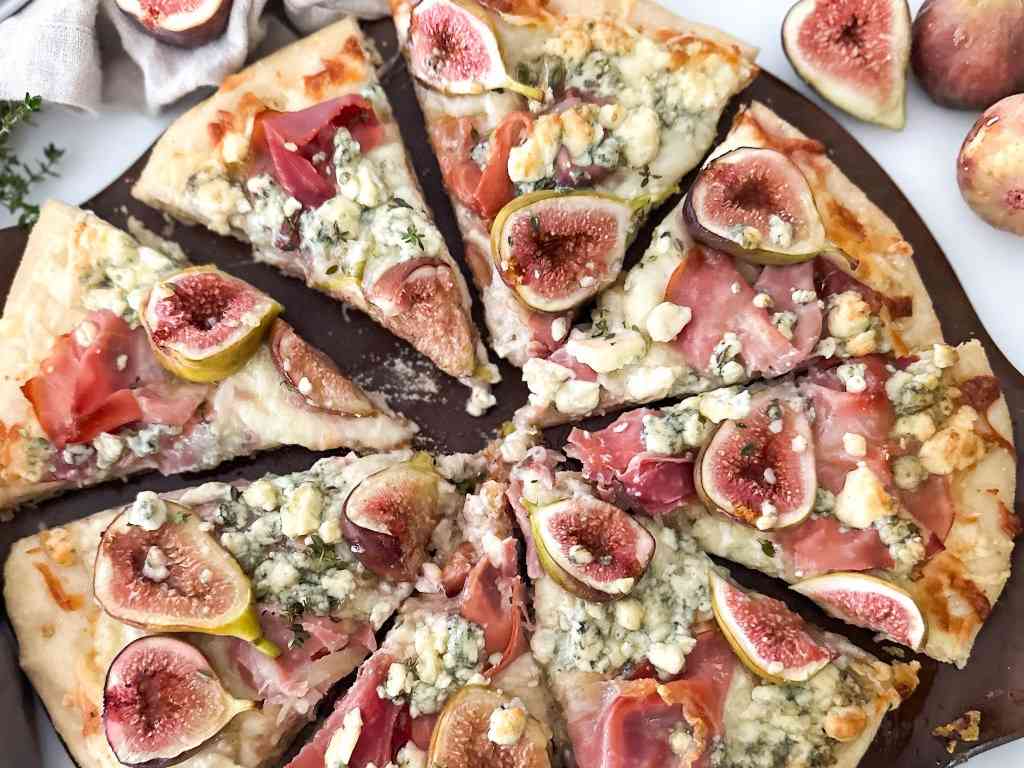 Pizza Crust
I'm a big fan of homemade pizza crust. My homemade classic crust and whole wheat crust are absolutely delicious and stand up to a topping filled pizza like this one. They can be made in under 10 minutes with a rest time of 1 hour up to 72 hours in advance. The recipes make two crusts per batch, easy to freeze for another pizza night. 
I also love a good grocery store grab and go pizza dough. I will say that if you're getting pre-made dough, grab the store-made ball of dough usually in the deli, bakery or speciality cheese section of the grocery store, that bag of dough has never failed me.
Helpful hints: If you are pulling your dough from the fridge, to have the easiest time rolling out the dough, make sure it's room temperature, it will snap back less once the chill is taken off. Also sprinkle corn meal on the counter instead of flour to keep your crust crispy!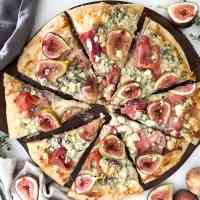 Fig & Gorgonzola Crispy Prosciutto Pizza
It's like a charcuterie board on a pizza. Irresistible. Soft mild cheese, hard bold cheese, stinky blue cheese crumbles with sweet figs and crispy salty prosciutto.
Time does not include making homemade pizza dough & rising time.
Print
Email
Pin
Rate
Ingredients
1

TBSP

Olive Oil

plus extra to drizzle

1

small

Shallot – thinly sliced

1

tsp

Fresh Thyme

plus a few extra sprigs

¼

tsp

Salt

Corn meal

Pizza Dough

1

cup

Shredded Mozzarella Cheese

4

oz

Manchego Cheese – shredded

2-4

oz

Prosciutto – thin slices

½

Pint

Figs – halved

about 7-10

4

oz

Gorgonzola Cheese Crumbles
Instructions
Preheat your oven to 450F. If you are using a pizza stone, make sure to preheat in the oven as it comes up to temperature.

In a pan, add your TBSP of olive oil and over medium heat, add your shallot, 1 tsp fresh thyme and salt, sauté over medium heat until soft and fragrant, about 2-3 minutes. Stir to prevent burning.

Once it's done, remove from heat and set aside.

Using a sprinkle of corn meal on the counter, roll out your pizza dough.

Once your pizza stone is heated up to temperature, carefully pull out of the oven. Sprinkle the bottom with corn meal to prevent sticking and to keep the crust crispy.

Carefully place your rolled out pizza dough on the hot pizza stone, pressing it out to the sides if needed.

Drizzle with olive oil.

Add your shredded mozzarella and manchego cheeses.

Add on your sautéd shallots.

Add on your slices of prosciutto, kind of scatter them around like you would pepperoni.

Add your halved figs, with the inside showing up.

Bake in the 450F oven for 15 minutes until the crust is cooked, the cheeses are melted and the prosciutto is crispy.

Pull out of the oven and sprinkle on some of the fresh thyme leaves.