Pasta is pure comfort for me and I'm so excited to finally share Pasta Puttanesca with you!  With sweet, spicy and bold flavors, this dish is quick, easy, light and amazingly delicious, it will become an instant favorite weeknight dinner.
Pasta puttanesca has a tomato-based sauce that is flavored with garlic, anchovy, capers and red pepper flakes. I never had this dish until culinary school, one night we made it and I fell in love. It is magical.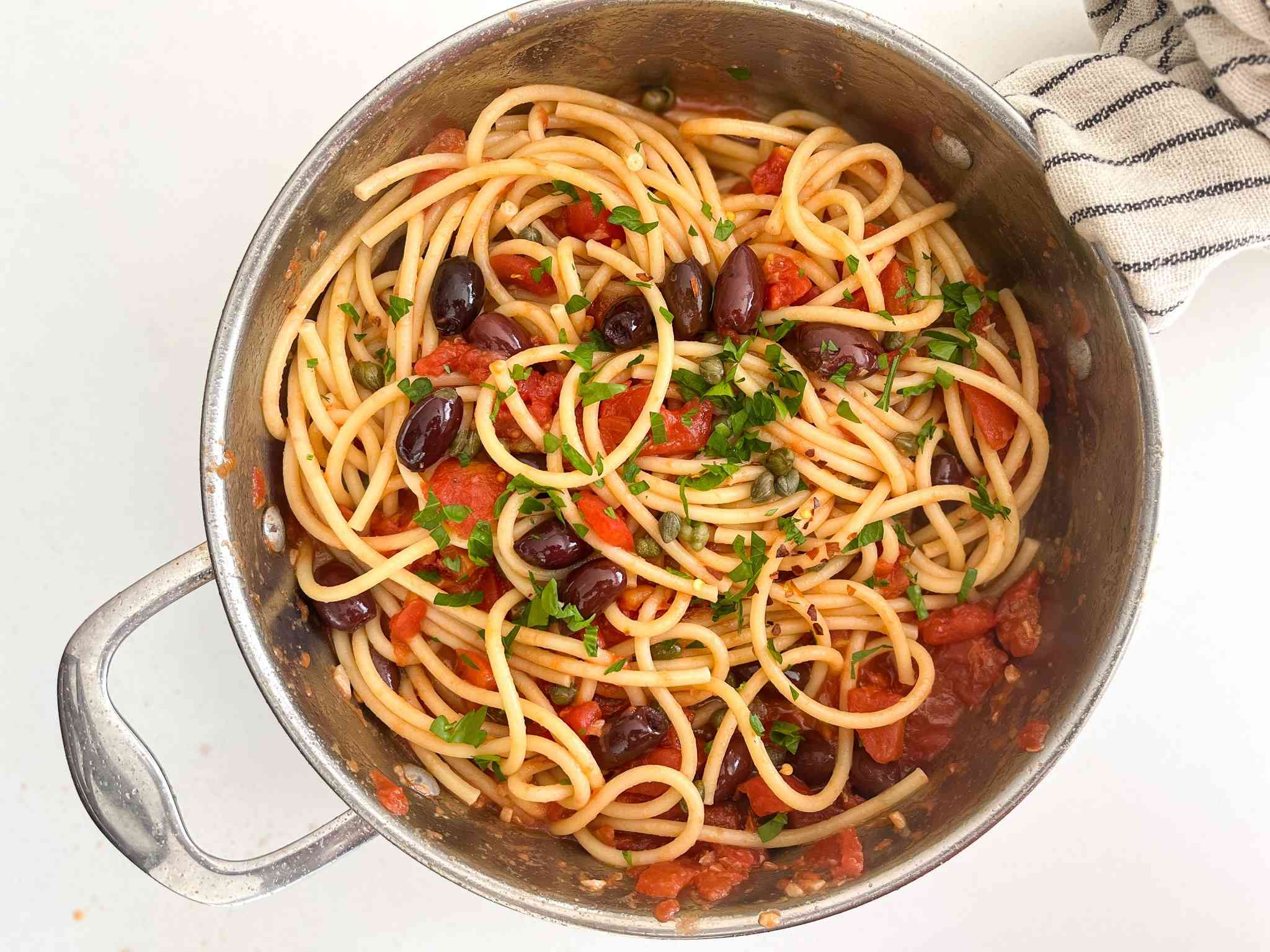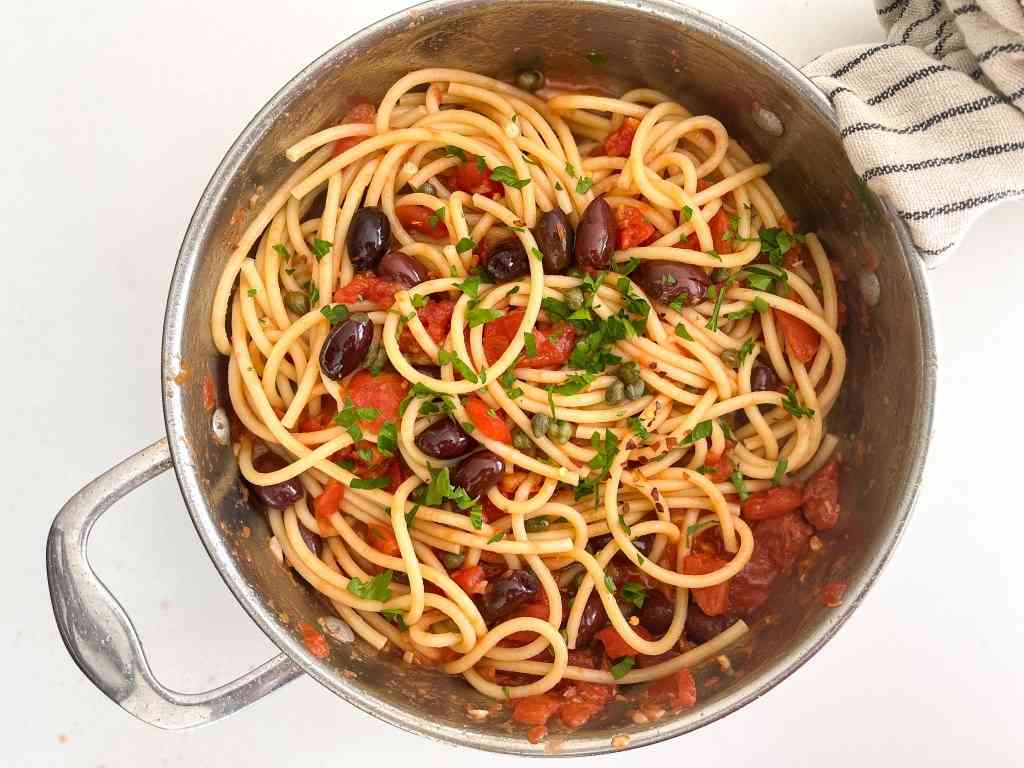 Pasta Puttanesca – Anchovy Paste
If anchovy is making you second guess making this, let me explain why it's so good. I used anchovy paste in my recipe below, so you will not need to cook with actual anchovies – phew. Anchovy paste will give the pasta puttanesca an undeniable flavor makes the dish so incredible. The anchovies are cured so you will get an earthy, salty layer of flavor. Don't just take my word on this, I want you to know, I do not eat fish, as much as I have tried to like it, I just never like it but I truly love anchovy paste in dishes, it just adds a very unique touch that is undeniably delicious.
The packaging looks like thin in the grocery store, usually near tomato paste (amazon affiliate link).
The Story of Pasta Puttanesca
In Italian alla puttanesca translates to (in kinder words) "the lady of the night". It was a dish that originates from the world of prostitution. The ladies of the night either made it to attract their clients with the bold aromatics, or it was made between clients because it was a quick and easy dish.
In culinary school, we were taught, if I remember correctly that the dish was eaten between clients as a way to cover the scent of the previous patron.
There are a lot of different stories on how or why Pasta alla Puttanesca came about, but I'm so glad it did.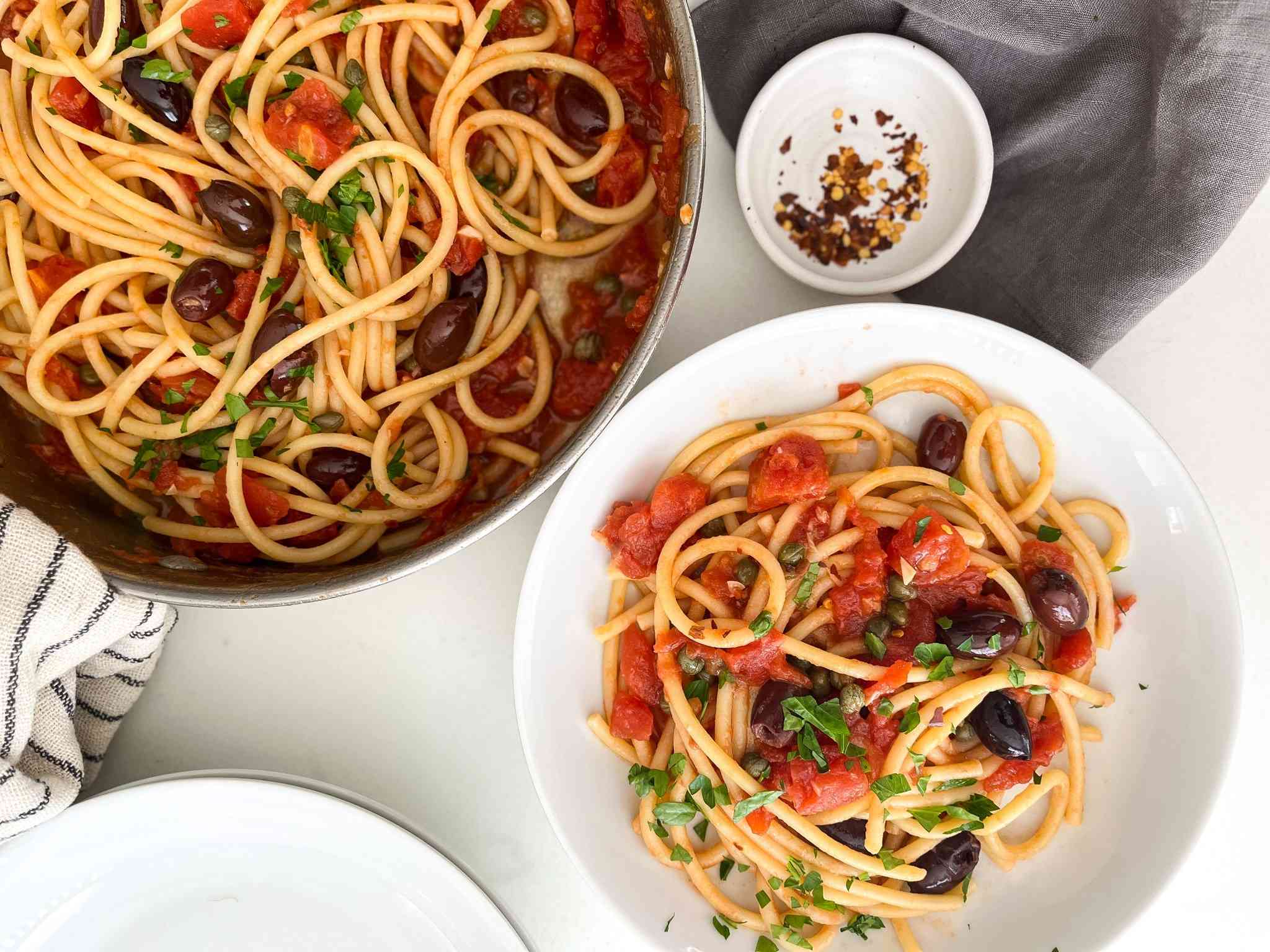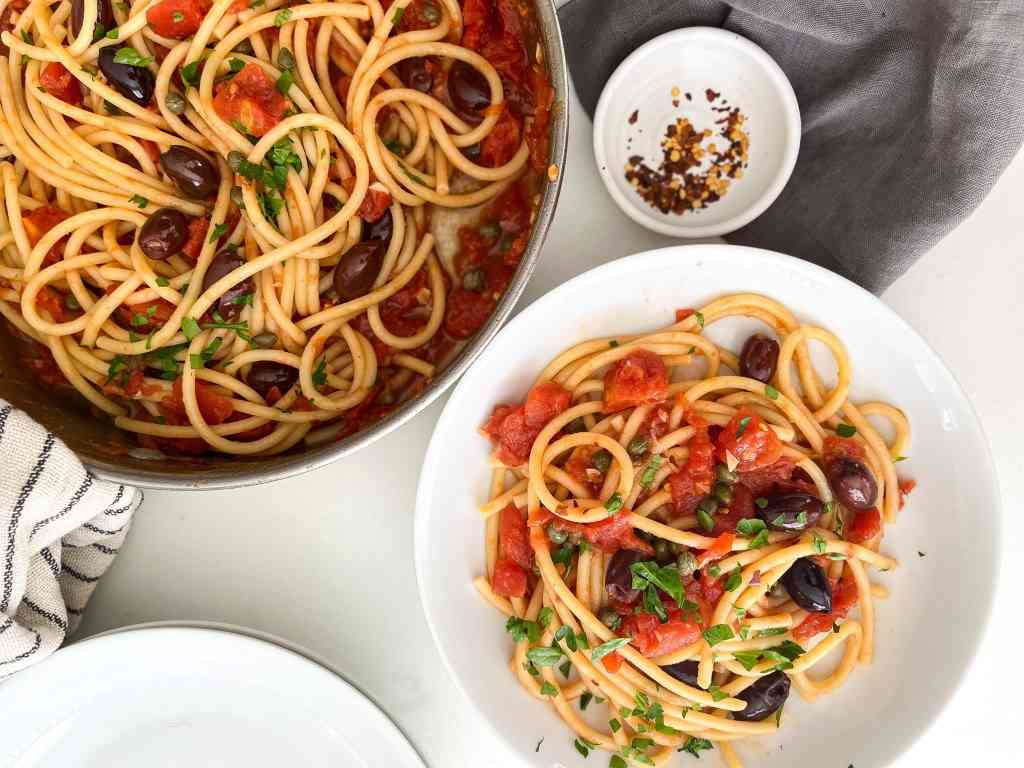 Pasta Types
I believe the traditional recipe uses thin long noodles such as spaghetti or angle hair pasta otherwise known as Capellini. I decided to use Bucatini noodles which are a little thicker noodles that have a hole in the center. They tend to have a heartier bite.
The light tomato sauce will coat thinner pasta noodles better, but I really did enjoy the Bucatini.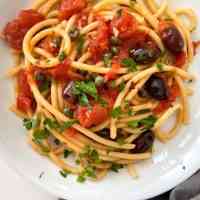 Pasta Puttanesca
Quick and easy weeknight dinner. Bold, sweet and savory flavors are combined to make this irresistible pasta dish in just 20 minutes!
Print
Email
Pin
Rate
Ingredients
8-10

oz

Bucatini Pasta

or your favorite pasta - see blog notes

1

TBSP

Olive Oil

3-5

Cloves

Garlic - minced

1

tsp

Anchovy Paste

28

oz

Canned Diced Tomatoes

3

TBSP

Kalamata Olives - pitted, without juice

2

TBSP

Capers, without brine

1-2

tsp

Red Pepper Flakes

Chopped Parsley for Garnish
Instructions
Heat a large pot of salted water to a boil and cook the pasta according to the box.

As the pasta cooks, in a large pan add your olive oil and garlic. Over medium heat, toast the garlic and add in your anchovy paste.

Scoop in 3/4 of the 28 oz can of diced tomatoes, without the juice. Reserve the tomato juice for later. Cook for about 3-5 minutes over medium heat and break up the tomatoes.

Toss in your cooked noodles.