BBQ chicken pizza is one of the most famous classic specialty pizzas ever known and we absolutely love it. The tangy sweet homemade BBQ sauce, creamy sharp provolone and mild mozzarella cheeses make this the most irresistible weeknight pizza.
Topped with cooked rotisserie chicken, or leftover chicken, this pizza can be made in less than 25 minutes.

Pizza Crust
For homemade pizza making, it's so much fun (and easy) to make your own. I know sometimes it's even easier to pick it up from the grocery store. If you grab the pizza dough from the grocery store, use the ball of dough that is usually in the deli section, rather than using canned or flatbread.
Some pizza dough tips:
Make sure it's at room temperature. The longer the better. This allows the gluten in the dough to develop making it easier to roll out with less bounce back. Gluten is essential for the perfect crust texture. When we decide to make pizza, if I have time, I'll take my dough out of the refrigerator to sit on the kitchen counter 2-3 hours before rolling.
For a thicker pan-pizza crust, use your hands to press out into the shape, if you want a thinner crust, use a rolling pin to roll out evenly. Press or roll your dough out on the counter and then transfer to your baking sheet, pre-heated pizza stone or pizza oven.
Use corn meal. Instead of sprinkling flour on the counter to shape the dough, use corn meal. The corn meal will make the crust sturdy in order to hold the piled-high toppings. Sprinkle corn meal on your sheet pan or pre-heated pizza stone to prevent the pizza from sticking to the bottom.
If you make your pizza dough from scratch, use higher-protein flour. I use King Arthur's all purpose flour.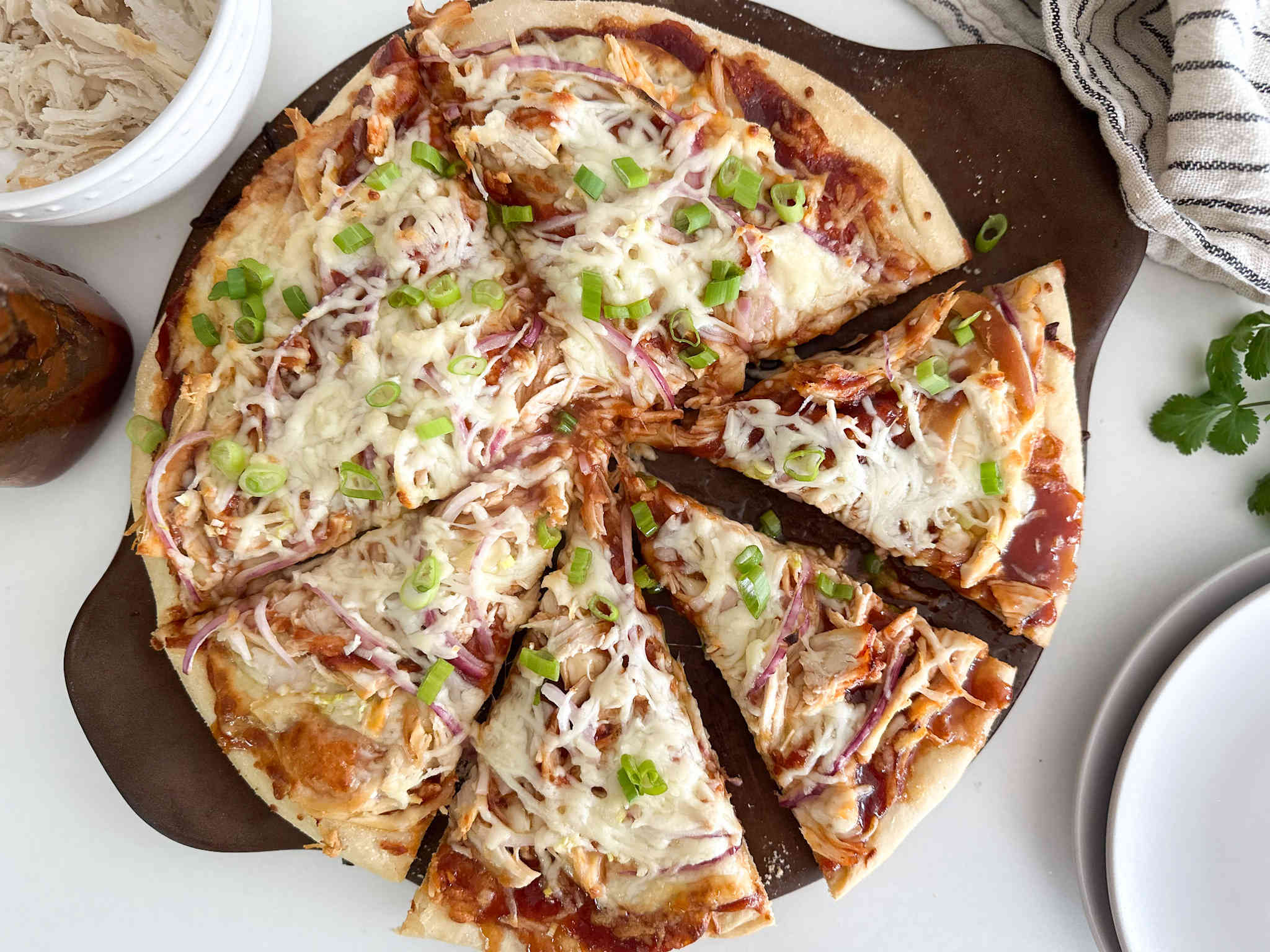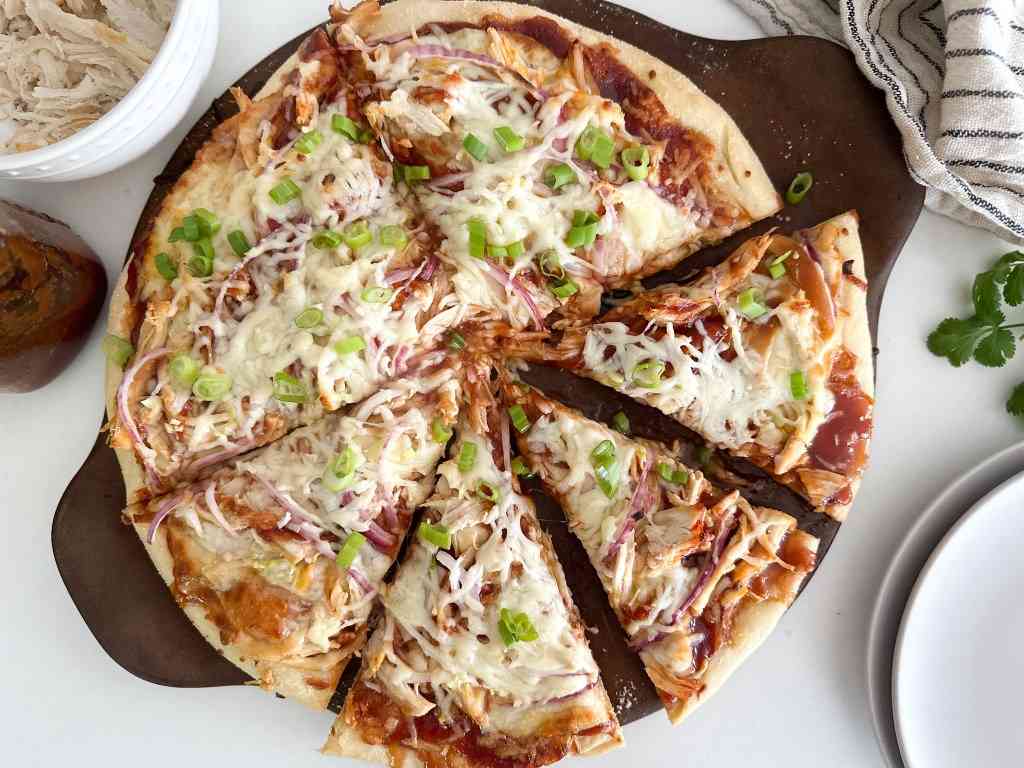 BBQ Chicken Pizza – The Sauce
This recipe has the most delicious homemade BBQ sauce recipe, made quick and easy with simple pantry ingredients. It's a perfect combination of tangy and sweet. When the sauce is made, it will have a strong flavor, almost too strong. Once the sauce is baked with cheese, chicken, purple onion and scallions the flavor will soften up, but still remain the star of the show – absolutely incredible.
You don't want to skip this step.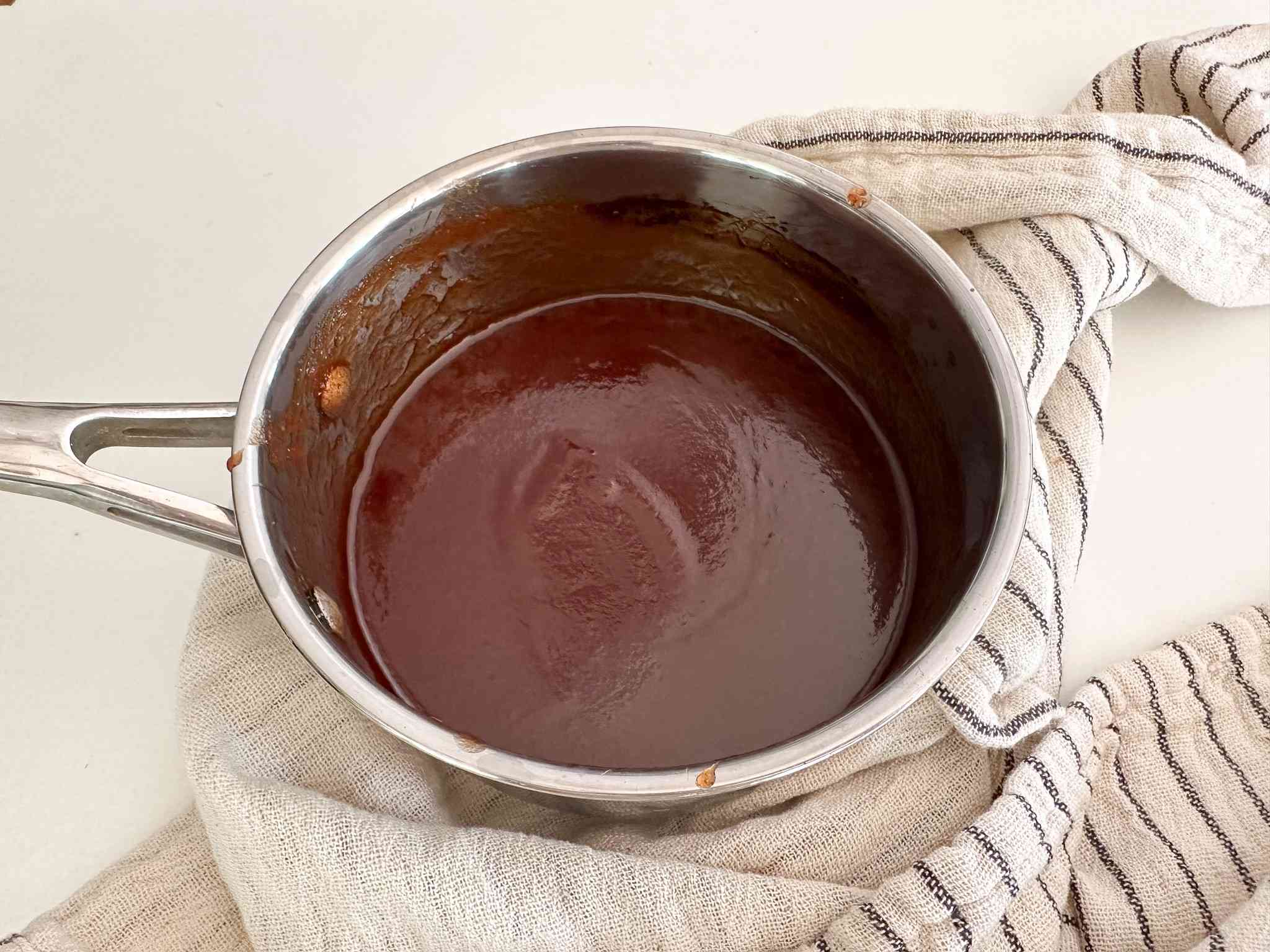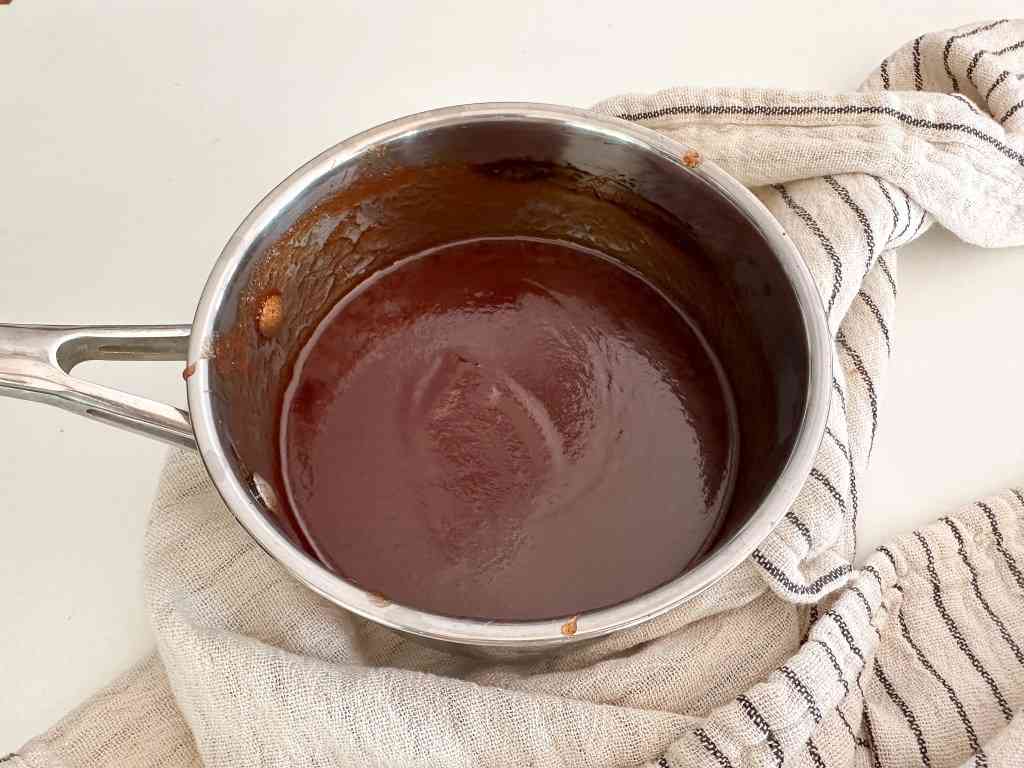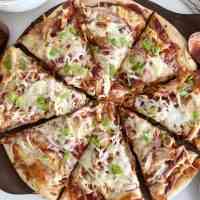 BBQ Chicken Pizza
Make the most out of pizza night with this easy BBQ chicken pizza. The tangy sweet homemade BBQ sauce, creamy sharp provolone and mild mozzarella cheeses make this the most irresistible weeknight pizza.
Prep and cook time does not include rest time for the pizza dough - see blog notes.
Print
Email
Pin
Rate
Ingredients
Homemade BBQ Sauce
1

cup

Ketchup

¼

cup

Apple Cider Vinegar

½

cup

Brown Sugar

2

TBSP

Worcestershire sauce

½

tsp

Salt
BBQ Chicken Pizza
1

Pizza Dough

Corn Meal

1-2

TBSP

Olive Oil

Homemade BBQ Sauce

5-6

slices

Provolone Slices

4

oz

Mozzarella Cheese - Shredded

¼

Purple Onion - very thinly sliced

1-2

cups

Shredded Chicken

rotisserie or leftover cooked chicken

4

Scallions (green onions) - roughly chopped, the white sections will be used on the pizza and the green sections will be garnish once the pizza is baked.
Instructions
Preheat your oven to 400F.

If you are using a pizza stone, put that in the oven when it's cold so that it can preheat with the oven up to 400F.

If you are using a sheet pan it does not need to be preheated.

In a sauce pan, whisk together the ingredients for the BBQ sauce. Heat over medium low heat until the sugar dissolves. Using a spatula, scrape down the sides of the pan to prevent burning. Continue to cook until the ketchup flavor milds, about 5 minutes. Stir occasionally.

Take off heat and set aside.

On the counter, sprinkle corn meal and roll out the pizza dough to your preferred shape.

Once preheated, pull the pizza stone out of the oven, sprinkle with corn meal and carefully transfer the dough to the preheated pizza stone.

If you are using a sheet pan, sprinkle the pan with corn meal and transfer the prepared dough to the sheet pan.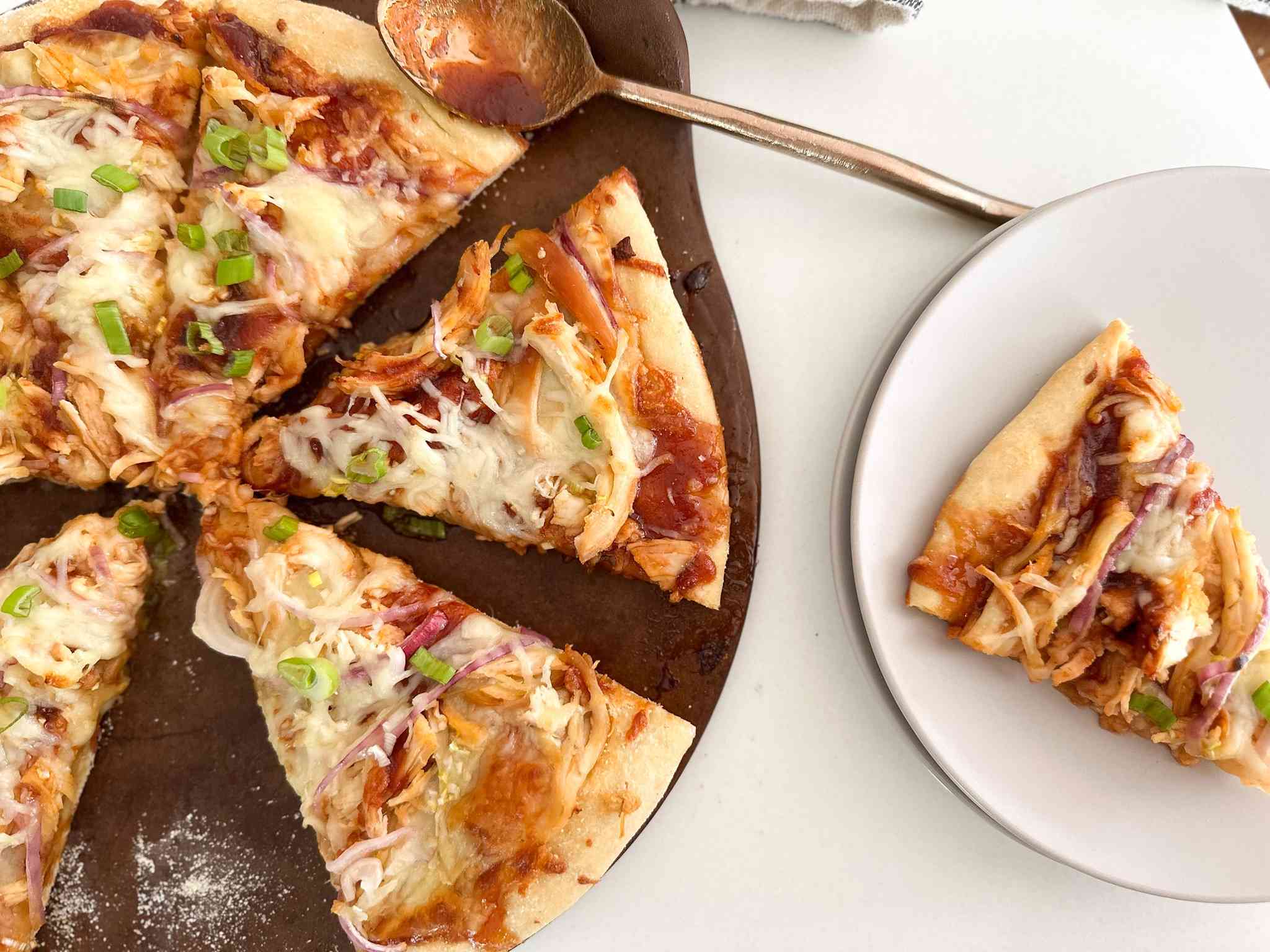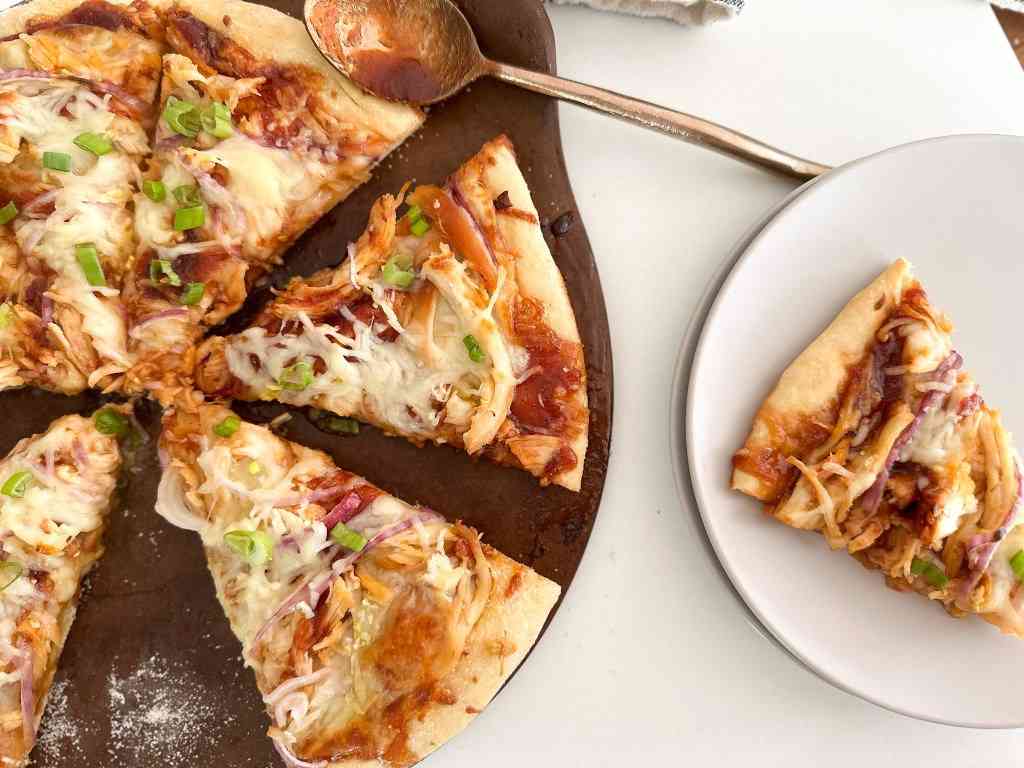 Groceries Are Expensive These Days – What to do with leftover ingredients
If you bought a rotisserie chicken, you will have leftover chicken. Make delicious chicken salad sandwiches or buffalo chicken wraps for lunch. For more weeknight dinners, use the leftover chicken in biscuit pot pie or chicken and buttermilk dumplings.
If you have leftover provolone and mozzarella cheese make a meatball hoagie dip!