It took me until my adult life to appreciate a good jalapeño popper and now they are my #1 go-to for a quick-please-the-crowd kind of snack. To me it's important that a jalapeño popper meet four goals to be tasty:
1. The pepper is cooked to bite through easily, but not too soft you can't pick up
2. It's creamy, cheesy, and stuffed to the max with a variety of cheeses
3. Bacon
4. This is the most important, it has to still have a jalapeño spice kick, but not cause a spicy-cough. This is expected and easy to achieve I promise.
Number 1-3 is in the recipe below.
Number 4, is all about the preparation and is hard to measure because everyone has a different spice level threshold. To get perfect jalapeño poppers I have learned to leave in a few seeds when I strip the rib and seeds out, if a couple of seeds stay behind leave them (see photos below). Just remember the more seeds the more spice. Another way to achieve this is to add in pepper jack cheese to the cheese mix – substitute 1/4 cup of cheese in the recipe with shredded pepper jack.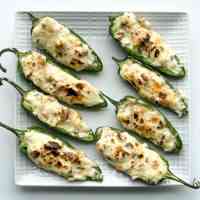 Jalapeño Poppers
Jalapeño popper are my #1 go-to for a quick-please-the-crowd kind of snack.
Print
Email
Pin
Rate
Ingredients
5

Jalapeños – halved

2

slices

Bacon – cooked and diced

4

oz

Cream Cheese

½

cup

Sour Cream

¾

cup

Shredded Cheese

(Cheddar, Monetary Jack or Pepper Jack)

¼

tsp

Salt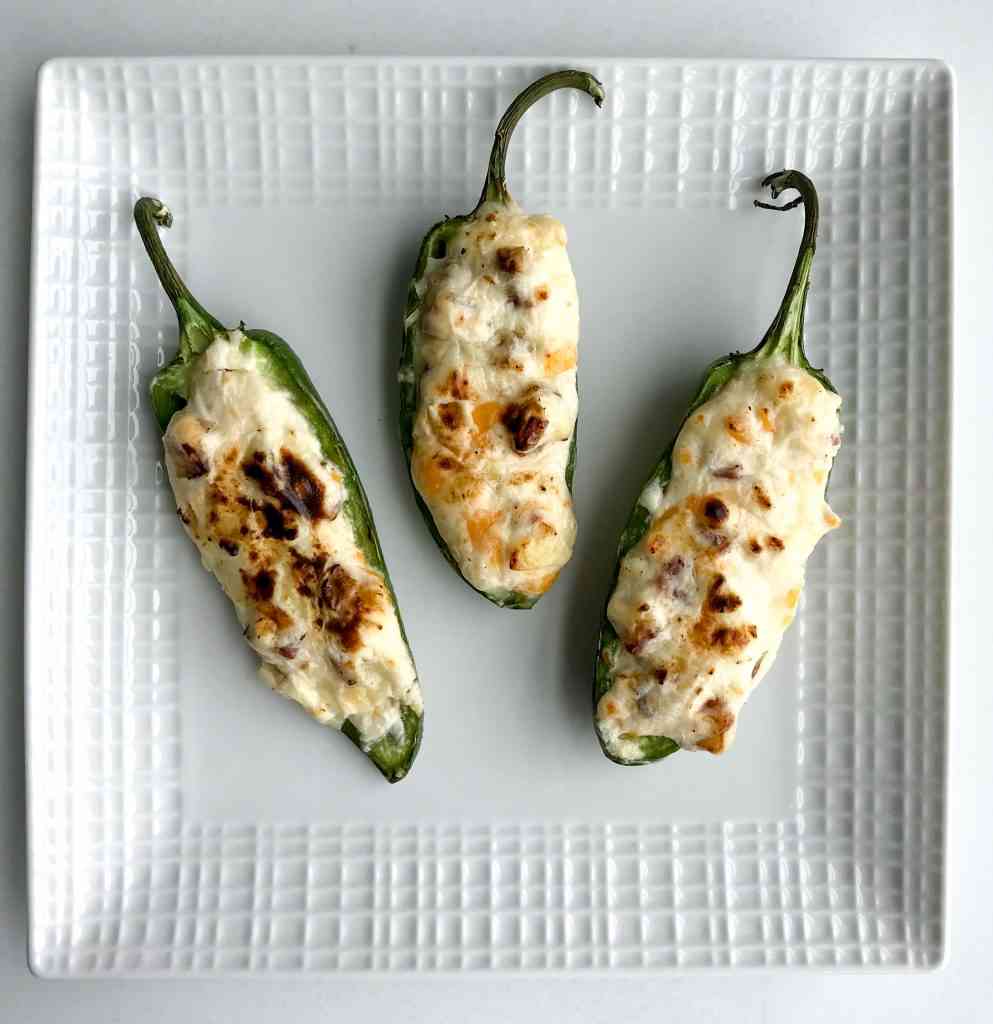 Note:
There are a couple different ways to prepare the bacon:
If you want to cook it easy without a mess, place strips of bacon in a single layer on a foil covered baking sheet (make sure the sheet has sides!) bake at 400F for about 20 minutes until crispy.

If you want to WRAP the bacon around the pepper for a different presentation option, you can omit the diced bacon and wrap a single thin strip of bacon around the pepper, trim if necessary. Make sure to keep both ends of the bacon on the bottom of the pepper – hold one end of the bacon on the bottom of the pepper as you wrap is around then press the other end of the bacon on the bottom as well so that when it bakes it holds the wrap.

If you want to omit bacon you can. If you want to substitute it for turkey bacon you can.