These chewy overnight oat pumpkin bars are super simple, they require no cooking or baking and are perfect for this time of year. My household is obsessed with breakfast (and snack) bars and these are no exception! They are easy to take on the go and give you that energy boost you need to kick-start your day.
If you remember, I'm not a pumpkin fan, I actually can't stand it. But my husband and daughter both seem to love it, so I try to give them what they like, out of love, I came up with this recipe and I'm eager to share it will all pumpkin lovers alike.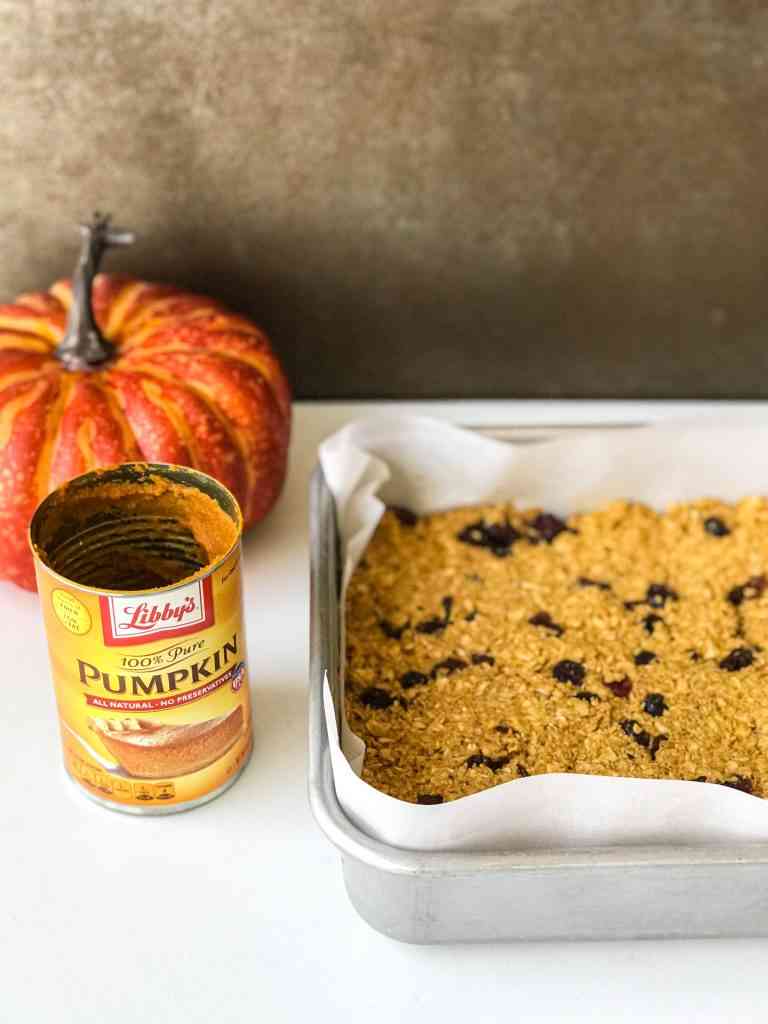 First let's talk about pumpkin.
October and November is usually filled with pumpkin recipes, coffees, beers, candies, cakes and pies. That means there is also a lot of artificial pumpkin flavors being added into pre-packaged treats. If there is one thing I have learned from my husband it is that artificial pumpkin is not good and kills the spirit of fall. Because of that harsh review, I am always determined to use REAL pumpkin in all of my recipes.
When I say REAL pumpkin I don't mean fresh from the farm, although my grandmother would disagree, canned pumpkin is real pumpkin already pureed for you, thank you grocery store gods! Just make sure you read the label to make sure it's not pumpkin pie filling, that will be sweeter with added spices and sugar.
Pumpkin also has a lot of health benefits. It has antioxidants and vitamins that help boost your immunity. It's a low calorie food that is high in fiber, potassium too and much more! See here for 9 fast facts about pumpkin.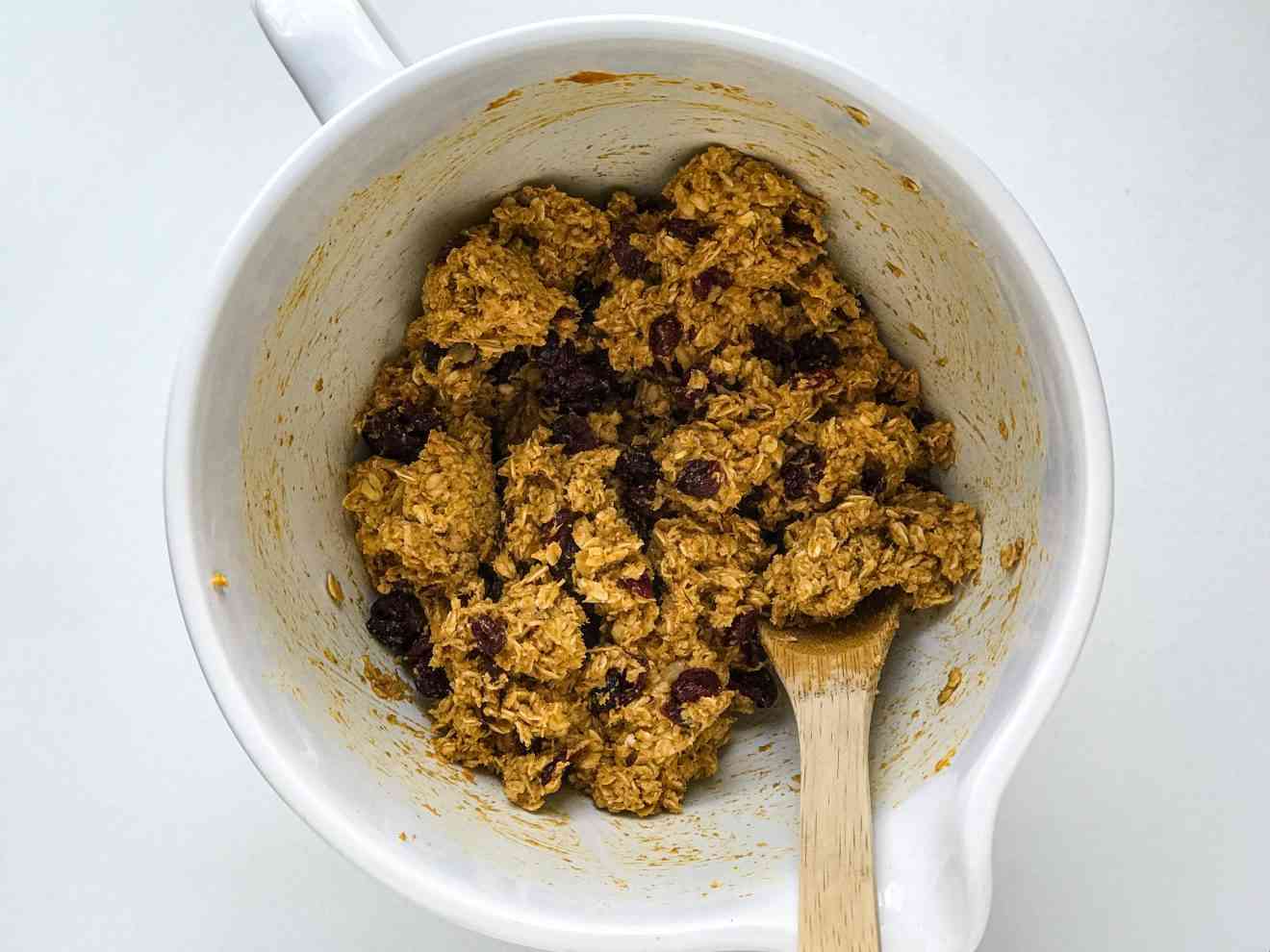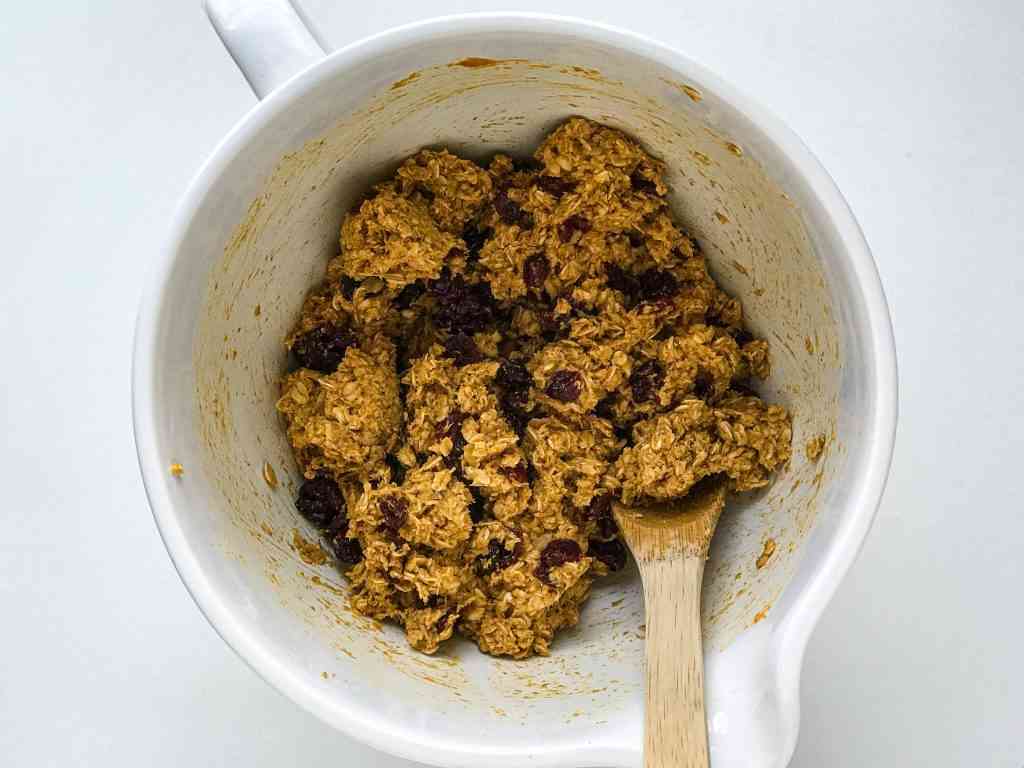 Chewy Overnight Oat Pumpkin Bar Ingredients.
If you've made my other oat bar recipes, you will see a lot of the same ingredients! A lot of these can become routine pantry items so you always have them on hand making it easier to make bars whenever you would like.
Oats:
There are three types of oats; steel cut, rolled, and instant. I've broken down the difference of each, in my other overnight oat bars recipe I recommend using rolled oats for these bars too!
Granola: 
There are so many types of granola out in the world. I absolutely love One Degree Sprouted brand. They are a great company that is dedicated to organic, plant-based, sustainable farming making sure we have the best product on our table. I usually get the vanilla chai or honey hemp for my breakfast bars.
Banana:
You will need one VERY ripe banana. It should be the one that has sat on your counter a day too long, it's starting to spot and you're wondering if it's still good to eat or over ripe. This is the perfect banana for this recipe.
Banana Tip: if you have more than one brown spotty banana you can freeze them to use later in your banana muffins, bread, or cake recipes or in your morning smoothie.
Pumpkin Puree & Pumpkin Pie Spice:
You can make your own farm-to-table puree by de-seeding and roasting your pumpkin or you can buy canned pumpkin puree, see my support for this option above 🙂 .

Pumpkin Pie Spice is usually available it all grocery stores. Or you can google how to make some at home with the spices you already have on hand. I recommend buying a little jar of pumpkin pie spice if you are making any other pumpkin recipes like pumpkin pie (I'll be sharing my grandma's recipe in November) or these yummy sweet pumpkin spice morning rolls.
Other Add-Ins:
Coconut oil can be a little pricey, but it's a great investment because you will be able to use it in any of my bars recipes (links are below).

Dried fruit or chocolate chips. I added dried cranberries (4-6oz) and it was a delicious match with the pumpkin.
Ingredients
3

cups

Rolled Oats

1

cup

Granola

1

Very Ripe Banana

½

cup

Coconut Oil

1

cup

Pumpkin Puree

2

tsps

Pumpkin Pie Spice

4-6

oz

Dried Fruit or Chocolate Chips

Optional
Instructions
Line your 9X9 or 8X8 pan with parchment paper and set aside.

In a stand mixer (with your paddle attachment) or bowl (with a spoon), combine all of the ingredients together, except for the optional add ins.

Dump your mixture into your prepared pan and using your hand press down so that it's all evenly distributed.

Cover your bars, and let them set up in the refrigerator overnight, 6-8 hours.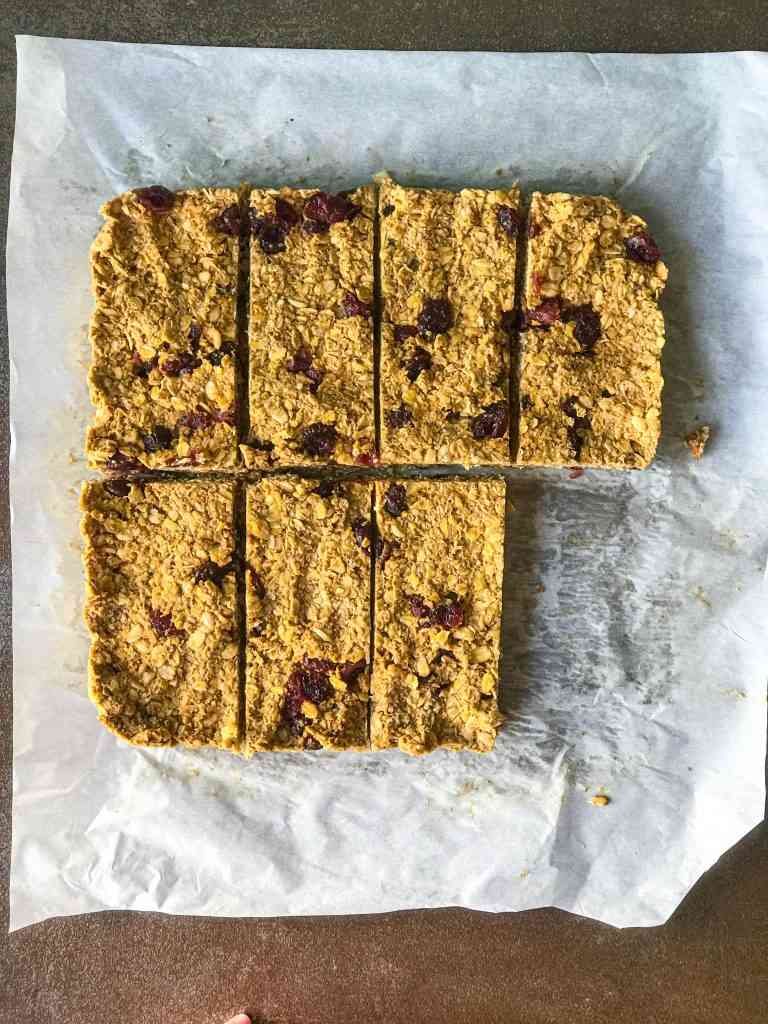 Other Bar Recipes: