I am obsessed with this preparation of seasonal vegetables. O B S E S S E D. It's so easy, delicious and fun. Sheet pan roasted vegetables are flexible, you can choose how much to make, so if you're cooking for one or for six you can throw this dish together in 30 minutes.
First, did you notice how pretty it was? That's the part that I love, because this sheet-pan roasted vegetables recipes makes me step outside of my comfort zone and on the hunt for pretty colors for my sheet-pan vegetables. Have you ever walked by colorful produce at the grocery store and thought, "oh how pretty is that?" but then kept on walking… well not anymore! Now that you have an easy prep and the determination for a pretty dish we will venture together into the purples, oranges, reds and whites together. Most of the time they all taste the same, so choose that purple cauliflower and the multi colored carrots. OR you can clean out your fridge and just do a mix of what you have.
Pretty food also makes it's more fun to actually eat too! Let's face it, eating vegetable can be boring so this is the perfect way to get out of your rut.
Mix and matching vegetables can have an added health benefit, I'm not a doctor or nutritionist, but I do have college credit for one nutrition class and I'm diagnosed with ulcerative colitis which means during my adult life I have done a lot of reading and googling about this – vitamins like to work together helping each other with absorption. Teamwork makes the dream work.
One last thing about this, stick to seasonal. It's cheaper. I will advise that potatoes will require a longer roasting time so I try to avoid them in this dish.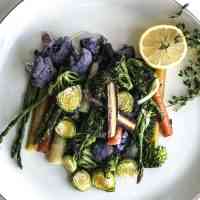 Sheet-Pan Roasted Vegetables
Whether you're cooking for one or for six you can throw these sheet-pan roasted vegetables together in 30 minutes.
Print
Email
Pin
Rate
Ingredients
Seasonal Vegetables of all colors

I have multi-colored carrots, purple cauliflower, broccoli, thin asparagus, thinly sliced onion, and Brussel sprouts

Olive Oil

Salt

Fresh Thyme

1

Lemon
Instructions
Preheat your oven to 350F. Line a sheet pan with parchment paper and set aside.

Cut up your vegetables so that they are roughly the same size pieces, this will allow them to cook evenly throughout. To help save time, there is no need to peel your carrots, you can if you want to, but you can just quickly scrub them off and go.

Lay them all out on a sheet pan in no particular order but I try to make it look pretty. We eat with our eyes so doing this makes me more excited about the vegetables.

Lightly drizzle olive oil over top, a few fresh thyme leaves, and a sprinkle of salt. Salt is important, for the dish in the picture I used about 1 tsp. Salt enhances a lot of natural flavors making your vegetables much-much-more enjoyable. Save the fresh squeezed lemon until after it comes out of the oven.