Super easy, super delicious anytime dinner. Spinach pesto is the perfect way to "hide" your vegetables from yourself, the kids or that picky house guest. Naturally vegetarian, but you can easily add grilled chicken or Italian sausage into the mix.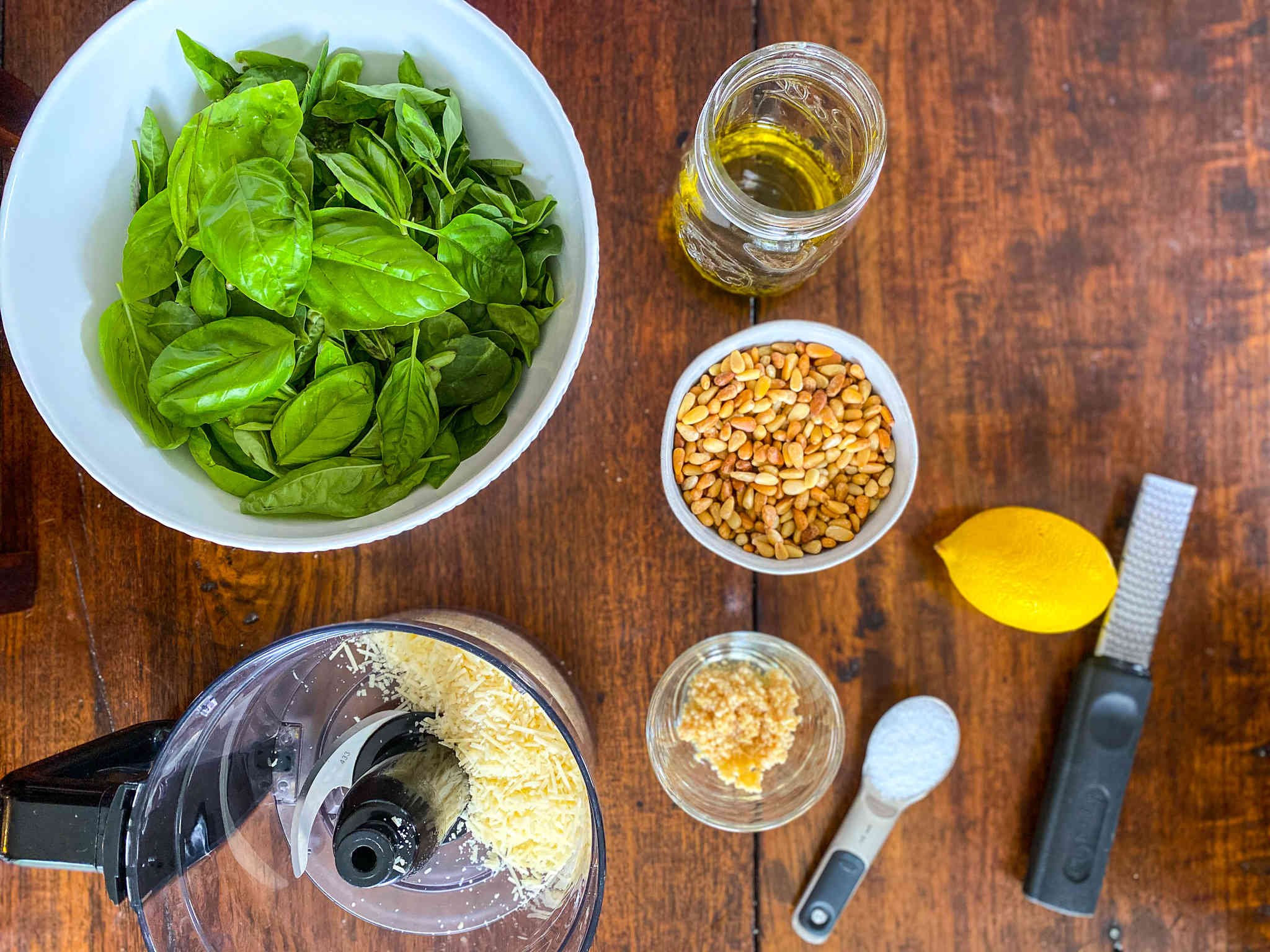 Spinach Pesto
What better way to use those summertime garden-grown basil and leafy greens? This pesto lets you keep dinner light and fresh while you sneak in all the healthy benefits of spinach.
For this recipe I substituted 1 cup of basil for dry baby spinach leaves. If you don't have spinach on hand or you're adamantly opposed to spinach you can leave it out and just full-basil pesto.
For step by step detailed instructions on making pesto check out my Summer Basil Pesto recipe! You will want to make the entire batch of pesto so that you have enough for sauce for this recipe.
Quick notes about pesto:
Make ahead and save for later: you can drizzle a little olive oil over it and place a piece of plastic wrap down on top of the bowl, making sure to press it down to touch the spinach pesto to prevent oxidation so that the pesto remains a bright green color. Stir before serving.

This spinach pesto will have strong bold flavors when you taste it on a spoon, this is important when you are adding in with the brown butter and pasta. It helps prevent the flavor of the dish from being too diluted.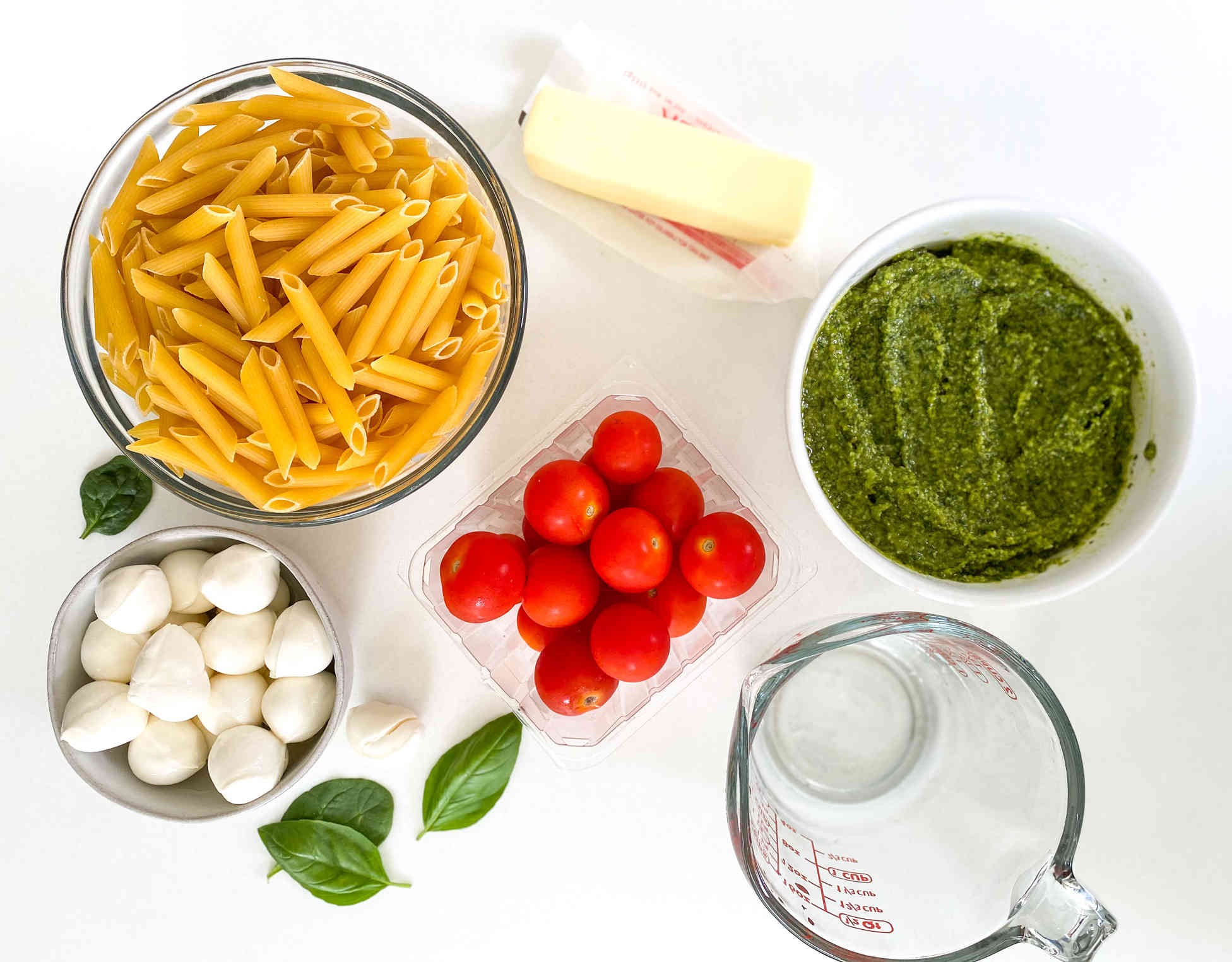 Penne Pasta
I used penne for my dish but you can use whatever you have on hand. We also eat a lot of lentil pasta in our house when we're feeling like we need a healthier change-up. Spaghetti or any other pasta noodle will be just as delicious. Cook your pasta is salted boiling water until it's al dente – maybe a minute under cooked. The pasta will have the opportunity to finish cooking when it's added to the brown butter spinach pesto sauce.

Before you dump your pasta out into the colander to drain, make sure to grab some of that pasta water! You will want to reserve 2 cups of the water the pasta cooked in.. Adding the starchiness of the pasta water will help thicken the brown butter spinach pesto sauce so that it will coat the penne pasta.


How to Brown Butter
Browning butter can be very intimidating, I hope I can help inspire you to try it! Take a stick of butter and over medium heat and let it melt. Once it's melted you can stay on medium heat or increase it just slightly to medium-high for a few minutes.
At this time the butter will start to separate the milk solids out. Once those milk solids start to burn it will color your melted butter liquid brown. The darker the brown (but before it's burnt) the more flavorful it will be. The key is to turn off the heat when it's brown but not black. If you are using a black non-stick pan be aware that it's harder to see when the color change happens. It's a quick process, for reference you are looking for something like the picture below.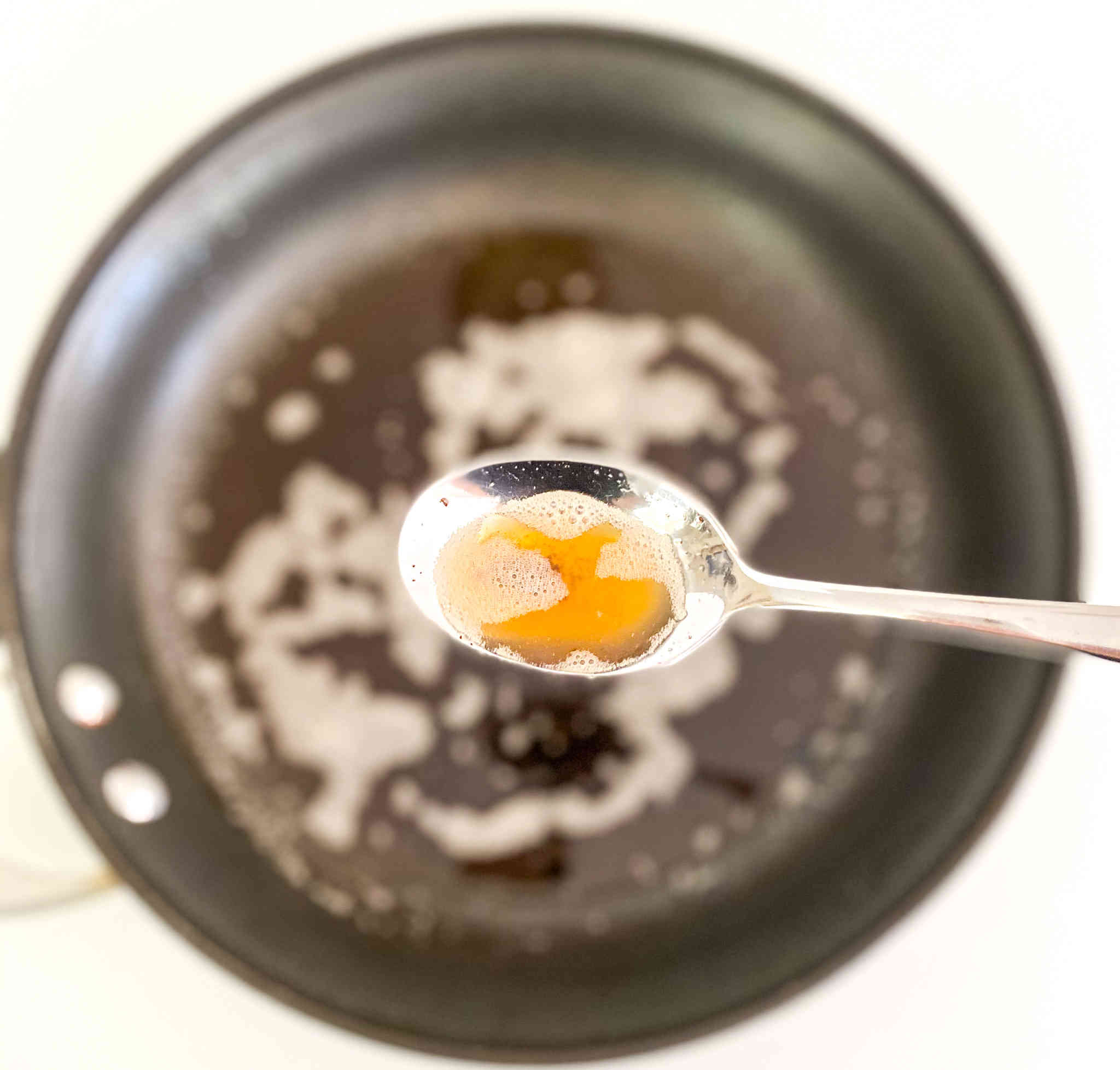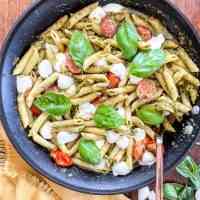 Stove-Top Brown Butter Spinach Pesto Pasta
Super easy, super delicious anytime dinner. Spinach pesto is the perfect way to "hide" your vegetables from yourself, the kids or that picky house guest.
Print
Email
Pin
Rate
Equipment
Food Processor or Blender
Ingredients
Spinach Basil Pesto
2

cups

packed Fresh Basil Leaves

1

cup

packed Spinach Leaves

1

cup

toasted Pine Nuts

6

cloves of

Garlic – peels and smashed

¾

cup

Parmesan Cheese – shredded

½

cup

Olive Oil

1

tbsp

Salt

1

Lemon

Lemon Zest
Stove-Top Brown Butter Spinach Pesto Pasta
½

cup

butter at room temperature

(1 stick)

Spinach Basil Pesto (ingredients above)

1

pint

Cherry Tomatoes

1-2

cups

Reserved Pasta Water

1

lb

Penne Pasta – cooked al dente

(or anything you have on hand)

8

oz

Fresh Mozzarella

(balls or pulled apart)

drizzle

Olive Oil
Instructions
Make Spinach Basil Pesto
In a food processor, add your basil, the toasted pine nuts, garlic, parmesan cheese and salt into a food processor. You can start with ½ the garlic and ½ the salt to start, you can always add more as we go for your taste. *You can also use a blender if you don't have a food processor.

Pulse the food processor, as you pulse, pour in the olive oil. Continue to process until all ingredients are incorporated. Taste test! Add in more garlic if you would like. It it's too strong or bitter (from the olive oil) add in a pinch or two of salt and pulse a few times to make sure it's mixed in. Salt will soften the intensity of the flavors.
Stove-Top Brown Butter Spinach Pesto Pasta
In boiling salted water cook your penne pasta according to the package directions until al dente. Scoop up 2 cups of pasta water and set aside. Drain your pasta.

In a pan, over medium heat, melt the stick of butter. Once the butter is melted, turn up the heat slightly and start to brown your butter.

You will want to get your butter a medium-dark brown, it takes about 3 minutes.

Once your butter is brown, turn the heat back down to medium.

Add in your cherry tomatoes. Cook until they become soft and start to pop. This will take about 6-7 minutes.

Add in your al dente penne pasta and reserved pasta water. Stir to combine. Cook for about another 2 minutes to finish cooking the pasta allowing your sauce to thicken up a little and by now, you will be able to break the tomatoes apart with a wooden spoon.

Top with fresh basil and a drizzle of olive oil.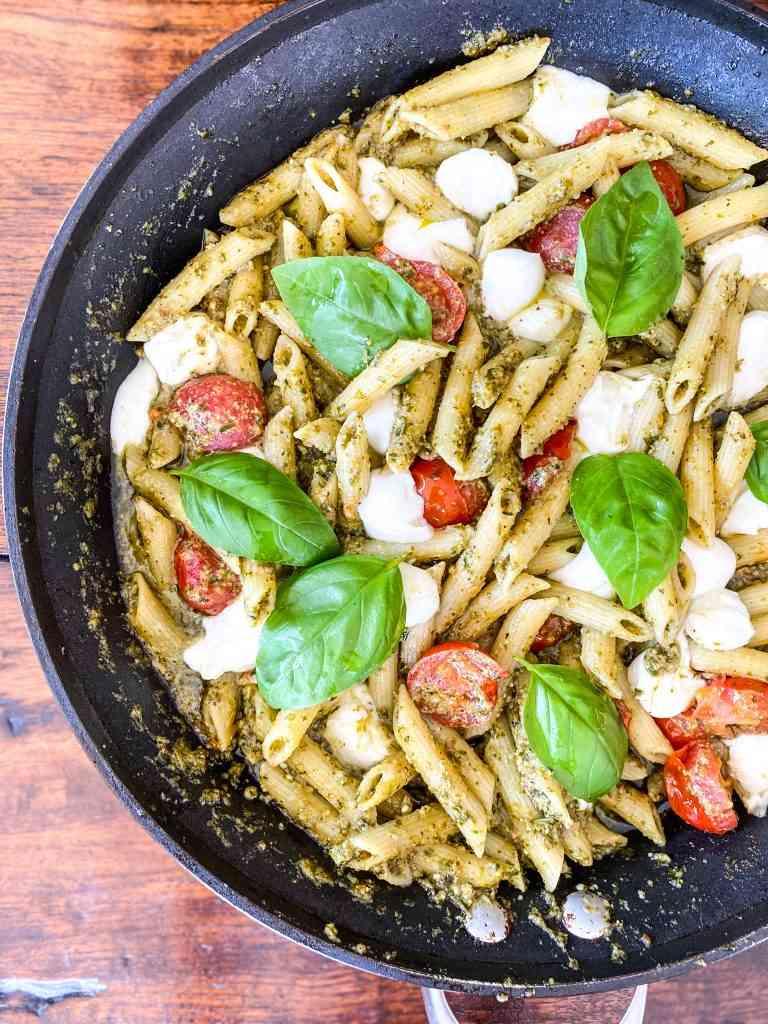 Another one-pan pesto dinner!