Looking for a dairy-free, vegan alternative for your Thanksgiving table? I've got you covered with this vegan creamy herb mashed potatoes recipe! Mashed potatoes are such a traditional dish for the holiday, and now you can make them for everyone.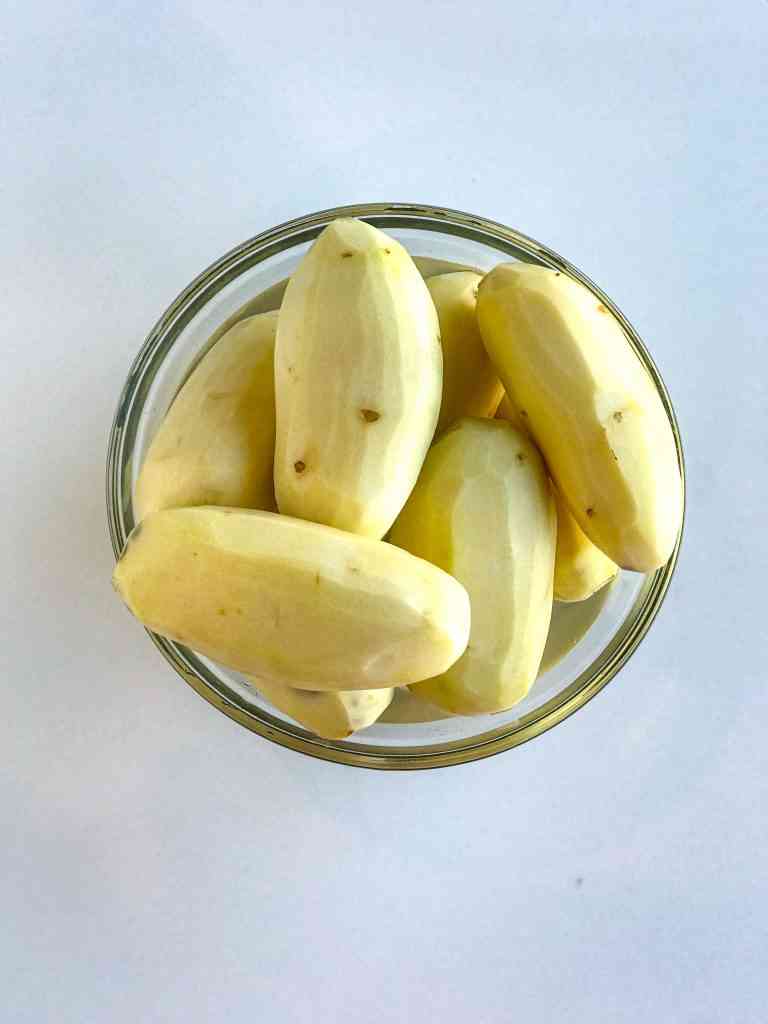 Potatoes:
I went basic with my potatoes, a 5lb bag of russet potatoes for 8-10 servings. Because these potatoes are more starchy than other, they are great for light and fluffy mashed potatoes. The science behind potato starch is interesting and a little complicated. The amount of starch released during the prep and cooking process determines the texture and consistency of your mashed potatoes. Because russet potatoes are soft and easy to mash they will stay soft and fluffy during the mashing process. If potatoes are overly starchy they will become "gluey" and sticky in texture and consistency.
Potatoes release their starch throughout the prep, cooking, and mashing process. I have a plan to help you keep your potatoes light and fluffy!
It starts with the peeling: When you peel your potatoes, keep them whole and soak them in cold water. This will keep them from turning brown and will rinse off the starch on the surface. On a busy cooking day like Thanksgiving you can peel and soak your potatoes up to an hour or so ahead of time.
Chopping: To cook your potatoes you will need to chop them into about 1 inch cubes. The goal is to have them all chopped to the same size so that they cook evenly and are done at the same time. The smaller you cut your potatoes the faster they cook, however, it's best to not go smaller than 1 inch. When you chop potatoes smaller, you will create more surface area allowing more starch to be released during the cooking process which will create a less-soft and fluffy potato.
Be careful when chopping, you will notice the starch coming off on your knife making the potatoes stick to it while you try to chop (the white residue). Be super careful when trying to pull off your potatoes – make sure to keep the blade on the cutting board to prevent cutting yourself, and pushing the chopped potato down and off your knife. Between chops, you can also use a towel to wipe your knife off as the starch builds up to make it easier.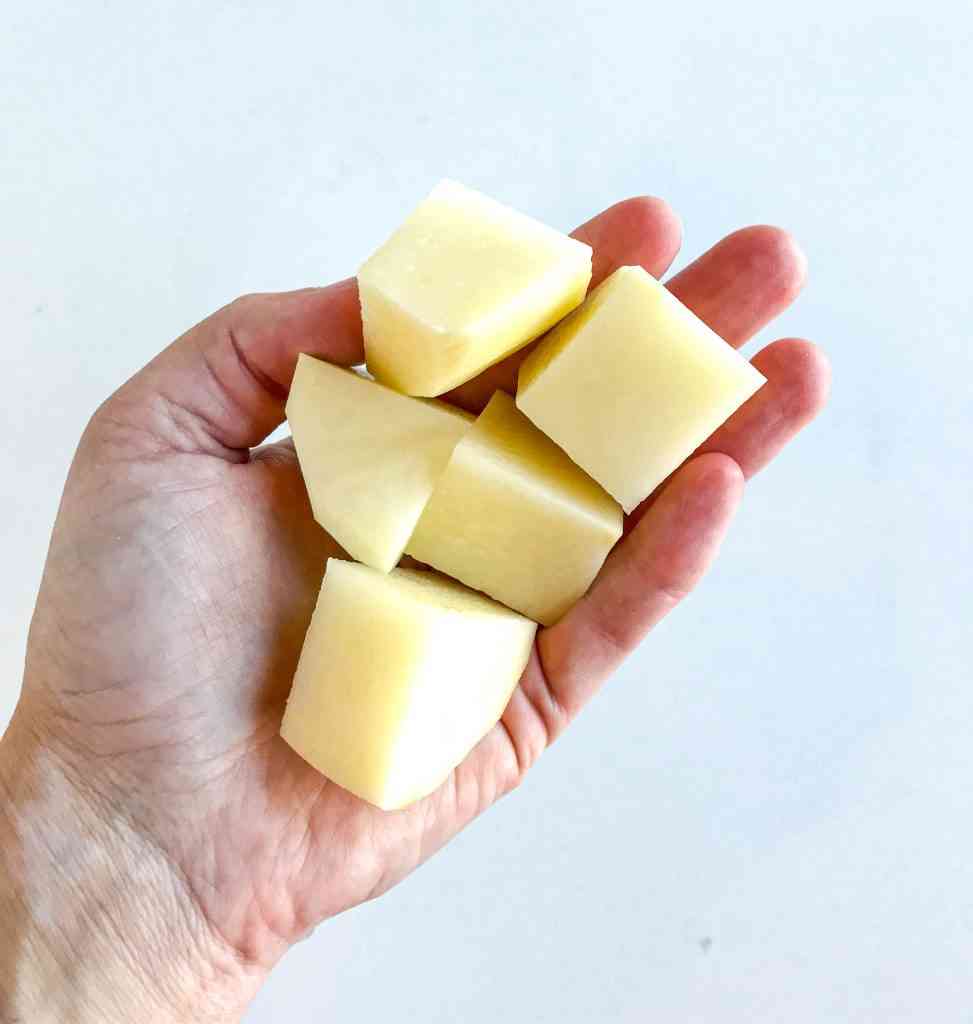 Cooking: You will want to boil the potatoes. Add your chopped potatoes into a deep pot of cold water with 2 TBSP of salt. Make sure your potatoes are fully submerged in the water. Bring the water and potatoes up to a boil and cook until your potatoes are soft. You should be able to poke them with a fork and they should slide off without effort. Depending on how big your pot is and your cut size on the potatoes, it will take approx. 15-25 minutes.
Drain: Drain off the water and let them steam dry while you gather your other ingredients.
Mashing: You will want to do this while the potatoes are still hot. Whatever method you choose to mash your potatoes will determine the final texture and consistency of your mashed potatoes.

To keep them soft and fluffy use a potato ricer. If you don't have a potato ricer, the second best option is to hand mash with a traditional hand masher, which is what I do.

To get them the smoothest and creamiest, with less fluff you can use a hand mixer or a stand mixer with the whisk attachment, just make sure to not over beat them. My grandma used to do this, and they were the smoothest potatoes I've ever seen.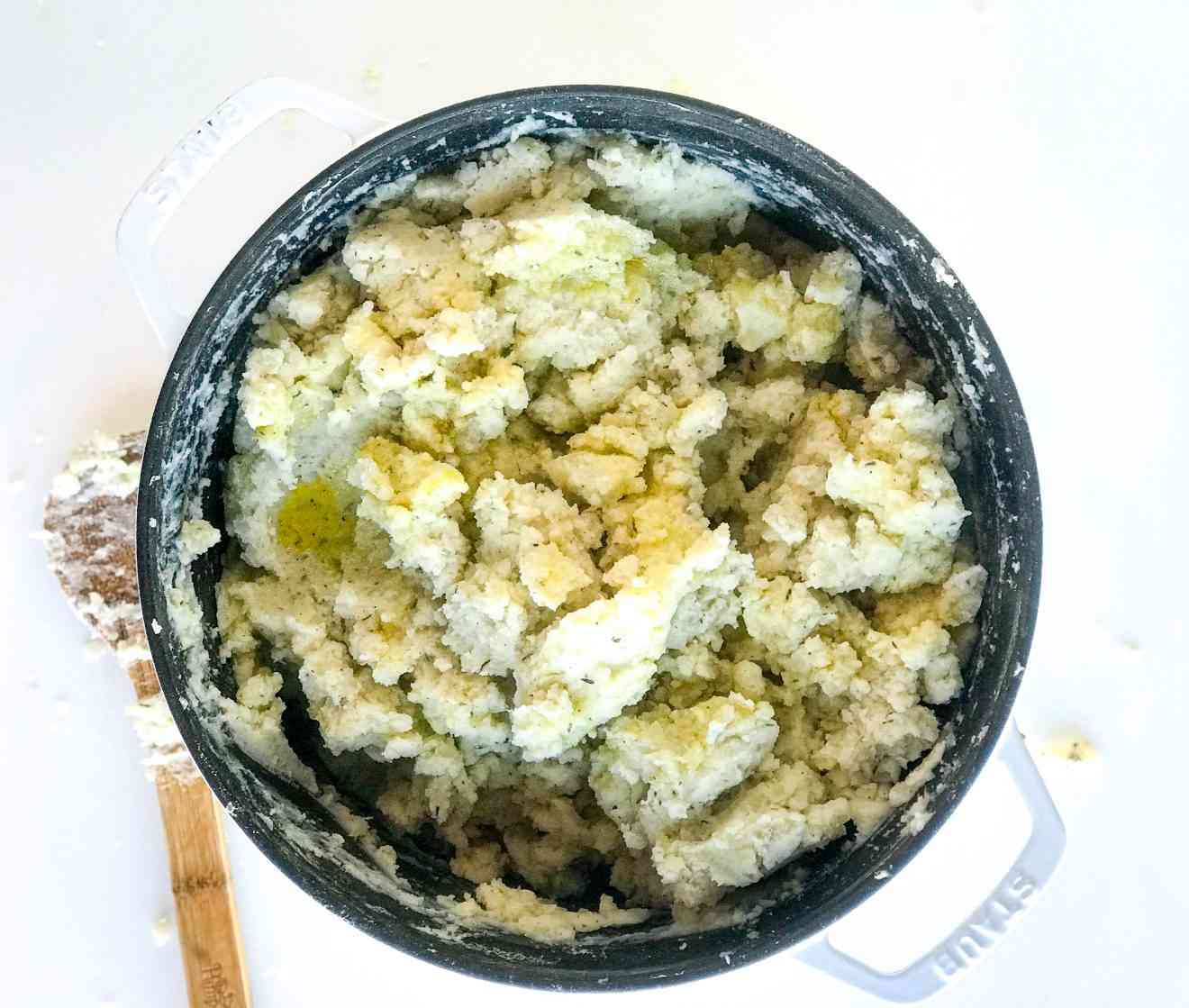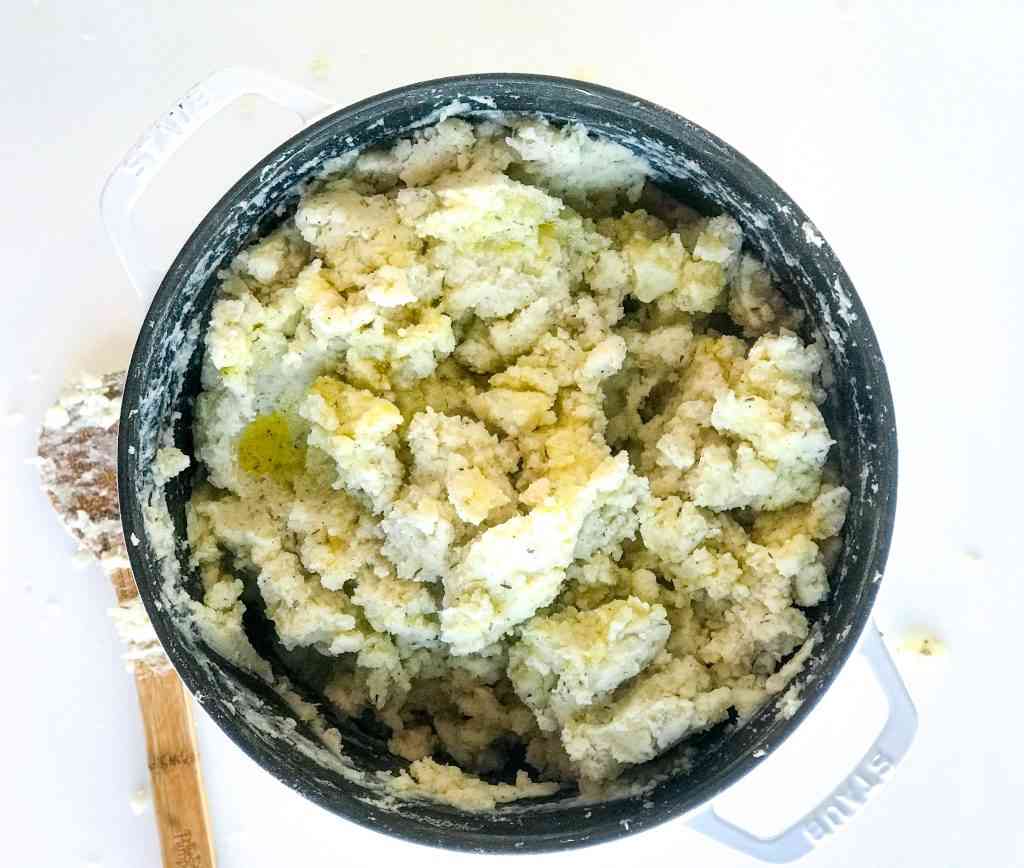 Do not confuse starch in potatoes to be gluten – potatoes are naturally gluten-free so if you're making this for guests with dietary restrictions, this is gluten free, dairy free and vegan.
Does contain nuts.

Almond and Cashew Milk
Cashew Milk is a great alternative to whole milk or half and half for these mashed potatoes. It's 100% dairy-free but still provides the same thick creamy texture that you want with mashed potatoes. Cashew milk gives the most resemblance to a thick whole milk, but if you want to just use almond or oak milk you can do that as well. Just make sure it's unflavored and unsweetened. I picked an unsweetened Cashew Almond Milk for this recipe.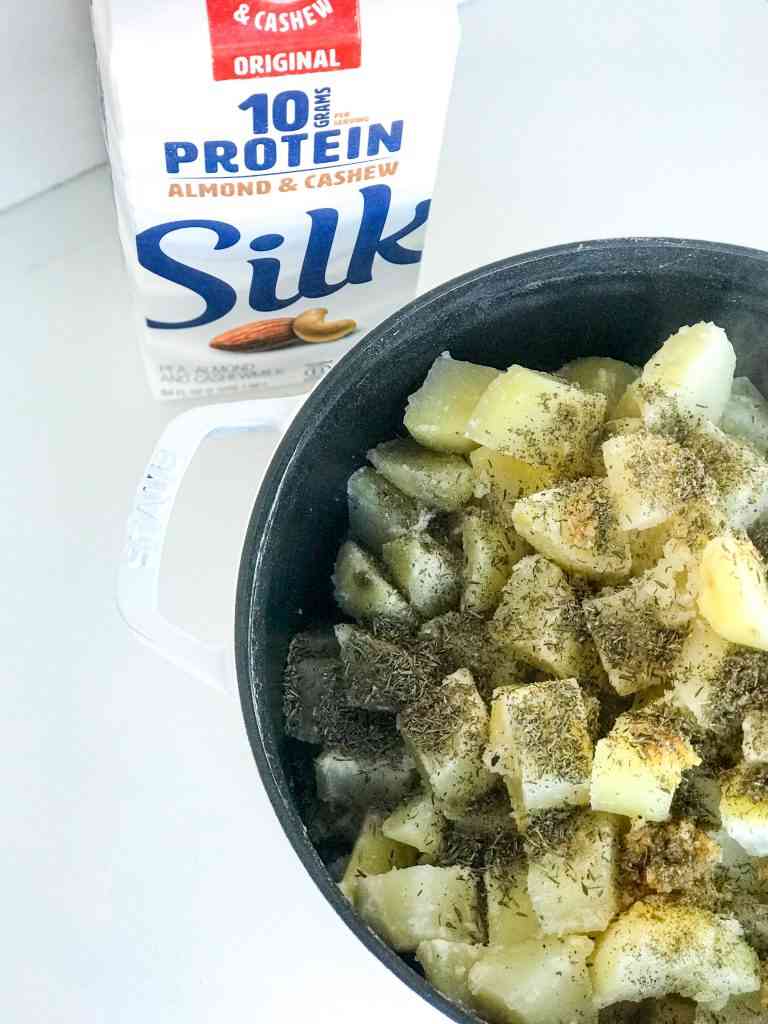 Vegan Creamy Herb Mashed Potatoes – Make Ahead Tips
Thanksgiving is always a time when you want to prep and make ahead as much as possible. You can make these ahead of time – same day is preferred. Follow the recipe below, however reserve 1 cup of the cashew milk until right be serving. Right before serving, reheat your mashed potatoes over the stove and pour in the reserved 1 cup of cashew milk – this will fluff them back up and give you a creamier texture. Note: Your potatoes will look a little dry until you add in your reserved milk.
If you keep them warm in the oven like my grandma always did, then just pour the reserved cashew milk into them and stir before serving.
If you're a guest and bringing this dish with you, just bring the reserved cup of cashew milk with you. If the potatoes are still warm when you get to your Thanksgiving dinner, than just pour in your cashew milk and stir before serving.
You may also need to add another pinch or two of salt at the reheat stage as well. Potatoes love salt and it will give your dish life!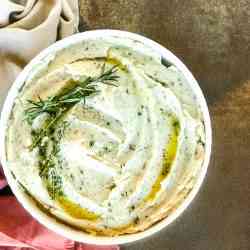 Dairy Free Creamy Herb Mashed Potatoes
Mashed potatoes are such a traditional dish for the holiday, and now you can make them for everyone, dairy free!
Print
Email
Pin
Rate
Ingredients
5

lbs

Russet Potatoes

2

TBSP

Salt

1

TBSP

Dry Sage

1

TBSP

Dry Thyme

1

TBSP

Minced Garlic

2-3

cups

Cashew Milk

2

TBSP

Olive Oil

(plus a drizzle for garnish)

1

tsp

Salt

Fresh Herbs – Rosemary, Thyme and Sage for garnish

(optional)
Instructions
In a large pot, add in your potatoes , 2 TBSP of salt and cold water so that your potatoes are fully submerged. Bring up to a boil. Cook your potatoes until they are soft and fork tender, about 15-25 minutes. You should be able to poke them with a fork and they should slide off without effort.

Strain the water off your potatoes and put them back into the hot pot so that they can steam dry while you gather your ingredients.

Pour in 2 cups of cashew milk, 2 TBSP of olive oil and mash your potatoes until they reach your preferred consistency. If needed, continue to add in cashew milk 1/4 cup at a time until they are creamy. Taste and season with more salt if desired.

*be careful not to over mash or mix your potatoes to keep them fluffy and soft.

*if you are not serving right away, see notes in my blog about making ahead, reserve 1 cup of cashew milk

Once they are creamy to perfection, add to your serving bowl and garnish with another heavy drizzle of olive oil and fresh herbs.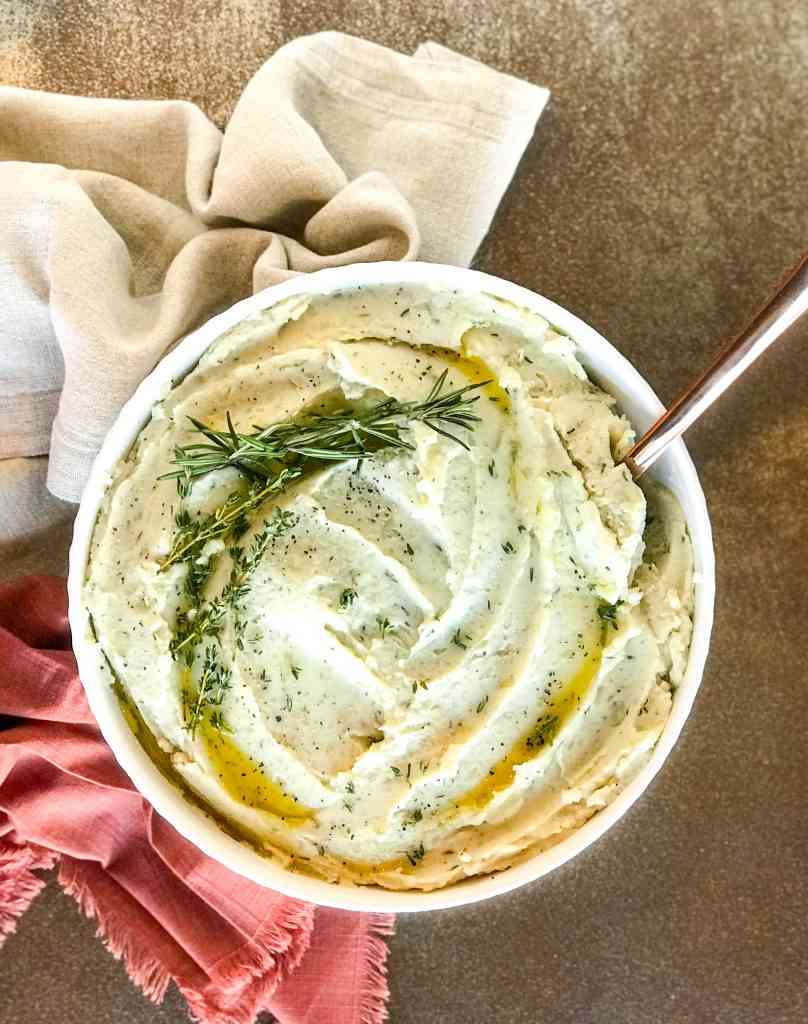 Served best with:
Holiday Turkey
Lemon-Thyme Roasted Chicken
Honey-Lemon Iced Tea
Sheet Pan Roasted Vegetables

and for dessert….
Double Chocolate Brownies