Homemade overnight oat granola bars are for anyone who loves a good chewy granola bar. They are no-bake and ideal for an easy prep ahead, on the go breakfast for a busy week. Gluten-free with a slight hint of banana sweetness. They are a family favorite. 
These oat granola bars are super easy to make. Mix, dump, press and refrigerate. 

The Main Ingredients
Oats: There are three types of oats; steel cut, rolled, and instant. 
Steel Cut Oats are not processed at all, this makes them the most authentic in texture and taste, however they usually require cooking to make them the most delicious. They are too textured for these no-bake breakfast bars
Instant Oats are the exact opposite of steel cut oats. They are the most processed and purposely created for fast cooking. They are thin and have less texture. You can substitute rolled oats with instant oats but you will lose a little of that chewy bite.
Rolled Oats fall in the middle of steel cut and instant oats, thinner than steel cut oats but still hold their texture and shape. Perfect for these bars! 
We use rolled oats for everything in our house. I buy ours from Costco and we make these bars, stove-top oatmeal and regular overnight oats with them. 
Granola: There are so many types of granola out in the world. For years I've been a huge fan of Purely Elizabeth's Vanilla Almond Butter. Another brand I love is the One Degree, they have a Vanilla Chia that is awesome!  (Amazon affiliate links). 
Extra Ripe Brown Spotty Bananas: Looking for a recipe to use up those brown bananas? This recipe uses those second-to-last-day-before-the-trash ripe bananas. They are the main binding ingredient for these overnight oat granola bars so this is very important. You can also use defrosted frozen brown bananas that you stored in the freezer the last time they reached this stage on the counter. 
Peanut Butter: This is a good way to add in protein and a little extra nut-butter flavoring. The recipe using the powdered peanut butter, so that it can easily distribute throughout the bars. I have not tested it with PB spread. 
Gluten-Free
Oats and granola are the two main ingredients for these overnight oat granola bars. If you are looking for gluten-free, make sure to the check the ingredients. Oats and granola are naturally gluten-free however, big commercial brands may run the risk of being exposed to other grains such as wheat, barley and rye. 
Vegan Substitute
If you are looking to make this recipe vegan, I have tested it with Bee-Free Honey they were wonderful. I recommend not skipping the honey in the recipe, the sweetness and stickiness of the honey give the bars a great flavor and holds them together.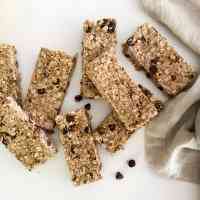 Overnight Oat Granola Bars
Quick and easy overnight oats as a bar! These make an easy to-go breakfast or snack. The perfect amount of chew with a slight hint of sweet. Add in your favorites - chocolate chips, dried fruit or seeds.
Gluten-Free. No baking required.
Print
Email
Pin
Rate
Ingredients
3

cups

Rolled Oats

1

cup

Granola

2

Very Ripe Brown Spotty Bananas

½

cup

Powdered Peanut Butter

(optional)

½

cup

Unrefined Virgin Coconut Oil

¼

cup

Honey

⅛

tsp

Salt
Additional Add-Ins (choose up to 2)
4-6

oz

Dried Fruit (cranberries, strawberries, blueberries)

1

TBSP

Flax Seed

1

TBSP

Chia Seed

½

cup

Chocolate Chips
Storing the Overnight Oat Granola Bars
These bars require 8 hours in the refrigerator to set up. Then you can pop them out of the pan, cut them into your ideal size. Store in the refrigerator, they will last for a week.