French Onion Soup was the first thing we did in culinary school…and we had to do it again the next day. It's a good starter soup for school because it teaches knife skills (hello onions!) and it shows patience, time and temperature. With that said, it's fairly easy and can come together in just about an hour.
The hardest steps are 1. cutting the onions because man do onion peals like to stick to everything… and 2. waiting for the caramelization to happen – there will be a little down time but not enough to walk away completely.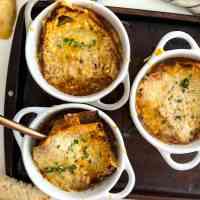 Ingredients
1

TBSP

Butter

3

Lbs

Onion

1 ½

Tsp

Salt

1

Bay Leaf

1

Tsp

Whole Peppercorns

½

Tsp

Dry Thyme

1

Cup

White Wine

4

Cups

Chicken Stock

*you can also use beef or vegetable stock

2

Cups

Water

Cheesecloth and twine
Topping:
Sourdough Bread or any other crusty bread

Shredded Gruyere Cheese
Instructions
Thinly slice your onions. You will want them to be relatively the same thickness so that they cook evenly. Set aside.

Now you just need to let it cook down and caramelize. You don't want to stir it because you want the onions on the bottom of the pan to brown (caramelize) and they can only do that if they are still. But, you also want to watch it so that they don't burn, the first caramelization will take roughly 5-10 minutes, so keep a watchful eye on it. While you wait, you can get your next ingredients ready.

Okay back to the onions. Once they start to brown you will want to stir them so that the onions on the bottom come to the top and new onions have the opportunity to caramelize.

You will do this over and over again until all of the onions are caramelized, The time between stirs will decrease as the pot gets warmer. The darker the caramelization the deeper the flavors, but don't confuse that with burning...haha.

Add in the chicken stock and water. Turn up to a boil and then back down to a simmer. Simmer for 20 minutes. Taste and season with salt if necessary.

Take out your cheesecloth of seasonings!

Preheat your oven to high broil. Place parchment paper on top of your cookie sheet and prepare your serving bowls.

For each bowl, top with cubed bread and shredded cheese. The amount is up to you, I usually do one layer of bread and then enough cheese to cover (in the picture below it's just under 1 cup of cheese).
Notes
Notes:
In the winter, I would recommend using red wine instead of white and beef stock instead of chicken stock – this will make it darker and richer in flavor.
I was taught to use white wine and chicken stock for French Onion Soup, however it does create a lighter version. You can deepen the flavor by letting it simmer longer than the directions below.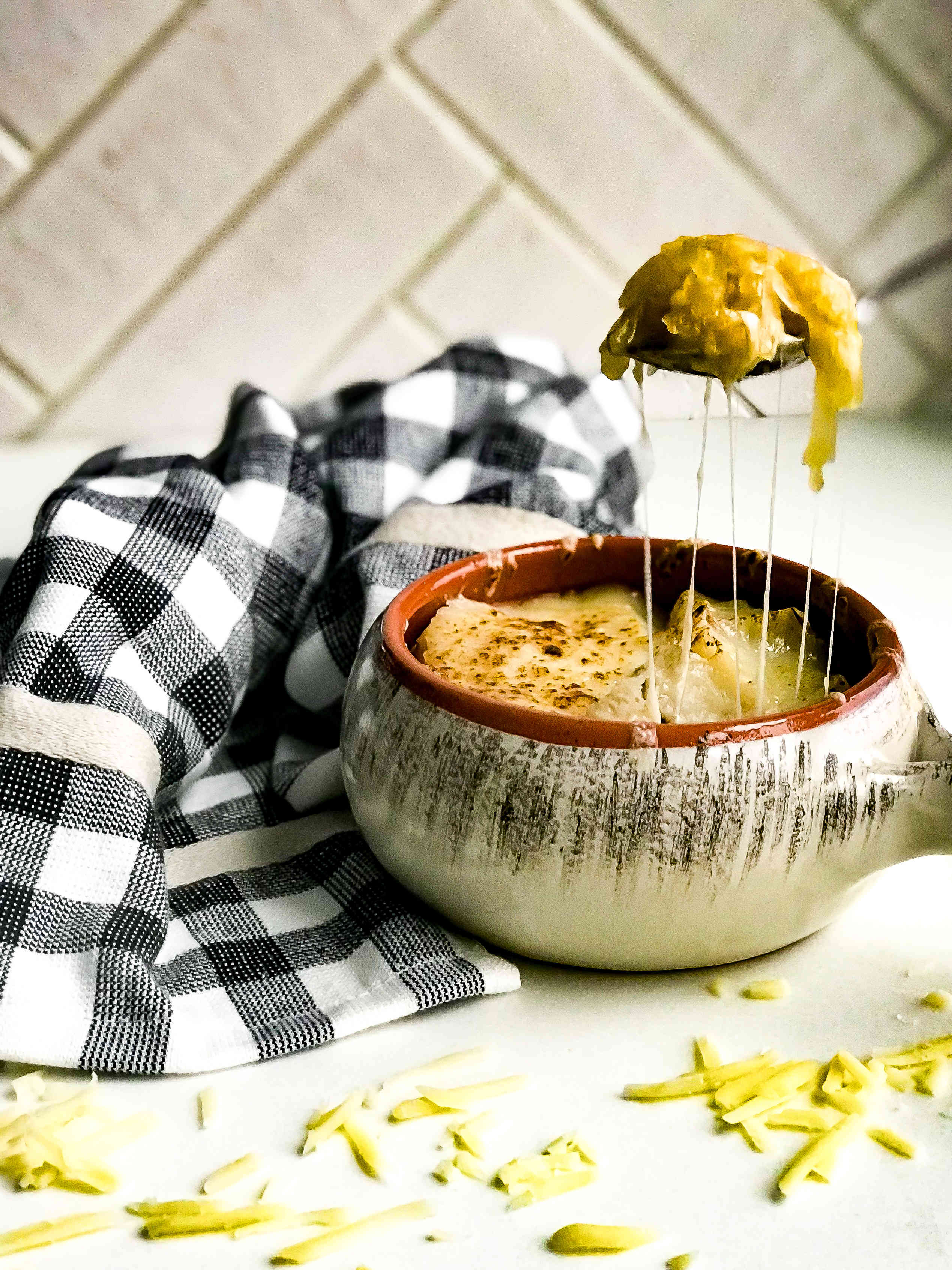 See my Classic French Onion Soup Lunchbox and Freezer hacks!