Need a quick weeknight meal that only dirties one pan?! This. is. it. Chicken and pasta all done in one pot. Even better than that – it's creamy without cream.
This creamy Italian chicken and pasta dish is jam packed with seasoning and cheese, similar to a bold-seasoning Alfredo sauce. If you happen to have leftovers, they warm up and are a delicious lunch the next day.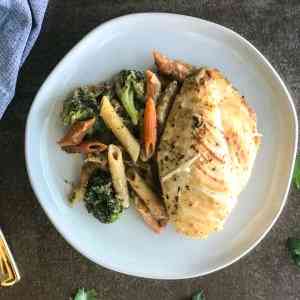 One-Pot Creamy Italian Chicken & Pasta
One-pot Italian chicken and pasta. Even better than that - it's creamy without cream.
Note: For the pasta – you can use 3 cups of regular penne or 3 cups of lentil/gluten free penne, the cooking time will just need to be adjusted. Follow the directions below.
For the milk – I have not tested this, however for a non-dairy substitute, non-flavored almond milk thickens just as well as cow's milk.
Print
Email
Pin
Rate
Ingredients
4

Chicken Breasts

2.5 lbs

2

TBSP

Butter

1

TBSP

Garlic – minced

2

TBSP

Flour

Olive Oil

4

cups

Skim Milk

3

TBSP

Italian Seasoning

3

tsp

Garlic Salt

1

medium head of Broccoli

3

cups

Pasta

1 cup Penne, 2 cups Lentil Penne

1

cup

Parmesan Cheese
Instructions
Salt and pepper you chicken breasts and set aside.

In a large pan, over medium heat melt the butter with the garlic, let the garlic become fragrant. I buy my garlic already minced from the store, it helps save time and no one actually likes chopping cloves of garlic.

Pat the chicken breasts dry and place in the pan to brown. You want to do the top-side (presentation side) down first so that you can get a beautiful brown. Browning creates something called the Maillard reaction which develops the flavor. Brown each side for about 3-5 minutes. If the chicken becomes "stuck" let it cook just a little longer before flipping it over, don't try to force it up because you may cause it to tear. You can do with in a non-stick pan as well.

Remove the chicken. They are not cooked all the way through yet, but they will finish in the sauce as the pasta cooks so no worries. The sauce will also keep the chicken breasts tender and juicy as it finishes to cook to the perfect 165F.

Make the roux. Sprinkle in your flour. If your flour is not turning into a "paste" with the remainder of the butter, then you will need to drizzle in a little olive oil. It should be the consistency of wet sand.

Add in your milk. I add a little (1 cup) at first. It's easier to stir, scraping the bottom of the pan gently to get chicken flavor up and combine, then add in the rest of the milk. Whisk continuously until the lumps are out.

Add your chicken back into the pan. Let the sauce come to a high simmer, stirring occasionally. The sauce will start to thicken. Cook for about 6-8 minutes.

Add in the broccoli and regular pasta (or gluten free pasta if it takes 10-12 minutes to cook) Cook for 3 minutes.

Add in lentil penne (if you're using it, it's my favorite guilt-free pasta). Cook for another 7 minutes until pasta and broccoli are fork tender.