Turkey Breast is an easy short cut to holiday dinners. Smaller in size, they are easier to handle, faster to roast and you do not have to sacrifice flavor. Using seasonal spices and fresh herbs, this Autumn Spiced Herby Turkey Breast is crispy, juicy and full of flavor just like a large full turkey.
Roasting Perks for Turkey Breasts
Turkey breasts come still on the bone, they look like miniature turkeys in their package but come without the giblet package. They come in smaller sizes, on average about 6-7 pounds, roughly 4-6 servings.
When you roast an entire bird, you run the risk of over cooking the breasts because the dark meat takes longer to reach a safe temperature. When you roast only the turkey breast, you have the ability to take out the meat as soon as it reaches 165F and the juices runs clear, this keeps it from becoming dry.
If you get a frozen turkey breast, make sure you safely defrost your turkey according to the package, do not sit it on the counter for it to thaw out, this will encourage bacteria to grow and it increases the chances of exposing your kitchen to salmonella.

One more tip for a safe kitchen, when you place your frozen or fresh turkey breast in the refrigerator place it on a sheet pan and on the lowest shelf to help prevent any raw juices from accidentally dripping onto any other item in the refrigerator.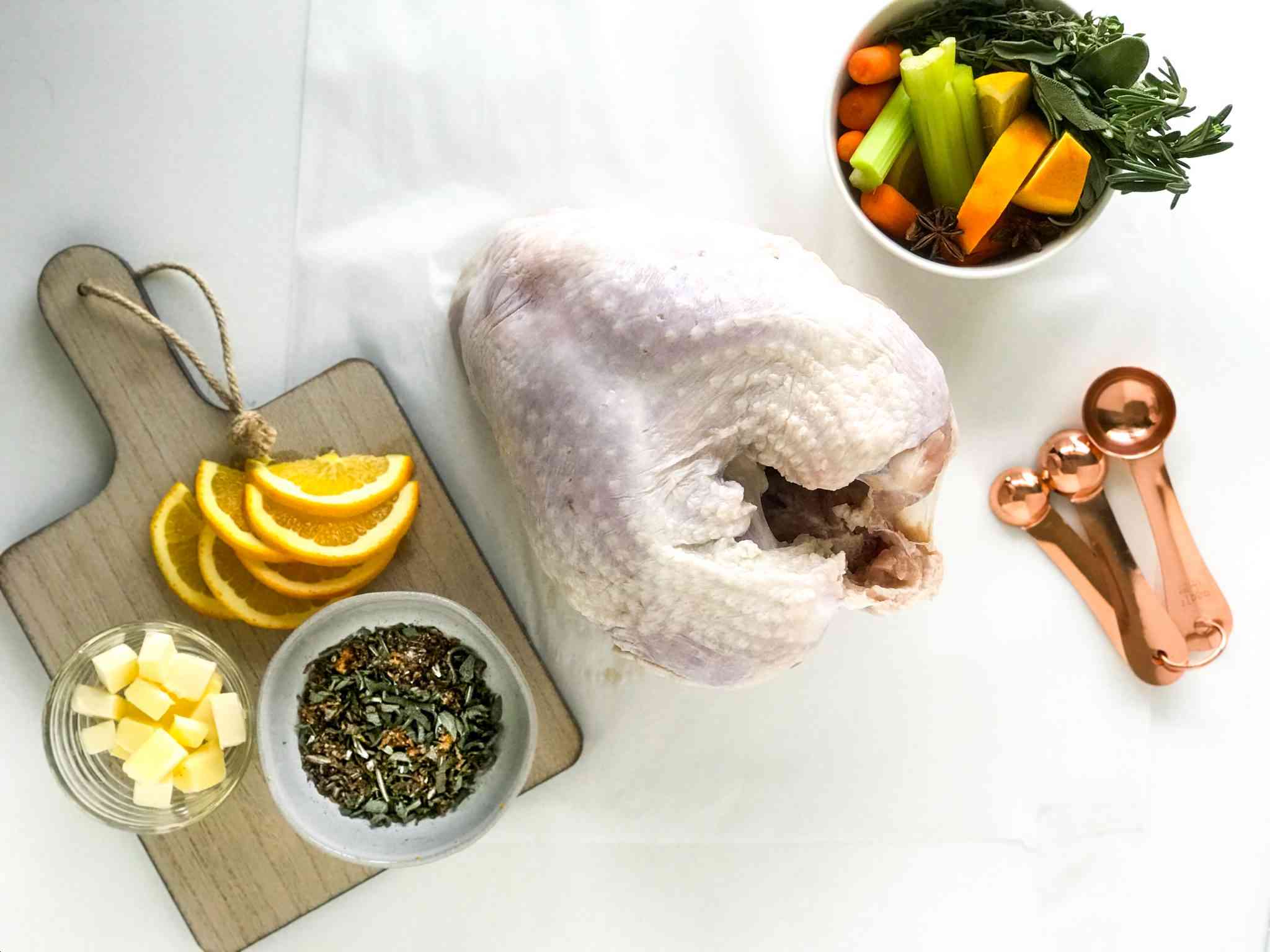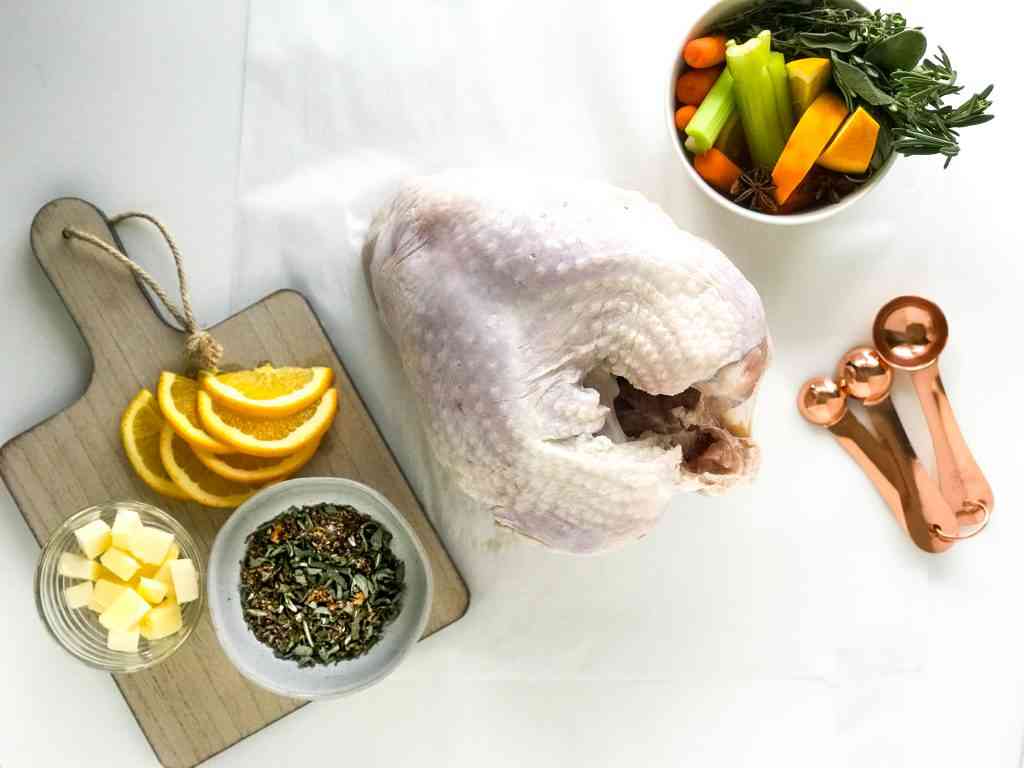 To help prevent cross contamination while you get your turkey ready for the roast, I suggest that you do all of your prep work beforehand. Peel, zest, cut and chop everything before starting will limit your possibility of touching something with turkey fingers.
I made this easy for you by using the same ingredients in both the cavity of the turkey breast and in the rub you will use on the outside of the skin.


Autumn Spiced Herby Turkey Breast Seasoning & Rub
This turkey breast is stuffed and rubbed with spices, fresh herbs and oranges making it an aromatic, feel-good-warm and cozy turkey breast.
For the rub that goes on the outside of the skin, you will need the zest of an orange. You will use the rest of the orange in other places of the turkey breast, just be sure to zest it first, before slicing it.
The rub consists of salt, orange zest, all spice, chopped fresh herbs: rosemary, sage and thyme.
Inside of the cavity you will need 1/2 of an orange cut into wedges, whole herbs: rosemary, sage and thyme. Carrots, celery and star anise. These aromatics will flavor the breasts as it roasts in the oven.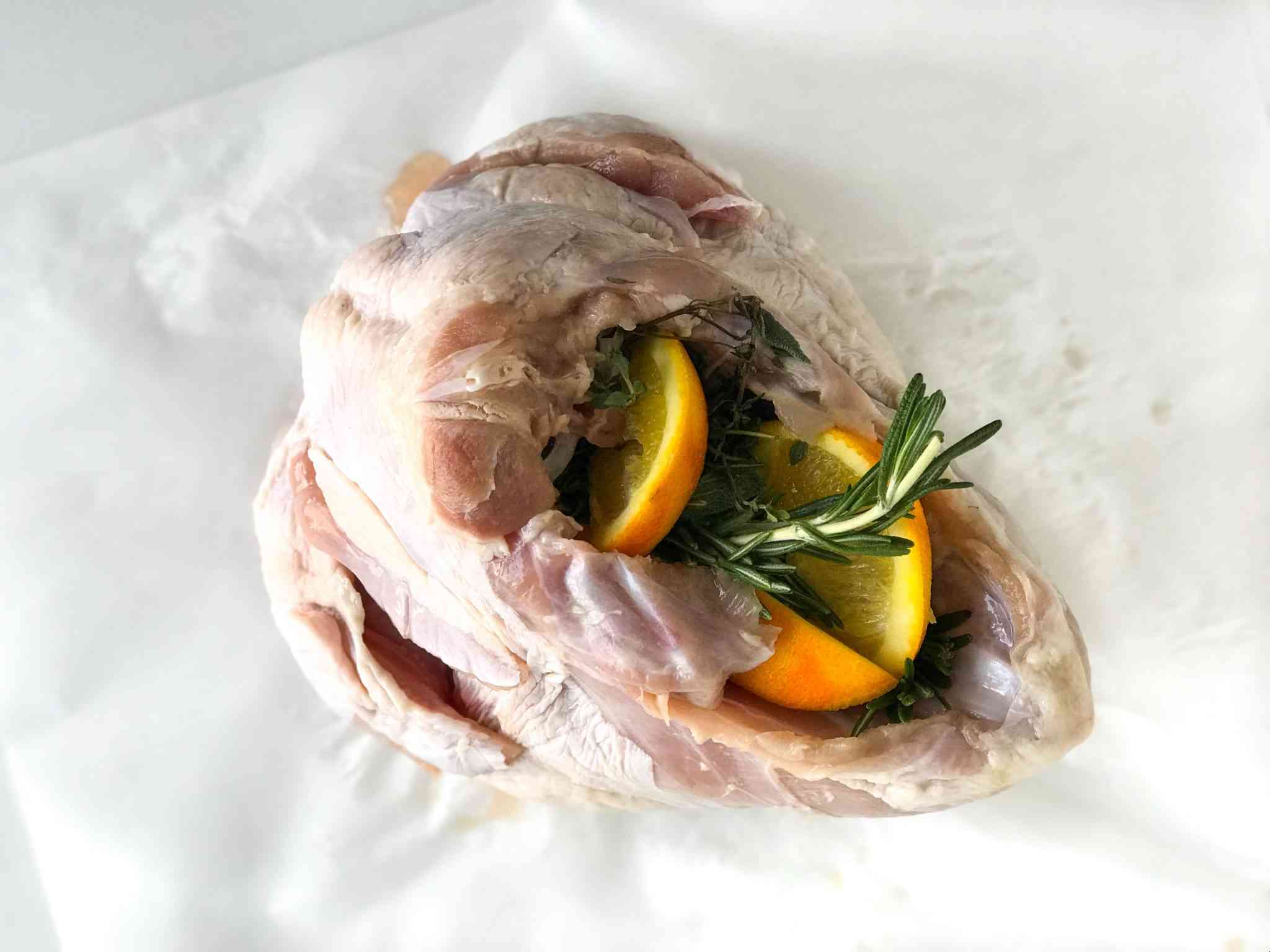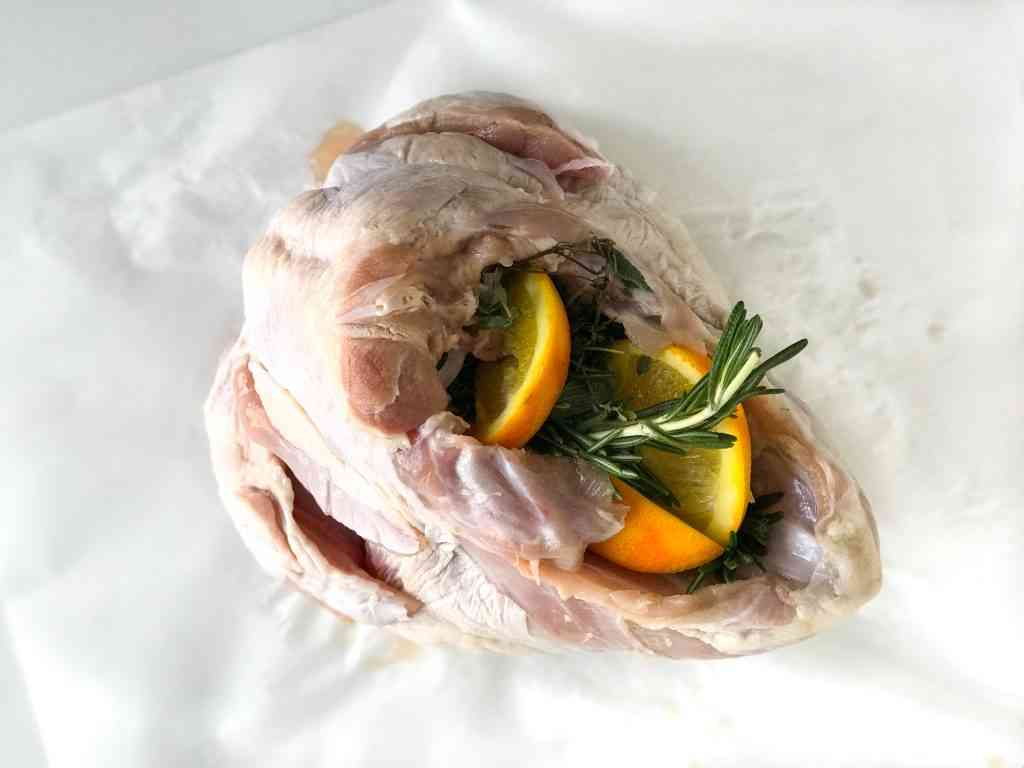 As you will notice, the bottom of the cavity hole is a lot larger compared to a full turkey because the backbone was trimmed so you are only stuffing behind the ribs with these ingredients. To keep them from falling out after you place the turkey breast-side up in the roasting rack, place a piece of cheesecloth over the spices, herbs and oranges and tuck it under the edges of the opened cavity.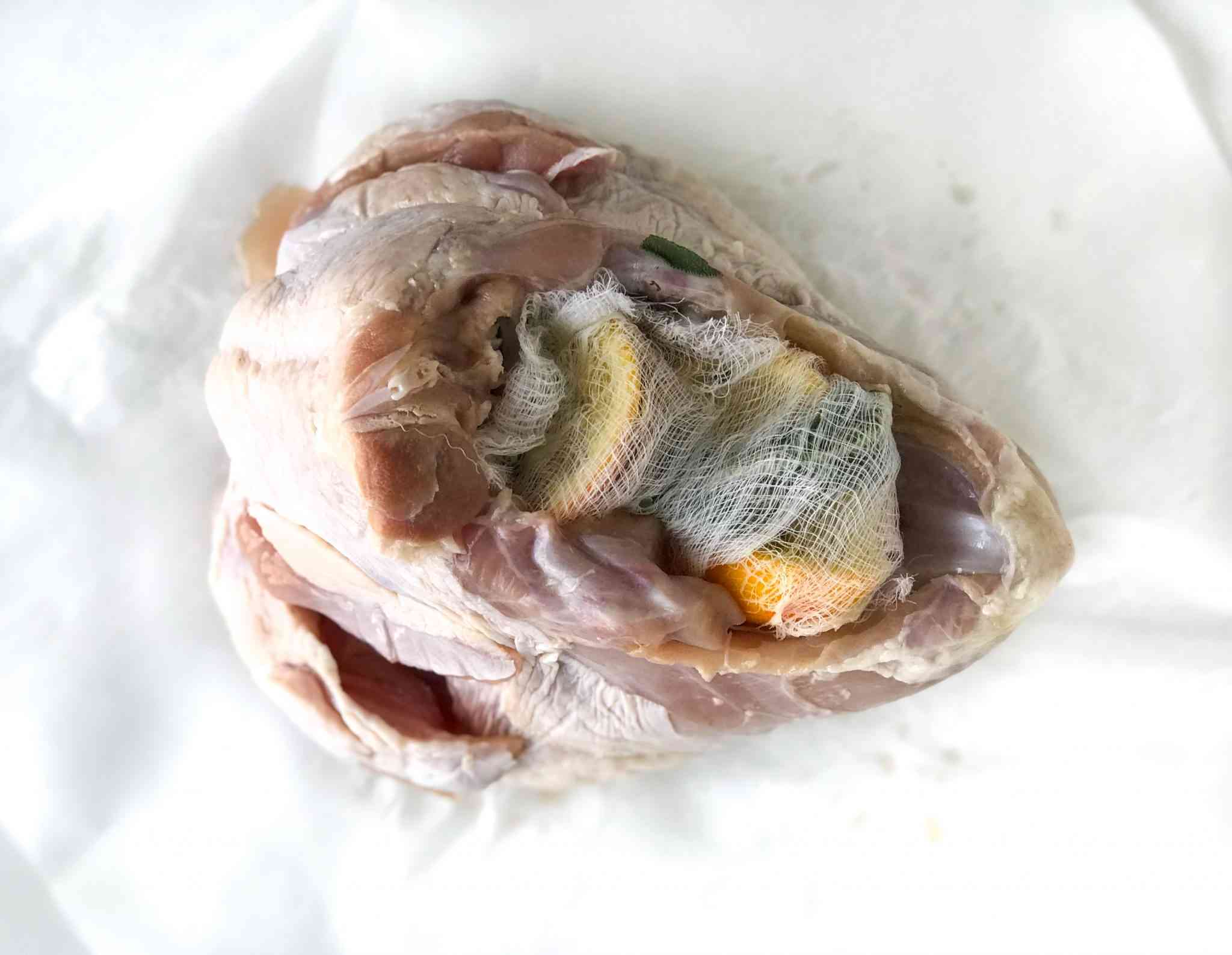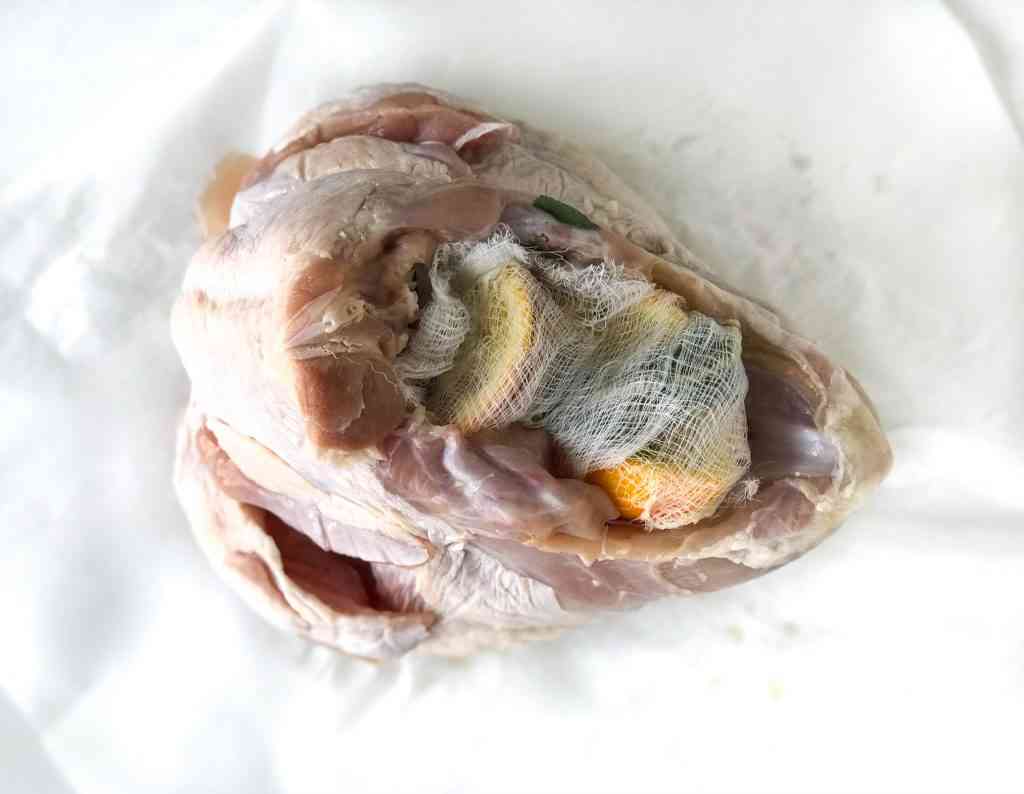 Keeping the Turkey Breast Juicy During Roasting
To keep the meat juicy during the roasting process, you will want to pour 2 cups of liquid on the bottom of the roasting pan with a few celery and carrot sticks. Vegetable stock, chicken stock, water or any combination of these would work well.
As the turkey roasts, drippings will fall to the bottom of the pan, mixing in with the stock or water making it less likely to burn or evaporate. You will use this flavored liquid to baste the turkey and you can use it to make gravy!

RESTING – Once your turkey breast reaches 165F and the juices run clear, it's time to take it out of the oven and let it rest. Resting is very important, during the cooking process, juices are pushed to the edges of the meat, resting allows for them to redistribute evenly throughout making each bite juicy. Resting time should be 1/3 of the amount of time the meat cooks, so for this turkey breast recipe I would rest it for 45 minutes.

During this time you can get your last minute dishes ready for dinner!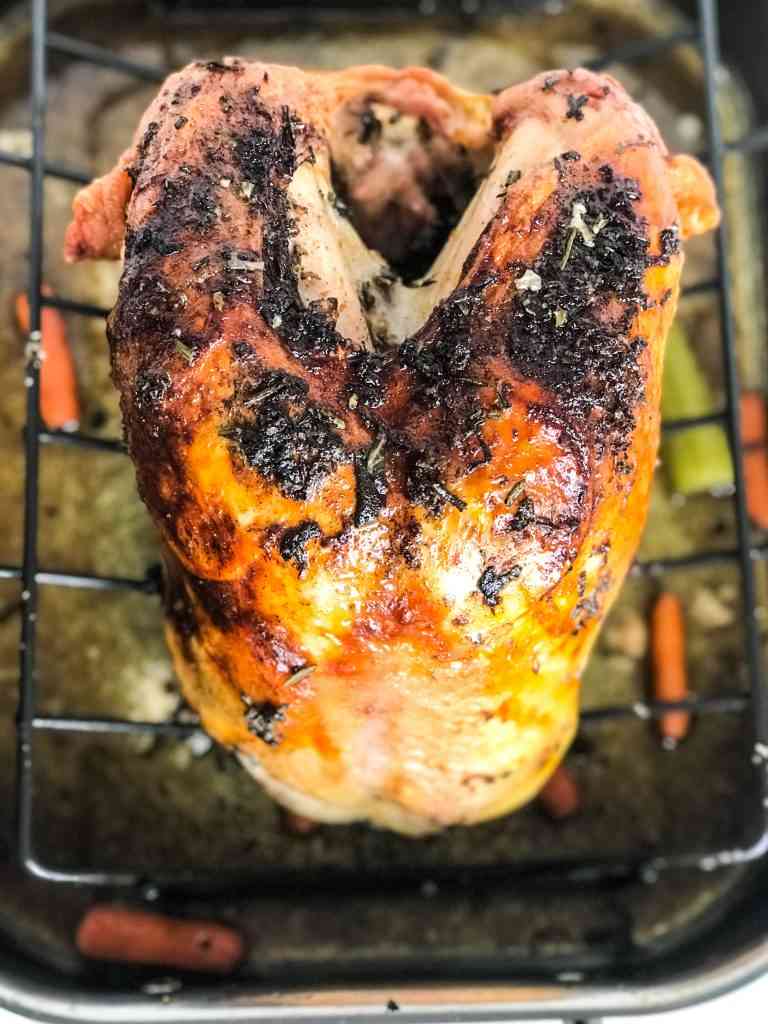 Making the Gravy
I will never forget that one holiday dinner, you know the one, where there were too many cooks in the kitchen giving their opinions on how to make gravy and while you know they mean well, you also feel like something is going terribly wrong. That time, my gravy turned out very lumpy and unusable. I was so disappointed. To prevent that from happening to you, here is what you need to know!
What you need:
– Fat (preferred from roasting drippings – see below for how to get this)
– Flour
– Stock, pan juices (1-2 cups)
– Salt
– Pepper (optional, but I like it)
The base of a gravy is a roux, which is equal parts of fat and flour mixed together. To get the fat, the best and easiest part of doing this is using the pan drippings. Remove the turkey (other any other meat to rest) and pour all of the liquid from the bottom of your pan through a strainer into a bowl or large measuring cup. Place this into the refrigerator, and as it chills, the fat will rise to the top.
In a pot, over medium heat, add in the fat that is now at the top of your bowl. As the fat melts, sprinkle in flour, a TBSP at a time until it resembles wet sand. Cook this for about a minute.
Whisk in the remainder of the left over pan juices that are in your bowl/large measuring cup. If you want more gravy, add in more chicken stock. Stir and let it thicken to desired consistency. Add in salt and pepper to taste. If it becomes too thick you can stir in water without changing the flavor or taste of the gravy.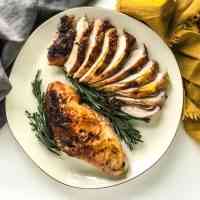 Autumn Spiced Herby Turkey Breast
Using seasonal spices and fresh herbs, this Autumn Spiced Herby Turkey Breast is crispy, juicy and full of flavor just like a large full turkey.
Print
Email
Pin
Rate
Ingredients
6-7

lbs

Bone-in Turkey Breast

4

TBSP

Butter – diced into cubes

divided

½

Orange – cut into slices

2

cups

Stock or Water

1

Celery Stock – chopped

1

Carrot – chopped
Turkey Cavity Aromatic Seasoning
½

Orange – cut into slices or wedges

1

handful

Fresh Rosemary, Sage & Thyme

1

Celery – cut into chunks

1

Carrot – cut into chunks

2

Star Anise

(Optional)

Cheese Cloth
Autumn Spice Rub
1

Zest of one Orange

1

TBSP

Kosher Salt

½

tsp

All Spice

1 ½

tsp

Chopped Fresh Rosemary

1 ½

tsp

Chopped Fresh Sage

1 ½

tso

Chopped Fresh Thyme
Instructions
Preheat your oven to 400F

Pat the turkey dry, trim any loose skin if necessary.

Place a piece of cheese cloth over the cavity and tuck underneath the sides of the turkey to prevent the Turkey Cavity Aromatic Seasoning ingredients from falling out.

Place your turkey breast, breast-side up on your roasting rack. On the bottom of the roasting pan, pour in 2 cups of stock or water add 1 chopped celery and 1 chopped carrot.

Carefully pull away the skin of the turkey. Add in 3 TBSP of the butter cubes and slices of ½ an orange underneath the skin – distributed as evenly as possible across both turkey breasts.

Smear the top of the skin of the entire turkey breasts with the remainder 1 TBSP of butter.

Top that butter with your Autumn Spice Rub mixture.

Roast in the oven at 400F for 10 minutes.

Drop the temperature to 350F and roast for 2 hours.

At the 1 hour mark, baste your turkey.

Your turkey should have an internal temperature of 165F and the juices should run clear. When you take the temperature do not hit the bone, this will give you an incorrect temperature. It's best to test a couple different areas before resting.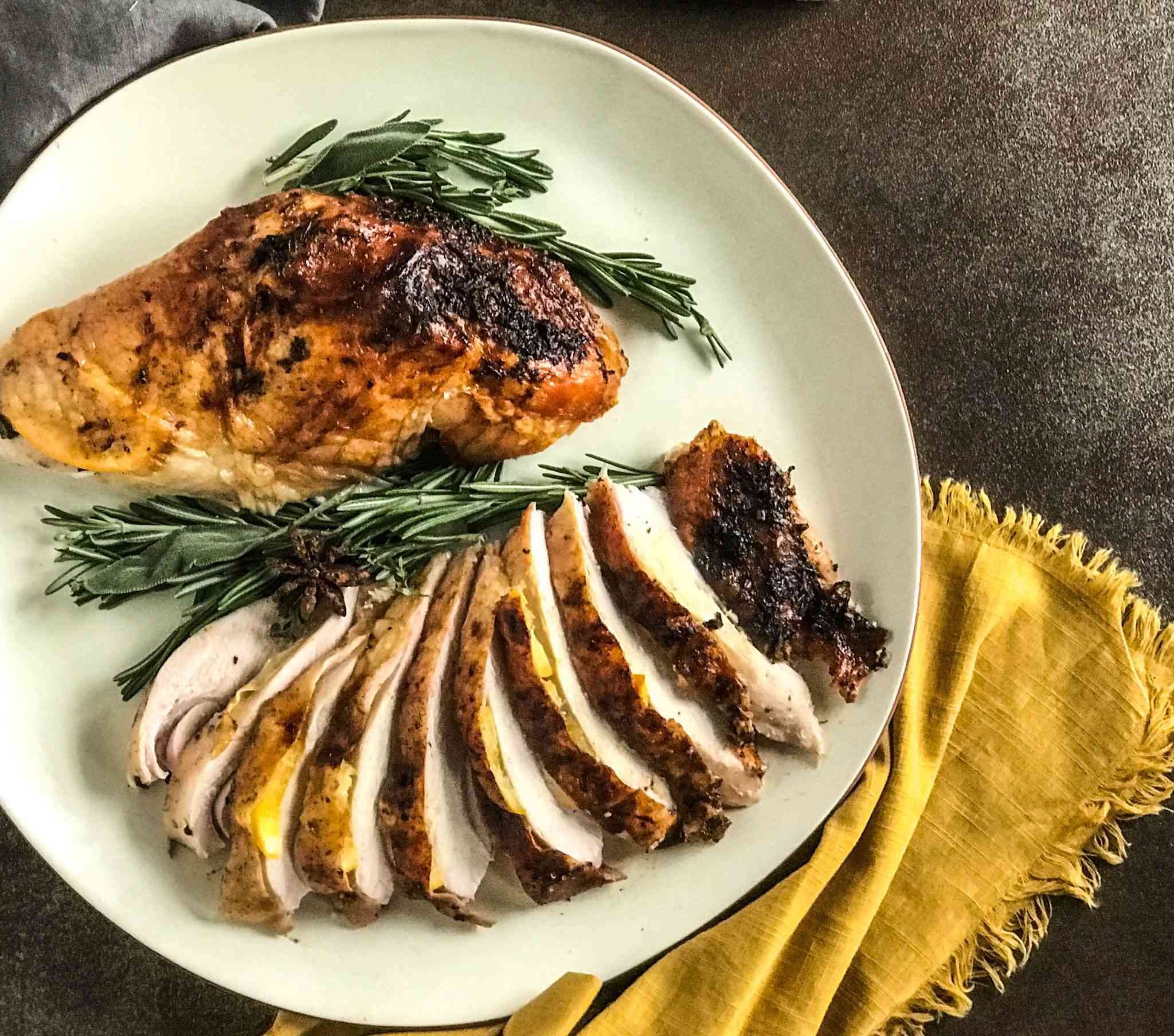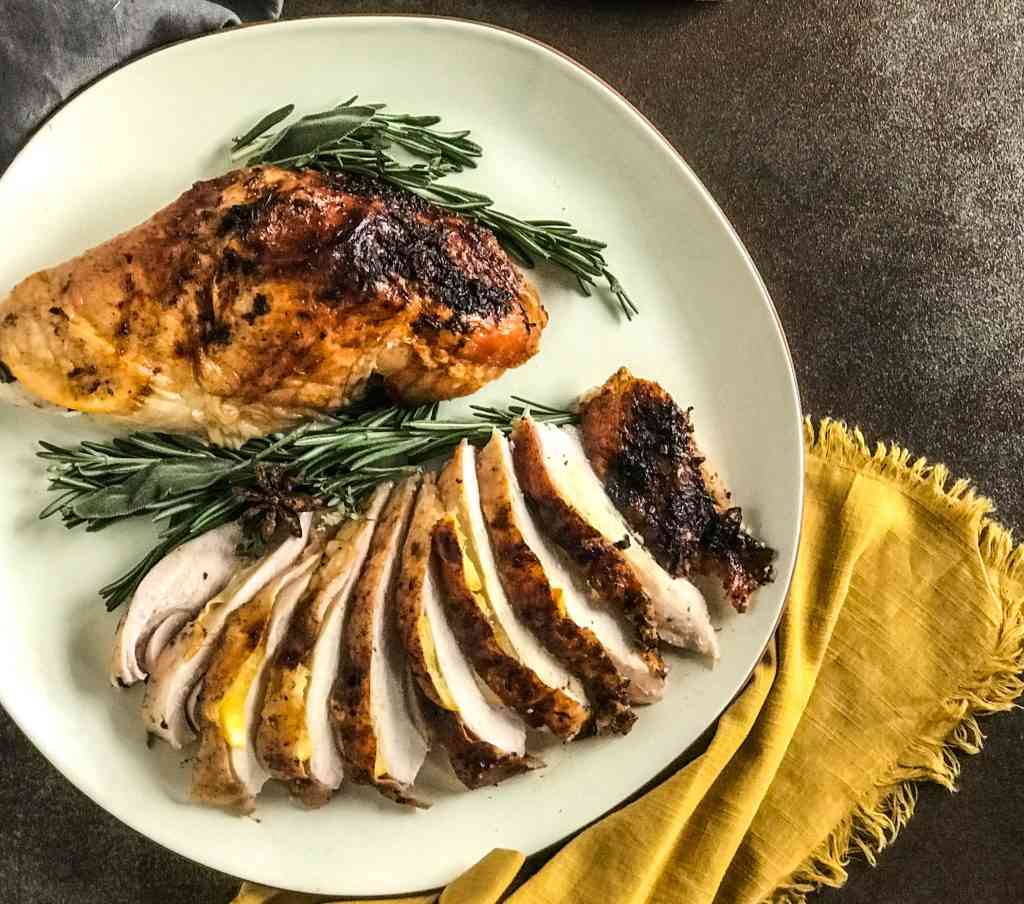 Other Holiday Recipes
Lemon-Thyme Roasted Chicken
Classic Holiday Turkey
Beef Wellington
Beef Wellington – individual