Nothing beats the flavor of this balsamic tomato grilled steak, it screams summer. The sweet bursts of tomato with the tartness of the balsamic vinegar tossed with fresh garlic and basil, and topped with tangy crumbly feta cheese, it is a true instant favorite, I could not stop eating it.
I know for a fact, it's delicious fresh off the grill, at room temperature or even cold, right out the refrigerator, it does not get better than this.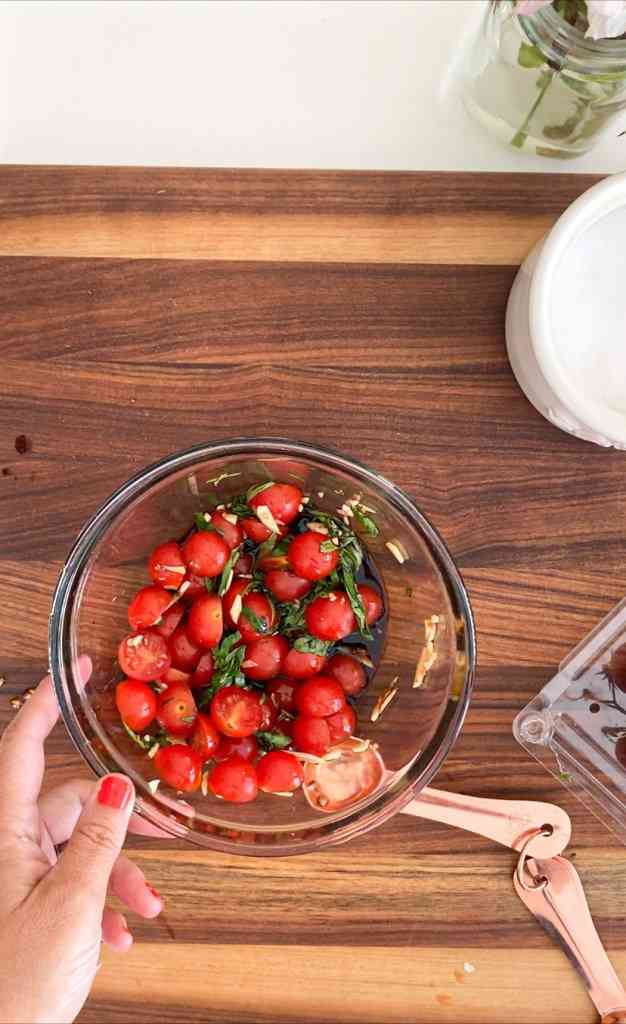 This weeknight dinner, turned next day lunch could not be any easier to make. It takes maybe 15 minutes to make, while the steak is on the grill (or being pan seared) you have time to make your balsamic tomato mixture that gets dumps right on top. Honestly, it gets better with time, so if you have leftovers it makes the perfect salad or wrap for lunch.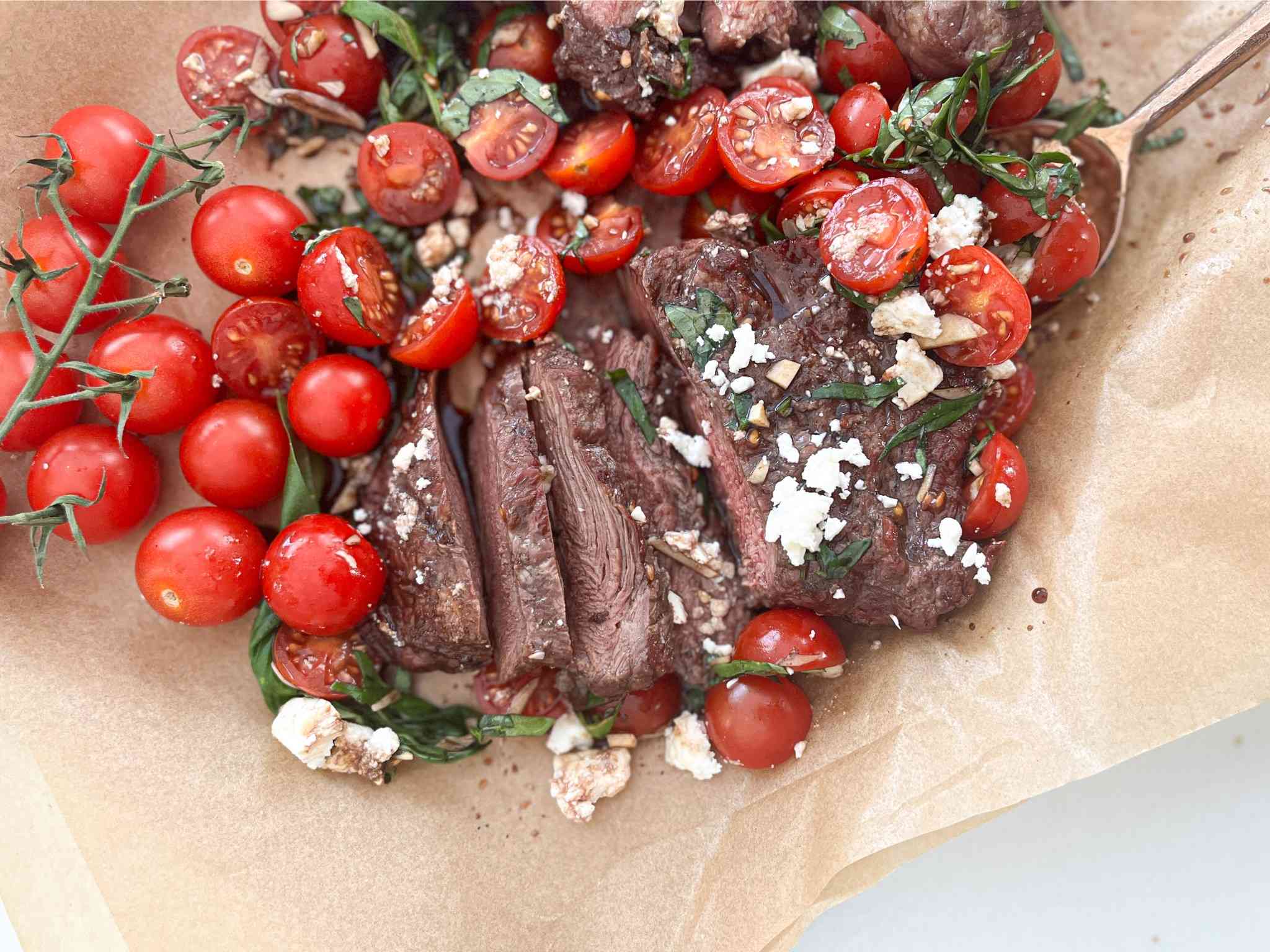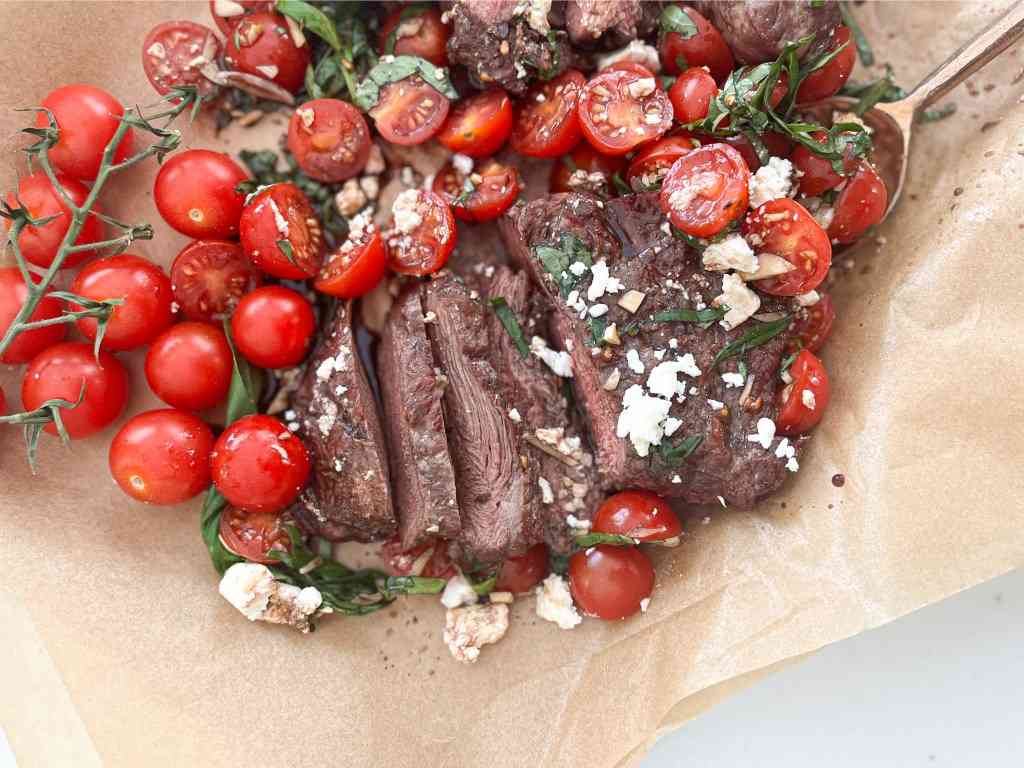 Balsamic Tomatoes
Make sure you use balsamic vinegar. If you use balsamic salad dressing, the flavors are not the same.
I am always one to shy away from balsamic vinegar. I never had the same love for it as most people, but this recipe has changed my mind! I don't know what inspired me to make these tomatoes but I'm so glad that I did, they are addicting! With only a few simple ingredients you get major irresistible flavor that really levels up your grilled steak.

How to Chiffonade Basil
Chiffonade is the cut in the above photo, most commonly used for basil. You stack your basil leaves one on top of the other. Then roll them up tightly from top to bottom. With one hand holding the basil, using a sharp knife you want to thinly slice in the same direction of the roll – the video below.
Choosing Your Steak
We used two pieces of flat iron steak. I'm sure you can pick any type of your favorite steaks for this but I'll give you the top three that I recommend and why.
Flat Iron Steak: Extremely tender, well-marbled and flavorful.
Flank Steak: Just as tender and flavorful as the flat iron steak but a little bit leaner.
Skirt Steak: Thinner and more lean than the flat iron or the flank steak but will still work.
For all of these options, when serving, make sure to slice the meat across the grain.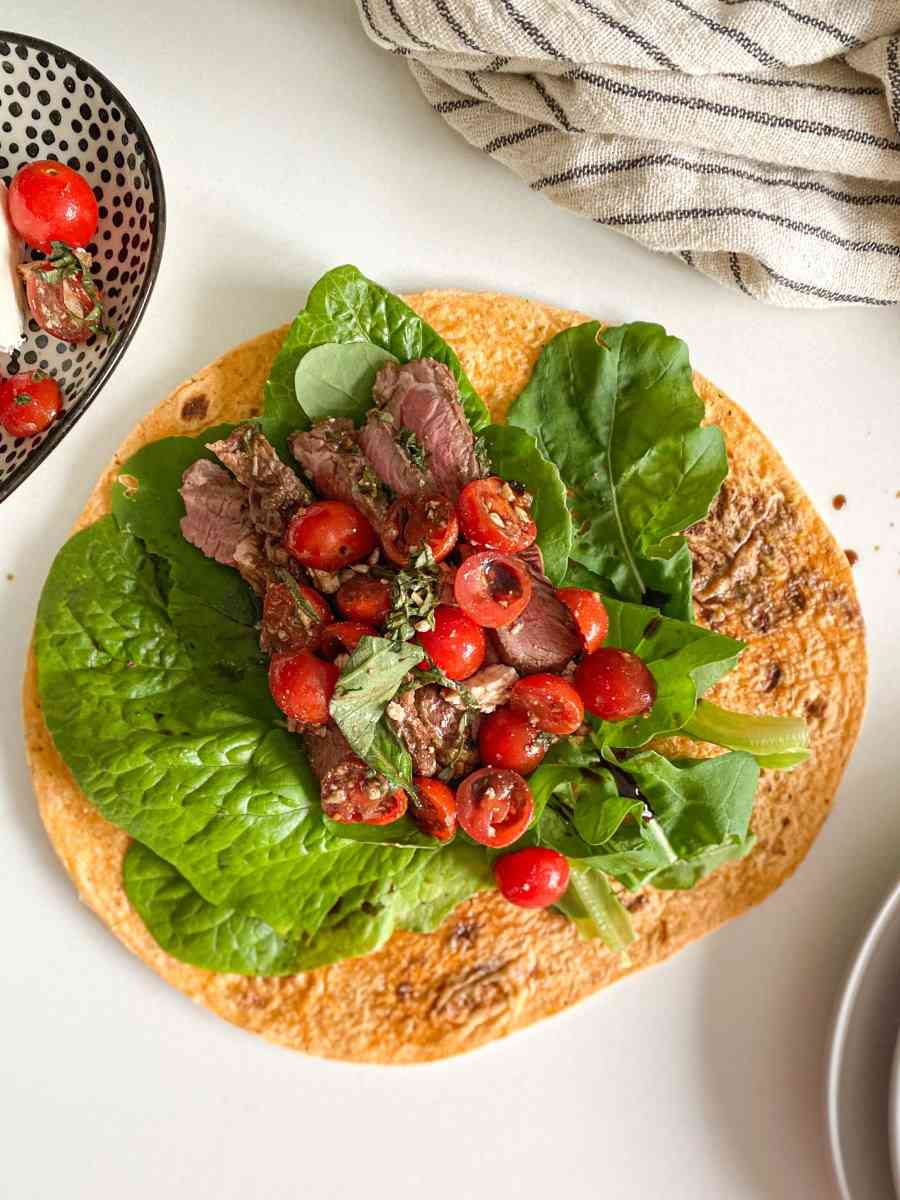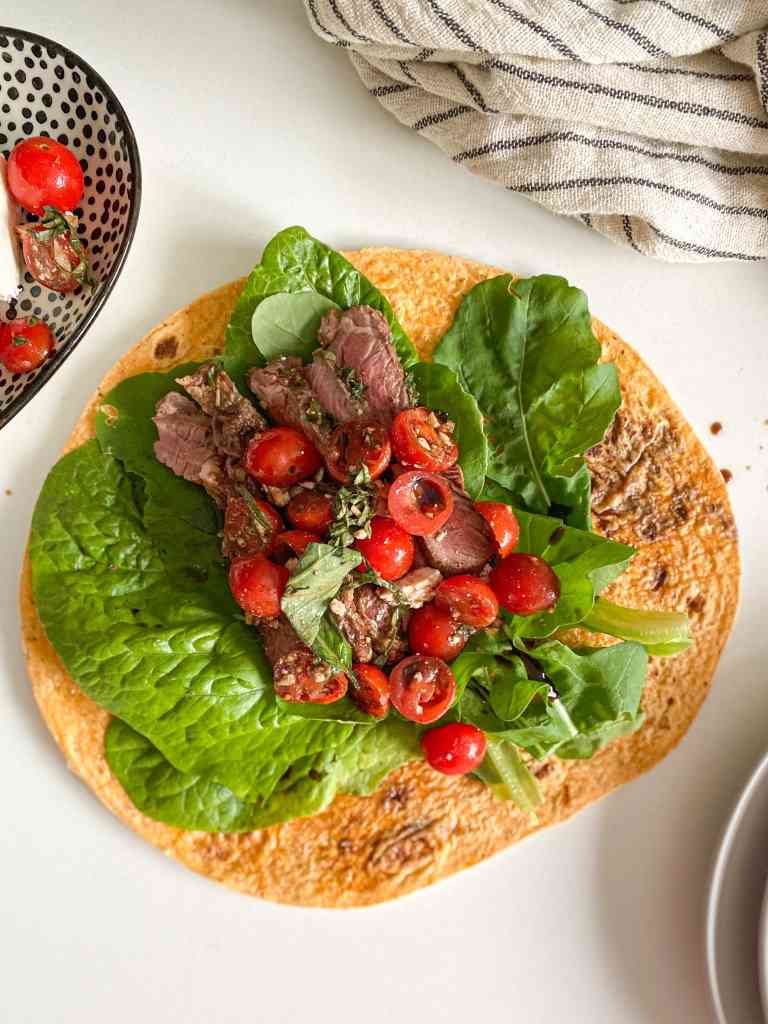 Take to Work Lunchtime Leftovers
If you have leftovers, this makes the perfect take-to-work lunch because overnight the grilled steak will soak in some of the balsamic tomato flavors making it so much better and incredibly delicious served cold. Top your favorite salad with bite-sized steak and the balsamic tomatoes, or turn it into a wrap. It is so good.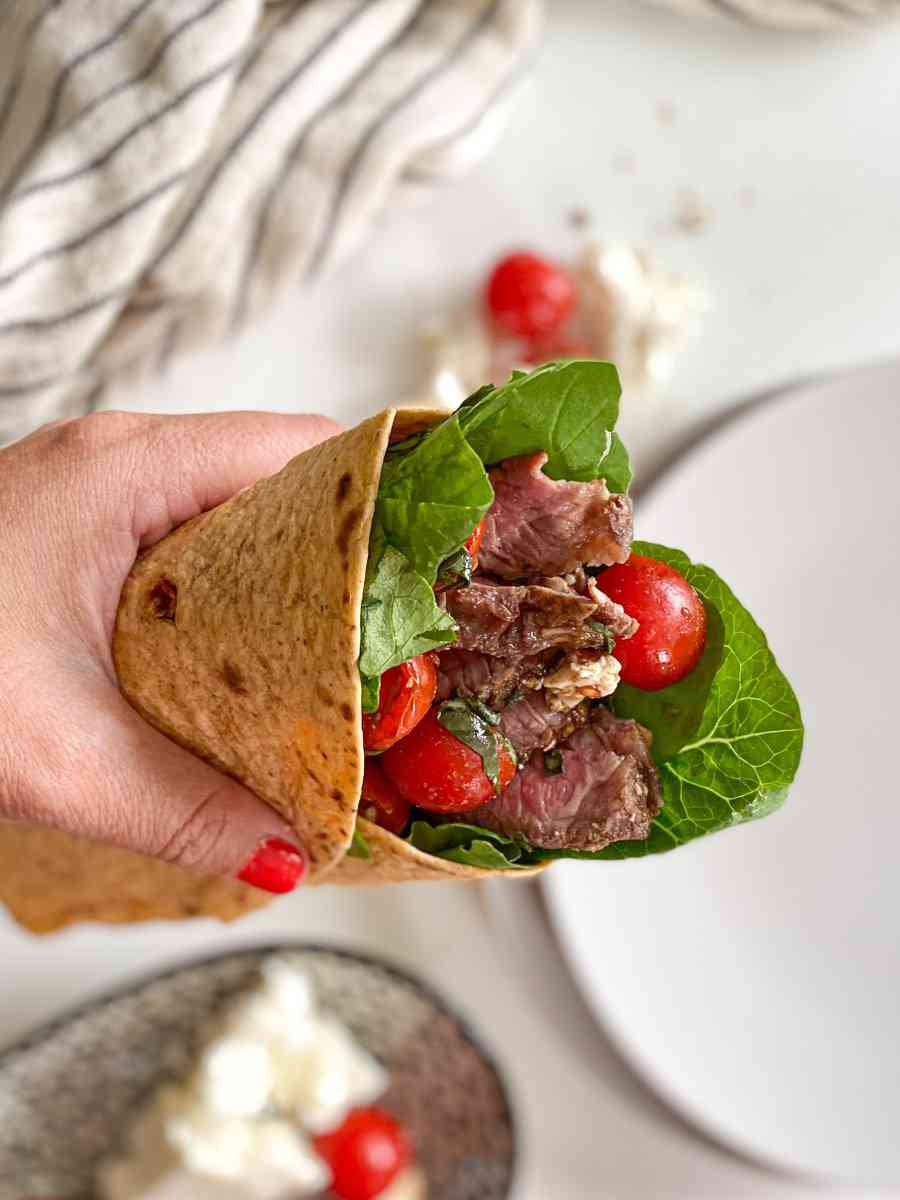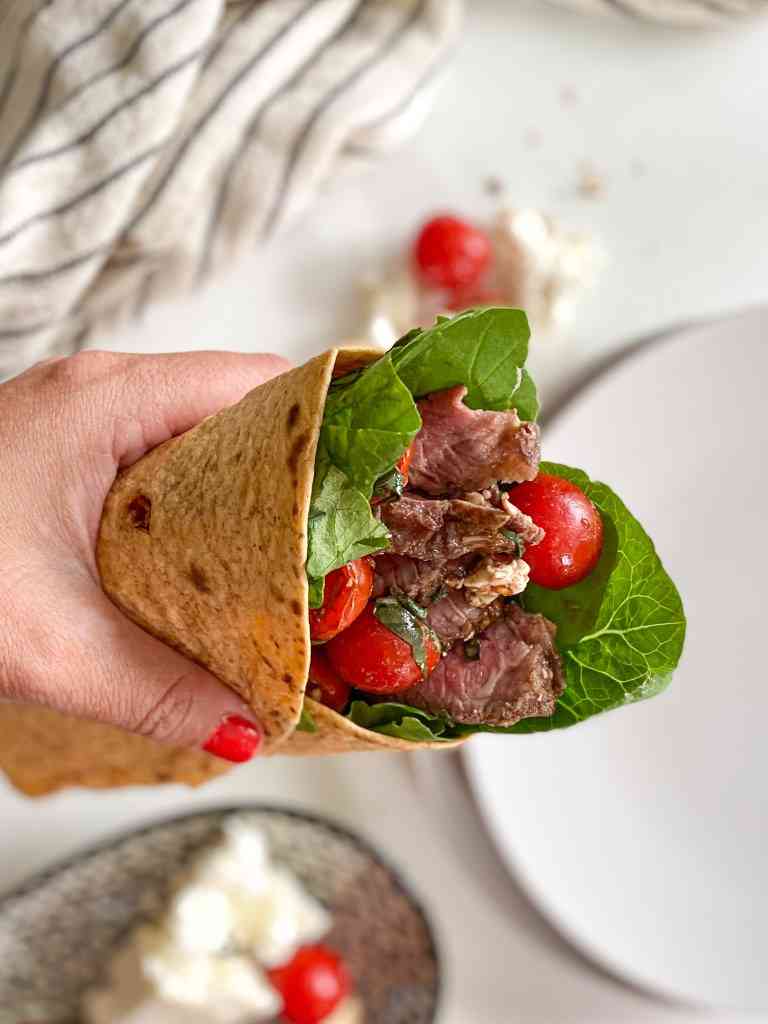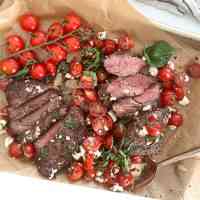 Balsamic Tomato Grilled Steak
A true summer love, perfectly grilled steak topped with fresh and sweet Mediterranean inspired tomatoes.
Print
Email
Pin
Rate
Ingredients
1

lb

Flat Iron Steak

see blog notes

¼

cup

Fresh Basil - chiffonade

see blog notes

6

oz

Cherry Tomatoes - halved

1

clove

Garlic - chopped

Salt

¼

cup

Balsamic Vinegar

Feta Cheese
Instructions
Add your steak to your grill, and cook to your preferred internal temperature, each steak's cooking times will differ based on thickness. 145F is medium.

While your steak is grilling, you can make your balsamic tomato mixture. In a bowl, combine your basil, tomatoes, garlic, a pinch of salt and balsamic vinegar, stir to combine and set aside until your steak if done.